Posted in: Applications for FacebookLast update: 13/07/22
Facebook is one of the most popular social networks out there. And promotional codes are a classic marketing strategy that consumers love! So in this post, we'll explain how to combine the two. Learn about all the different ways you can share coupons with your Facebook followers, and create a virally successful campaign.

The latest estimates say that more than 120 million people are using digital coupons and promotional codes. And there's a good chance that many of those people are on Facebook: the social media giant boasts 1.4 billion daily active users. So using your brand's page to share digital coupons and promotional codes with Facebook followers is a marketing no-brainer.
You can use promotional codes to increase sales and develop a better relationship with your followers, too. In this post, we'll list all the benefits available, using examples made with the Easypromos platform.
Convert customers into Facebook followers
With the latest updates to Facebook's platform and terms of service, you can't offer exclusive coupons to your Facebook followers. But you can use coupons to encourage customers and leads to follow your page! Start by offering an exciting promotion with discount coupons or perks that highlight the best of your brand. When people register for the promotion, you can nudge them to follow and like your social media pages.
Take a look at the example below: on each screen of the promotion, participants can use buttons to share, like, or visit Facebook. And the discount coupon was definitely popular!
Once you've converted potential customers into Facebook followers, it will be much easier to share updates, raise brand awareness, and run further promotions to keep them coming back for more. Use the Coupon Codes tool to create a promotion which motivates participants to like your page.
Top tip: Read this post to learn how to target promotions for sales leads, current customers, and missed connections.
Build your brand identity
Why do brands love social media? Because it's a great way to project your brand image. You can use status updates, photos, videos and more to create a clear picture of your brand in consumers' minds. And as we said at the start of this post, combining social media with coupons gives you double the marketing power.
Some marketers hesitate to use coupons. They're worried about looking cheap, or giving customers an unrealistic idea of the brand's value. But in fact, coupons are for every brand! You just have to be creative. Think carefully about the image you want to project, and how you could use promotions to highlight your brand's products or services.
For example, the promotion above was designed for a small music festival in the English countryside. The organizers wanted to offer some free guest tickets to their faithful fans, without diluting the image of the festival. So they created a promotion with a very limited number of tickets, awarded in coupon format. In this way, they rewarded Facebook followers for their loyalty, while maintaining their image as an exclusive, high-end event.
Top tip: Read this post about planning your strategy for coupon promotions, including promotion ideas for every type and size of business.
Boost engagement and bring your social media to life
Do you want to increase your Facebook followers? Or perhaps you have plenty of likes, but your page just seems a bit… dead? Instant win contests are a great way to boost traffic and add excitement. Users simply register to take part – and if they register at just the right moment, they could win a coupon, promotional code, or prize!
A time-sensitive contest like this creates a real buzz. And by promoting it on your Facebook page, you can turn the heat up even more. Encourage participants to comment with a competition hashtag while they're taking part. They can share reactions, talk about the prizes, and more!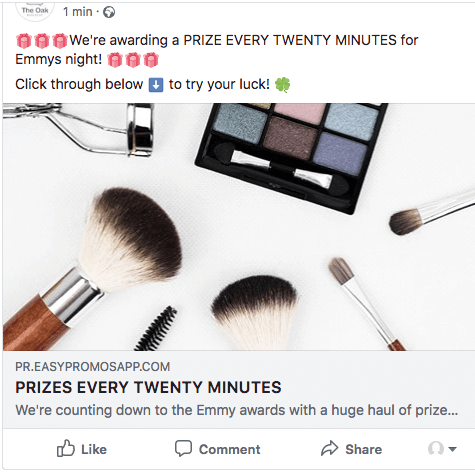 In this example, a cosmetics brand decided to run a instant win contest in the run-up to the Emmys awards. Their brand community followed the live giveaway as well as the live ceremony. And as they shared it on Facebook, participants could chat and comment in real time.

Collect consumer data from Facebook followers
So far, we've been talking about the "front-end" benefits of coupon promotions on Facebook: more followers, more engagement, and a better brand image. But there are lots of behind-the-scenes benefits, too!
When you run a promotion with the Easypromos platform, you can collect information from all participants with an entry form. The standard fields are things like name and email address – but you can expand it. So think about information that could be valuable for your marketing strategy. Maybe you want to know more about your Facebook followers' shopping habits, tastes, or family life. As soon as users start registering for the promotion, and even after the promotion ends, you'll be able to view all this intel and download it for your records.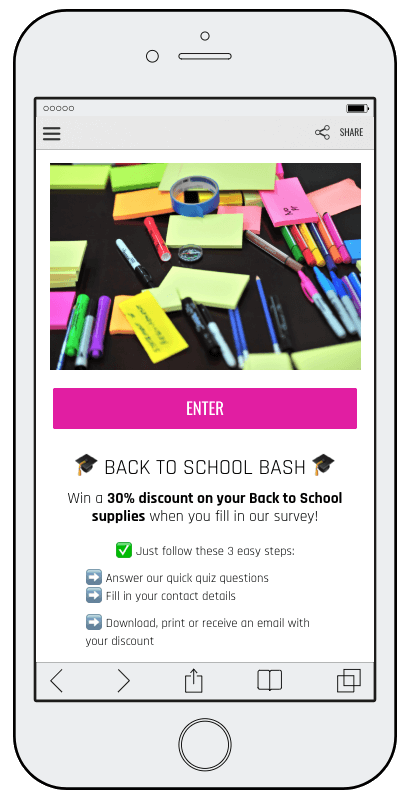 But the possibilities don't stop there. You can find out even more with a quiz, multiple-choice test or survey. Use fun, informational quizzes and tests to educate your Facebook followers about your brand, products or services. Ask them about their wants and needs with a survey. And if you want to bring out their competitive streak, try a predictions contest, where users have the chance to bet on the results of sports games, award ceremonies, and more. Make sure you choose an attractive discount or rewarding deal to motivate participation.

Expand your audience with Facebook Stories
Let's think about how we share on Facebook. Until very recently, there were basically two options: publishing a post, or creating a post in Facebook Ads. And these are great ways to communicate with your Facebook followers and potential leads! But there are problems too. For a start, branded posts are no longer favoured by the Facebook algorithm. They appear way below posts from family members and personal friends. And secondly, Facebook posts suffer from the "walled garden" effect: they only appear on your Facebook page, and you have to make separate posts for other social media platforms.
Facebook Stories may be a solution to this problem. Although reactions were mixed when the feature was released, Facebook Stories now claim 150 million daily active users. They offer two key features which could change the game for sharing promotions on Facebook. And Facebook Ads for Stories are already in development, so keep watching the platform for more.
You can cross-post on different social networks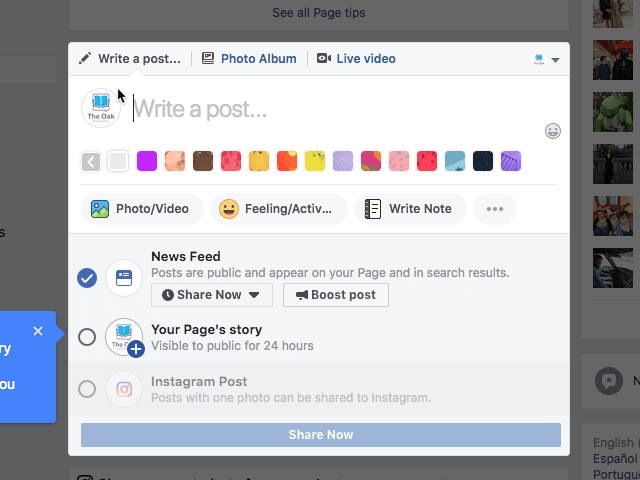 When you start creating a post on your Facebook Page, you'll be offered three options: a News Feed post, a Story, or an Instagram post. So right away, you have the opportunity to escape the walled garden and share on multiple social networks. But there's more! You can cross-post Instagram Stories to Facebook Stories. Stories are already the best way to reach followers on Instagram – so double that marketing potential by being one of the first brands to adopt Facebook Stories. 
You can bridge the generation gap
As we've said, Stories are already hugely popular on Instagram. Younger social media users love them, and they love Instagram too. Facebook is often a social network aimed at a slightly older audience, from Generation X up. But with the cross-posting feature, you can bring these different demographics together. Offer promotions with challenges and prizes that have universal appeal. If you run quizzes or surveys, you'll even be able to gather segmented customer data.
Top tip: Learn more about increasing your Gen X appeal with this post about targeted promotions.
You can read our tutorial for all the details of how to set up your own campaign with promotional codes. And make sure you try our demo to see the platform in action!
Publication date: 2011-07-27