Posted in: Applications for Facebook,Digital marketing,EventsLast update: 11/11/19
Giveaways are always popular on Facebook – and even more so at Christmas, the season of giving. Pick an enticing prize and create a fun Christmas challenge to maximize engagement with your followers. Here are 4 creative and original ideas to get you started!

Social media giveaways are a shortcut to better engagement, more followers, and sales leads. But here's the issue: every marketer knows that! You can still get a fantastic return on Facebook giveaways – but in order to do so, you have to stand out from the competition. So how can you make your Facebook Christmas campaign a success?
Pick the right prize – Research shows that a great prize is key to making your contests go viral. Choose one of your favorite products or some seasonal goodies.
Don't be spammy – Facebook responds harshly to brands that ask for endless likes, shares, and follows. And even more importantly, Facebook users hate this kind of spam. One simple rule: only ask for what you need. Choose one thing that would make a difference for your brand, and don't ask your followers for unnecessary shares or likes.
Let your creativity shine –The most viral Facebook Christmas campaigns are often those that offer something a little bit different. Be original!
With this advice in mind, we've picked out 4 original Facebook Christmas campaigns to give you some inspiration. We chose each of these promotions because they managed to find something unique for their followers. Let's take a look at creative ideas for Facebook Christmas campaigns.

1. Christmas games, and riddles on your Facebook feed
Facebook is still a one-stop-shop on social media. We use it to chat, play games, find gifts, and more. So you can cater to that trend, by challenging your followers to games and riddles.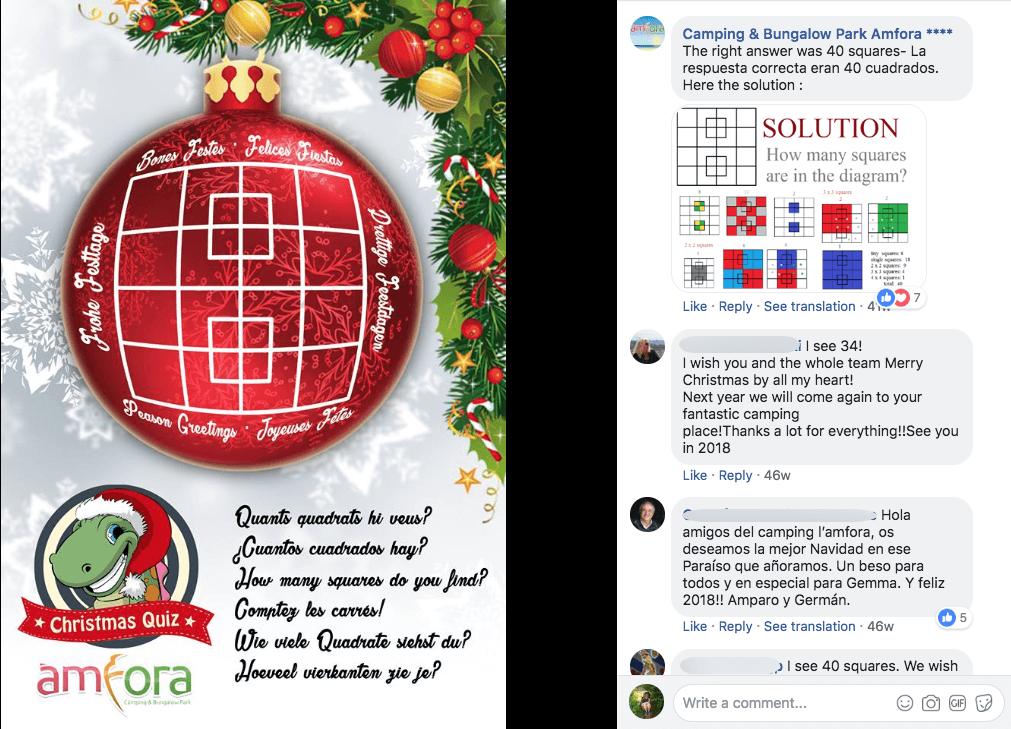 Here's an excellent example from a camping and holiday resort. They knew that their followers were an international audience, so they chose a brain teaser. To take part, people had to count the number of squares on the Christmas ornament, and leave a comment with their response. So the riddle was accessible to everyone, whatever language they spoke.
The brand made the most of their contest by following up in the comments. They thanked people for commenting, announced the winners, and even shared a solution to the game. They received almost 500 comments – and likes and shares, too.
Remember: it's a bad strategy to demand likes, shares, and follows. But if you share fun contests and interesting content, as part of your Facebook Christmas Campaign people will share your page without even being asked.
2. An Advent Calendar on your Facebook page
We know that social media algorithms reward you for posting often. In other words, if you're regularly sharing updates and giveaways with your followers, you'll get more engagement online.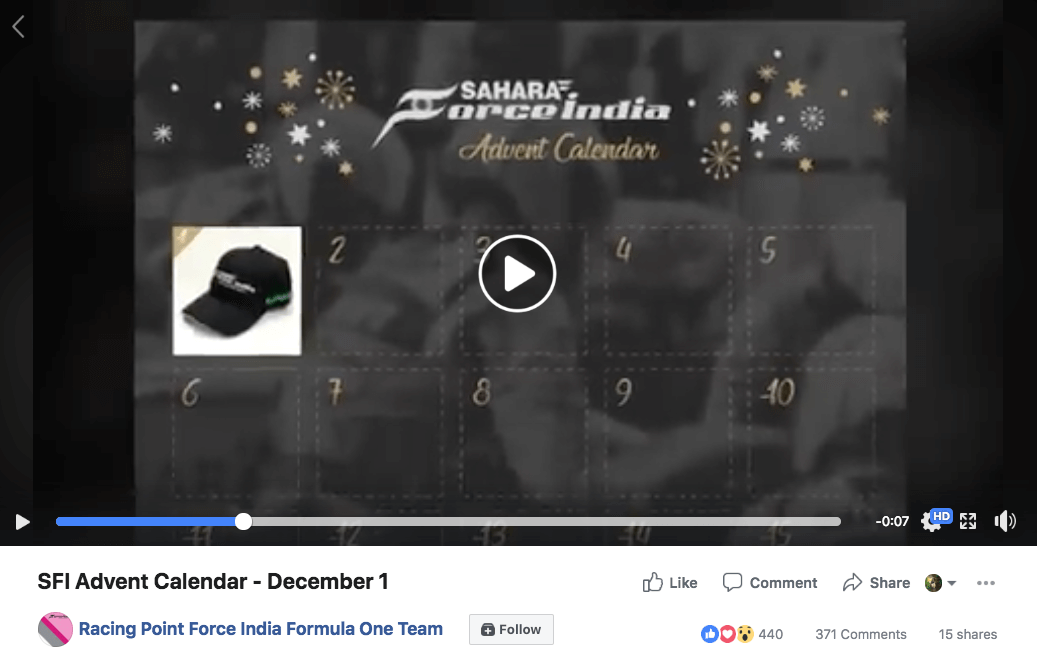 So an Advent Calendar is a great way to gear up your Facebook Christmas campaign. You'll have a reason to post every day, for 24 days straight. And your followers will love the excitement of a different prize each day.
Here's a nice example from a Formula One team. They shared a different piece of merch each day, with a video announcement. Every day, the video revealed another "window" in the calendar. And to take part in the prize draw? Users just had to comment on the post with their Christmas greetings to the team.

We've got a gift for you! Check our Christmas campaign website for more ideas, free design resources, and the lastest marketing trends in 2020!
3. A quick 12 days of Christmas countdown
We love the Advent Calendar idea, but it's not for everyone. You might not be in a position to give away so many prizes – or maybe you just don't have the time to run such a complex Facebook Christmas campaign.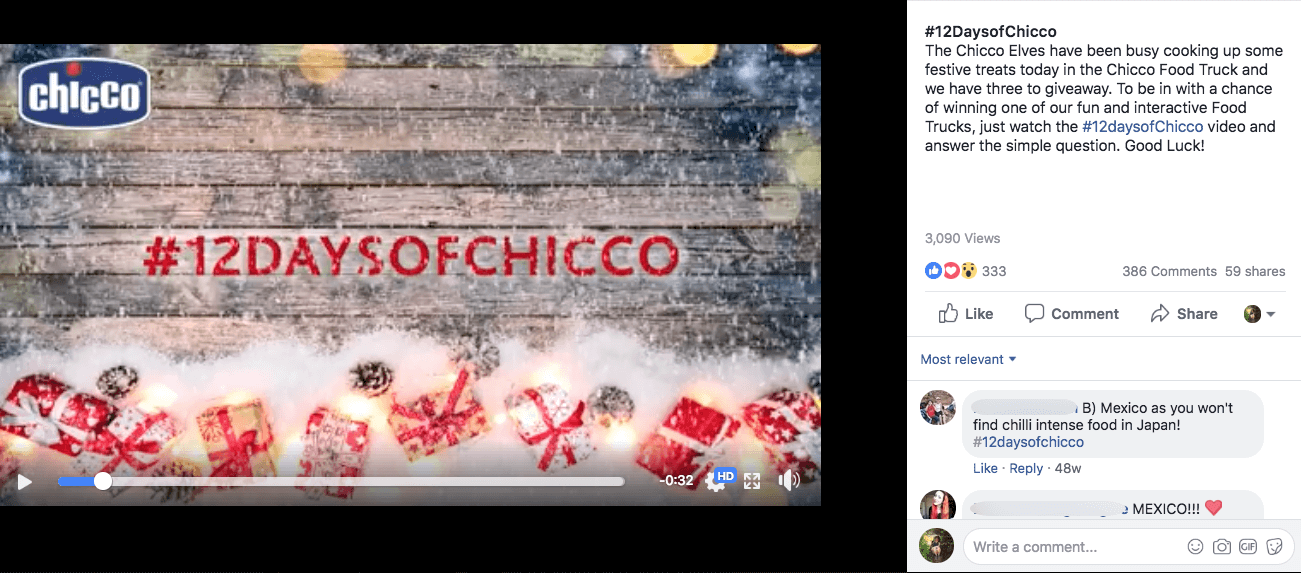 The 12 days of Christmas are a fun, low-effort alternative. It's just the same idea: post regularly for 12 days, with a series of thrilling prizes to engage your followers. Here's a great example from Chicco, a baby product brand.
Once again, they used video to get the message out. Videos on Facebook get 8 billion views a day. And with the arrival of video ads, Facebook Live, and Facebook Stories, you can expect to engage with your followers through video more than anything else.
Chicco shared a series of 12 videos. Each one had a question, comment, or game hidden inside! So their followers had to watch the whole video to find out how to join their Facebook Christmas campaign. What's more, the brand used the opportunity to showcase their top 12 products for the holiday shopping season.
4. Use shopping tags and Facebook Ads features
At the same time as it develops video content, Facebook has been adding more and more tools for marketers. Features such as shopping tags, Lead Ads, and Instant Experience ads are designed to achieve that most exclusive goal on social media. They're designed to convert leads into sales.
So it's a smart idea to integrate these conversion tools with your Facebook Christmas campaigns. And it's easier than you might think!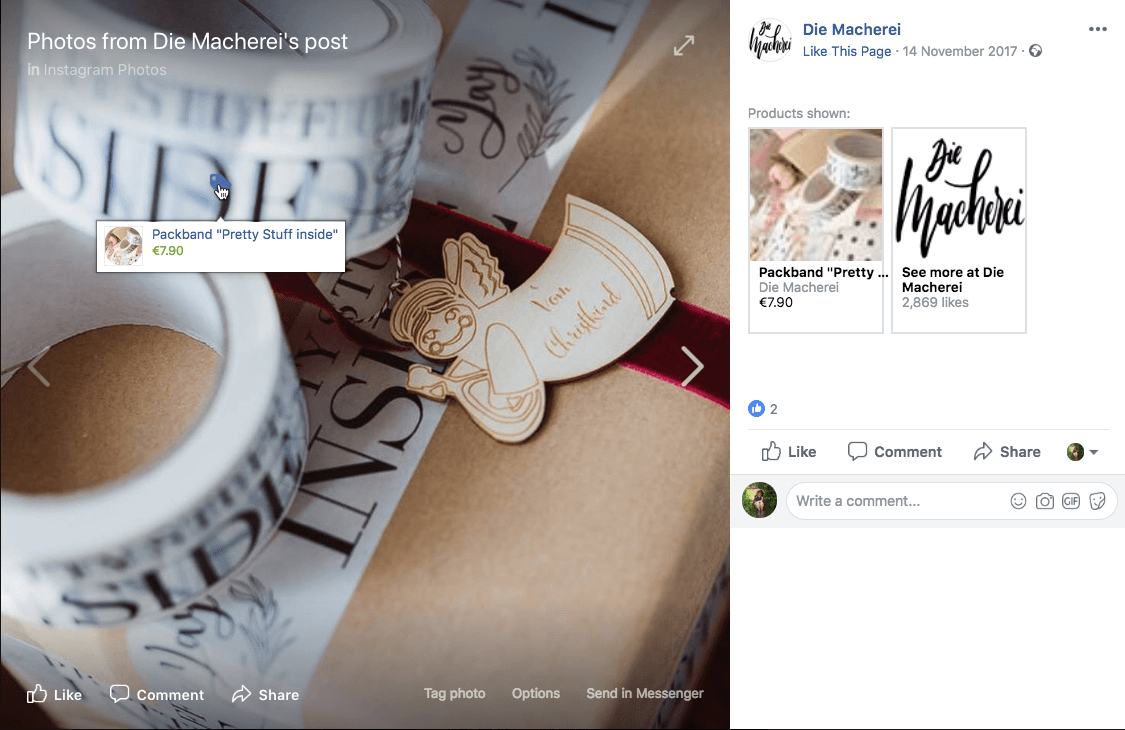 Let's start with this example from German crafting and homeware brand, Die Macherei. They shared a bundle of Christmas gifts with their followers. For a chance to win, people just had to comment and say what they were thankful for in the Christmas season.
Here's where Die Macherei was clever. It's standard practice to share a photo or video of your prize. But this brand included shopping tags in all their images. So even if someone didn't win the prize, they had the chance to click through and purchase the same tempting titbits.
You can integrate Facebook and Instagram ads with your campaigns, too. Create an ad to match your giveaway post – or run the giveaway exclusively as an ad. You can even collect competition entries from several different posts and profiles with the Multi-Network Giveaway app.

Any doubts? Our Support Team is waiting to answer all your questions on our Online Chat. Don't hesitate to ask!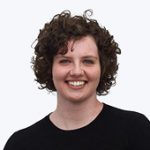 Corinna Keefe
Content marketer at Easypromos
Publication date: 2011-11-21