Posted in: Business news,Ideas for your websiteLast update: 15/07/20
Do you want greater visibility for your promotion? Do you want to reach more potential fans? Do you want maximum exposure for your promotion? In Easypromos we work every day to ensure that the promotions created through the different Easypromos applications – Basic, Premium and White Label – all reach the maximum number of Facebook users.

In this post we will explain how to create a campaign that will enable your promotion to appear as one of the featured Easypromos promotions, and therefore be the first visited by Facebook users. This post serves to complement the tutorial, how to correctly publish your promotion in the Timeline and make it known to your fans.
Easypromos currently has over 2 million active users each month, who daily follow the new promotions created via the application. All of these users search for the chance to win prizes in the contests and sweepstakes that are created with Easypromos.
How do Facebook users access and discover new promotions created with Easypromos?
All the active Easypromos promotions can be found in the following page:
Latest highlighted promotions in Easypromos
This page will be accessed directly when someone searches for Easypromos in Facebook or clicks on any reference to Easypromos. When a user takes parts in any promotion they will see a bookmark on their Facebook home page (includes mobile devices). This bookmark is a direct link to the list of all Easypromos promotions.
The page is divided into 4 sections:
1. Home: featured promotions
All featured promotions are shown on this page, as well as the 6 latest Premium promotions created and the latest Basic promotions created.
The featured promotions are those that appear first and fullscreen. The featured promotions can be Basic, Premium or White Label promotions.
Note: By default, White Label promotions do not appear in the list of Easypromos promotions. However, they now have the opportunity to appear as featured promotions.
2. Last minute: promotions about to end
All promotions that have just two days left are featured on this page. In this way the users have the opportunity to take part in a promotion up until the last minute. See current Easypromos promotions that are about to end.
3. Premium:
List of all the active Premium promotions, ordered from latest to oldest. See the latest active Premium promotions.
4. Basic:
List of all the active Basic promotions ordered from latest to oldest. See the latest active Basic promotions.
How can you set up your promotion so that it appears as a featured promotion?
In Easypromos we have created a space with all the resources that an administrator needs to begin spreading their promotion. This space is the promotion diffusion screen and it can be accessed from the Easypromos administration panel. This screen is available in all three versions of Easypromos: Basic, Premium and White Label.
Once your promotion is active you will find it in the list of active promotions on your page. You can access the diffusion screen by clicking on the "promote" button as shown below.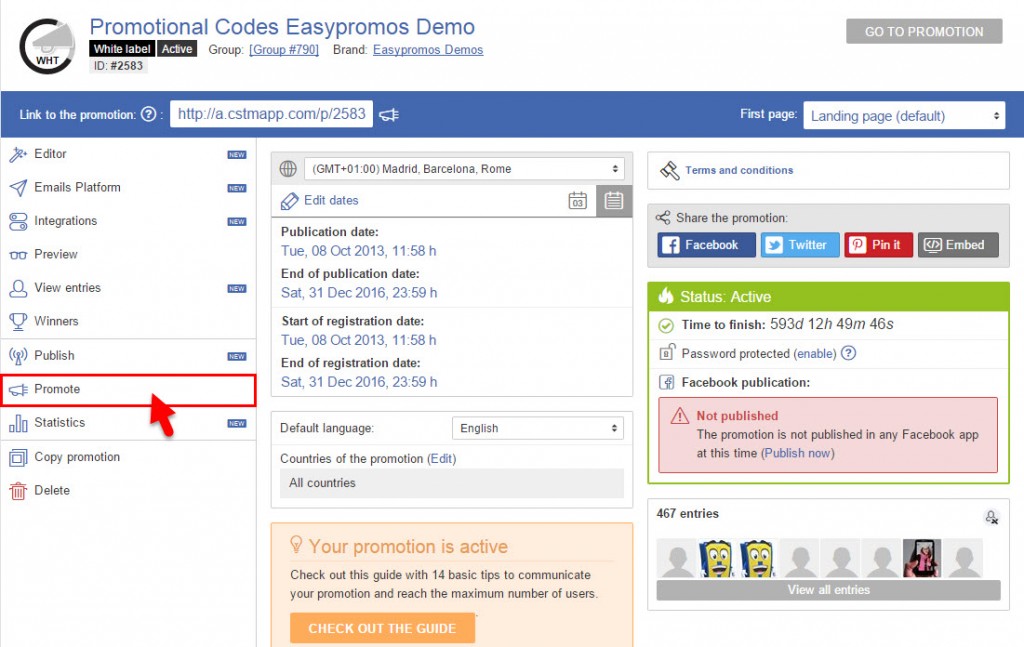 On the diffusion page you will find all the resources available that will help you give maximum visibility to your promotion. You will find 3 types of actions to aid diffusion:
Publish directly in the page's Timeline: See more details
Obtain direct links to the promotion to use in email marketing campaigns, Ads, twitter, etc. These links are 100% compatible with mobiles.
Create a campaign to have your promotion featured in the Easypromos promotions page.
To create a featured campaign you can select the start and end date of campaign. These will be the dates between which the promotion will be featured, between 12 AM on the start date and 11.59 PM on the end date, depending on the time zone selected for the promotion.
The featured promotions appear first in the public list of Easypromos promotions and contests, and they have a larger format. The administrator can preview how the promotion will look when it is featured, and he or she will be able to adjust the featured promotion banner from the diffusion screen. By default, Easypromos uses an image based on the main image of the promotion, but a new image can be uploaded with the following dimensions: 336x248px.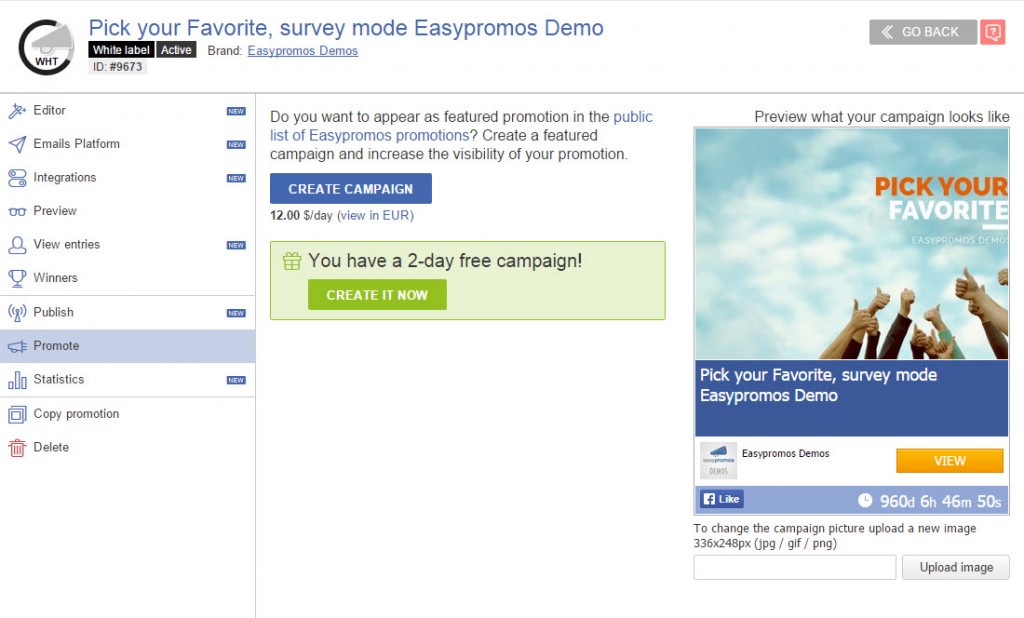 How much does it cost to appear as a featured promotion in Easypromos?
The featured promotion campaigns in Easypromos are paid per day. The launch price is $12 USD / 10€ per day. This means that if you choose to have your promotion featured for 3 days, the total price will be $36 USD / 30€.
Note: 2 days free for all White Label promotions: All White Label promotions are entitled to be featured free for 2 days. This can be activated from the diffusion screen on the start date of the free campaign.
If you have any doubts, or if you need more information about featured promotions, please contact us via our contact form. Our customer serviced team will be happy to assist you.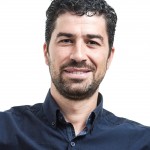 Easypromos CEO and co-funder
Publication date: 2012-06-15