Posted in: Success casesLast update: 15/06/17
Discover 3 examples of digital promotions realized by a marketing agency and get inspiration for your next campaign.
The Agency

Barcelona Web Marketing offers Online Marketing services for companies. In the Social Media area it counts on the partners Vanessa Estorach and Ana Gutiérrez, who manage the creative execution of the campaigns.
The Clients
Cebado: Web Design in WordPress and SMO Direction.
SOLOMOTO: Training in Sales of Advertising Formats on the Internet and SMO for the commercial and press team.
P&J Transeuropean: Strategy of attracting commercial contacts (Landing Page + Adwords).
The campaign
Cebado, a client who is present in the hairdressing and beauty salons sector, asked Barcelona Web Marketing agency to design their new website, as well as the setup of their Facebook and Twitter accounts.
The purpose of being present on the social networks is to attract a younger audience and increase the traffic to the salons. The strategy on Facebook is achieved by creating content related to fashion design trends, giving advice and tips to the users and creating promotions to encourage the participation of the fans and build loyalty.
The first promotion on Facebook was launched at the end of December, two months after setting up the account. The agency opted for a Fan get Fan Easypromos promotion with the aim to attract new fans thanks to the existing ones. The operative of the contest was a drawing of a Ghd Deluxe metallic collection (silver color) and a Ghd air hairdryer among all the participants. It was necessary to be fan of the page to take part in the contest, as well as get 3 friends to the promotion. The more friends a user invited, the more chances he had to recruit 3 friends and, therefore, win the Styler.
The solution and best practices
The Easypromos Premium application, which complies with all Facebook guidelines, allowed to design all the sections of the promotion with a very attractive design. Some of the keys to success were:
Clear and persuasive copywriting with a simple explanation of the dynamics of the promotion.
Appealing design showing the prizes of the drawing.
Community management during the campaign encouraging the participation in Facebook and Twitter.
The election of the prize, which had a high value and was from a well-known brand like Ghd.
The Benefits
Visibility and brand notoriety for Cebado through the digital media.
New fans thanks to the promotion. The number of fans increased up to 1000 during the week that the promotion last.
New visits to the recently launched website.
Engagement: giving the user the opportunity to take part in a contest generates affinity with the brand, as well as eagerness in the user to comment and share. It's a fun way to establish a bond with the already existing and potential customers of the brand.
Other cases: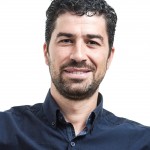 Easypromos CEO and co-funder
Publication date: 2013-01-16