Posted in: ApplicationsLast update: 19/07/21
Do you have a promotion running and would like to be up-to-date on the latest activity of your contest? Do you want to know who the new registered users of your promotion are? In all the contests created with Premium and White Label versions of Easypromos you'll be able to receive in your e-mail address a notification with the latest users registered in your promotion. This way, you can keep track of the promotion's activity at all times and check the latest users right from your mobile: notifications are sent every 30 minutes and gather all the new users who have registered during this period.

Thanks to the compatibility of Easypromos with mobile devices, together with feature that lets you receive notifications with the latest entrants registered in the promotion, you'll be able to speed up the moderation process of the users' entries: you'll be able to manage the users' entries right from the mobile device where you receive the notification. In particular, you'll be able to:
See the entry of each participant, depending on the type of contest: photo, video or text.
See the day and time when the user registered in the promotion.
See the total votes and the users recruited by each entrant.
Publish the entry, if you have configured the option to validate the entries before they are published.
Un-publish the entry.
Access the Facebook profile of each participant.
Below we show how a notification is displayed, including information about the latest entrants in a photo contest: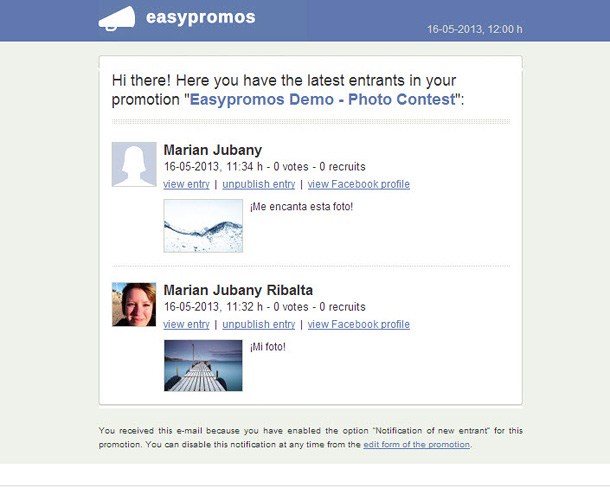 Administrators will be able to set up this option from the promotion edit form, where they can enter the e-mail address where they want notifications to be sent. If they wish, they can enter multiple e-mail addresses, and notifications will be sent to all these e-mails. In this case, the different e-mail addresses must be separated by comma.
On the following image we show you where the option to receive notifications of new entrants is located in the edit form: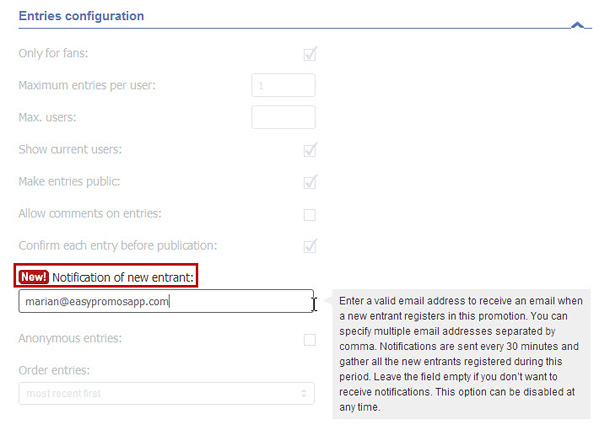 Tip: Use this functionality to be proactive in your sales management. For example, if you have organized a question and answer contest where you ask your users their opinion about some of your products, when you receive the notifications with the new users registered you'll be able to check their comments easily and fast, which will allow you to contact with them and interact with your users in a more direct and active way.
Related links:
Publication date: 2013-05-16