Posted in: Business newsLast update: 03/04/20
Facebook has just announced a change in its promotions policy. The key point is that now you can administer promotions directly on Page Timelines. Therefore, Facebook now allows promotional activities on the Timeline to exist alongside the promotion apps that have been used until now.

The main new features are:
A promotion can now be administered on the Timeline of a Page. Users can register by:

Commenting on a Page post
Liking a Page post
Writing a post on the Page Timeline

Liking a post or commenting on the Timeline can both be used as voting mechanisms
The Page's private messaging system can be used to register for the promotion
It is not possible to use the photo tagging tool as a registry system if the user does not appear in the photo
As we have received many emails, tweets and calls about this issue, we now offer you our first assessment.
Being able to carry out promotions directly on the Timeline is a positive thing for administrators of Facebook Pages because it provides another tool for improving brand visibility. It also simplifies previous promotions guidelines, which sometimes caused confusion, and has a greater impact on promoting organic virality. The truth is that many Pages have already been carrying out Timeline promotions in contravention of the Facebook guidelines, so this new update is more of a formality than a practical change.
However, Facebook is not eliminating apps for managing promotions on Pages. On the contrary, it actively recommends them for a more structured management of promotions and for promotions with specific requirements. Our view is that promotions on the Timeline represent just one of the tools available to marketing managers. These types of promotions meet the needs of immediacy and simplicity; we see them as being appropriate for occasional actions, for giving more dynamism to fan-base interaction and for small businesses that wish to present their products and amplify their fan base.
It is clear that our position may be considered biased, so to provide more objectivity to our arguments, let us set out a non-exhaustive list of the benefits of an app promotion when compared with a Timeline promotion.
With a promotion app you can:
Manage winners automatically with random draws and a certificate of validity
Accept terms and conditions and a privacy policy for the collected data.
Comply with the promotions regulations of each country
Take advantage of the graphic opportunities offered by apps to show visually appealing campaigns
Manage your promotion dates automatically (visibility period, voting period, etc.)
Collect additional data privately and securely, and be able to export it to Excel / CSV / XML and incorporate it into your own database
Increase knowledge of your fan base via questionnaires, trivia, polls, etc.
Have more tools to be able to evaluate fraudulent actions and minimize the impact of false accounts or vote exchanges
Be aware of, and able to reward, referenced traffic – users who bring friends to the promotion.
Organize voting contests for images, videos, and so on, with advanced management capabilities
Integrate with other social networks, enabling photo or video contests with Twitter and Instagram
Get detailed statistics on participation and registration development
Integrate advanced systems of analytics such as tracking codes or code conversion
Offer subscriptions to newsletters
Integrate with other applications such as Mailchimp, Aweber, etc.
Use the central control panel for organization and for access to the history of promotions already carried out
The list of advantages of promotion apps is long, and we are sure that once this news has been assimilated, the list will be longer still. At the moment this Facebook policy change raises many questions, such as how to manage the acceptance of legal bases, how to publish the list of winners, and what implications this change will have regarding the quality of the contents of Timelines and the News Feed.
In any event, here at Easypromos we will continue with our mission to provide the best tool for creating promotional campaigns on Facebook. We'd also like to take this opportunity to encourage you to subscribe to our newsletter. That way, you can stay informed about the developments we've been preparing this August to offer you more choices and better prices.
Tool to manage promotions on the Timeline
In fact, we have developed a new tool which facilitates the management of promotions carried out directly on your Facebook Timeline: you'll be able to run a sweepstakes among all the users who 'Like' one of your posts, as well as export comments and likes from a Facebook post. We explain you how this tool works on the following link.
Related links: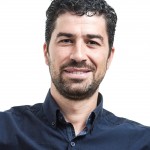 Easypromos CEO and co-funder
Publication date: 2013-08-28