Posted in: Events,Ideas for your websiteLast update: 26/10/17
Christmas is just around the corner. For most of us, the Christmas season is one of the highlights of the year, and the yuletide spirit can be a wonderful source of inspiration for almost anything, including engaging with your brand's fans by organizing contests and promotions. Make the most of these dates to interact with your fans, increase your fanbase and improve your sales. We have decided to share some ideas, based on our current range of promotions, to help you dynamize your Facebook Page over the holiday season.

1. Test and quizzes: Fun for your fans
Do you like to celebrate Christmas with your family, surrounded by loved ones? Or are you one of those people who'd rather spend the holiday season traveling? Do you like to plan parties in advance or do you leave it all until last minute? Let your fans have fun answering a series of questions. Prepare a multiple-choice test to help fans discover their ideal Christmas holidays. Or create a quiz so entrants can show how much they know about Christmas.
To encourage participation, you can raffle a prize among all users who participate. If you've organized a quiz, you can arrange the contest so that only entrants who achieve a high enough score become eligible for the prize.
Tip: To achieve greater participation, prepare a quiz that's quick to answer (4-5 questions is the maximum recommended) and make it more visual by mixing texts with photos and videos. Combine it with a recruiting contest to increase the viral reach of the promotion.
Learn more about quiz-based promotions
Case study: Questionnaire combined with recruiting
2. Instant Wins and Sweepstakes: Give away prizes among your followers
Do you remember advent calendars, with their gifts and chocolates to make the wait for Christmas that much sweeter for people of all ages? Adapt this idea to Facebook and create your own advent calendar to give away prizes to your fans.
How can you do this? With 'Instant Win' promotions you can revive this tradition and share prizes among your fans daily. Just as if they were opening a new window on their advent calendar, fans will be able to discover and choose a new prize every morning. What's more, to keep the level of expectation high, fans will be able to know instantly if they have won a prize. Now that's magic!
Tip: If you wish to encourage participation, complement your winning moments with other contest mechanisms, such as, for example, raffling a bigger prize among all who enter or offering them a coupon. This double prize will encourage your fans to enter when they see they have more chances of winning something.
Would you like to know more about Easypromos' Instant Win app?
How to carry out a sweepstakes using the application's tool for picking winners
Case study of the sweepstake carried out on Jorge Lorenzo's fanpage
3. Photo contest: Awaken the creativity of your fans
Remember when you were a child and helped your dad decorate the Christmas tree? It was a Christmas tradition that you never wanted to miss out on. Christmas is an excellent time to revive this and other merry scenes. Organize a fun photo contest on your Facebook page and encourage your fans to share their best Christmas snaps of snowmen, brightly decorated homes, Christmas trees, and so on.
A photo contest is one of the greatest tools to increase the engagement on your Facebook Page fans, and it also encourages community interaction.
Make your promotion go viral by organizing a voting contest. To select a winner, we suggest you carry out a sweepstake among all entrants so that they all feel equally rewarded for their efforts. Another effective method is to raffle the prize only among those who have achieved a minimum number of votes. Decide on a reasonable minimum – 10 to 20 votes for example – and be sure to offer a very attractive prize as this type of prize requires your fans to make more of an effort.
Tip: Adapt the theme of the contest to your business and products. For example: Ask users to include your brand logo or one of your products in their photos. This will help to strengthen the brand image.
Try an online DEMO of a photo contest
Case study: How to carry out a contest in phases
4. Code validation: Foster loyalty from your customers
Christmas is the season for gifts and purchases par excellence. Make the most of your Christmas sales by fostering the loyalty of your customers with exclusive promotions. After a customer purchases one of your products, present them with a code which directs them to an exclusive promotion on your Facebook Page.
The code will allow them to enter the promotion, making the promotion exclusive to those who have made a purchase. This way, not only do you reward the loyalty of your fans, but you also have a quick and easy mechanism to attract customers to your Facebook Page.
Tip: Now that we're all getting ready to do our Christmas shopping, offering a discount coupon or promotional code can be the best of gifts. Complement your Customer Loyalty Rewards promotion with the coupon and promotional codes system. Just by entering, users will be able to download a discount coupon in PDF format, which they can then redeem in your store or establishment.
Do you want to see a real example of a 'code validation' promotion?
5. Surveys: Get to know your users
How much do you generally spend on presents during the Christmas holidays? Do you usually host lunches and dinners at home? If so, how much do you plan on spending this year on food and drinks? Where do you prefer to do your food shopping – supermarkets or specialized stores? Christmas can be a good time to carry out a survey or market study on your Facebook Page to get to know your fans better. If you have a food product business, finding out what your customers like and how they celebrate their holidays can help you understand the consumer behavior of your customers.
With a survey on your Facebook Page, you can collect valuable feedback from your followers that will help you in your business decisions.
Tip: Be creative with your questions. Prepare a survey that's short and engages your fans. As an incentive, raffle a prize among all who answer the survey. And if you wish to carry out a quicker and more spontaneous action, we suggest you compliment the survey with our 'Instant Win' mechanism.
Would you like to see a DEMO of an Easypromos Survey?
Case study: Survey organized by Clix
In Easypromos we are at your disposal to answer questions about any of these suggested promotions. Contact us and we'll help you get the most out of the holiday season with your Christmas campaigns on Facebook.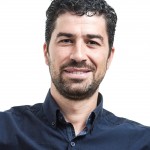 Easypromos CEO and co-funder