Posted in: EventsLast update: 29/03/19
Valentine's Day is just around the corner. Make the most of this special day for sweethearts with a well-planned, well-run campaign – and be sure to follow up with all your leads. Start with these 6 Valentine's Day campaign ideas to get your marketing started.

Check out our dedicated page for Valentine's Day campaign ideas.
Try demos, get templates, and read industry insights!
Check out these 6 creative Valentine's Day campaign ideas to win leads, user-generated content, and more engagement online.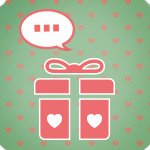 1. Valentine's Day social media giveaway
Valentine's Day is the ideal moment to generate engagement and visibility on social networks, because users are very active and everything associated with love is well-received. Social media giveaways are easy ways to energize and build your online communities.
That's why we recommend a comments-based giveaway, on Facebook, Instagram, Twitter, or Youtube, to start off your Valentine's Day campaign.
The dynamic is simple. Just publish a post, and give away a product or prize at random to someone who comments on the post. Get the conversation started with an engaging, open question. Here are a few quick ideas:
What is your Valentine's Day tradition?
What did you get your partner for Valentine's Day this year?
Can you sum up Valentine's Day 2019 in one word?
What's your favorite rom com?
If you choose your questions carefully, you can also use this opportunity to learn more about your target audience.
Click here for free social media templates,
including Valentine's Day designs.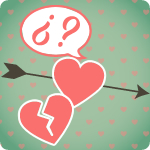 2. Valentine's Day quiz or survey
One of the most popular Valentine's Day campaign ideas is a quiz or survey. Put your fans' imagination to the test!
You could create a survey to find out more about your followers' plans for Valentine's Day. Or create a fun personality quiz for them to share!
To encourage more people to join in, offer a prize for everyone who completes the quiz. You can offer different rewards based on quiz answers, or restrict the prize to the highest scores.
Tip: Prepare a quiz that's quick to answer (4-5 questions is the maximum recommended length) and make it more visual by combining photos with videos and texts.
Click here to learn more –
and try our quick Valentine's quiz!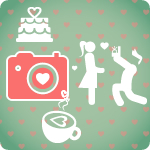 3. Valentine's Day photo contest
A romantic evening in your favorite city, that holiday you'll never forget, the day she said 'I will,' that morning you woke at dawn to watch the sunrise together, your sweetest ever kiss…
Participating in a photo contest is an opportunity to revisit snapshots of our most memorable moments. Organize a photo contest and encourage your followers to share their most romantic pictures.
You can share all the entries in a public gallery, where anyone can view the photos, vote for their favorites, and share on social media. Then award a prize to the highest-voted picture!
Click here for 10 cute ways to run a photo contest with custom stickers and decorations!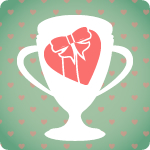 4. Valentine's Day instant win prize draw
Another way of celebrating Valentine's Day is by giving away romantic prizes among all your fans. A simple and fun way to do this, and a way that will get your users hooked, is using an 'instant win' promotion.
When creating a promotion with the 'instant win' system you can decide how many prizes you're going to give away, and thus combine small-value prizes like chocolates or flowers with bigger prizes such as dinners for two or trips.
It's also possible to schedule in advance when each prize is to be awarded. For example, you can give away the small prizes during the week leading up to Valentine's Day while leaving the big prize for the day itself.
Tip: To encourage your fans to participate, make sure to offer attractive prizes. The best prizes are experiences that couples can enjoy together (dinners in restaurants, hotel stays, holidays, theater or concert tickets, chocolates, flowers, etc.)
Learn more about Instant Win with Easypromos!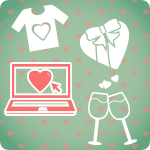 5. Valentine's Day recruitment contest
If you really want your promotion to go viral, try a recruitment or Refer A Friend contest.
This is a simple prize draw, where everyone who participates becomes an ambassador for your brand. Here are some examples:
Win a romantic dinner for 2! To enter the sweepstakes, refer 3 friends with your unique recruiting link.
Do you love your friends? Get 5 of them to join the prize draw, and you could win a weekend away together.
How would you like it to win a spa session for 2? Refer 3 friends to enter our Valentine's day giveaway.
Get more ideas and inspiration here!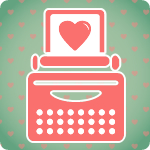 6. Valentine's Day writing contest
Do you remember the day you first met? What was your first holiday together? How did you propose to your partner? What's the most original compliment you've ever been paid? What's the secret to keeping love alive?
Valentine's Day is the perfect time to encourage fans to relive their most romantic experiences. Encourage your followers to share their most special moments and build a writing-based contest on your Facebook Page to find the most romantic love story, the most original slogan, the funniest compliment, the sweetest declaration of love or the best advice for keeping love alive.
Reward the most original love stories and enter those that obtain a minimum number of votes into a sweepstakes. Some prizes that work well are romantic hotel stays or couples spa.
We hope you've found some inspiration with our Valentine's Day campaign ideas. Contact us for expert support and advice on your plans.
Happy Valentine's Day from the Easypromos team!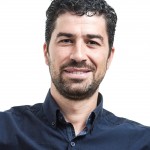 Easypromos CEO and co-funder
Publication date: 2014-01-27