Posted in: Applications,Digital marketing,Ideas for your websiteLast update: 20/12/19
Valentine's Day is just around the corner. Make the most of this special day for sweethearts with a well-planned, well-run campaign – and be sure to follow up with all your leads. Start with these 6 Valentine's Day campaign ideas to get your marketing started.

The day of love… It must be one of the most celebrated days of the year. Billions of dollars are spent each year on more or less romantic presents, and brands go crazy to come up with engaging and unique Valentine's campaigns. This is why we've put together 6 creative Valentine's Day campaign ideas to win leads, user-generated content, and more engagement online.
1. Valentine's Day social media giveaways to grow your online community
Valentine's Day is the ideal moment to generate engagement and visibility on social networks because users are very active and everything associated with love is well-received. Social media giveaways are easy ways to energize and build online communities.
That's why we recommend a comments-based giveaway, on Facebook, Instagram, Twitter, or Youtube, to start off your Valentine's Day campaign.
The dynamic is simple. Just publish a post, and give away a product or prize at random to someone who comments on the post. Get the conversation started with an engaging, open question. If you choose your questions carefully, you can also use this opportunity to learn more about your target audience.
Social media Valentine's Day giveaways are a fantastic way to grow your online community and online presence. Well-organized sweepstakes will also help you grow brand loyalty and gain new followers.
Our creative team prepared Facebook and Instagram templates! Go ahead and download them to kick-off your Valentine's campaign!
2. Valentine's Day quiz to collect leads and offer discounts
One of the most popular Valentine's Day campaign ideas is a quiz or survey. Put your fans' personality to the test!
Find out more about the likes and preferences of your audience! Ask a series of closed questions, and based on the answers display a final personalized message for the participant! Once you learn more about your community's likes you will know how to target them in the future!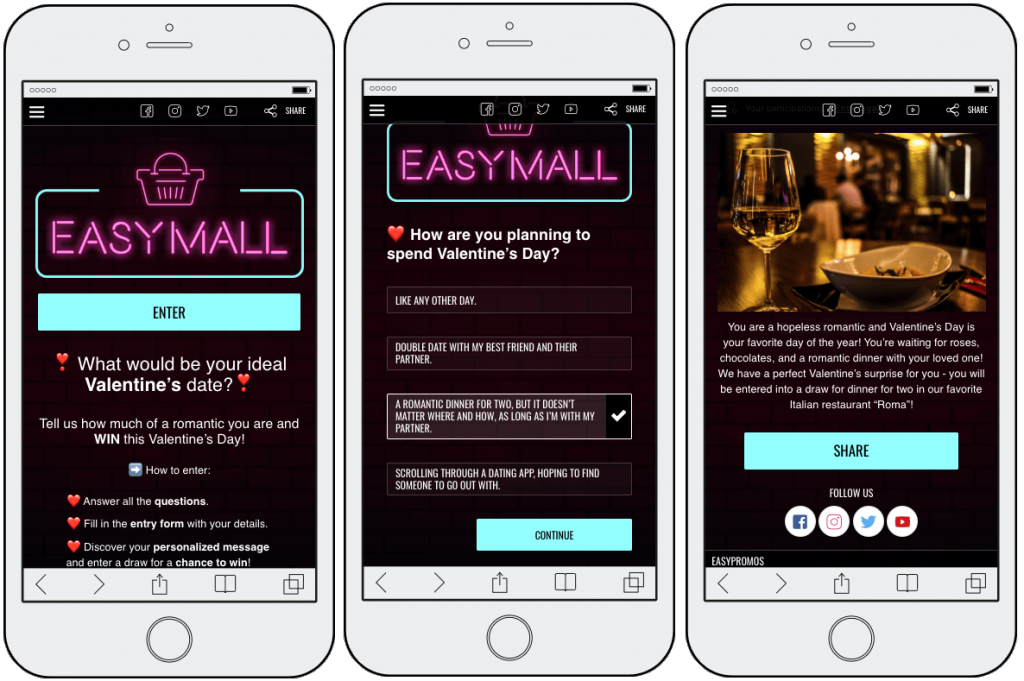 To encourage more people to join in, offer a prize for everyone who completes the quiz. This is a great opportunity to provide discount codes and vouchers, for example for a romantic Valentine's dinner for two or a weekend getaway. You can also offer different rewards based on quiz answers, or restrict the prize to the highest scores. Don't forget to integrate an entry form to collect the contact details of the participants!
Tip: Prepare a quiz that's quick to answer (4-5 questions is the maximum recommended length) and make it more visual by combining photos with videos and texts.
Try our Valentine's Day Personality Quiz DEMO to discover how to collect leads and display personalized messages. And if you like it, create your own Personality Quiz with our template!
3. Gamify your Valentine's Day campaign
Gamification is the new digital marketing trend. And it is another way to celebrate Valentine's Day with your online community!
Branded mini-games are great to entertain your audience and also to accomplish your marketing objectives. Therefore it's a win-win option!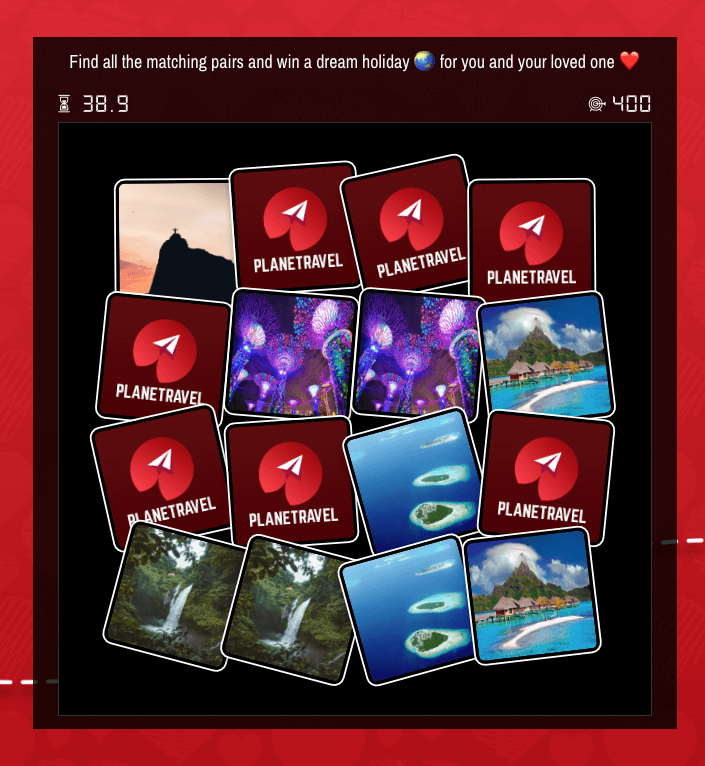 Moreover, you can personalize the game with your logo and branding colors, therefore exposing the player to your brand. Enable the entry form to collect leads! And to encourage more participants you should throw a prize in! For example, why don't you announce a random draw between 10 fastest participants?
Try out Valentine's Day Memory DEMO to get more inspiration! And if you decide to add it to your Valentine's campaign, then use our ready-made template!
4. Valentine's Day Entry Form contest
If you really want your promotion to go viral, try an Entry Form Giveaway.
This is a simple prize draw, where the only entry requirement is to complete the registration form. Once the registration period is over, a random draw is conducted between all the participants.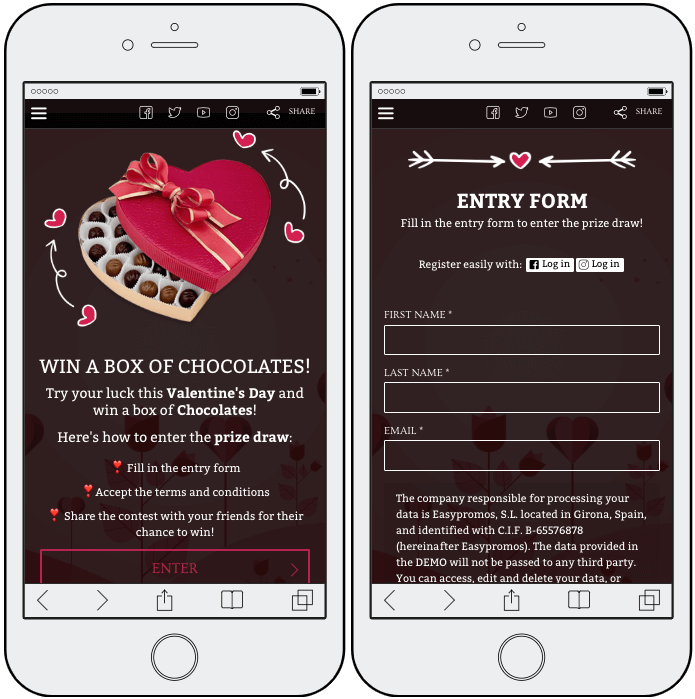 However, there is another way to make it even more successful… Ask the participants to recruit their friends for extra entries! If you want to organize a recruitment giveaway, use our Online Chat to contact our Support Team. They will answer all your questions!
Try our Entry Form Giveaway DEMO to understand how to incorporate it into your Valentine's Day campaign. And then create your own sweepstakes with our template.
5. Product Recommender to increase sales during your Valentine's campaign
Are you looking for a more direct way to promote your brand and products over Valentine's season? We have something special for you… a Product Recommender. Similar to the Personality Quiz, but with a different objective. Ask the participants some closed questions, and based on their answers display a final message… with a recommendation! According to the answers, you can suggest different products. And the best thing is that you can add discounts and vouchers!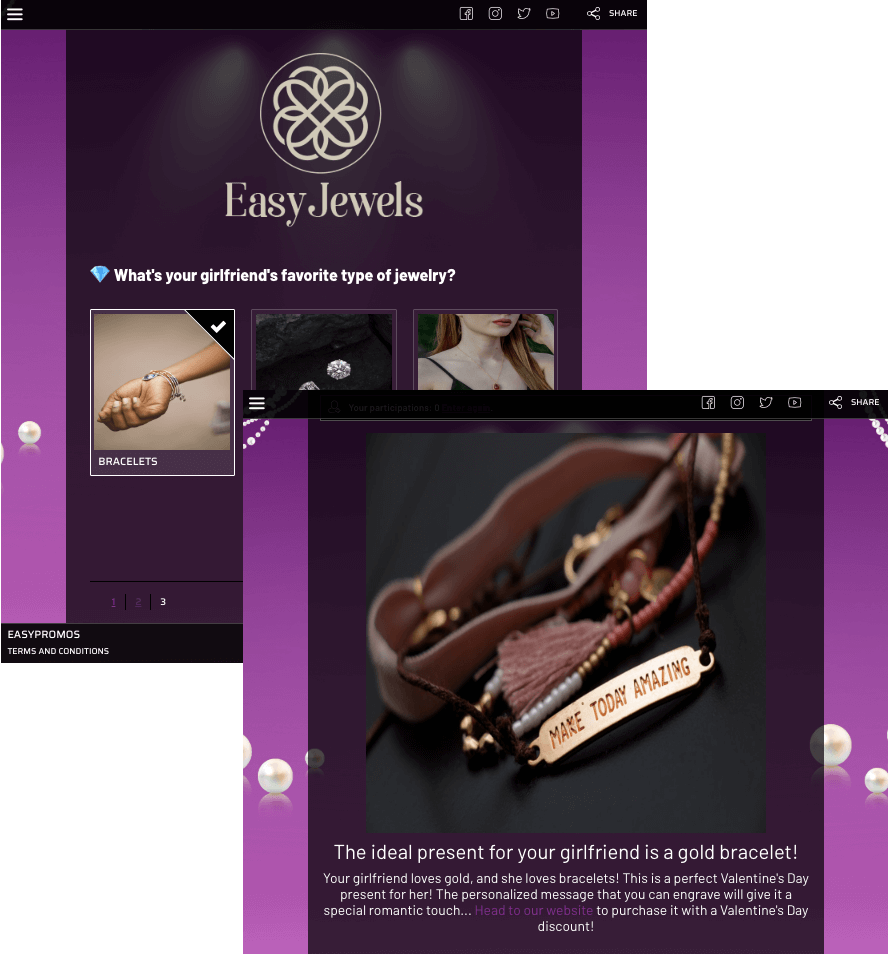 Each product recommendation can come with a different voucher. Or you can add a coupon that will be emailed to everyone as soon as they complete the registration form, which will also bring you new leads.
You can try our Product Recommender DEMO to discover the user-experience for yourself!
6. Valentine's Day Photo Contest to obtain user-generated content
A romantic evening in your favorite city, that holiday you'll never forget, the day she said 'I will,' that morning you woke at dawn to watch the sunrise together, your sweetest ever kiss… Organize a Photo Contest and encourage your followers to share their most romantic pictures.
Photo Contests are a great technique to collect user-generated content. Add an entry form where the participants will leave their contact details and also grant you permission to share their pictures on your social media channels.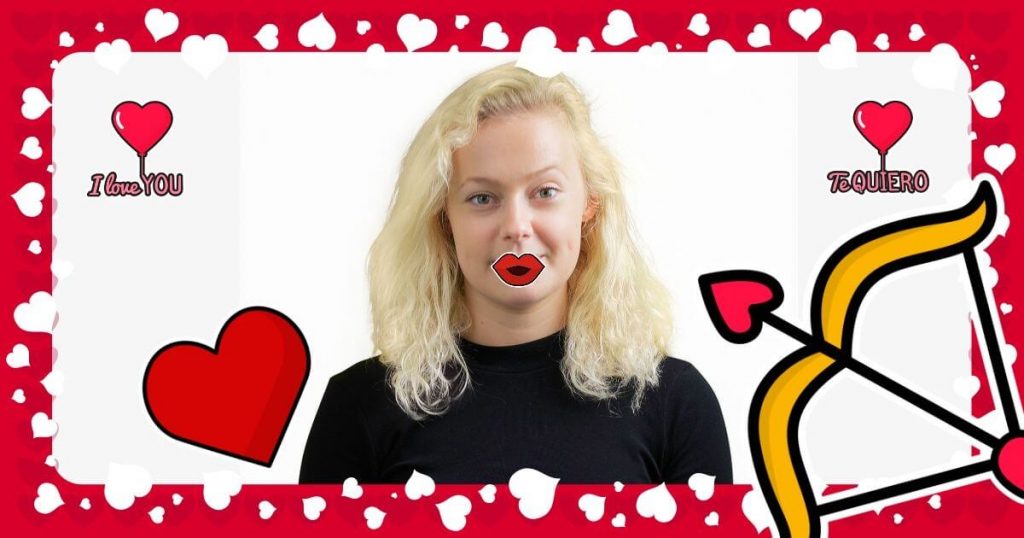 Make the contest even more fun and use the PhotoFun app to organize it! Get your audience to upload their pictures and decorate them with Valentine's themed stickers. You can then share all the entries in a public gallery, where anyone can view the photos, vote for their favorites, and share on social media. Then award a prize to the highest-voted picture!
Sounds like fun…? Try our PhotoFun DEMO with Valentine's frames and stickers! And if you like it… then set up your own contest with our template!
We hope you've found some inspiration with our Valentine's Day campaign ideas. Head to our Valentine's Day hub for more inspiration!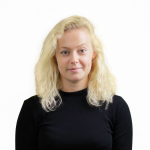 Kamila Palka
Easypromos marketing team
Publication date: 2014-01-27