Posted in: EventsLast update: 21/05/19
Father's Day is bigger than ever, largely driven by Millennials who are keen to splash out on celebrating dads. But at the same time, consumers are moving away from tired stereotypes and cringe-worthy gifts. We round up the best Father's Day promotion ideas – updated for the 21st century.

Father's Day promotion ideas in 2019
According to the National Retail Foundation, Father's Day was worth $15.3 billion in 2018, with an average spend of $133 per consumer. But we've come a long way from the traditional hand-knitted tie or bottle of whiskey. Dads in 2019 are smart, smartly dressed, and social media-conscious superheroes.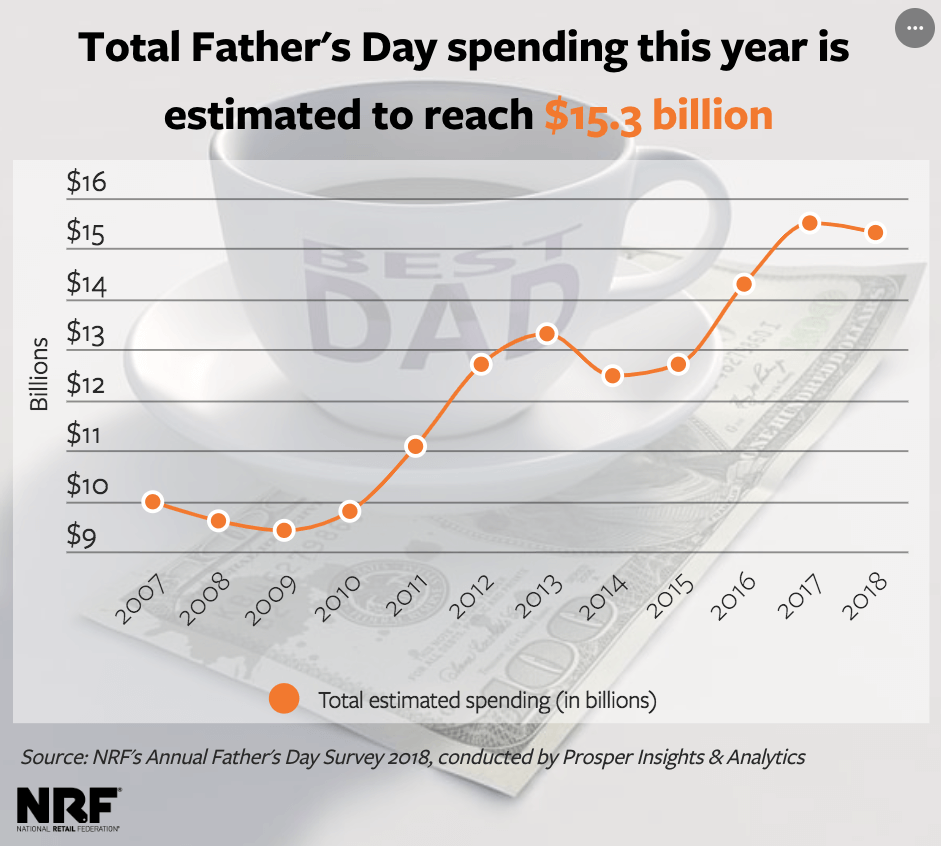 So what does that mean for Father's Day promotions? Well, it's time to get up to date, with marketing campaigns that reach out to both kids and parents, and combine traditional themes with modern values. In this post, we'll take a look at:
marketing to children and parents
best prize and gift ideas for Father's Day
where to find your target audience for Father's Day
Who's your target: dads or children?
First things first: when you're brainstorming Father's Day promotion ideas, you need to know who you're targeting. Do you want to offer special treats and experiences for dads, or market your products to their children as they shop for gifts?
As social media gives us more tools to connect, you can do both. With a campaign that asks fathers and kids to get in touch, you can make a two-fold offer to consumers: they can get awesome Father's Day deals, and let their dad know they care.
Take a look at this example, from ready-meal brand Amy's Kitchen. They offered a gourmet treat for Father's Day, while encouraging their followers to share with their dads. All it took was a simple Twitter giveaway.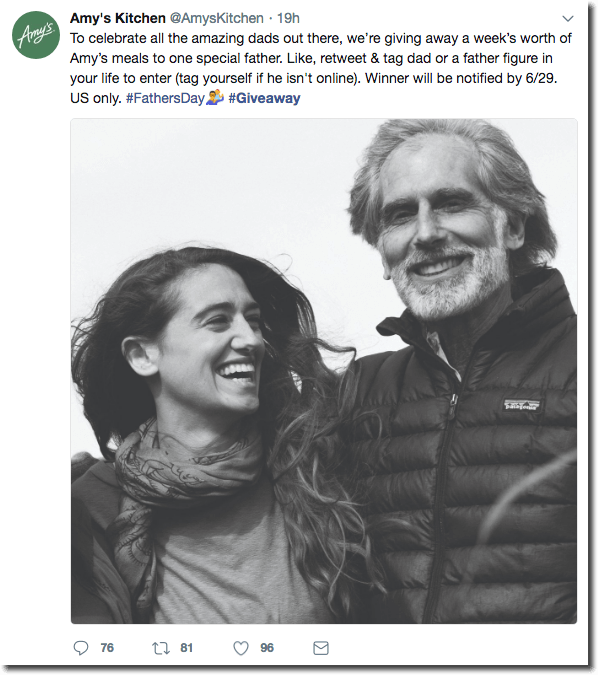 Even if you don't directly ask users to tag their family, you can certainly build on father-child relationships to start a conversation on social media. Here's a clever example from a men's grooming brand, also on Twitter: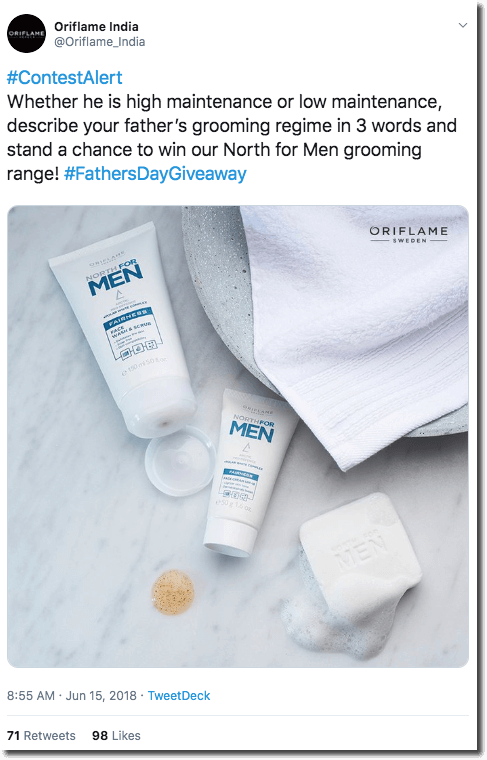 This is a really smart Father's Day promotion idea, because it achieves several goals at once:
showcases a product
builds on father-child relationships
replies can be used for market research
How to choose a prize he'll actually want
Once you've chosen your audience, it's time to pick a promotional prize or Father's Day gift. What will appeal to your target market?
To help you get started, here's a round-up of the top Father's Day gifts:
47% of consumers plan to buy dad an experience
43% plan to buy clothing
42% plan to buy gift cards
22% plan to buy books or music
20% plan to buy consumer electronics
19% plan to buy personal care products
16% are interested in home improvement supplies, tools or appliances, sports and leisure, or automotive accessories
And of course, greetings cards remain a classic option. 63% of consumers plan to give dad a card, as well as gifts.
The conclusion? Stereotypical "dad gifts" are less popular than ever before. Instead, consumers are looking for fun experiences and products which suit dads' hobbies and self-care. Instead of focusing on the macho aspects of fatherhood, you can offer gifts which speak to parenting's softer side.
Father's Day promotion ideas with awesome prizes
Let's have a look at some examples.
First of all, this workwear brand asked dads to share photos of them with their children – celebrating the hard work that dads put in each day.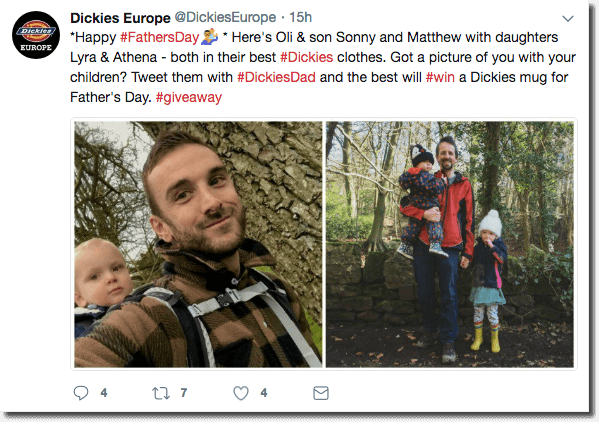 This book publisher recognized that every dad is different, with a bundle of summer reading books to suit every taste.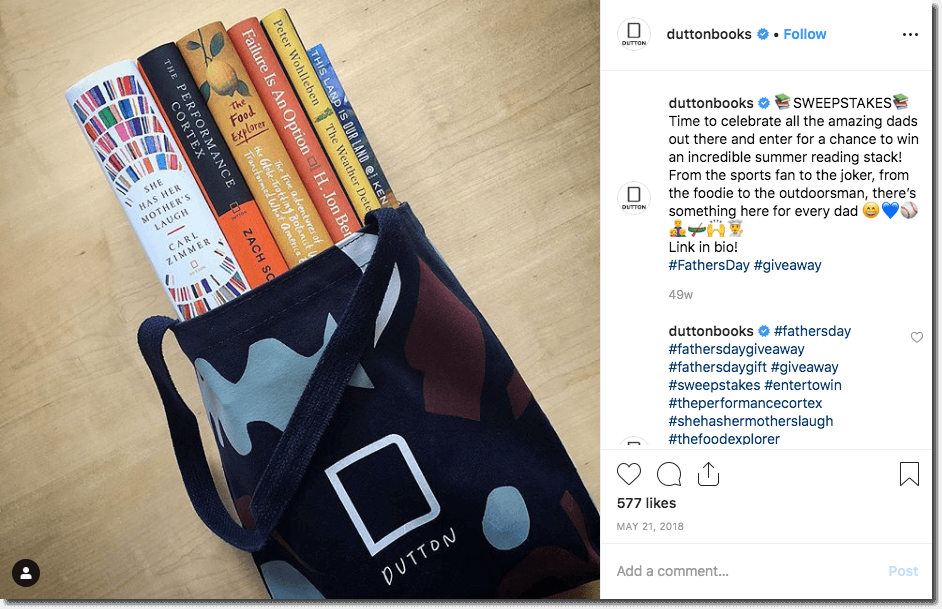 In this example, three brands teamed up to offer a delicious Father's Day experience.
Co-branded giveaways are a great way to expand your audience – especially when you choose partners with a similar target market. This mix of a lifestyle magazine, fishing apparel, and oyster farm was designed to appeal to sophisticated, gourmet dads.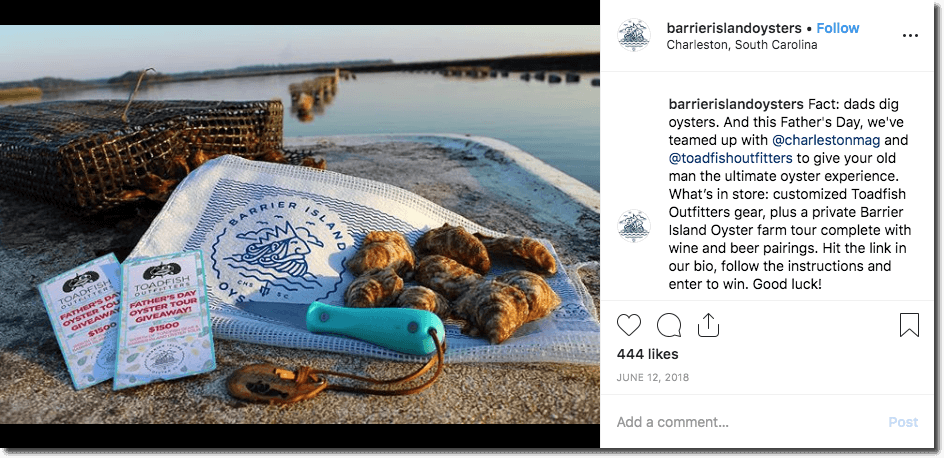 Finally, this brand found a way to combine conventional Father's Day gifts with a very 2019 trend: personalization.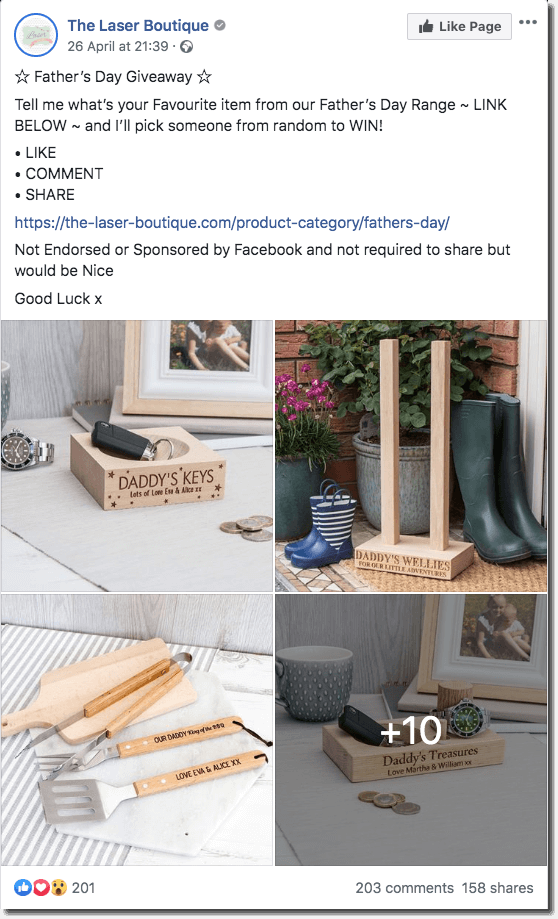 The quick guide to social media giveaways
As you well know, every social network is different. Each one has its own distinctive style, audience, and tools for marketers. In this section, we'll break down the different social networks on offer – and which one is the best fit for your Father's Day promotion ideas.
Facebook: where families stay in touch
Facebook is, of course, at the top of everyone's list. With over 2 billion users, pretty much every brand will find an audience here. And it is a great place to start your Father's Day campaigns.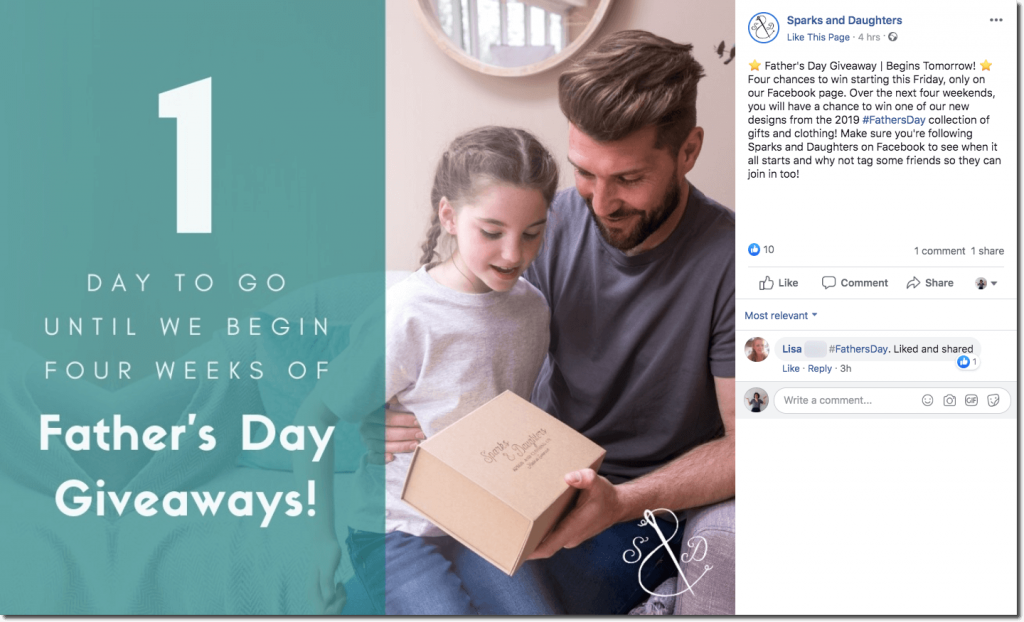 Although Facebook users skew slightly older – it's barely used by the teenagers of Generation Z – it is where families keep in touch. Use Facebook giveaways and ads to reach out to parents, and adults who want to celebrate their dads.
Instagram: woke dads and parenting influencers
Instagram is catching up to Facebook fast. Although it has a smaller user base, Instagram has a huge cultural impact – especially on young, affluent shoppers.
It's also the social network of choice for parenting bloggers and lifestyle influencers. If you want to reach out to young, stylish parents, then Instagram is the best place to start.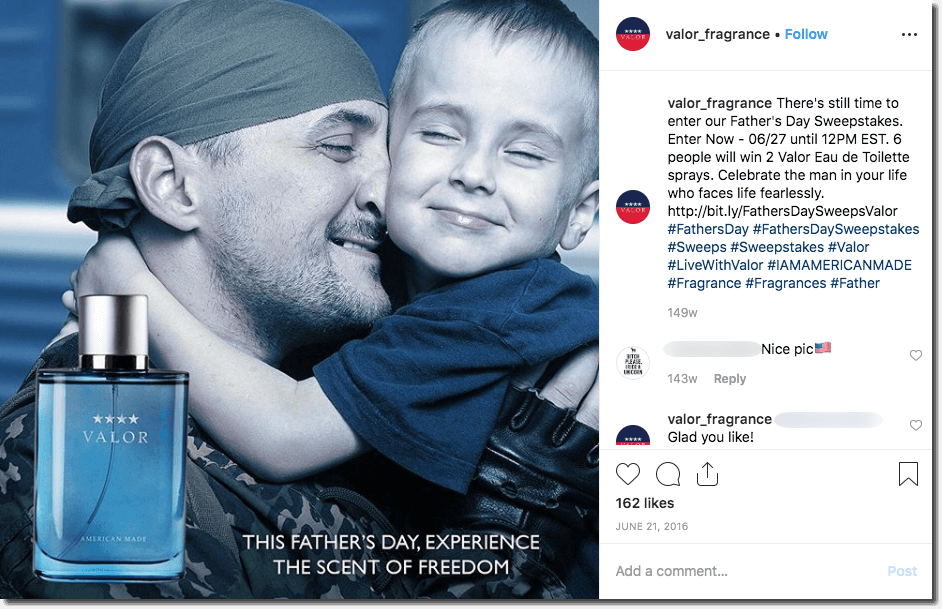 Instagram giveaways have become a hugely popular way to boost engagement and get people talking. Start with a simple sweepstakes, where users just have to comment on your Father's Day post to enter the prize draw.
YouTube: how-to guides and behind-the-scenes
The blogging community also has a strong presence on YouTube. But it has a different a focus than on Instagram: instead of sharing glossy lifestyle pics, YouTubers focus on tutorials, gift guides, and authentic peeks into the messy realities of parenting.
So this is a great channel to offer your followers some added value. Instead of just running a Father's Day deal, try combining it with a helpful how-to video, quick comedy clip, or reviews by micro-influencers.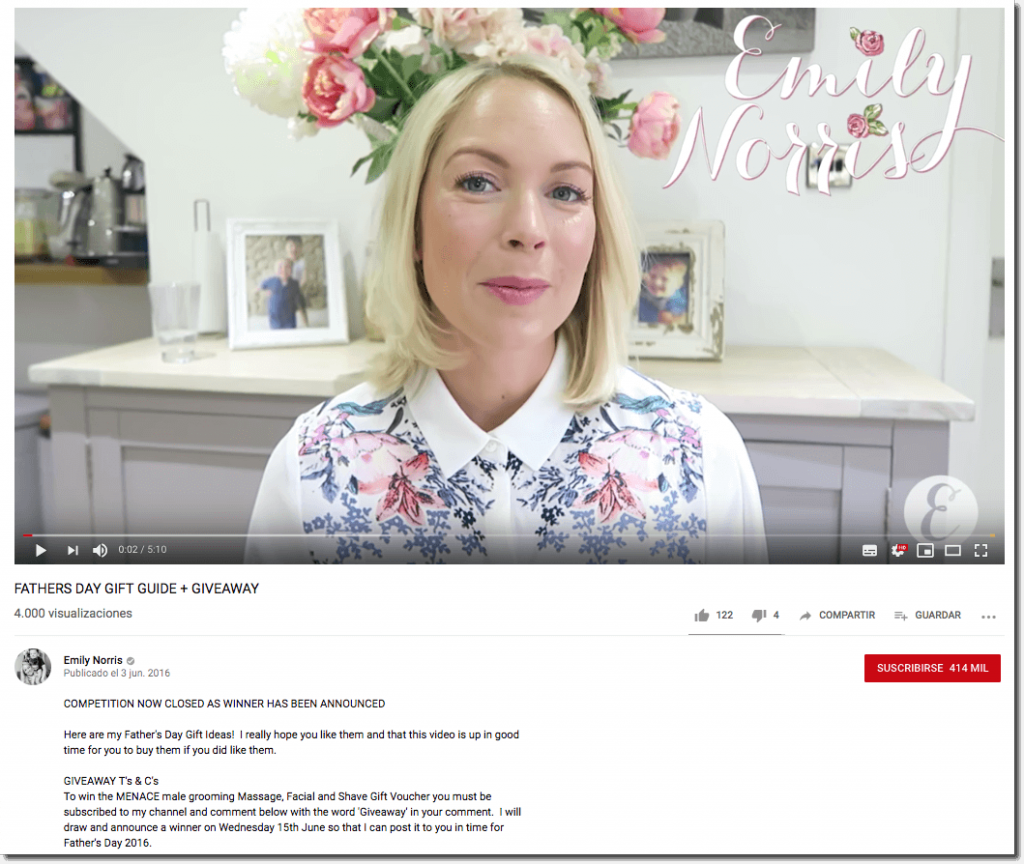 The simplest way to run a YouTube giveaway is to pick a winner in the comments. But you can also use a video to recommend a link to a stand-alone promotion. Instead of commenting as social media users, people share their contact details or join a mailing list in order to enter the prize draw.
Twitter: comedy and community
Twitter is often under-rated by social media marketers. And truthfully, it can be hard to get started and build your audience.
But once you do… Twitter offers a tight-knit community where people share jokes, ideas, and product recommendations freely. Just like on Instagram and YouTube, there are lots of moms and dads sharing insights from their day-to-day lives. (With a little more caustic wit and sarcasm than other social networks.)
It's also a great place to start conversations, organize customer service, and collect user-generated content. Check out this Father's Day giveaway, where Eurochange asked people to share why their dad is the best: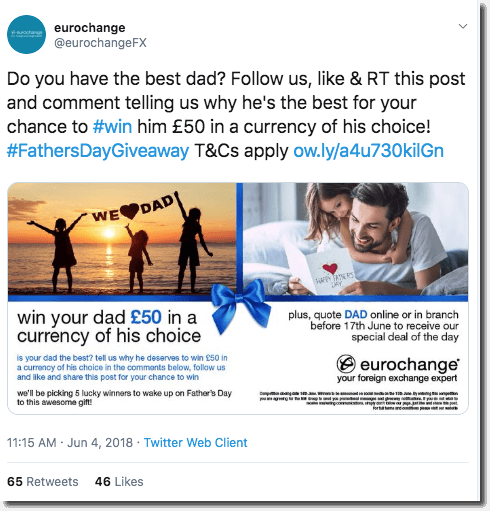 They received some heartfelt responses and moving stories from Twitter users. It was the perfect way to mark Father's Day and reward their most active followers.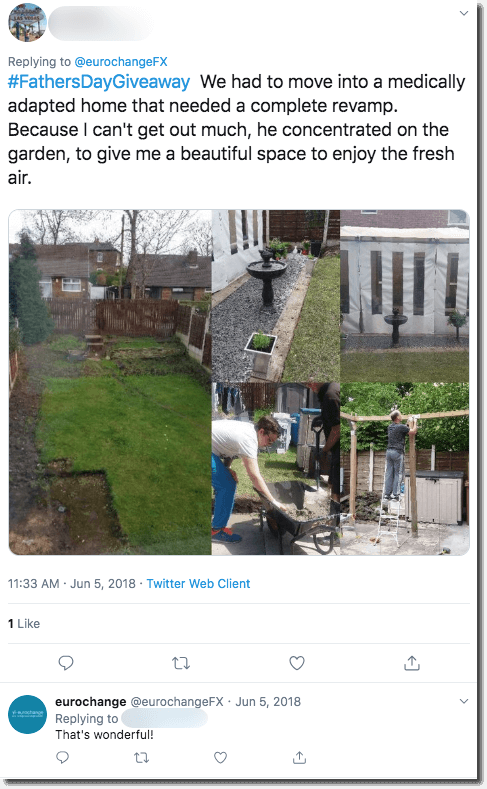 As well as collecting Twitter replies, you can also use mentions and hashtags to harvest users' photos and tweets about your Father's Day campaign.
In this example, the brand collected selfies and stories with the custom hashtag #SuperheroDad.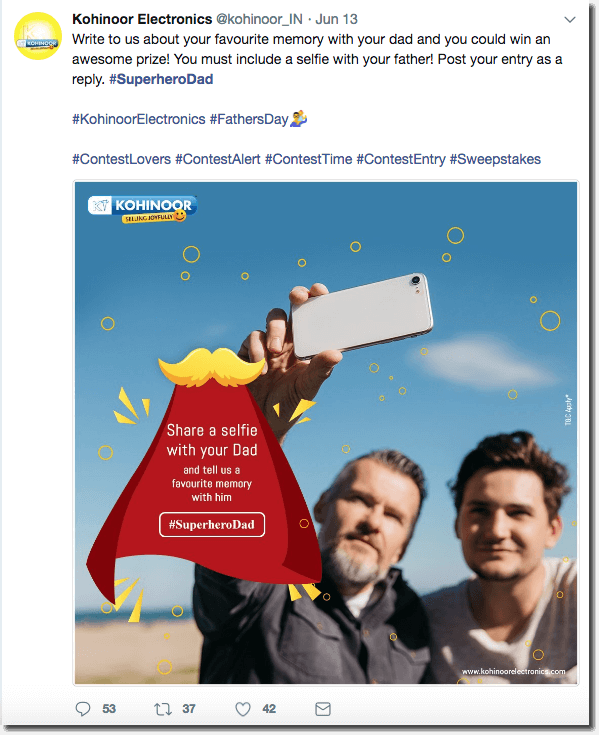 Feeling inspired? Use the links in this blog post to learn more about each type of giveaway – or get in touch with us below.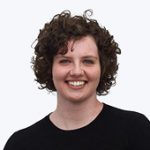 Corinna Keefe
Content marketer at Easypromos
Publication date: 2014-02-27