Posted in: EventsLast update: 04/04/19
The 7th of April is World Health Day – so how will you celebrate? From personal trainers to public health, dental practices to DTC beauty brands, we've got ideas for your World Health Day campaigns.

This year, the theme of World Health Day is universal healthcare for all. Everyone deserves good health – so it's time to join the celebrations and get involved with World Health Day campaign ideas.
Whether you are promoting a brand or raising awareness for a non-profit, in hospitals, offices or schools, we've got World Health Day resources and activities that will engage your target audience. Click the links below to jump to a specific section, or take a tour through our full list of ideas.
Want more World Health Day resources? Get free templates for World Health Day social media posts on Facebook and Instagram.
1. Create a World Health Day quiz
Education is a major focus on World Health Day. And what could be more educational, and entertaining, than a quiz?
Your World Health Day quiz doesn't have to be very long, or designed for experts. Choose some short, fun questions which match your audience.
Make sure you collect information which will be useful to your brand, too!
Here's an example from an ecological toy brand. They tapped into the World Health Day theme with a prize bundle full of healthy, ecological products.
Then they used a quiz to learn more about their customers' shopping habits and hobbies: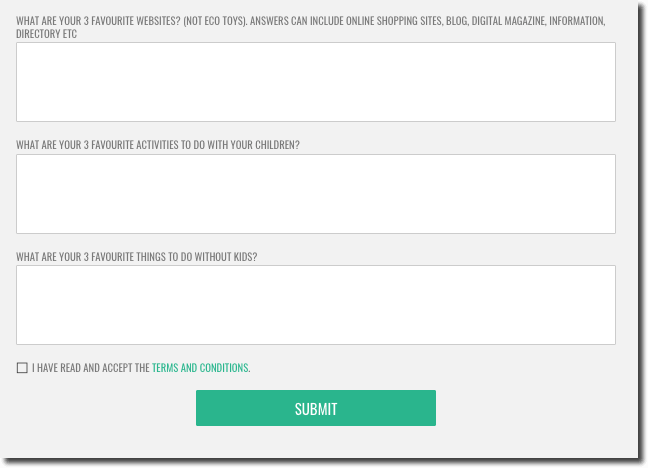 The more you ask, the more you need to incentivize customers. People want to be rewarded for their efforts!
As well as a grand prize, you could motivate people with a smaller reward.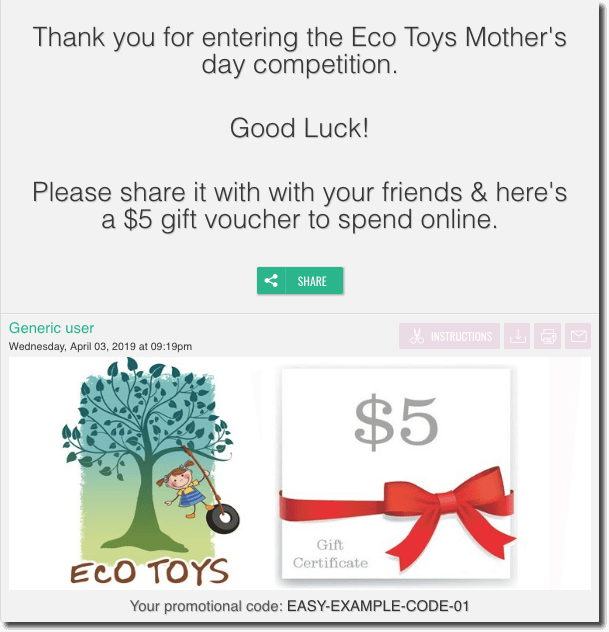 In this case, EcoToys gave a small gift voucher to everyone who completed the quiz – even if they didn't win the whole prize bundle.
Try using an easy online tool to design and personalize your World Health Day coupons.
2. Collect World Health Day photos or quotes
User-generated content is a big trend in online marketing right now. The idea is simple: instead of producing all your own messages, images, and materials, you can ask your followers to help.
User-generated content makes your brand seem more authentic and open. And we know that people listen to each other more than they listen to brands.
So if you want to share a message for World Health Day, then speaking through your followers is more effective than making your own announcements.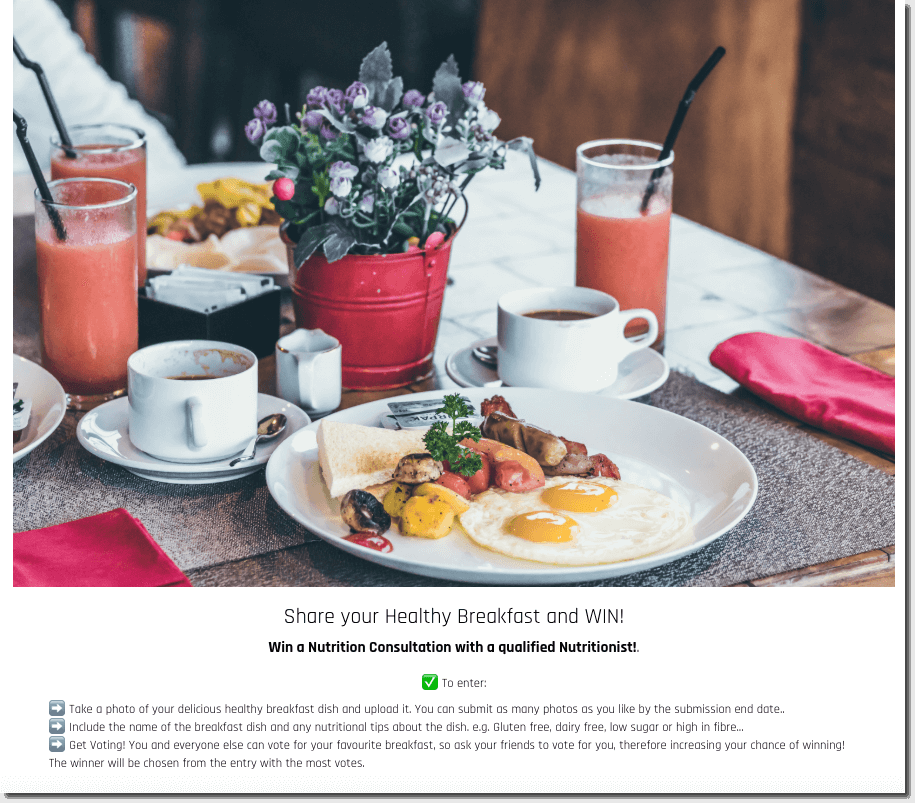 We like this example from a nutritional consultant. They asked people to share photos and ideas in a contest to find the healthiest breakfast.
Anyone could view the gallery full of entries to get some fitness inspiration. And the most popular suggestion won a free consultation!
World Health Day is also an opportunity to celebrate health care professionals and the vital work that they do.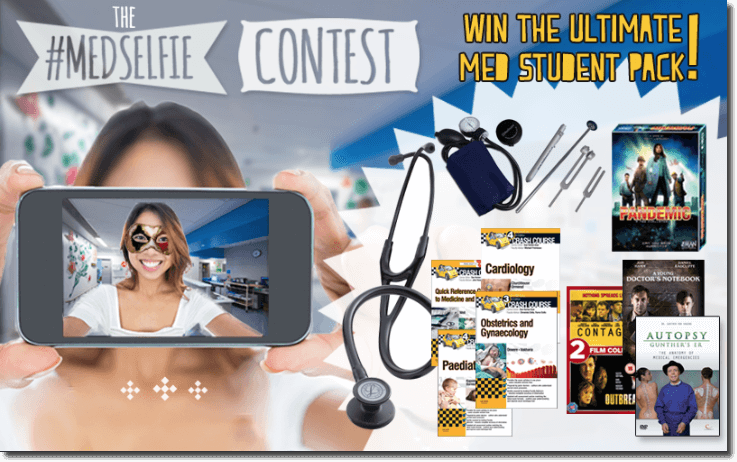 Here's a great idea: asking medical students to share selfies. Everyone who joined the contest got to enjoy some public recognition for their hard work – and one future doctor won a pack of fun and useful prizes.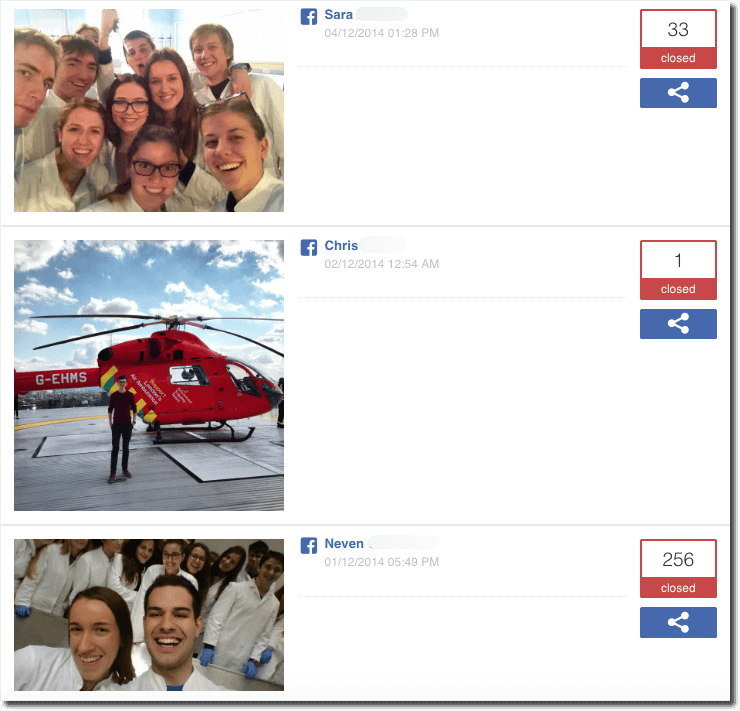 If you have very active and creative followers, then you could even set up a video contest.
In this example, a food brand invited people to try a gluten-free lifestyle and share their experiences. Three of the winning videos would get a free meal box and nutritional advice.
3. Share gifts and experiences to celebrate World Health Day
If you just want to organize a quick promotion, then one of the most popular World Health Day campaign ideas is a giveaway.
The idea is simple: people share their name and contact details, and you select a winner from the list of names. Then you can download all that contact information for your own records.
Here's an example of a World Health Day giveaway from a gym and exercise center. They celebrated the day with free classes for everyone who signed up. People just had to pick a class, and share a few personal details.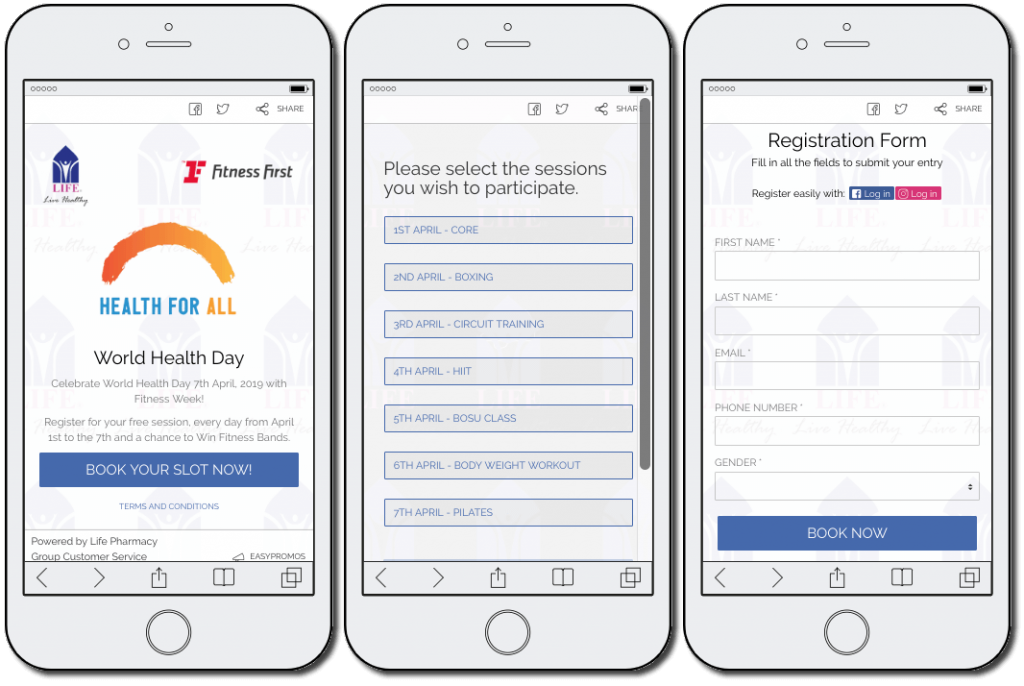 Any brand can use giveaways in their World Health Day campaign ideas, from fitness to health and beauty. You can choose any prize you like – so it's easy to get involved.
Take this example from a holiday resort in the UK. They offered a Super Healthy Spa Package for two people.
Once again, it was easy to register. People filled in the form and were invited to sign up to the brand's newsletter.
Or take a look at this giveaway from a cosmetics brand. Instead of giving away an experience, like the first two examples, they picked out one of their products.
This is a great strategy, because it doubles as advertizing.
First, you collect sales leads and contact details from everyone who joins the prize draw. And second, all of those people get a glimpse of your products – so they're more likely to convert, whether that means donating to charity, making a purchase, or just staying in touch.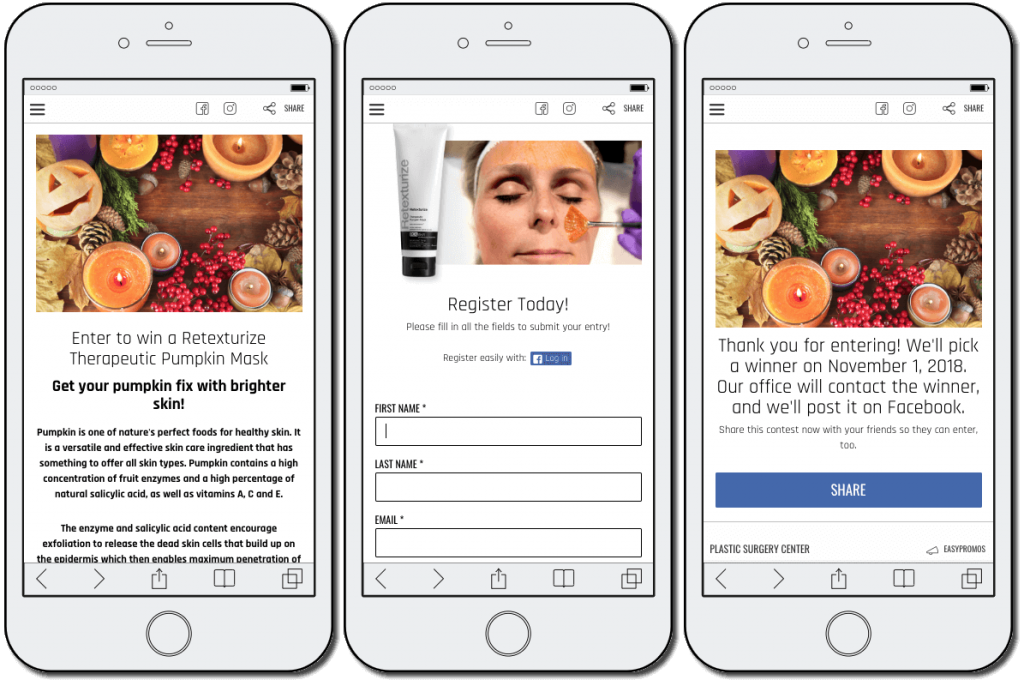 However you decide to celebrate World Health Day, we're here to help. Get in touch with our support team to discuss your World Health Day campaign ideas – and find out how much you can achieve.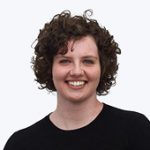 Corinna Keefe
Content marketer at Easypromos
Publication date: 2014-03-27