Posted in: Business newsLast update: 06/10/17
Easypromos has set up a new interface in order to be more functional for administrators, and with the aim of improving management & control on promotions. Now, setting up contests and draws and managing them will be easier and more intuitive. This upgrade is the phase 1 of a large project with which Easypromos wants to optimize administrators' experience in our control panel.

With these improvements, you will have the following benefits:
Be aware of the state of your promotion publication and solve at the moment the question: "The promo is active but I can't view it. What configuration aspect have I missed?"
Optimized management, in case of a big volume of promos
Improve date settings with the new calendar system
Easily set up the countries from where people will be able to access the promo
Access quickly to all the configuration options of your promotion
If you want to learn more about these changes, you can enter your promotion administration panel or read the following clues.
New promotions list
Now you will see all your promotions listed by their title, and organized depending on their state: active, draft or old promotions. This way, finding and choosing the promotion you need will be easier and quicker.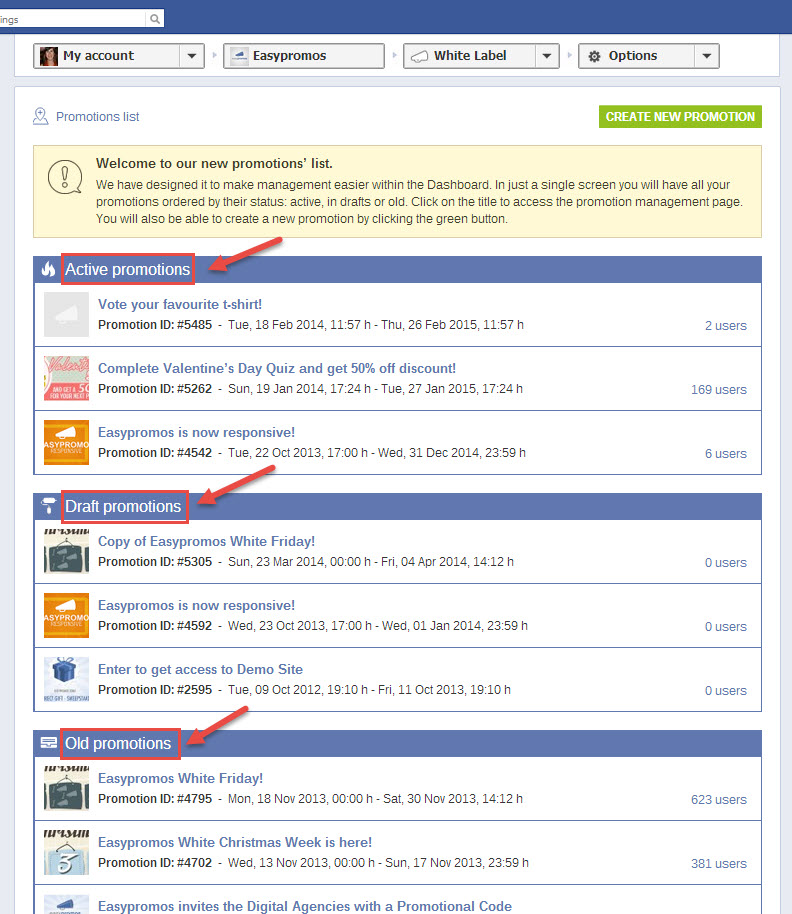 New promotions management page
You will have all the promotion configuration options in the same page. Also, this screen will tell you in detail some main options, such as the promotion state, date settings, direct link of the promotion, etc., so you will be sure the promotion is ready to launch.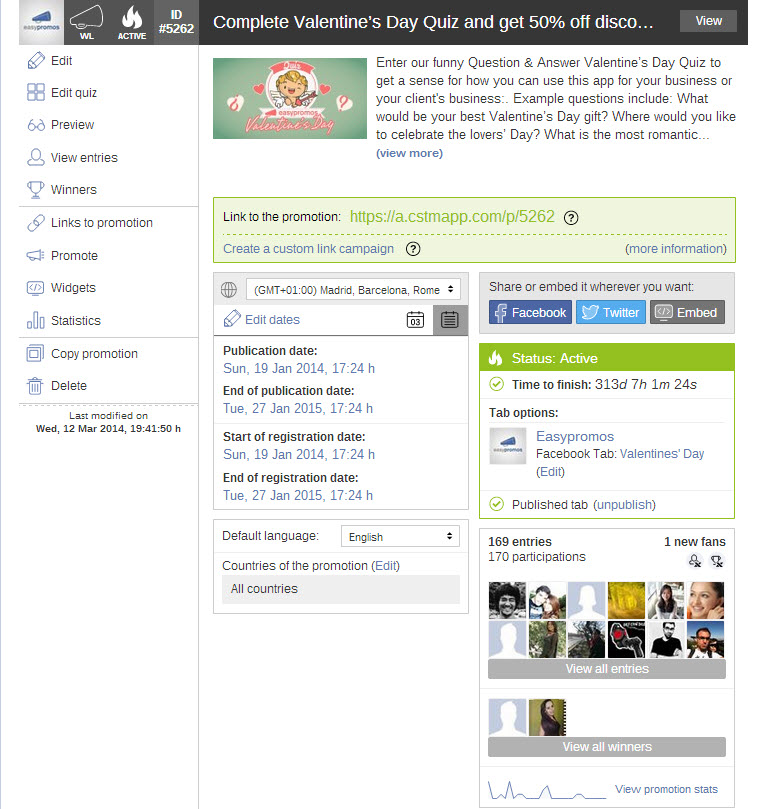 1. Promotion options menu
From this menu you will be able to access all the options of the promotion: edit, preview, activate the promotion, create a quiz, view the participants, pick the winners, copy and duplicate the promotion and perform other management tasks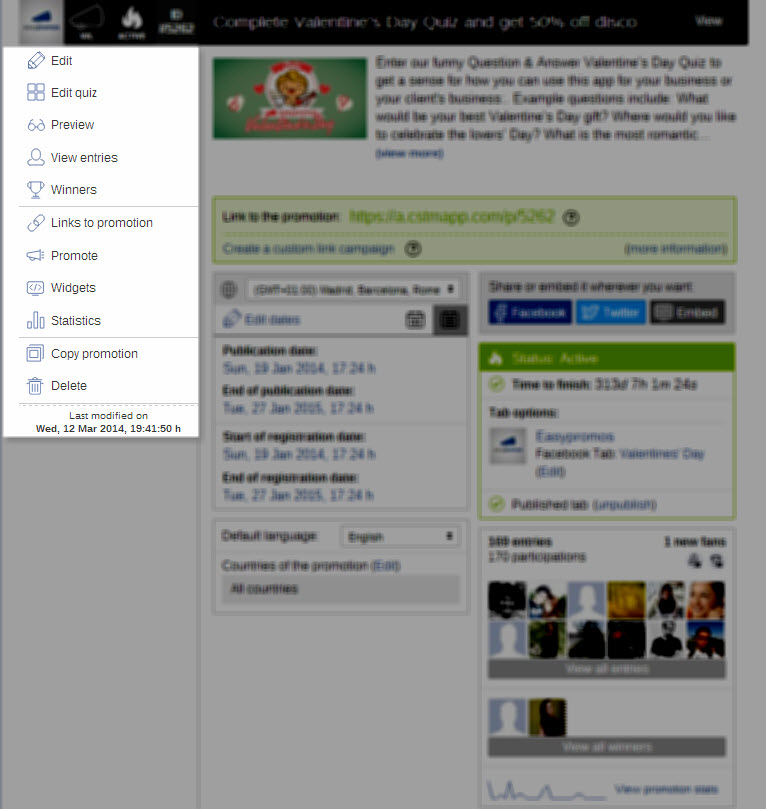 2. Calendar
To make the setting-up of promotion dates easier, now you can use the new calendar to set up the dates of the promotion and to control the different phases of it: when the promo is active, when users can register and when voting is enabled. You will also be able to set up the default language, and in Premium and White Label promotions you will also be able to set up the country filter.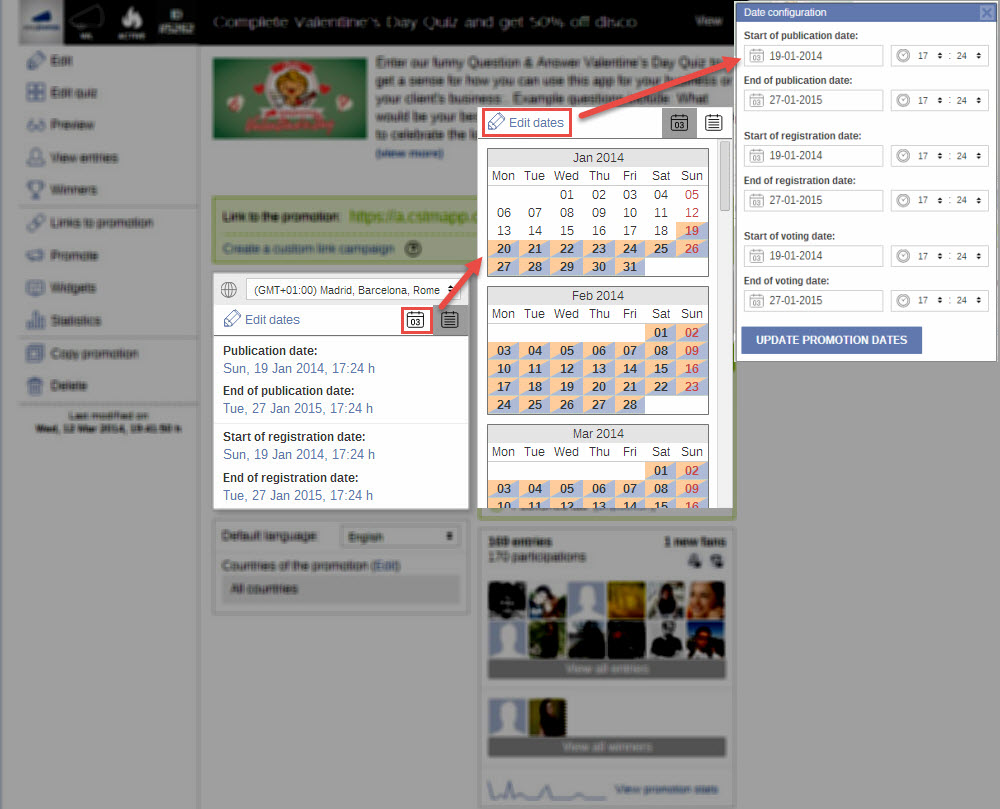 3. Promotion status and publication tabs
Check the status of your promotion and set up the Facebook tab where it will be published. Once the promotion is in drafts, you will be able to activate it from here, and once the promotion is active, you will know the publication status.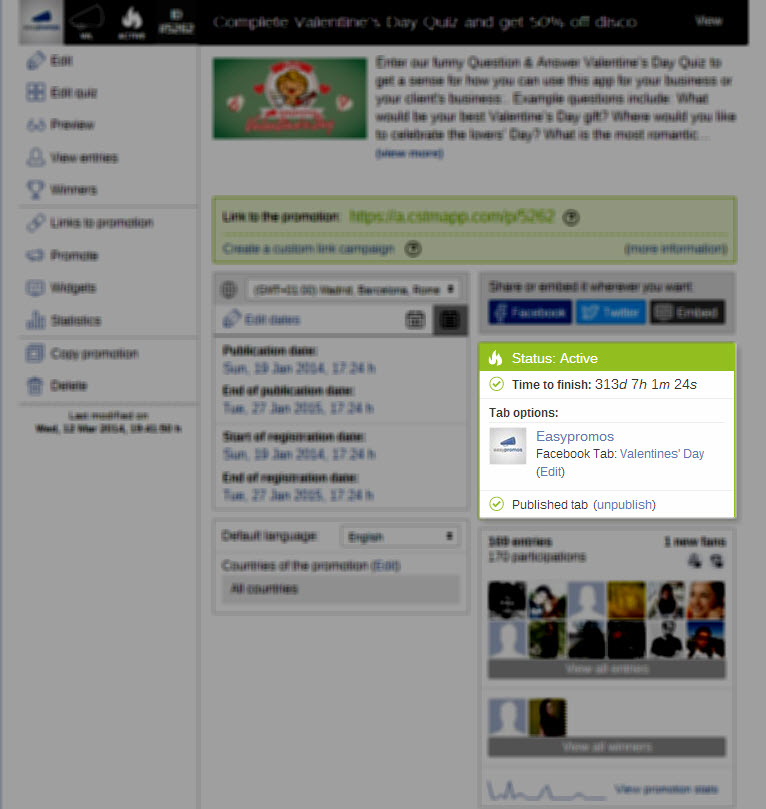 4. Direct link and compatible with any device
In order to communicate the promotion, always use this link, which is compatible with any device (PC, mobile, tablet, etc.). In this screen, you can also share the main link on your Facebook page, through your Twitter account or embedding the promotion in any website you want.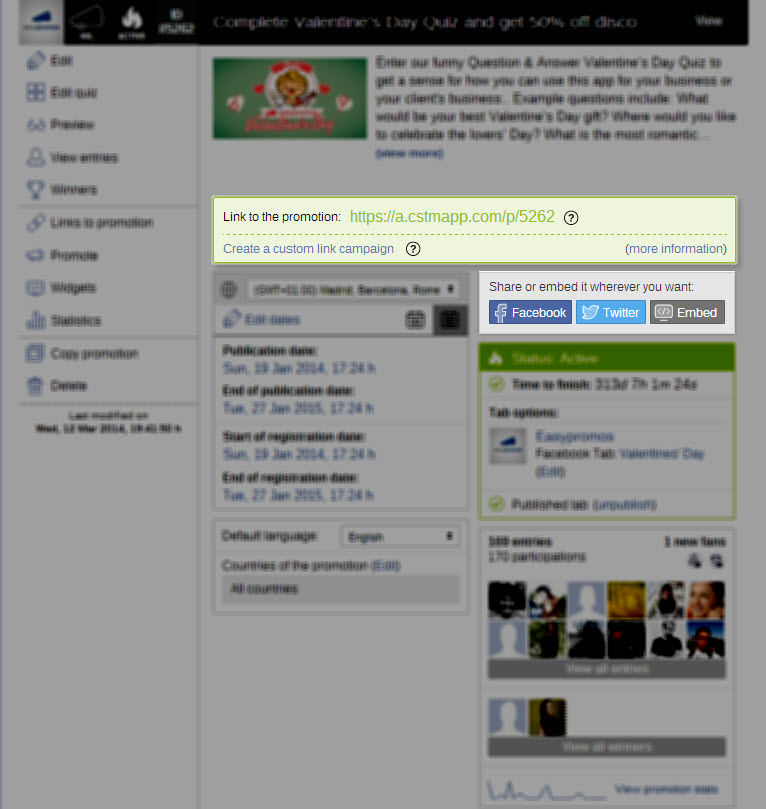 Do you like these changes? Do you have any improvement suggestions? Is there any option which make you get confused or that simply, don't help you? Please, contact us at marketing@easypromosapp.com and tell us. Having your feedback is very important for us. Thank you!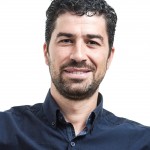 Easypromos CEO and co-funder
Publication date: 2014-03-26