Posted in: Ideas for your websiteLast update: 15/07/20
The majority of successful promotions, sweepstakes and contests in Facebook are responsive to a studied promotion and dissemination strategy. In the following post we'll give you some tips to help you develop your communication plan and reach as many people as possible.

1. Pre-contest mailing
Create expectation via email the day before you launch your promotion. Don't tell everything – give people clues to pique their curiosity and get them interested. One of the advantages of periodically creating contests is that you generate a database of users who have already participated. Make the most of this database by encouraging these users to be the first to take part in the new promotion and help spread word about it. Also, if you use Mailchimp to manage your subscriber lists, you can synchronize the databases of old promotions with your Mailchimp email lists, allowing you to send the direct mailing to previous participants who can then help you disseminate the new contest. Here we explain how.
2. Create expectation across the social networks
You can play with this same resource across the social networks. This technique allows you to reach fans who have never taken part in previous promotions and who you have no contact details for. Try to get them excited about the promotion by posting about it in the days leading up to the launch.
3. Communicate by email that the contest has begun
Be compelling and creative; play with ideas about free gifts or incentives, and use an appropriate "call to action." Your message should be simple. Don't hesitate to use visual resources such as bright colours, big letters or images to grab the public's attention, and above all don't forget to include the link to your promotion, so that users can access the contest directly. The more facilities you give them, the more people will get involved.
4. Give the contest a prime position in your Facebook Page
Position the published contest at the top of your Timeline to give it greater visibility. This way, whenever the user enters your Page, it will be the first thing he/she finds.
5. Customize the tab that leads to your promotions
If you use Easypromos to carry out a contest, a specific tab will be created for the contest in question so remember to customize it with a text and an attractive image. Locate the tab in an advantageous position. Here you can learn how to do it.
6. Reports on the state of the contest
In the case of longer-running promotions, it's important to maintain interest in the contest for as long as it lasts. To do this you can keep reminding users of important information such as the promotion's end date, the prizes that they can win or that are still available, and so on. To summarize, data that reminds users that the promotion is still open. You can carry out these actions via social networks or by sending emails while the promotion is active.
7. Use other social networks to promote your contest
If your company has profiles in various social networks, don't hesitate to use them to aid in the diffusion. Always include a link in your publications to take the user directly to the promotion ensuring that their access is as easy as possible.
8. Create a hashtag for the campaign
If you don't already have one, we recommend you create one so that users can search for information about the contest easily and help you in spreading word about it to other internet users. You can get users to begin relating it to your brand.
9. Use generic hashtags
As well as your own hashtag, you can use generic hashtags to reach your target audience. For example, if you have created a club for a specific soccer match in which the teams are Real Madrid and Bayern Munich, you can use the hashtag #RealMadridBayern to go with the link to the club so that your posts can reach all the people who are using this hashtag. If your objective is to reach people who like running, and the aim of your contest is to promote special footwear for them, it can be interesting to use a hashtag such as #runners or #running. Don't forget to find out which hashtags are trending, because they will help your posts reach more people.
10. Reach your target audience via Facebook Ads
This is one of the most effective methods of extending the range of your promotion and helping you reach your target audience. Don't hesitate to use it if you have the budget because it will also enable you to segment your audience according to age, sex, location, interests, etc.
11. Use your web traffic to keep people informed about the existence of the contest
You can use Easypromos widgets to position the contest in a prime spot on your website so that users can take part without having to leave the site. If you don't have any space available on your site, but you're still interested in this option, you can use the Widget tab to make the promotion appear on the side of your website so the user can access and participate in the promotion with a single click.
12. Use your blog
If you have a blog, don't miss the chance to write a post about the contest. If you don't have your own blog you can always try to get it written about in a blog that deals with the industry to which your company belongs.
13. Forums
Another option is to promote the contest in specialized forums and blogs. For example, if you're going to raffle a night in a hotel, you can leave a comment in a specialized travel forum, mentioning the area in which the hotel is located. This can be an effective way of promoting your promotion and reaching a wider audience.
14. Find allies
Use your contacts (associations to which your company belongs, websites of your partners, clients or providers) which can help you spread word about the promotion free of cost, both across online and offline media. If, for example, you're a company that manufactures household linens and you sell your products in various stores or franchises, suggest that they help you in disseminating your promotional action across their own social networks or websites. In the end, it's all about branding, and your retailers should be interested in getting your brand known.
15. Complement your online communication with traditional methods
Make use of offline communication. You can use adverts on TV, radio or in the printed press, as the big companies do or you could just send press releases to local media if you have a limited budget and are simply trying to get your small business better known.
16. Use POS as support
If you frequently carry out promotions at your point of sale you can inform your clients via this method with messages such as "Find out about our Facebook promotions" and although also depends on the budget available, you can always make small, hand-made posters. Don't forget that creativity costs nothing.
17. Encourage your employees to collaborate in the dissemination
There is no one better than your own employees to help you share your contest and act as brand ambassadors. It's fundamental that you involve them in the planning stage from the beginning and listen carefully to their proposals. This way they will be more inclined to share the promotion.
18. Find collaborations
The White Label version of Easypromos provides the opportunity for other pages to install your promotion tab so their own fans can take part in the contest. It's a very positive thing for there to be relation between your brand and the page in which the collaboration is established. It can increase the scope of the promotion by redirecting traffic from one page to another. For example if your company sells baby milk for infants between 0 and 12 months you can seek out collaborations with companies who specialize in pacifiers or bottles for infants of the same ages. They engage with the same target audience, but they are not competition.
19. Include your QR or Bidi code
Be sure to include your QR code in all physical media supports. This allows you to establish a connection between offline and online media. The objective is for the user to be able scan it with their cell phone and then be taken directly to the Facebook contest. The biggest advantage to incorporating the QR code in your campaign is that it allows you to find out about the public that accesses your contest via the code and also to know from which type of media they have come.
20. Measure and analyse the results that you obtain with respect to the origin and sources of traffic
It's difficult to improve if you don't measure and analyse. Once you have all the data at your disposal you can begin to reinforce those supports that have worked better while investing fewer resources in those that haven't provided such positive results. With Easypromos you can create customized campaigns with links to the promotion so that you can measure the sources of the traffic and find out if they have their origin in Twitter, if they come from Facebook Ads or if they were brought to the promotion from the newsletter that you sent at the start. Here we explain how to do it.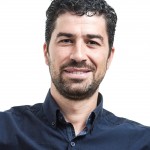 Easypromos CEO and co-funder
Publication date: 2014-05-15