Posted in: ApplicationsLast update: 25/08/21
If you'd like to organize a promotion on your Facebook Page in which fans can comment on a product, share an experience they've had or contribute a phrase or short story, then set up a text-based Facebook contest. These types of promotions are popular with users because they require less time and effort than other kinds. Even so, users' entries can still be published and are capable of generating great virality.

The Easypromos Writing Contest application is the only tool you need to launch a successful contest with texts and stories. In this blog post we will take a look at the apps:
The main characteristics of the Writing Contest application
What should be taken into consideration when creating a text-based contest? And what features should you learn how to take advantage of?
To achieve your objectives you should definitely customize your text contest, and we don't just mean visual customization. Offer the users a variety of ways to participate: by uploading texts, voting, or simply visiting the text gallery to read and share them. Below we outline the most relevant characteristics of text-based contests.
Interested in organizing a Writing Contest? Have a go at our Writing Contest DEMO and discover how easy it is to engage your audience with a text-based contest.
Public entries
You can set up a contest so that all the texts introduced by participants are shown publically in a gallery – the Entries Page. This way you allow any Facebook – and Internet user – to visit the page and read the stories, or look for their friend's entry. The application is already optimized in such a way as to make the reading of texts easy and enjoyable.
Share a link to the gallery on your social media channels to give greater visibility to the participating stories.
Share texts
By making the texts public you are allowing individual entries to be shared, not just the promotion as a whole. The application enables visitors to share the text gallery or to use the buttons shown beside each entry to share this story on Facebook, Twitter, or via email.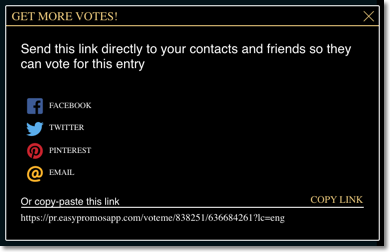 There's also the option of copying the link to share it through other channels, like Whatsapp.
Votable texts
If, as well as making texts public you make them votable. It's also a great way to generate more leads, as apart from the participants you also get to convert the users voting for their favorite entries.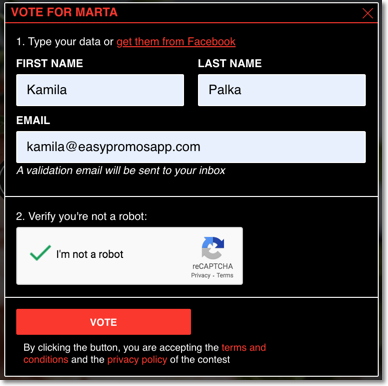 Our principal recommendation is that you should never give the prize directly to the most voted entry. Instead, run a random prize draw for the finalists with the highest numbers of votes.
Obtain a database of the participants
When creating a Writing Contest, customize the registration form to obtain the contact details that you need. The form's default fields are name, email address, telephone number, date of birth, gender, city and country. In the Premium and White Label versions, you can add additional fields to this form. At any time, whether the promotion is active or finalized, you can see the personal data of participants, along with their text entries. You can download all this documentation to an Excel file as well as synchronize it with Mailchimp email lists.
Illustrate your story contests
Although your contest is text-based you can also ask for entries to be accompanied by photos. If you activate this option you will be making it obligatory for users to upload a photo before they can finalize their participation.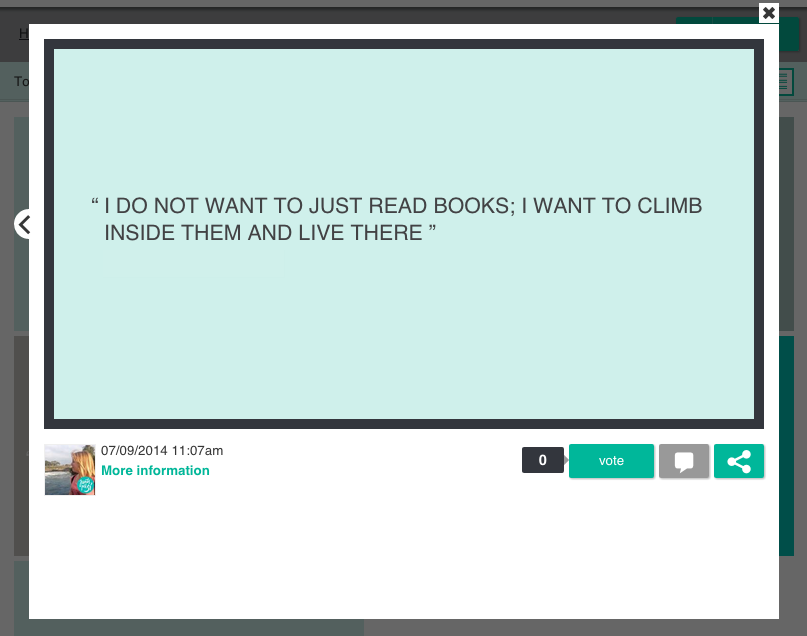 Define the maximum height of the rows. This will have a direct effect on the final appearance of the gallery. Being able to adjust the dimensions of the rows enables you to customize the design, and the look and feel, of the gallery and display the entries in different sizes. Discover how to organize and resize users' entries in the tiled gallery.
Limit the response
You might want to limit the length of the texts, especially if, for example, you are asking for ideas about the name of the product, or the leitmotif of an act. With the Easypromos app, you can customize the entry text field and establish the maximum number of characters.
Manage and moderate entries
From the promotion's control panel, you can eliminate any entries that do not meet the legal bases. You can also pre-moderate entries so that they don't get published until they have been checked. This also enables you to edit texts and eliminate spelling mistakes or to unpublish entries if necessary.
Contest by categories
If your text contest concerns various products or encourages users to contribute texts about a variety of themes, the "categories" option can be used to sort the entries.
Optimized for cell phones
All the promotions have a responsive design, meaning that users who access the promotion via their mobile device interact with the application in exactly the same way as those users who connect from a PC, while the promotion display adapts itself to the resolution and size of the screen.
Benefits of text-based contests
All promotions boost the engagement of your social media community. They increase the audience and help to loyalize them, as they raise awareness of the brand or product. Also, text-based contests allow you to create a promotion with the following main benefits:
Easy, quick, and effective. Organizing a story contest where participants enter a text which the rest of the users can then read, vote for, and share will take no more than 1 hour to set up. But it will encourage contestants to follow your brand, and you will have generated an attractive gallery displaying all the stories, which you can order by the number of votes received.
The first contest on social media. If up until now, you've only tried simple promotions like giveaways, the text-based contest is a good way of taking a step toward a more complex promotion.
Make the most of the users' time. The contest question can actually form a part of the registration form that users must fill out. Therefore, the contestants can answer the question as part of the registration process itself.
Attract more participants. Chances are there will be many participants, simply because it's easy to participate. If you're asking for a simple phrase or a quick answer to a question, more people will take part in the contest as they don't need to invest much time.
Segment the users. As well as obtaining the registration details of users, organizing a text-based contest will allow you to get to know the tastes, interests, and characteristics of your participants, either through the text itself or via extra information provided through the registration form.
Ideas and examples of Writing Contests
For text-based contests, you can ask participants to write something as short as a recommendation, phrase, or assessment, or as long as a story. You should design your contest based on the commitment and motivation of your target audience, and on the type of prize that you want to offer. Both, short and long text-based contests, can be effective and beneficial if you keep all the parameters in mind.
Share your motivation – Writing Contest organized by Orca
Orca decided to ask their fans to share with their online community what motivates them to take the next step. This was a simple, quick, and emotive contest in which their fans were excited to take part. The finalists were entered into a giveaway to win a triathlon pack.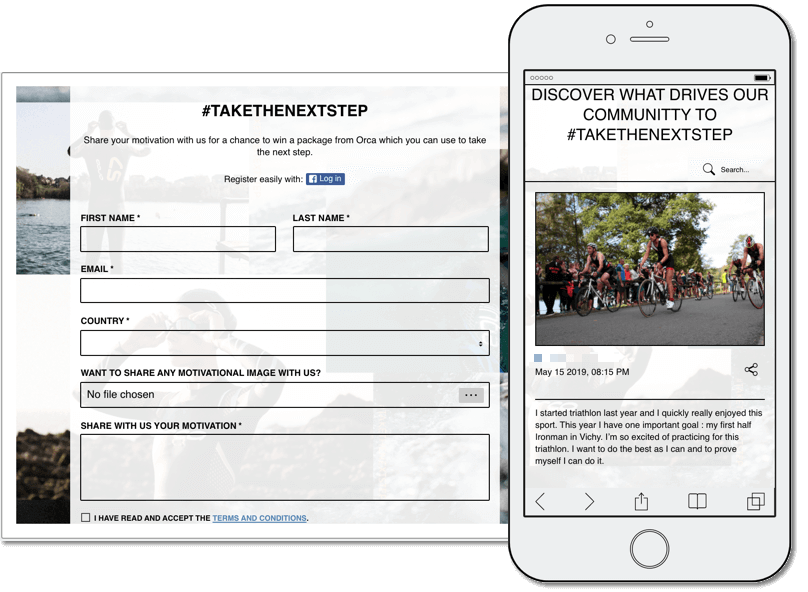 As you can see, some entrants willingly shared pictures along with their stories.
Share your most memorable anecdote – a text-based contest by a tour operator
One of the most used formats for text-based contests is the short story contest. Marly Ole gave their fans a chance to win unforgettable experiences in the capital of Spain, for anyone who shared their most memorable anecdote from one of their trips. Participants shared funny and fascinating stories with the organizing brand.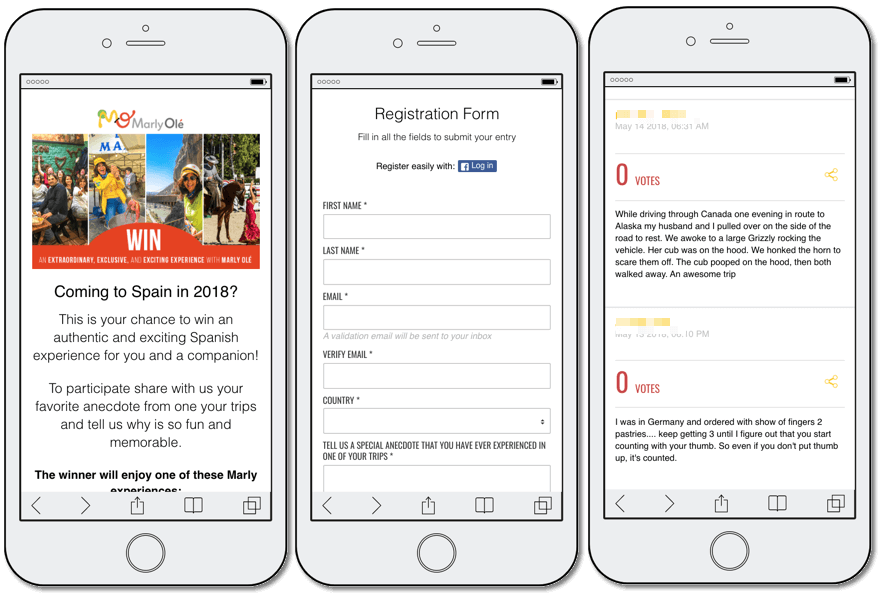 Nominate, recommend and reward
Are you looking to reward the heroes of your community? Or maybe you should want to give back to the ones in need? Varox Animal Health asked their customers to recommend the animal shelters most in need. Every month, the organizer donated a free disinfecting kit to a shelter that needed help.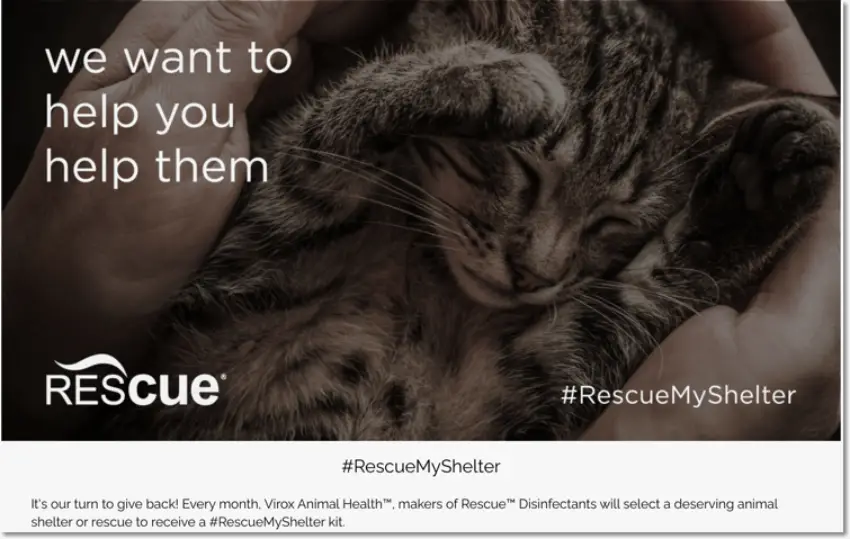 How to set up the contest
Writing Contests can be organized out with all three versions of Easypromos: Basic, Premium, and White Label. If you have more questions about text-based contests, contact our Support Team.
Publication date: 2014-05-09