Posted in: Applications,Applications for Instagram,Applications for TwitterLast update: 21/05/21
Would you like to carry out a giveaway where users can participate with a tweet? Or maybe you want to run a Photo Contest where people participate through Instagram? Or do you simply want to create a gallery of photos and videos linked by a #hashtag? All this can be done with our Twitter and Instagram integrations. Learn how to create online contests and campaigns in which users participate with content generated on their social media profiles. Such promotions allow users to easily take part in your contest, they're also fantastic to make your brand go viral!

In this post, we will take you through details about Twitter and Instagram integrations that you can use to launch different branded promotions. To be exact, you will learn:
How do Twitter and Instagram integrations work?
The promotion administrator must start by creating a campaign-related #hashtag in their control panel. By enabling this option the interested participants will be able to also participate from Twitter and/or Instagram. From the moment that the hashtag is introduced, the application will automatically import all the new content that comes from these social networks with the #hashtag.
This way you can create a photo or video contest where users participate directly from their social media accounts. If the participants take part in your promotion:
from Twitter then all they have to do is create a tweet with their picture and your chosen hashtag.
However, if the user is participating through Instagram they will upload a picture to their profile, use your hashtag and mention your brand.
The submitted content will automatically appear as a new entry in the contest. The entry will appear alongside the participant's Twitter or Instagram username. The same rules will apply if you launch video contests where users upload multimedia to Instagram, or to text-based contests in where upload their text in a tweet.
Users that participate in the promotion via Twitter can receive a reply, previously personalized by the organizer, thanking them for their participation. The organizer can use all the Easypromos administration tools to interact with the participant: monitoring, publishing, exporting, sending notifications, enabling voting, enabling sharing, etc.
Discover how your followers can participate in your photo in video contests through their social media profiles. Try the DEMO to get a taste of the user's experience!
What are the benefits?
Enabling participation via Twitter and Instagram can bring a variety of different benefits for your brand, such as:
1. More organic reach. When someone participates in your contest with a tweet, or a photo or video via Instagram, all their followers can see it. By sharing content accompanied by your hashtag the users automatically become your brand ambassadors, as they contribute greatly to the visibility of your contest and brand.
2. Quick and easy. Take a picture, write a tweet and you're in! Users can easily enter your promotion with a single tweet! And if the promotion is being held on Instagram, then all they have to do is share a picture, and mention you and your hashtag in the caption. By integrating your contest with Twitter and Instagram you are minimizing the participation barriers.
3. Smartphone friendly. Bearing in mind that each month 500 million users access Facebook from a mobile device, that 50 million people have Instagram accounts and that 70% of the 250 million active Twitter users tweet from their smartphones… our apps are mobile-friendly!
4. Increase engagement. Taking pictures is fun. Using filters to make them look more professional makes the process even more enjoyable. This is the main reason for Instagram's success. Allowing your followers to take part in a creative process associated with your brand is a new experience in the field of engagement. The same thing happens with text contests: which network could be better for participating in a question and answer or slogan contest than Twitter with its 140 characters?
5. It enables users to choose their favorite social network and this increases participation. Not all users have Facebook accounts. Some only use Twitter and others prefer Instagram. By offering users several ways to participate in a contest you increase the level of participation.
6. Convert your followers into subscribers and clients. Send a tweet automatically so that a user can download a coupon as their reward for participation via Twitter. Or send a tweet thanking the user and inviting them to fill in the registration form in order to finalize participation. Running a giveaway or contest for Twitter users allows you to establish a dialogue with the users.
Characteristics and features
Below we present a list of all the technical features of the Easypromos contests integrated with Twitter and Instagram:
1. Integration for text, photo, and video contests. The platform automatically imports all the entries from Twitter and/or Instagram that contain the campaign #hashtag. For this reason, this integration is recommended for complementing text, photo and video contests.
2. Filter for the type of content. Decide what type of content you want to import. On Twitter, you can decide if you want to import all the tweets that contain the #hashtag, or only those that contain the #hashtag plus an attached photo. On Instagram, you can choose whether to import photos only, videos only, or both.
3. Automatic control of contest dates. Define the start date of the contest. This is when the automatic importation of Twitter and Instagram content will begin. When the contest closes no more new content will be imported.
4. Manually pause and resume importation. At any point during the contest, the administrator can pause and resume the importation process from both Twitter and Instagram.
5. Automatic responses on Twitter. Set up an automatic 140-character message to send as an answer when a user takes part via Twitter. The message includes a comment for the participant. You can add hashtags and links in the message to give continuity to the user's action. For example, you can include a link to the terms and conditions or to the photo gallery of the contest.
6. Contact Instagram participants from the Easypromos control panel. From the entries list of the promotion, you can contact the users who have participated via Instagram but it has to be done manually and individually to each user because of Instagram regulations that forbid automation of such messages. Your message will be posted as a public comment on the user's post.
7. Independent Twitter and Instagram settings. The integrations with Twitter and Instagram are completely independent so you have to configure the integration for both networks. You can use the same hashtag for both.
8. Choose the social networks to allow participation. By default, all users can participate via Facebook, but you can change this so that participation is only possible via Twitter or Instagram, or any other combination of the three networks.
9. Limit to one participation per user. You can set it up so that Twitter or Instagram users can only participate once per promotion. This way the application will automatically exclude any additional tweets or photos sent by participants.
10. Exclude users. Add the names of Twitter or Instagram users whose tweets, photos or videos you don't want to be imported into the contest. These users will then be blocked. You can also exclude your own account, so you can disseminate your #hashtag via Twitter without your tweets being included in the contest.
11. Exclude retweets. Activate this option so that retweets containing the #hashtag are not imported. This prevents entries from being duplicated.
12. Control comments on Instagram. Decide if you want users to be able to participate by inserting the #hashtag in the comments on their photos. This way users can take part with photos that they've already posted to their Instagram feed previously.
13. Moderation and notifications. Enable the pre-moderation option so that Twitter and Instagram content must be accepted by you before it's published in the gallery. Activate the notification option if you want to receive an email in real-time with contents awaiting moderation.
14. Identification of the originating social network. If you enable integration with several social networks in the contest, the contest visitors to quickly recognize the source of the photo, text or video for the name or username of the author.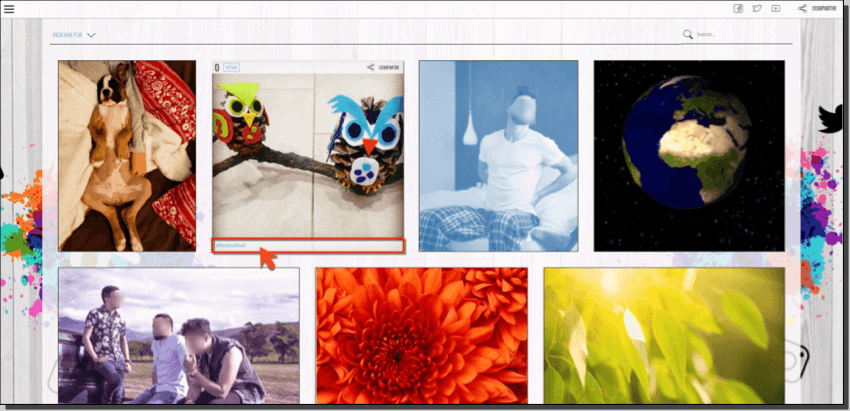 15. Real-time projection of images on a high-resolution screen
If you have a space with a screen or projector, you can enable the gallery in Full-Screen mode to project real-time images sent by all participants on a screen or monitor. The gallery allows you to combine photos, videos, and texts, and it is prepared to project on high-resolution monitors, so it becomes the ideal complement to dynamize events, celebrations, conferences, booth fair, etc.
Discover for yourself how images are displayed in the Full-Screen Gallery.
Need some ideas?
This type of promotion is perfect for combining with offline events such as conferences, trade shows, parties, parades, exhibitions, etc. Both Instagram and Twitter are geared to transmit details and information in real-time, making it ideally suited to live events. Below we offer a list of ideas for promotions in which the integration of these two networks adds value:
Live photo contest. During an event, attendees can upload images that are then projected for all to see. The brand can then give out coupons or prizes to those who obtain a minimum number of votes. The photos can be uploaded via Twitter and Instagram by labeling them with a hashtag. Facebook participation can also be enabled by communicating the promotion link in the material advertising the event, such as posters and flyers.
Your favorite answer. Set up a giveaway for cinema tickets in which users have to answer a simple question about a movie. They can participate via Facebook – filling out a simple form – or by tweeting their answer along with the hashtag of the sweepstakes. All participants, whether they enter via Facebook or Twitter, will enter into the sweepstakes. The winners can be selected automatically from the Easypromos application itself.
Gymkhana. Challenge your fans to find an object and then prove it by uploading a photo labeled with the hashtag. From your account, you can provide clues and inform participants of what hashtag they should use to tag their photos.
Photocall. The shopping mall Marineda City carried out a photo contest with the option to participate via Twitter and Instagram. The mechanism of the contest was highly original. Participants had to have a picture taken of themselves with their partner in a photo booth located in the mall and then upload it to the promotion. Enabling participation via Twitter and Instagram was a good option because it allowed the participant to send the photo instantly, without needing to register for the promotion. They could upload the photo from their smartphone straight after taking it.
Multi-participation. If the priority for you is to vitalize the promotion so that it can be visualized in more than one platform, incentivize participants to upload their photos to Twitter, Facebook and Instagram. This way the participant can have extra entries in the sweepstakes. If you don't want their photos to be duplicated, make this clear in the promotion description and in the terms and conditions.
Phrases contest. Do you want to dynamize your Twitter profile with a promotion with voting? Create a phrase-based contest and define a hashtag so that people can participate via Twitter. Use the auto-response system to invite participants to visit the phrases gallery where they can vote for their own phrase and ask their friends to vote too. You choose whether the voters have to verify with their email address or their Facebook account, so you will obtain that data.
Instagram lovers. If you want to generate a photo and video gallery, you could create a contest aimed at Instagram users. From the control panel of the promotion you can limit participation to those who use the hashtag and enter via Instagram. The gallery will look great with the retro filters that Instagram provides its users!
Birthday greeting. If your company's birthday is coming up, carry out a broad contest that incorporates text, photo and video. Associate it with a hashtag like #mycompany5years and enjoy the dedications that come to you via Twitter, Facebook and Instagram. You'll be able to obtain a highly diverse gallery: 140-characters tweets, text and photo based entries, Instagram video dedications. And don't forget to celebrate the event by raffling a prize among all those who have participated.
Configure integration with Twitter and Instagram
The integration of Twitter and Instagram in a contest is a feature of the Premium and White Label versions of Easypromos. You can learn how to set it up by following this Tutorial.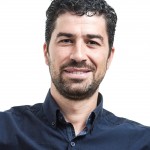 Easypromos CEO and co-funder
Publication date: 2014-07-02