Posted in: Business newsLast update: 03/04/20
In the following post we'd like to introduce you to our brand new website. This new design reflects the evolution that our platform has undergone over the past few years, as we have adapted to changes implemented by Facebook, kept up to speed with new trends in social media and online marketing, and acted on suggestions made to us by our customers.

The new version includes improvements both in the navigation and content of the site. Our principal aim is to ensure that anyone interested in using our platform can get a good idea right away of all the features offered by the tool.
To do this, we've incorporated the "products" section, which includes the following categories: giveaways, contests, quizzes, games and coupons and codes.
Each of these products is outlined in detail, along with case studies of promotions that have been carried out by companies using our platform. We have also provided guides to help administrators create their promotions, and DEMOS to enable them to preview them first.
We wanted to draw people's attention to our option of integrating promotions and contests with other social networks such as Twitter and Instagram, and with other tools such as Dropbox, Mailchimp or Google Analytics. The opportunity to integrate all the promotions, contests or sweepstakes in any website, using widgets, has also been highlighted.
We also want to mention our new company claim that will help define Easypromos from now on. Our old one – "Create promotions on your Facebook Page" – has been replaced by "The social lead generator." This is a statement of our intent to support and assist brands in their capturing of "leads" enabling our customers to establish potential commercial relations with the participants of their promotional activities.
This new website has evolved from the collection of innovative features that we've introduced over the past few years. These updates and adaptations have transformed Easypromos from a platform established solely for creating and managing Facebook promotions, to the complete, comprehensive tool it is today.
We'd like to invite you to follow us over the coming months because we'll have plenty more new features for you.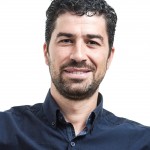 Easypromos CEO and co-funder
Publication date: 2014-10-10