Posted in: Digital marketingLast update: 21/10/16
In the majority of promotional actions carried out by Facebook, including the more traditional marketing actions, one of the objectives that brands try to achieve is the capturing of new contacts or leads of possible clients. Contact details, particularly email addresses, represent the most simple and effective way of communicating with your followers. Email addresses can be used after a promotion has finalized for carrying out email marketing campaigns, but this doesn't have to be the only objective.

Having the contact details of participants during the promotion is extremely valuable, as the communications that you carry out with participants will have a considerable influence on the results of the promotion: they can increase participation, and so augment the number of leads. They can have a further influence in encouraging participants to viralize the promo by reminding them that they have to obtain more votes by email. In conclusion, these communications are going to help you achieve more effective campaigns.
Below, we explain which objectives you should pursue by means of communications with participants and we give you some specific ideas to help you achieve your objectives.
The 7 objectives that you should set yourselves are as follows:
Generate engagement and interaction with users
Increase participation
Increase number of followers
Humanize the brand
Obtain a quality database
Obtain a closer connection with users
Provide support to participants
We give you 7 specific ideas to help you achieve your objectives:
1. Thank you email
Send an email to all users who have just participated to thank them and offer exclusive content such as coupons in a PDF format, discounts, instructions for the following steps of the promotion, information about the test result, and so on. You can also make the most of these types of communications by facilitating your email address to users, since they are very grateful for a more private method of communication when they need help or support during the promotion. By way of these communications you can generate engagement and humanize the brand, since you are offering assistance to your users.
2. Communicate with users whenever an event occurs that is related to their participation
When a friend of theirs accepts an invitation, when a user votes for a photo, or when a user has another attempt for qualifying for a prize, etc.  All these communications help us to motivate participants and "the more motivated they are, the more they will interact and the more they will help you to viralize." These are two key points which are fundamental to measuring the success of a promotional action and which will help you to strengthen links with your followers.
3. Communicate with users when they achieve specific objectives
Send an email when they have reached a minimum of invited friends, when their video has 20 votes, etc. The most personalized communications of your followers will humanize your brand. The fact that users can see that you are monitoring contest participation will give them confidence as they will be given the perception that you are controlling each and every step of the promotion.
4. Send emails to users to remind them of their objectives
If a user has not achieved their objectives, send them an email to remind them that they should finalize their participation.The reminder emails are often necessary since users may forget how many votes they have, or they may not have logged in to the contest for a while and need reminding that they have to encourage some of their friends to take part before they can be eligible for the prize. It's a good way to increase participation.
5. Send emails at the end of the promotion to thank users for their participation
Take the opportunity to communicate news about the brand and ask participants to become fans. This could be the last option that you have during this contest to convince them, so make the most of it. It's a good way of increasing your number of followers.
6. Communicate with the sweepstake or contest winners
These types of communication are fundamental in ensuring that the winners spread word of their win, showing that these types of actions really do work. If you send an email congratulating the winners and inviting them to share their win, many of your fans and followers will subsequently feel encouraged to participate in later promotions.
7. Send emails to validate a participation
In this way, you will obtain a list of validated emails which you can then keep and use. You will be able to build a quality database – one of the chief aims of any business that carries out sweepstakes, promotions and contests.
Note: We'd like to remind you that it is important to be prudent regarding the frequency and importance of the content that you send to users – it's not a good idea to overwhelm them.
As we have seen, the chance to send emails to users during a promotion can be the perfect complement to communications made via the RSS during the promotional action. The fact that users see you are paying attention to their participation process will help you achieve the objectives outlined at the beginning of this post.
How to segment the participants and automatize the sending of emails?
Now you can use the Emails Platform, a new Easypromos' tool that will enable administrators of promotions to create, configure and customize emails, allowing for the automatization of communication with promotion participants. Learn all their options and apply the tips of this article.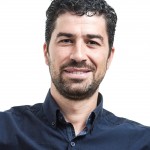 Easypromos CEO and co-funder
Publication date: 2015-01-08