Posted in: EventsLast update: 18/12/19
Valentine's Day is a day when we speak from the heart. So incentivize your customers to spread the word about your brand – with a tempting prize as motivation. Check out these ideas for recruitment and refer-a-friend contests on Valentine's Day.

The power of word-of-mouth marketing is well known. In fact, 92% of consumers trust recommendations from family and friends over paid ads or celebrity endorsements. And if you run a small business, then word-of-mouth marketing can make or break you. The question is: how can you encourage those recommendations? In this post, we'll break down how to get people talking with a Valentine's Day refer-a-friend contest.
What is a Valentine's Day refer-a-friend contest?
Refer-a-friend contests are also sometimes called recruiter or recruitment contests. And they are very simple to organize.
Just like a standard giveaway, you pick out a prize and ask your followers to sign up. Then comes the clever part. In order to qualify for the prize draw, or earn extra entries, participants have to recruit their friends.
Each person gets a unique link to share on social media and via email. Every time another friend uses that link to sign up, the original participant is rewarded… and you get more sales leads.
1. Choose a desirable prize
Now let's go through that process step by step. First of all, we'll review how to choose a prize. You have lots of different options here, depending on your brand, marketing budget, and aims.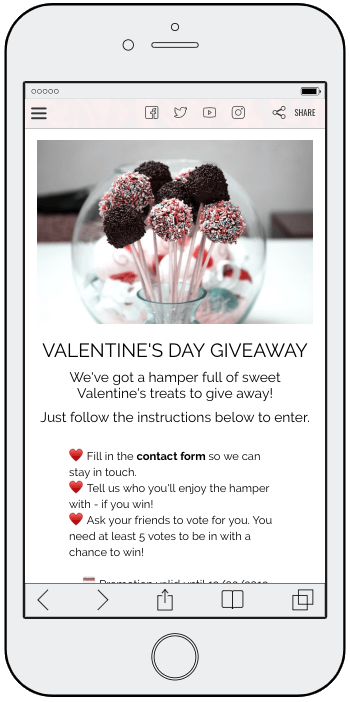 You could use the contest to highlight a product, introduce something new, or even clear out old stock. Themed gifts are very popular, too. So for example, you could share a seasonal bundle of gifts for your Valentine's Day refer-a-friend contest, just like in the example above.
Be sure to advertize the prize with a tempting description, glossy photos, and maybe even a video. The prize is the deciding factor in whether people join your Valentine's Day giveaway.
2. Set up a strategic entry form
Next, let's take a look at the entry form for your Valentine's Day refer-a-friend contest. Everyone who signs up, or is invited to sign up by their friends, will see this screen.
In general, you don't want to ask for too much information. Keep it simple: just a name and email address will do. If you ask for too many details, people may give up on the contest because it's too intrusive.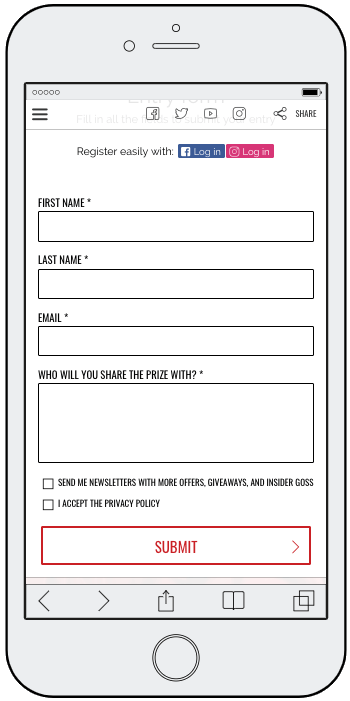 But with a little tact, you can use the opportunity to get newsletter sign-ups or customer feedback, too. In the example above, the company asked people to join their mailing list.
Here's another clever idea from a brand which asked people to pick their prize from a selection. In the process, they learnt more about their target market's preferences.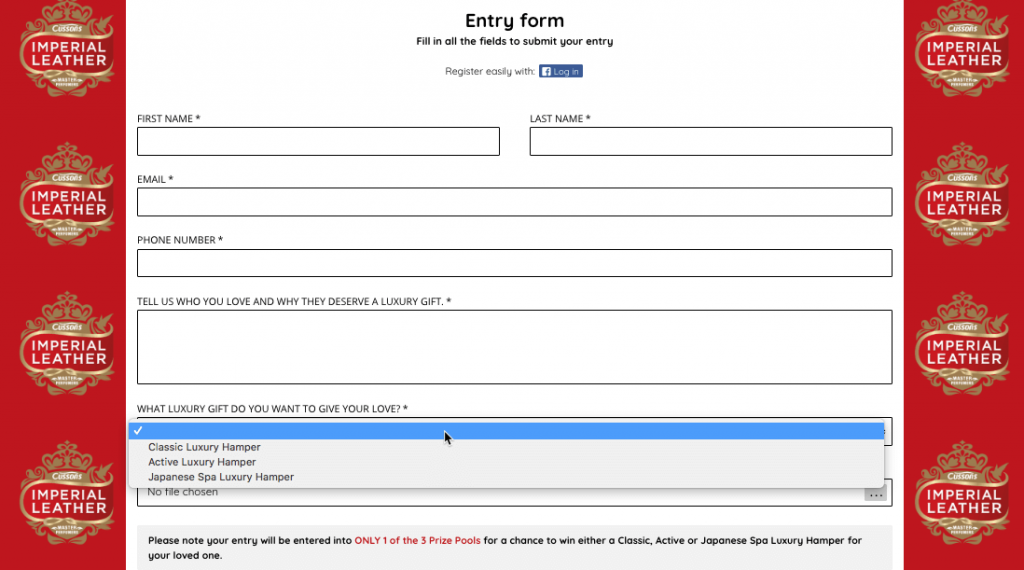 3. Encourage your followers to share online
Now let's talk about sharing. The whole point of a Valentine's Day refer-a-friend contest is to reach as many people as possible. So it's absolutely essential that users share your competition, again and again.
Remind people that you are on social media, and make it as easy as possible for them to follow you. In this example, the brand filled the final page of the contest with a reminder to follow them, a reminder to share, and easy-access share buttons at the top of the screen.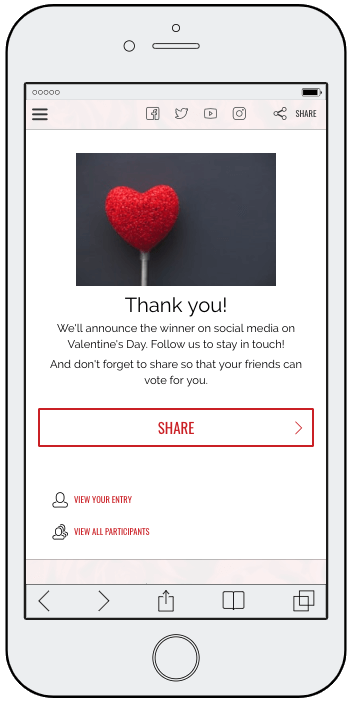 Every entry in the competition will also have its own, direct link. So it's easy for users to send their friends straight to you.
You can incentivize sharing even further, by adding extra prizes and rules to your contest. Set a minimum number of recruits, or offer tiered prizes depending on how successful people are at referring their friends.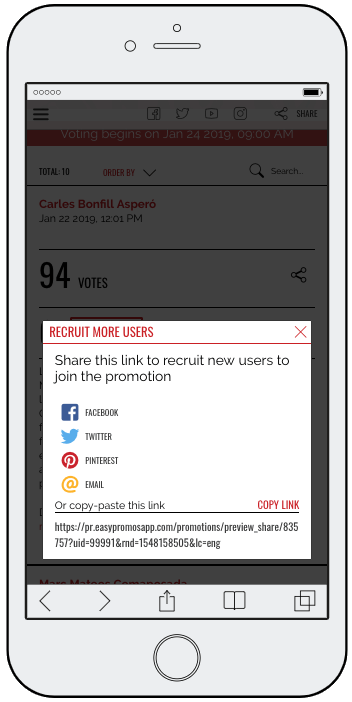 For example, you could offer a discount coupon to everyone with one referral, but reserve the prize draw for those with five referrals or more.
4. Follow up over email
We never get tired of saying this:
Your leads are useless if you don't follow up.
As soon as someone joins your Valentine's Day refer-a-friend contest, they should get a welcome email from you. Remind them how the contest works, tell them when you'll be in touch again, and maybe even offer a welcome reward.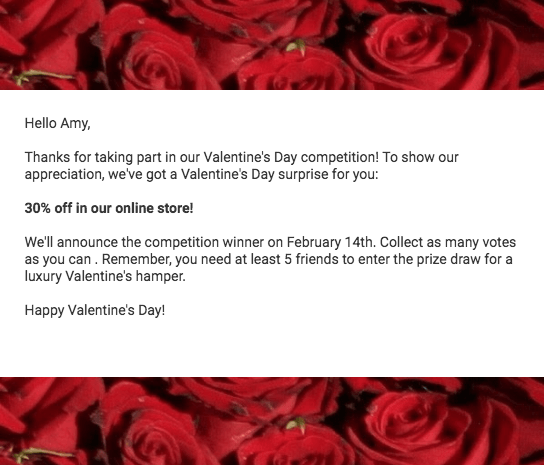 Choose a giveaway tool which will let you personalize and automate emails. If your contest goes viral, then you won't have time to write individual messages for everyone!
With the Easypromos platform, you can even target specific emails depending on how many referrals people get, when they join the contest, their preferred language, and more. Remember – if you want to convert those leads to sales, then you have to show your participants the attention they deserve.
Get even more ideas, templates, and free design resources with our Valentine's Day toolkit for marketers!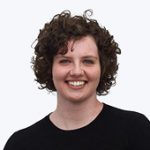 Corinna Keefe
Content marketer at Easypromos
Publication date: 2015-02-14