Posted in: EventsLast update: 05/08/22
Pancake Day is coming up on March 5th. Here are our sweetest ideas for Mardi Gras giveaways on social media!

Pancake Day – or Mardi Gras, Carnival, Faschingsdienstag, Tłusty Czwartek, depending on your location – is a Christian festival. It's the last day of partying, dancing, and feasting before the 40 days of fasting and reflection in Lent.
In almost every country, the centerpiece of the Shrove Tuesday tradition is food: pancakes, doughnuts, or any kind of rich sweet pastry. The ritual of eating pancakes on Pancake Day is closely bound up with religious, cultural and family traditions. And that combination of food, feelings, and tradition is extremely powerful.
In today's post, we're thinking about how to run a Pancake Day giveaway – with a deeper meaning. It's easy to get bogged down in page views, reach, and click statistics, but at its most basic, social media is about connecting with people. So let's take a look at how you can start building a real relationship with your followers.
Share ideas, opinions, and nostalgia
It's time to move on from "like, follow, tag a friend!" Social networks are getting stricter – and users are more savvy and critical than ever before.
If you want to attract followers and build a real, organic presence on social media, then you need to foster genuine connection and conversation. An occasion like Pancake Day is a great opportunity: you have a ready-made topic, on which people have a lot to say and share.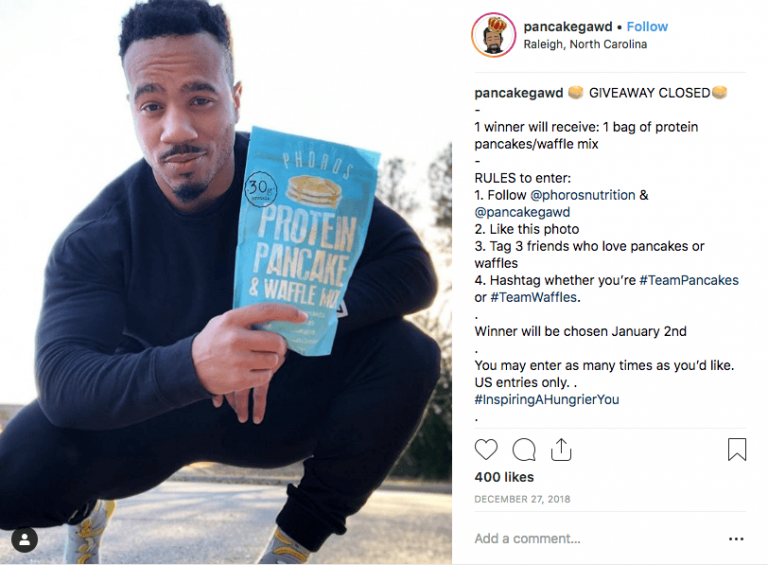 You could ask your followers to choose between pancakes and waffles, or American versus English-style pancakes. (Yes, there is a difference!)
Find out if they prefer chocolate spread or traditional lemon and sugar, a short stack, triangle, or roll.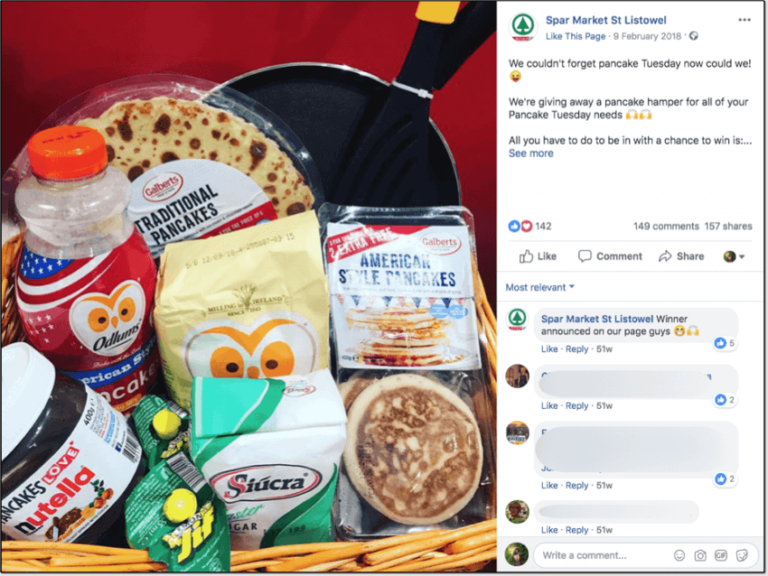 To motivate people and get their attention, it's worth offering an incentive to join the conversation. Once again, this is easier if you have an event to tie in. So, for Pancake Day, you could give away ingredients, toppings, cookware, or store discounts.
We loved this example from cookware brand Tefal. They got in the Mardi Gras spirit with a Pancake Day giveaway of cake moulds. Because Mardi Gras is celebrated with fancy dress as well as food, they chose a frog-shaped mould – to match all the little kids dressed as princesses!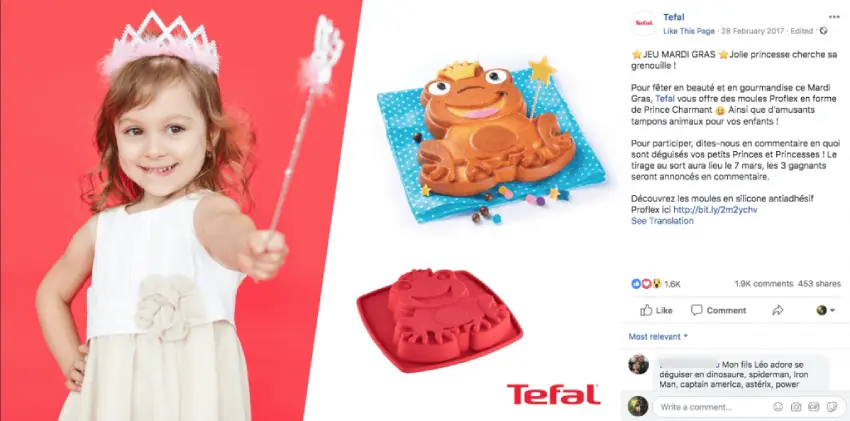 Giveaways and contests are also a great way to bring your followers offline. Remember, the conversation on social media is just the beginning. Once you have made a connection with someone, you want to bring them off social networks and into your store.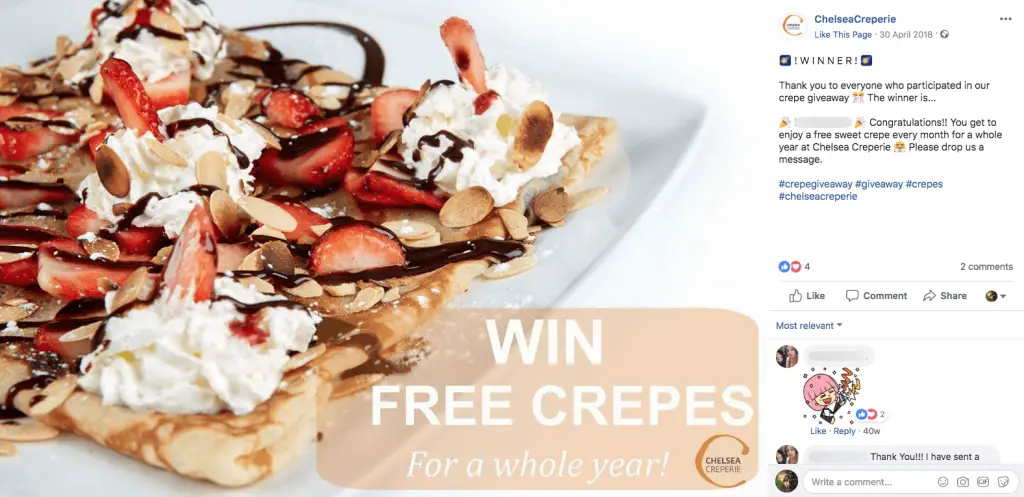 Chelsea Creperie is a first-class example of this strategy. They share regular updates and seasonal contests, all aimed at welcoming customers to their café. In this example, a simple Facebook Giveaway app led to free pancakes for a year. The prize winner will be a regular customer for life – guaranteed!
Tap into family traditions
Once you have established a community online, you can start deepening the relationship. A Pancake Day giveaway based on comments is an easy way to start. But if your followers are active and engaged, ask for a little bit more!
And by "more", we mean user-generated content. There are so many advantages of connecting UGC: it gives followers a stake in your brand, saves on producing content in-house, and spreads your brand image across the web.
Just like a Pancake Day giveaway with comments, you'll want to motivate your followers with a prize. Because they have to work a bit harder to join the contest, make sure you offer an even more tempting reward!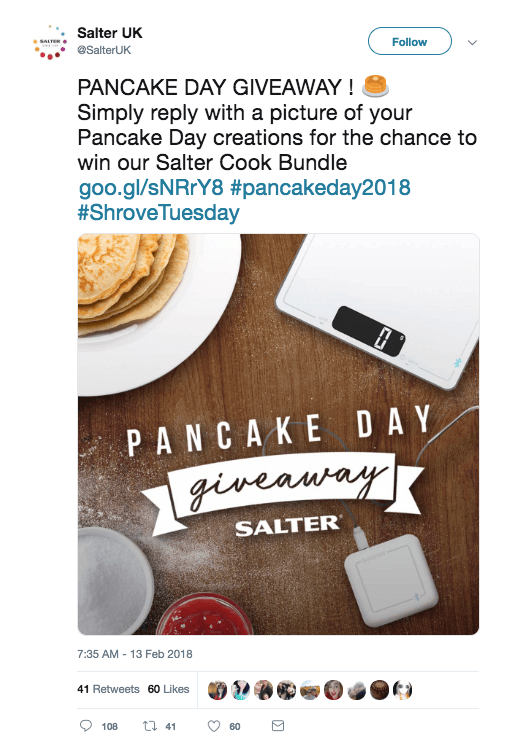 Think about the UGC you want to collect, and how it ties in with your brand strategy. For example, Salter is a cookware brand, so they wanted to tap into the popularity of food photography online. It's a form of UGC that their followers already enjoy and create. Remember – it's always easier to reinforce existing habits, than to start something new.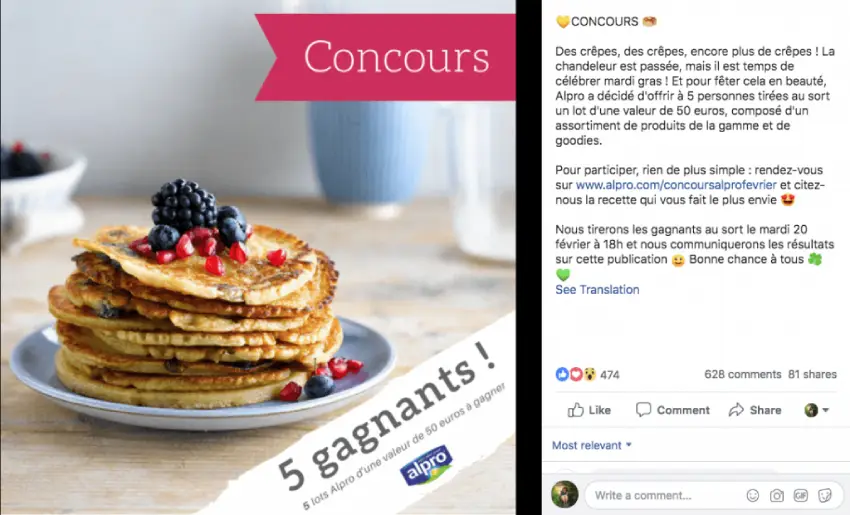 Here's another example. Alpro is an almond milk brand that wants to position itself as a healthy, informed brand for modern customers. At the same time, they want to attract new followers by showing that almond milk can be used in recipes, just like dairy milk.
So they ran a contest to collect traditional family recipes. They added to their knowledge base with a new collection of recipes, and showed their followers that almond milk makes good pancakes.
Create a Pancake Day tradition of your own
We've talked about the importance and power of ancient traditions. But how about starting something new?
If you create a Pancake Day giveaway, event or annual tradition that speaks to your customers, it becomes the linchpin of a lasting relationship. Take the case of IHOP.
As if Shrove Tuesday wasn't enough, they created a second, IHOP-exclusive Pancake Day – and their followers embraced it. For the last 14 years, they've celebrated an annual day of free pancakes and charity donations.
Today is IHOP® National Pancake Day®. Today we celebrate that every pancake has the right to pancake. So come into IHOP® for a free short stack of pancakes. Rejoice! pic.twitter.com/3BH4XjS63N

— IHOP (@IHOP) February 27, 2018
Feeling inspired – or maybe just a little hungry? Click here to get started on your Pancake Day giveaway or Mardi Gras promotion.
Publication date: 2015-02-09