Posted in: Success casesLast update: 24/03/20
Let's look at the case of the ALSA bus transportation business. They organized an application via Facebook with the objective of increasing sales for its Easter Week campaign. The application consisted in answering a series of questions to find out how much stress participants were under, and how badly they needed to go on vacation. To end the contest, a sweepstake was held for all participants, giving them the chance to win 20 free tickets to travel with ALSA.
The Agency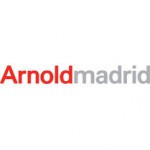 Arnold Madrid is a publicity agency belonging to the HAVAS Group. Arnold Madrid is an integral company with a long history offering advertising services, social media, digital marketing, CRM, events and so on. With its philosophy "The Power of the One2One", Arnold Madrid defined a way of thinking – a unique mind with its focus squarely on the client, always providing an excellent personalized service.
The Client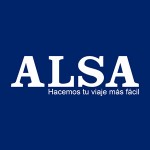 With over a hundred years of experience, ALSA is the leading company in the Spanish road-transport sector. ALSA works from a conception of transport that values an integral vision and the permanent satisfaction of clients. As an integral operator, ALSA attends to the different mobility needs of the public by way of a wide range of bus transportation services, including regional, national, international, urban and private services.
Are you looking for ideas for your Easter promotion? We can help! Our Easter hub is full of ideas, ready-made templates and success cases.
The Campaign
The Easter holidays are a key period for the transport business, and especially for ALSA. For this reason, they wanted to take advantage of the occasion to present the company as a vacation's best friend. They connected the excitement, fun and much-needed relaxation that holidays provide, with the journey itself: "What you need this Easter are holidays. What you need is ALSA".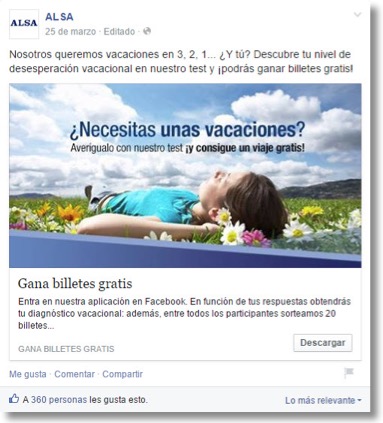 The Challenge
They conveyed the concept of the Easter campaign to the social networks by presenting ALSA as an antidote to the daily grind, associating it with people's love of holidays. Its principal online objectives were to:
Generate desire, motivate the target audience (both ALSA users and non-ALSA users) to travel during Easter.
Encouraging top-of-mind awareness of the brand for people planning their vacations.
Capture travelers from other companies and alternative means of transport.
Increase ticket sales and passenger numbers during the Easter period.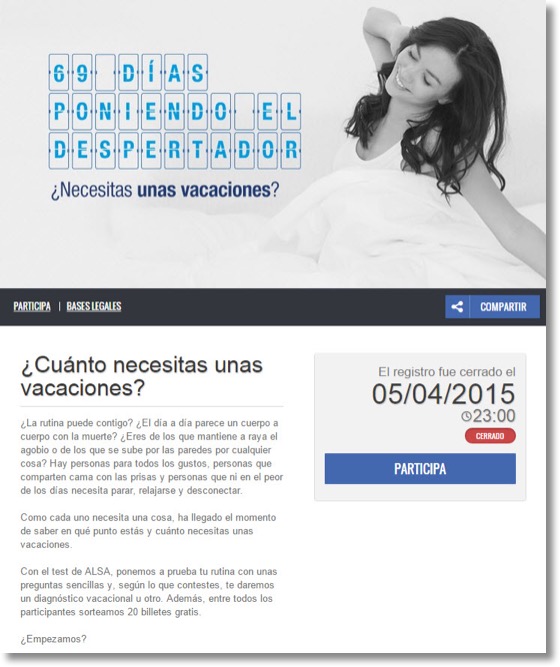 The Solution
Using the Easypromos platform a multiple-choice test was created in which users were presented with a brief questionnaire of six questions. After answering them they were given a diagnosis of how much they needed some vacations. To incentivize participation, 20 free tickets were raffled among all participants.
To take part, users were encouraged to become fans of the ALSA website. They then had to answer the six questions and enter their details at the end.
In this test, six different situations – ranging from moderate to extreme – were described to users in order to estimate their stress level and how much they needed to go on vacations. One example of these situations was the following: "Your little sister has decided to make some 'cute clothes' for her dolls out of your underwear." Users were then given the following three options: "That little brat! When I get my hands on her, she'll be sorry"; "Didn't anyone tell her that's wrong?" or "What a clever girl. I'd never have thought of doing that!"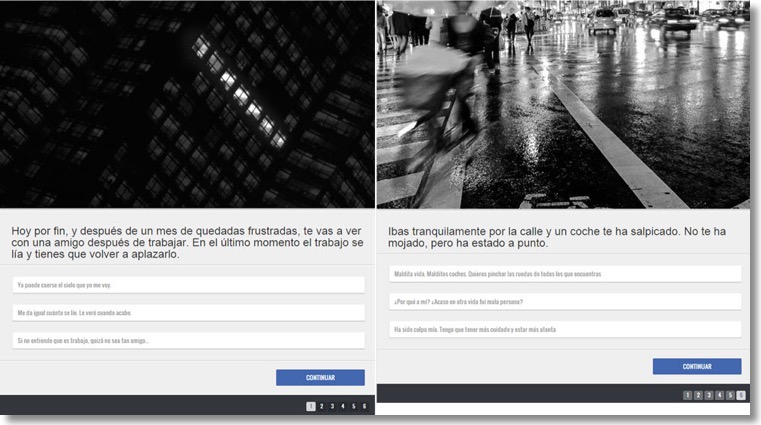 After answering the six questions, whose answers were scored, users were given access to their final result based on their answers. To those who had fewer points, and therefore a lower stress level and need for vacations, the test result said the following: "Either your tolerance levels are far above the rest of humanity, or on the day you least expect it, you'll explode over nothing. You should plan some vacations and travel with ALSA from 5€". Those with the highest points – the most stressed-out – obtained the following verdict: "You can barely even stand yourself. Everything makes you angry. What you need are some vacations. What you need is to take a vacation with ALSA from 5€".
To ensure that the contest reached a high number of Facebook users, the application was promoted with a paid media campaign, as well as strengthening communication on the ALSA blog, "Miradas desde el Bus" (Views from the Bus), and other social networks such as Twitter or Instagram. Upon completion of the test, users could share the promotion across social networks.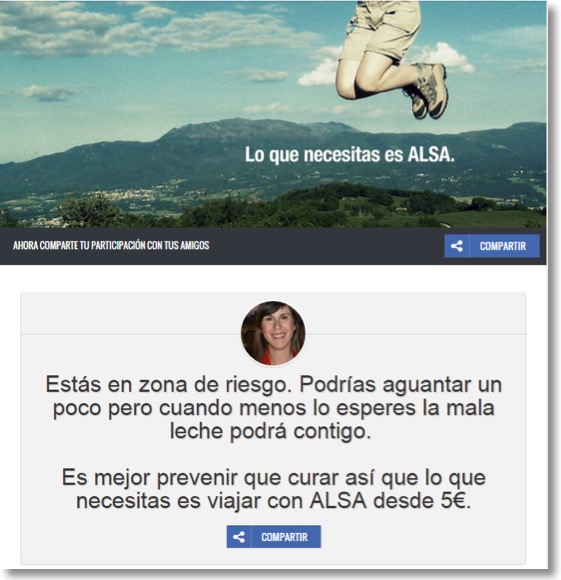 The Benefits
Over 1,800 visits to the app were registered, and practically everyone who accessed the app filled out the test. During the campaign, 1,555 people answered the ALSA test, discovering that "what you need these holidays is ALSA."
Almost a million Facebook users saw the Easter campaign publications. The interaction results were extremely high, with over 11,000 clicks on the links, 1,803 "Likes", 255 comments and 150 shared posts.
36% of users who participated in the application shared their result on their profile pages, inviting their friends to take part and carry out the test. Over a hundred of those who reached the application were recruited by their friends.
Users from ten different countries took part.
The ALSA community obtained more than 1,211 new fans over this period.
A positive experience was generated among ALSA fans and followers of their Easter campaign, strengthening the brand's engagement with its community of users.
Do you have some questions? Or maybe you need help setting up your own Easter promotion? Online chat with us, we're always ready to help!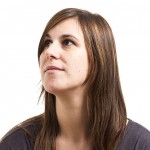 Silvia Marti Ferrer
Marketing and Customer care Easypromos' team
Publication date: 2015-05-07