Posted in: ApplicationsLast update: 21/01/22
The option of publishing promotions as a microsite is one of the best Easypromos features. This is now the default method for publishing promotions, although you can still publish them on Facebook, or on a website using widgets and plugins. In this post we explain some of the advantages of microsite promotions – the main one being the chance to use your own domain.

Publishing as a microsite joins the methods of publication that are already available:
Publish in a Facebook application
Publish on your own website using widgets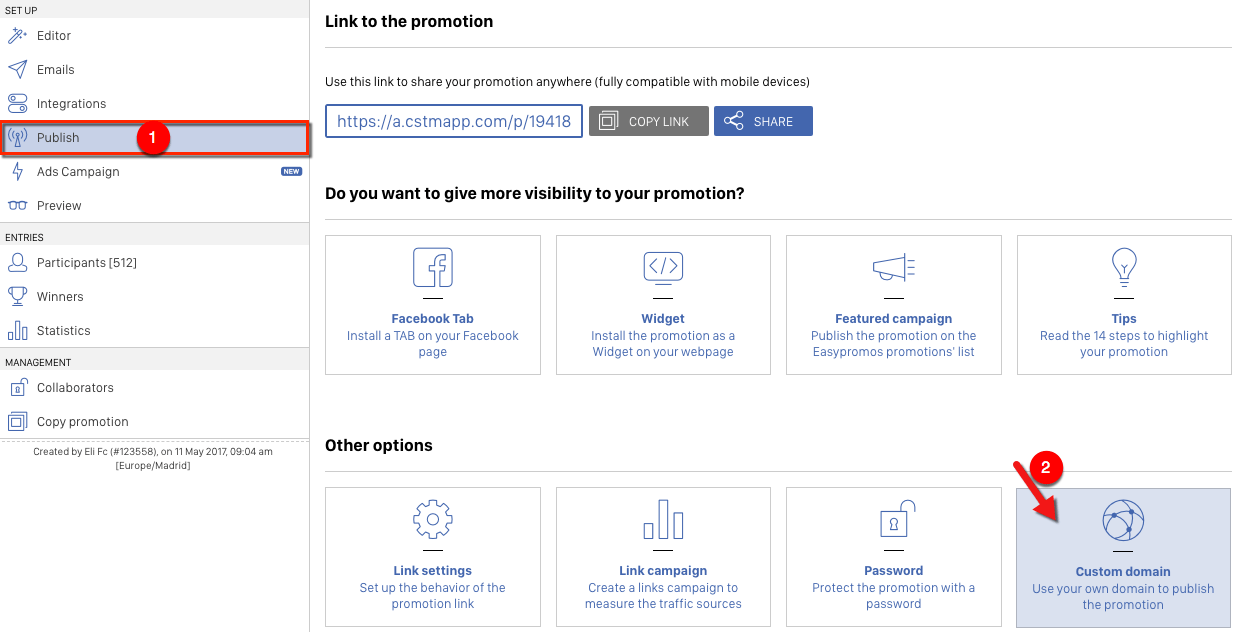 Publication on a microsite is the default mode of all promotions created in Easypromos. With this method of publication, the promotion is opened like a webpage. Find out how to publish a promotion with this publication system.
What are the advantages to publishing promotions as a microsite?
It permits you to use applications in an environment that is independent from Facebook
The operation and configuration is exactly the same, but, done this way, promotions, contests and sweepstakes are unconnected to the Facebook environment. Not only because of the environment they are published in, but because the application now gives administrators the option of deciding whether users should register via their Facebook account or with their email address.
You can combine various forms of publication
The feature of publishing via a webpage is not incompatible with publication in a Facebook application or widget. All forms can be used together.
This multi-platform option is perfect if your objective is to capture traffic from different channels. You can publish the promotion as a microsite, as well as embedding it on the home page of your website. Irrespective of where users participate from, the database generated from users' data will be unique.
Design options
In the Easypromos design guide there is an option (section B) which refers to the promotion background. From here, the administrator can choose which type of background to apply to the design: single solid color (RGB), repeated image, or unique image.
This background is easy to appreciate by users who access the website where the promotion is being presented. It can give administrators plenty of options for playing with the background design.
Customize the Microsite URL
This feature is only available in the White Label version. Promotions created with this version have the chance of using a particular URL or domain to publish the promotion. It enables all promotion links to have the brand's customized domain as their URL. In this way there will be no reference to the Easypromos platform.
This option is perfect if you're going to disseminate the promotion via channels where users have no access to a direct link to the promotion: television, radio, written press, Instagram, etc. The public will find it easier to remember your chosen URL than a default URL generated by the application.
This new feature opens up a wide range of options for agencies. With the White Label version you will now be able to redesign aspects of the promotions by use of CSS style customization. You will also be able to customize the URL. Both these features will give you greater versatility when creating a tailor-made tool for clients.
Publication date: 2015-06-08