Posted in: EventsLast update: 18/06/19
We all know that summer officially begins on Memorial Day. But the real vacation season? That starts with Independence Day on July 4th: a holiday full of family, food, and festivals. It's time to celebrate all the things that the US of A does best.

So why a social media giveaway? The Fourth of July is an opportunity to connect with more followers and show your brand's values. With the right contest design and choice of prize, you can use the holiday to build your reputation and presence online.
To learn exactly how that works, keep reading. We've got a whole load of case studies, expert tips, and design templates to help you get started with your Independence Day giveaway.
The best prizes for an Independence Day giveaway
Before we dive into the specifics, let's talk about Fourth of July prizes. Here are a few ideas to get you started…
Burgers, buns, and beers. Anything that helps people enjoy their Fourth of July barbecue! Give away foodie treats, American-brewed drinks, party accessories, or barbecue tools. Last year, patriotic Americans spent almost $7 billion on Independence Day cookouts and picnics!
Stars and stripes. We're thinking flags, bunting, party favors, household décor, even stationery. If it's red, white, and blue, it works.
Themed outfits. An Independence Day outfit has become almost as much of a tradition as ugly Christmas jumpers. This is especially true for kids. What could be cuter than a toddler dressed up as the Statue of Liberty, or wearing the stars and stripes?
Experiences. Give away concert tickets, day passes to a water park, or raffle tickets for your town fair. This prize is especially popular with young families who want to fill up the holiday with activities.
We're sure you can come up with lots more ideas. And of course, don't forget that a social media giveaway is a great opportunity to showcase your own top products.
Celebrate the 4th of July with a Facebook sweepstakes
One of the most popular ways to run an Independence Day giveaway is a Facebook comments contest. The idea is simple. Just publish a post where you invite your followers to comment. Then, when you're ready, use the Facebook giveaway app to select a random winner and announce the results.
In this example, the brand asked: "What do you love about Independence Day, America, or your family?"
Try to ask open questions so that you start a genuine conversation with your followers. Here are some suggestions to get you started…
What does "America" mean to you?
What are your plans for Independence Day?
What's the one dish you cook for Independence Day each year?
Choose a favorite color: red, white, or blue. Tell us why!
Tell us your best Fourth of July memory.
Independence Day is also a day to remember and honor the people who have served America. You could run a giveaway which celebrates veterans, teachers, or other everyday heroes – like this generous Fourth of July promotion from Papa John's.
Some brands find it difficult to get on board with an Independence Day giveaway. If your products aren't obviously linked to the holiday, or you're not sure what question to ask your followers, don't worry!
Just offer a prize which your target audience will enjoy. Add some red, white, and blue to your Facebook post to show the connection to the holiday, and you're good to go.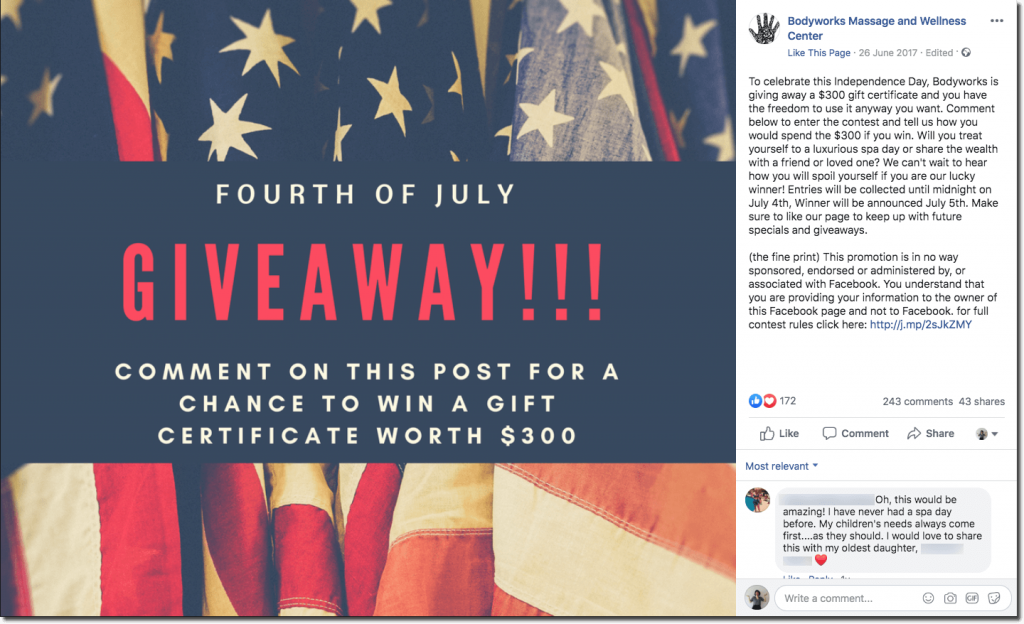 Take this example from Bodyworks. The best prize for their followers was a luxurious spa day – so they created a Fourth of July-themed post and asked people to comment about how they'd enjoy the prize. They still received lots of heartfelt, genuine responses from people who wanted to join in the holiday fun.
Click here for our free Facebook giveaway template. Get started in minutes with original post images and optimized captions!
Run a 4th of July giveaway on Instagram
Over the past year, we've seen a spike in Instagram giveaways. Unlike some other social networks, brands still get high levels of engagement on Instagram – and giveaways are an important part of that.
There's more good news: Instagram giveaways are super easy to organize. Just like a Facebook sweepstakes, all you have to do is publish a post, then wait for the comments to add up.
Make sure you use stylish, eye-catching images so that your followers stop scrolling. Spice up your post captions with 🇺🇸patriotic emoji🦅 and hashtags, too!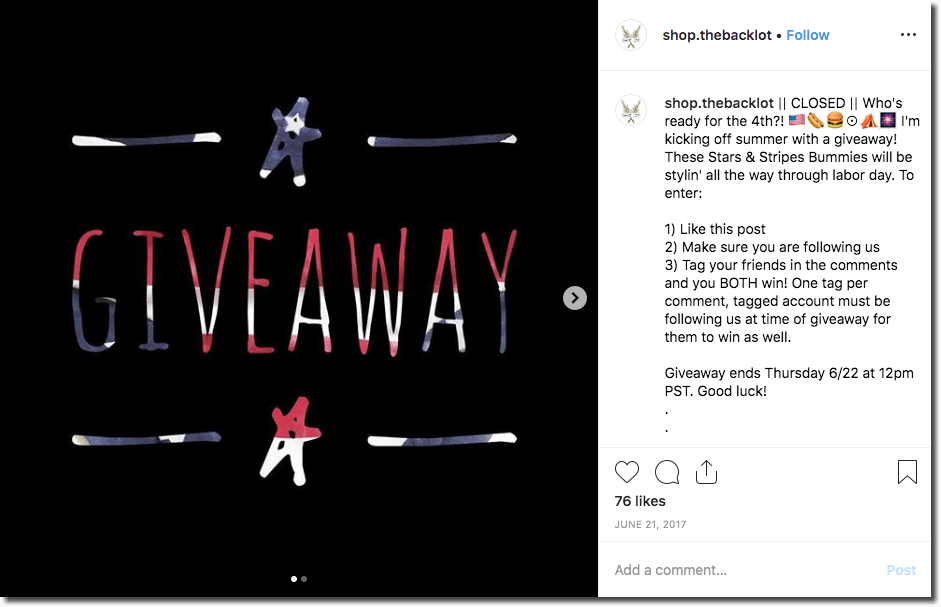 We like this example from The Back Lot baby clothes. They published a carousel post, with a stylish cover image that highlighted the giveaway.
The second photo in the carousel was an adorable outfit for the Fourth of July:
For even more impact, try to show your prize in action. This next example from Boston Design Guide does a great job of showing their prize in an aspirational setting. Outdoor pool, cute dog, and a Yeti full of Independence Day treats… What's not to love?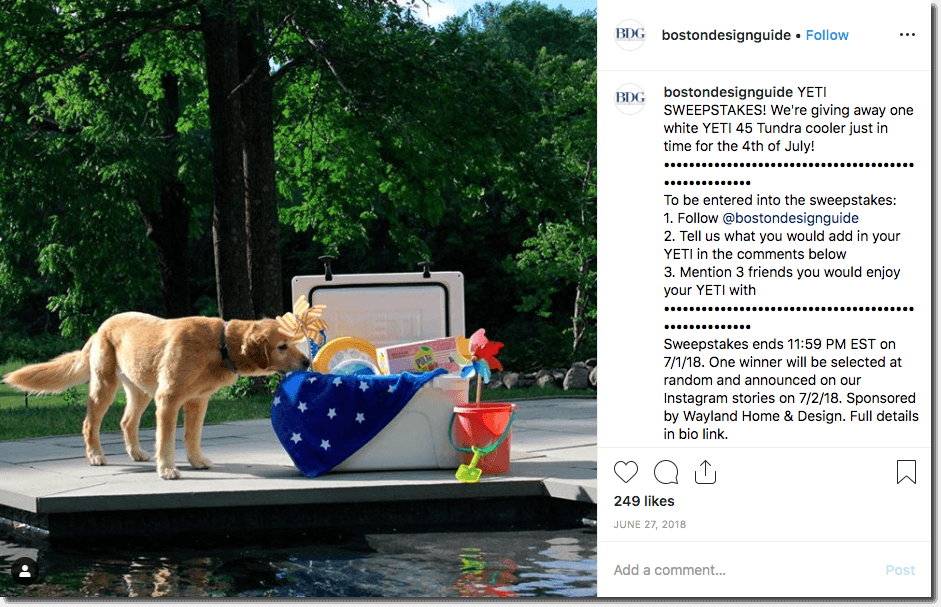 We're here to help with Instagram templates, too. Just click here to download free images for your Independence Day giveaway posts and Stories.
Run an Independence Day giveaway on Twitter
Finally, don't forget about Twitter. Depending on your brand and target audience, Twitter can be a powerful tool for engagement, feedback, and customer service.
You have more options with a Twitter giveaway for the Fourth of July, too. You can ask people to follow, retweet, or reply for a chance to win.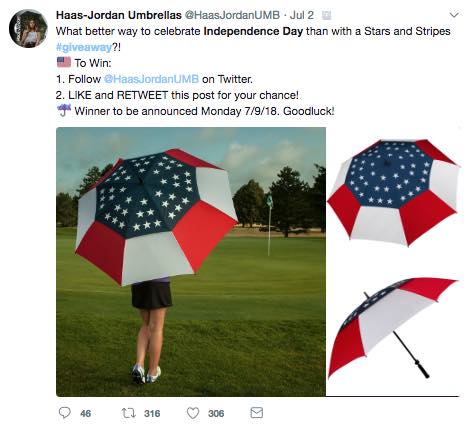 How to announce the winner of your 4th of July giveaway
What would the Fourth of July be without fireworks? That's where Broadcast Mode comes in.
Instead of just posting a comment to announce the giveaway winner, you can publish their name in an animated video with sound effects, customized graphics, and a burst of fireworks. Take a look!
Whether you run an Independence Day giveaway on Facebook, Instagram, or Twitter, you'll automatically have access to Broadcast Mode – so you can finish with a bang. Happy Fourth of July!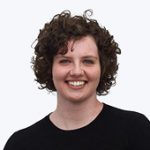 Corinna Keefe
Content marketer at Easypromos
Publication date: 2015-07-04