Posted in: Digital marketing,Ideas for your websiteLast update: 29/07/22
We all know that summer officially begins on Memorial Day. But the real vacation season? That starts with Independence Day on July 4th: a holiday full of family, food, and festivals. It's time to celebrate all the things that the US of A does best.

So why a social media giveaway? The Fourth of July is an opportunity to connect with more followers and show your brand's values. With the right contest design and choice of prize, you can use the holiday to build your reputation and presence online. Create a social media giveaway to boost engagement, brand and product awareness, reinforce customer loyalty and trust, and start long-lasting relationships with your customers.
To learn exactly how that works, keep reading. We've got a whole load of examples, tips, and design templates to help you get started with your Independence Day giveaway.
The best prizes for an Independence Day giveaway
Before we dive into the specifics, let's talk about Fourth of July giveaway prizes. Here are a few ideas to get you started…
Burgers, buns, and beers. Anything that helps people enjoy their Fourth of July barbecue! Give away foodie treats, American-brewed drinks, party accessories, or barbecue tools.
Stars and stripes. We're thinking flags, bunting, party favors, household décor, and even stationery. If it's red, white, and blue, it works.
Themed outfits. An Independence Day outfit has become almost as much of a tradition as ugly Christmas jumpers. This is especially true for kids. What could be cuter than a toddler dressed up as the Statue of Liberty, or wearing the stars and stripes?
Experiences. Give away concert tickets, day passes to a water park, or raffle tickets for your town fair. This prize is especially popular with young families who want to fill up the holiday with activities.
Your products. It wouldn't make much sense to organize a giveaway in which your brand wouldn't get promoted. So don't forget to throw in your bestselling products or promote your newly launched items.
We're sure you can come up with lots more ideas. And of course, don't forget that a social media giveaway is a great opportunity to not only showcase your own top products but also strengthen customer relationships!
Would you like to create a branded Photo Contest to celebrate the 4th of July with your online audience? Check out our Independence Day PhotoFun DEMO and learn how to collect user-generated content on this fun idea!
Celebrate the 4th of July with a Facebook Giveaway
One of the most popular ways to run an Independence Day giveaway is a Facebook comments contest. The idea is simple. Just publish a post where you invite your followers to comment. Comment-based giveaways boost social media engagement and improve positioning. Then, when you're ready to finalize your promotion, use the Facebook Giveaway app to select a random winner.
In this example, the brand asked: "What do you love about Independence Day, America, or your family?". Facebook users entered the sweepstakes for a chance to win a fun basket including picnic and house decorations.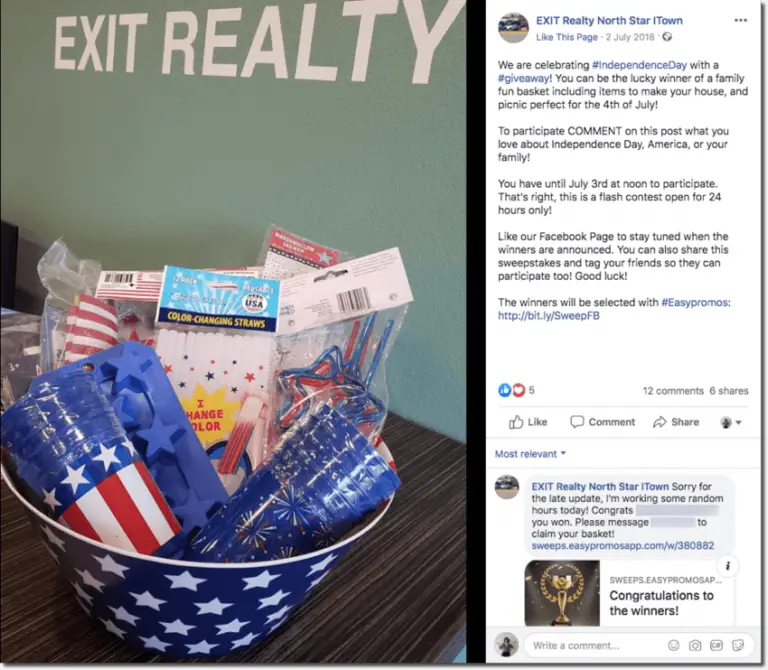 Try to ask open questions so that you start a genuine conversation with your followers.
Independence Day is also a day to remember and honor the people who have served America. You could run a giveaway that celebrates veterans, teachers, or other everyday heroes – like this generous Fourth of July promotion from Papa John's.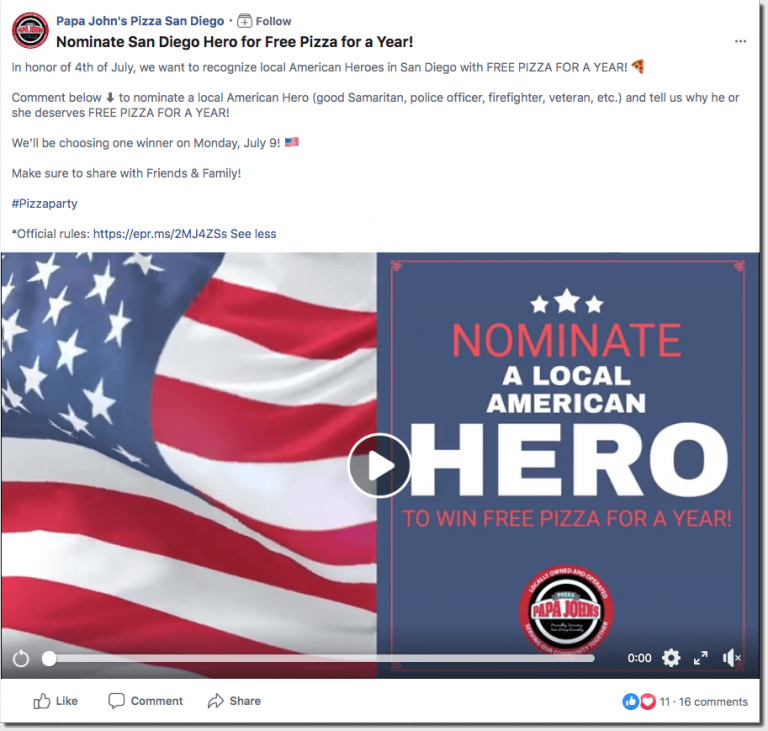 Generate loyalty with Independence Day giveaways
The example from Papa John's taps into customer loyalty and trust. It also creates new customer relationships and reinforces the existing ones.
Some brands find it difficult to get on board with an Independence Day giveaway. If your products aren't obviously linked to the holiday, or you're not sure what question to ask your followers, don't worry!
Just offer a prize that your target audience will enjoy. Add some red, white, and blue to your Facebook post to show the connection to the holiday, and you're good to go.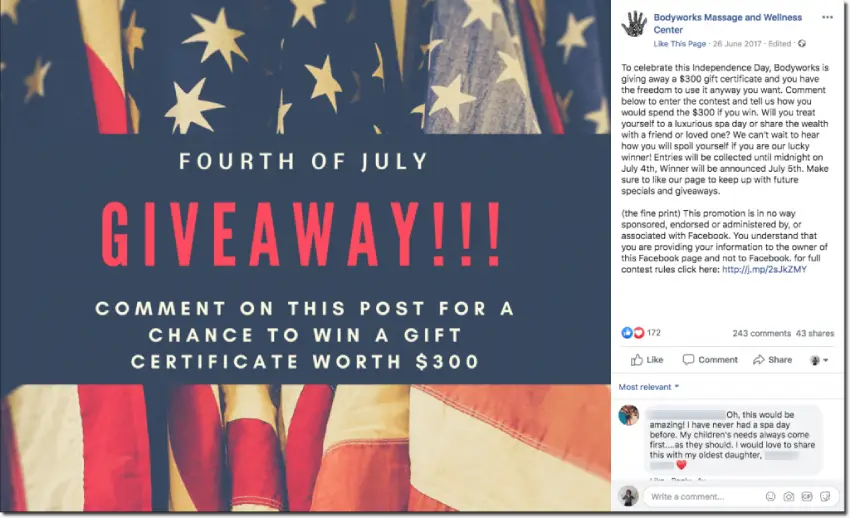 Take this example from Bodyworks Massage and Wellness Center. The best prize for their followers was a luxurious spa day – so they created a Fourth of July-themed post and asked people to comment about how they'd enjoy the prize. They still received lots of heartfelt, genuine responses that boosted social media engagement and also reinforced brand awareness. What massage studio do you think the giveaway participants will think of next time they want to relax?
Looking to organize a 4th of July Giveaway? Use our customizable ready-made Facebook or Instagram template and get started with your giveaway in minutes!
Run a 4th of July giveaway on Instagram
Over the past year, we've seen a spike in Instagram giveaways. Unlike some other social networks, brands still get high levels of engagement on Instagram – and giveaways are an important part of that.
There's more good news: Instagram Giveaways are super easy to organize. Just like a Facebook sweepstakes, all you have to do is publish a creative post, then wait for the comments to add up.
Make sure you use stylish, eye-catching images so that your followers stop scrolling. Spice up your post captions with 🇺🇸 patriotic emojis 🦅 and hashtags, too!
We like this example from The Back Lot baby clothes. They published a carousel post, with a stylish cover image that highlighted the giveaway. The second photo in the carousel was an adorable outfit for the Fourth of July:
Notice that one of the entry requirements was mentioning friends in the comment section. That's a fantastic way to make the giveaway go viral and attract more potential participants.
For even more impact, try to show your prize in action. This next example from Boston Design Guide does a great job of showing their prize in an aspirational setting. Outdoor pool, cute dog, and a Yeti full of Independence Day treats… What's not to love?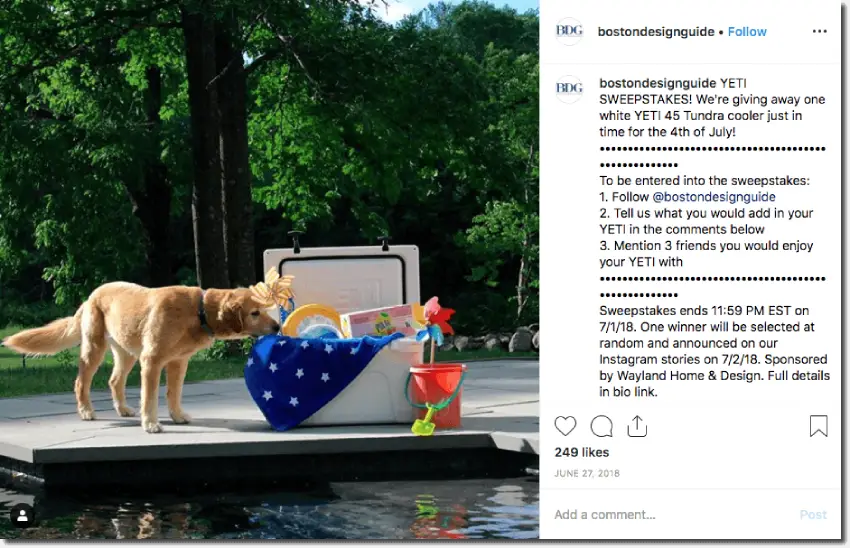 Another great example of a 4th of July giveaway comes from Healthy Spot, a natural pet store. At the end of the day Independence Day is all about family, right? Healthy Spot launched a comment-based giveaway for all dog owners among their Instagram community.
The entry requirements were very simple; entrants were asked to follow the organizing account and tag one friend they would like to see during the summer. By using these requirements Healthy Spot grew their Instagram following, reinforced brand and product awareness, and also reconnected with their existing community. It was a win-win!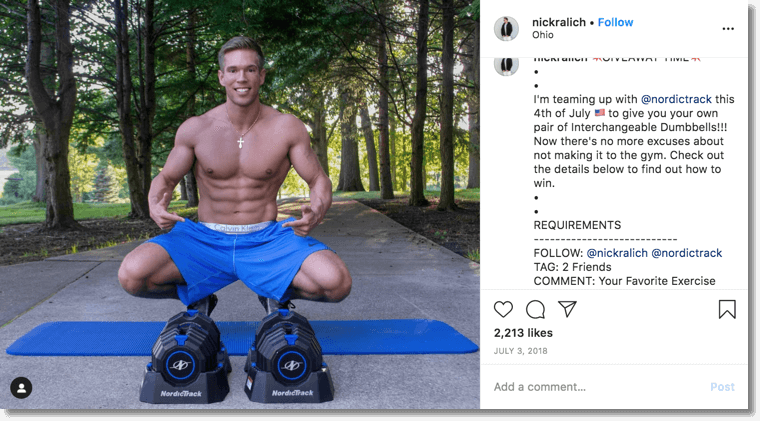 The next example of an Instagram Giveaway was organized by a fitness instructor in collaboration with a training equipment manufacturer. Everyone who followed both organizing accounts tagged two friends and shared what was their favorite exercise got a chance to win a pair of interchangeable dumbbells. So if you have a big social media following but no product to give away, or a good product but your social media audience is still small look for someone to collaborate with! Instagram collaborations are quite popular as they help grow off of each other's audience and reinforce brand and product awareness.
Run an Independence Day giveaway on Twitter
Finally, don't forget about Twitter. Depending on your brand and target audience, Twitter can be a powerful tool for engagement, feedback, and customer service.
You have more options with a Twitter Giveaway for the Fourth of July, too. You can ask people to follow, retweet, or reply for a chance to win.
Here's an example from an umbrella producer. The brand turned to a Twitter Giveaway to promote their patriotic design and reward one lucky winner from their Twitter community. All the participants had to do was follow the organizer's account, like and retweet the post.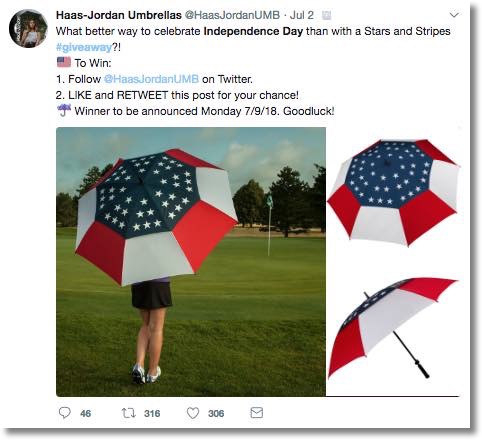 It was a great opportunity for the brand to showcase and promote their product while boosting their Twitter engagement.
How to promote your 4th of July giveaway and announce the winner
To ensure that your giveaway becomes successful it is essential to share it with as many people as possible. Share your giveaway on your other social media networks to attract as many participants as possible, it will also help you grow your audience. Use Stories to promote your giveaway, and if you have a weekly or monthly newsletter make sure you let your subscribers know, too!
And what about announcing the winner? What would the Fourth of July be without fireworks? That's where Show Mode comes in.
Instead of just posting a comment to announce the giveaway winner, you can publish their name in an animated video with sound effects, customized graphics, and a burst of fireworks. Take a look!
Whether you run an Independence Day giveaway on Facebook, Instagram, or Twitter, you'll automatically have access to Show Mode – so you can finish with a bang.
Do you have questions that haven't been answered? Don't worry! You can now Online Chat with us! Happy Fourth of July!
Publication date: 2015-07-04