Posted in: Applications for FacebookLast update: 23/09/22
The hashtag is a very familiar concept for any user who commonly uses social networks. As such, it is a tool that you can make good use of in your online campaigns. Easypromos provides a platform to carry out sweepstakes among users who comment on a Facebook Timeline post and we have incorporated a new feature which makes the most of hashtags used in comments.

If you want to carry out a sweepstakes among all users who comment on a post, you can filter users who enter the sweepstakes based on whether they have used a specific hashtag in their comment, excluding all users who haven't used the hashtag.
The use of hashtags provides three advantages:
It highlights the user's answer within the comment because, being a link, it appears in blue
It's easy to filter the users' responses and comments
It represents the use of hashtags graphically
Here are some ideas:
Run a quick survey of one of your products
Are you thinking about launching a new product and would now like to do a quick survey among your Facebook fans to find out what they think? To make things a little clearer, here's an example: Imagine that your company manufactures cell phone accessories and that you're about to launch a new range of cases. Wouldn't it be useful to find out in advance which models are likely to sell more? Carry out a quick survey among your followers by asking them the following question: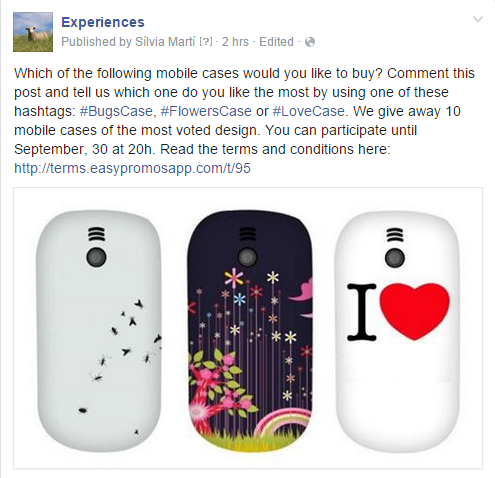 This option enables you to find out the exact percentage of votes received by each of your proposed models because the tool enables you to obtain statistics by filtering specific hashtags. It also permits you to eliminate users who have used more than one hashtag in order to have more opportunities to win a prize.
Recommendation: Accompany the post with an image linking the hashtag to the corresponding product to ensure there is no confusion.
Bring traffic to your website
Do you want to bring traffic to your website? Prepare a Facebook sweepstakes and ask your followers a question which they have to answer by searching through your website.
Here's an example to help you see how this could work: If we at Easypromos want the users to get to know the application to run sweepstakes on Twitter and its main features, we could ask a question like this one: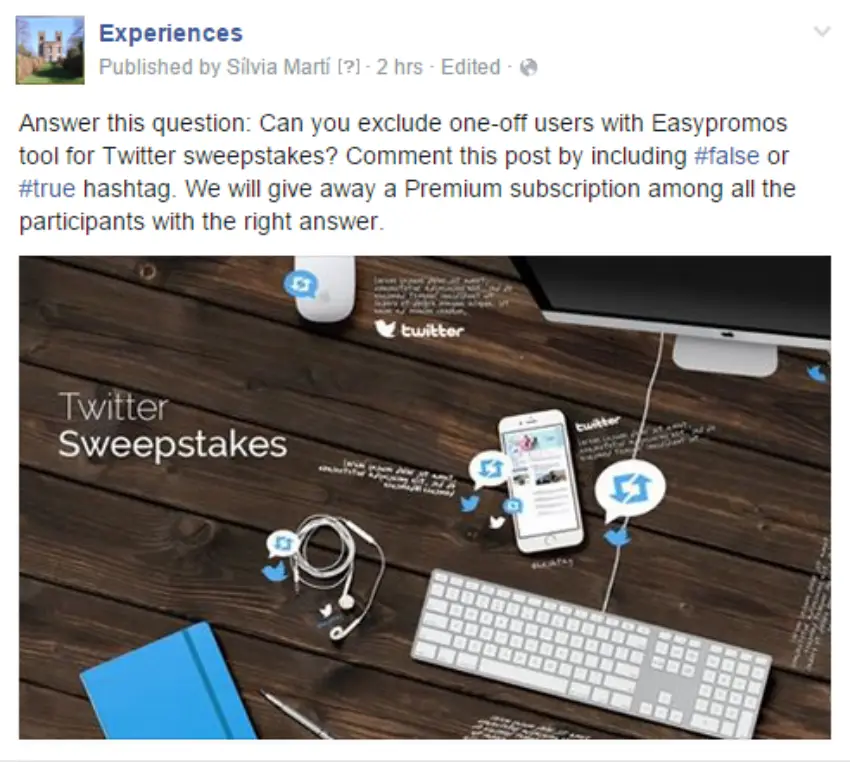 Users would have to access our website in order to find the answer to the question if they don't already know the app.
Promote a corporate video
Have you only just started your business and created a corporate video to promote it? Encourage your users to answer a question related to the video content. Here's an example: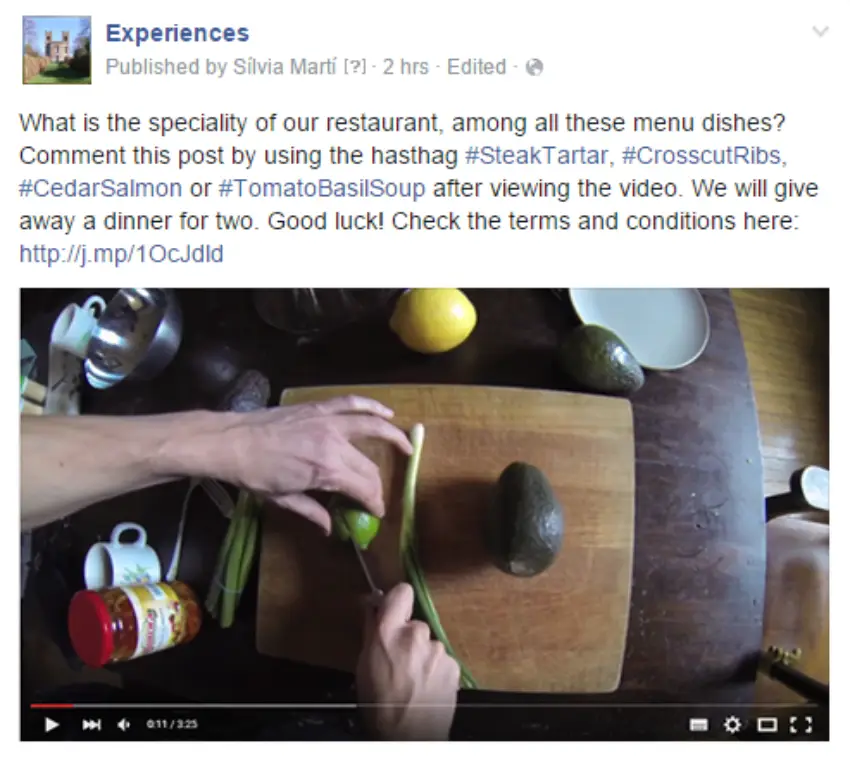 A corporate video is perfect for getting your business known quickly, without requiring a great deal of effort on behalf of the user. You will be able to provide the viewer with an overview of the business in just a few minutes. The video will be viewed much more widely if you encourage the users to watch it by entering them into a sweepstakes.
Organize a betting pool
With this type of dynamics, the sweepstakes will only be carried out among users who get the answer right – those who have not predicted correctly will not be entered into the sweepstakes. For example, for a sporting event like the Tour de France, you could present a betting pool such as this one: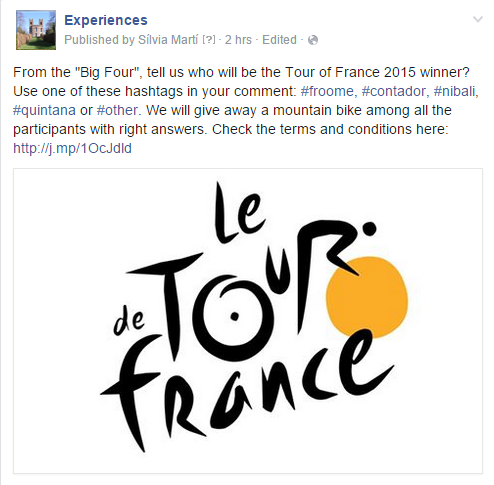 These types of sports-related dynamics are usually well-received by users, and it's always easy to connect a contest like this to your brand by simply awarding a prize that has something to do with your business, product or service.
Team voting system
It is also possible to propose a contest with a voting system. In other words, the option that has the most votes is the winner. In this way you will be able to increase the virality of the contest because users will invite their friends in order to improve their chances of winning the prize.
Do you need an example? If you want to give away tickets to a movie premiere you could carry out the following type of contest: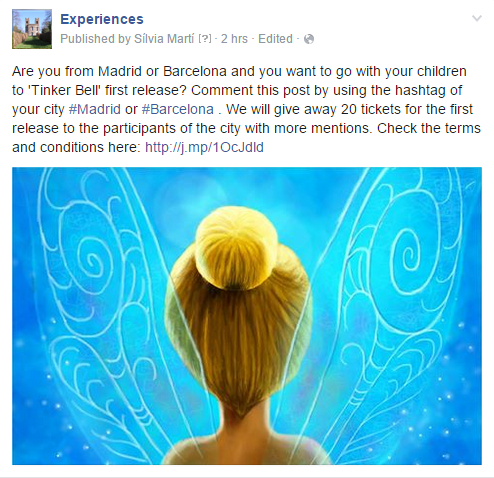 As you can see, this tool offers many options. If you would like to test how it works, or if you need more information before you carry out a promotion with hashtags on Facebook, we recommend you read the following tutorial.
Publication date: 2015-08-13