Posted in: Ideas for your websiteLast update: 30/08/22
Until recently, social networks have played a secondary role in media plans; actions carried out via this medium have usually been done in isolation, unconnected to other forms of media. This trend is changing fast. Other forms of media (the printed press, radio, TV, etc.) are offering social networks as advertising support to their advertisers with increasing frequency because of the peculiar characteristics of social media: bidirectionality, possibility for public interaction, immediacy, flexibility, opportunity for innovation, easy viralization and diffusion of audiovisual content. It also requires a lower investment than other forms of media and facilitates segmentation. Discover six ways of using the social networks to provide advertising support to your advertisers.

Here are some ideas for attaining an economic advantage from social networks by using them as a medium for advertising:
Sweepstakes in Twitter based on retweets which name the advertiser
Twitter is one of the channels with the highest level of media presence – even higher than Facebook. Twitter enables companies to provide their readers and followers with information immediately and flexibly. It also facilitates rapid diffusion as it does not depend on an algorithm like Facebook.
You can propose to your advertisers a Twitter sweepstakes based on retweets carried out through your account, in which the content, mention and prize are all linked to the advertiser.
For example, a few days ago, the newspaper As launched a sweepstakes based on retweets in which users were asked to retweet a tweet promoting the launch of an MTV show, called "Nitro Circus," specialized in the world of motocross. The tweet offered participants the chance to win two tickets to a motocross event in Spain.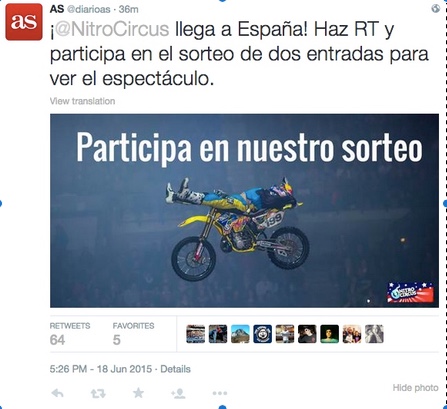 But these types of sweepstakes are not only used by the media – any brand can use them to carry out a co-branding action advertising the products or services of another brand. For example a company that sells sports clothing online, or even in stores, could share its community with sports clothing manufacturers, giving them the opportunity to launch a new product, boost sales of a specific product or communicate an offer. The possibilities are endless, although it's important to make sure that the account coincides with the profile of the target audience.
In this article we explain all you need to know in order to write a tweet telling your followers about your retweet sweepstakes. To randomly select the winner from among all users who have retweeted your tweet, we recommend the Twitter sweepstakes application, which will allow you to carry out a sweepstakes transparently with a certificate of validity included.
Direct sweepstakes of an advertiser's product among your Facebook community
You can present an advertiser's product to your followers via a Facebook giveaway, asking users to enter their information into the registration form for a chance to win a prize.
You can complete the dynamic by suggesting to participants that they invite their friends via the recruiting tool, offering them additional chances to win the prize as an incentive. Write emails to registered users via the emails platform to remind them how many participations they have and the nature of the prize. You can measure how effective your campaign has been by the number of visits to the promotion and the quantity of registered users.
Remember that you can ask users to become followers of your advertiser's networks during the registration process or even via email.
Sweepstakes of an advertiser's product among your followers across all networks: Facebook, Instagram, Twitter and your website
The media dedicates a great deal of time, effort and economic investment into taking care of their community of followers across all their networks. You could propose a contest among your followers from all communities. In this way, you can offer your advertiser a maximum-visibility action. Facebook users can participate directly from a tab on the Facebook Page; Twitter and Instagram users can participate with a hashtag; while website visitors may take part via a widget. The platform also permits you carry out a final sweepstakes among all participants in order to find the winner or winners.
Questionnaire about your client's video or cobranding actions
This fourth proposal is for Facebook instead of Twitter. As with the previous case, this social network offers itself as support both to media companies and to other businesses that wish to capitalize their Facebook profile by advertising other brands.
Here's an example of an action that Hojiblanca carried out with Lékué (a well-known company specialized in utensils for ovens and microwaves). This collaboration came about because Hojiblanca products can be used in recipes for different types of bread which can be made with Lékué's recently-launched bread maker. Hojiblanca asked its followers to take part in a little survey; participants had to choose the video of his or her preferred recipe from a choice of four. The remaining questions also involved recipes for bread, promoting the use of Lékué's bread maker.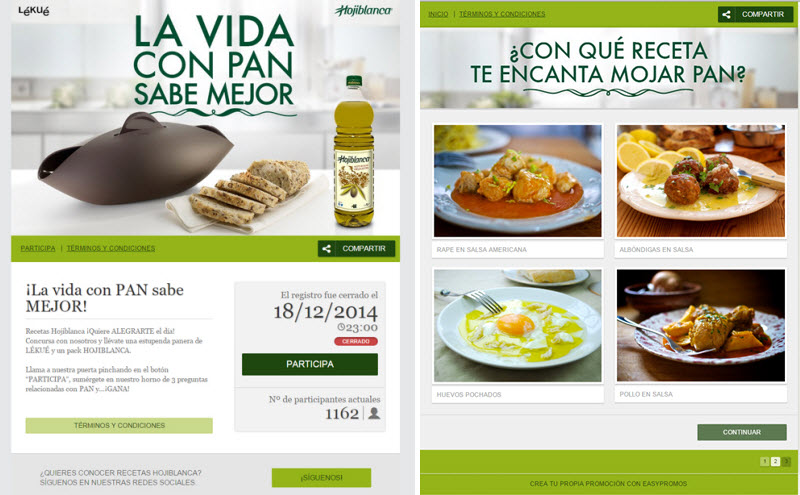 Cobranding action with qualified data capture
The following action was also carried out in Facebook, using multiple-choice questionnaires, in which it is possible to compile information about tastes, preferences, consumer habits, as well as including questions about your brand's products or services, or about the products of any other brand that has some kind of connection to yours. It is important to ensure that both brands have a similar target audience and share some significant features.
As an example, let us tell you about the promotion carried out by Faro: a Chilean online community of travelers who share their dreams through stories. Faro prepared a cobranding action with The MAP: a Chilean company that designs and manufactures decorative maps. They chose a multiple-choice questionnaire in the form of a personality test, asking seven questions about participants' travel habits and preferences. Each participant was then designated their own traveler profile. Among the questions was one asking users which map they liked best. This provided The Map with statistics about which of their products were preferred by participants.
Use a Facebook tab for a text or photo contest, exclusively for the advertiser
Using a tab/app in Facebook to display the contest provides a high level of visibility to the advertiser, especially if you dedicate the space provided in the left-side column to the contest and periodically remind your followers about the contest.
In this tab you can suggest to advertisers that they carry out a writing-based contest integrating Facebook and Twitter, or a photo contest integrating Facebook, Twitter and Instagram by way of the "hashtags gallery" from which the jury selects the finalists and winners.
For example, the Viajes Barceló summer campaign "Supersummer" made use of various supports, including Facebook. One of the actions they carried out was through the radio show, "Buenos días Javi y Mar" on the station Cadena 100. Using a tab Viajes Barceló carried out a contest for followers of the radio show. The contest was called "Tell us about your super-summer moment" and it used the hashtag #showoffyourvacations. This was a text-based contest. The winner was chosen by the advertiser, who also provided the prize: free vacations.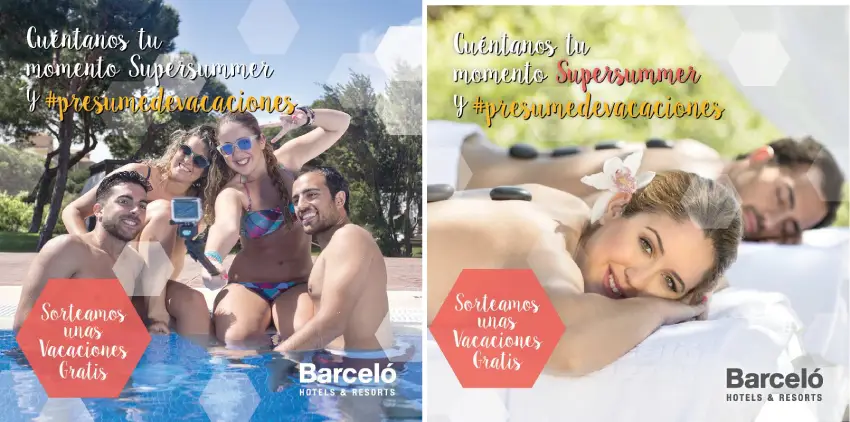 For these types of actions, social networks offer infinite possibilities. They also offer a way of capitalizing on the time and resources invested in social networks. In the following posts we will give you more ideas about how to use your social profiles as advertising support. Why not give it a try?
Publication date: 2015-08-14