Posted in: Events,Ideas for your websiteLast update: 10/09/18
Halloween is now worth more than nine billion dollars each year. Consumers are spending more money than ever on Halloween costumes, candy, decorations, and events. So you can't afford to miss out! Learn how to get leads and increase sales on Halloween with our top tips, apps, and resources.

Four big holidays dominate the sales calendar: Halloween, Black Friday, Cyber Monday, and the Christmas season. It's vital to organize your marketing and sales campaigns in time for each one. If you can start with an effective Halloween promotion, you'll be set up for the season! Let's look at how to increase sales on Halloween with a powerful promotional campaign.
Define your Halloween goals
The first step is defining your goals. What do you want to achieve with your Halloween promotion? At Easypromos, we know from experience that choosing the right contest depends on your marketing objectives.
If you want to increase followers and engagement, start with social media giveaways.
To build an active online community, try creative campaigns such as photo competitions and hashtag contests.
If you want to get leads and increase sales, then you should focus on quizzes, surveys, recruitment and rewards.
So why those specific campaign types? When your aim is to increase sales, then you should be focused on giving the customer what they want. That means listening to their feedback, in the form of quizzes and surveys. It means advertizing your brand through reliable sources, such as a word-of-mouth recruitment contest. And it means rewarding customers who join or stay loyal to your brand. In the sections below, we'll explain these ideas in more detail.
Get free promotion templates, image resources, real-life success stories and ideas to increase sales on Halloween on our Halloween microsite. Then use our Halloween checklist to make sure your promotion is complete.
How to increase sales on Halloween
Inform and entertain with a quiz
Quizzes are quick, fun, and easy for consumers. You could ask some hair-raising Halloween questions, as in the example below. Then run a prize draw for everyone who participates, or everyone who gets the answers right.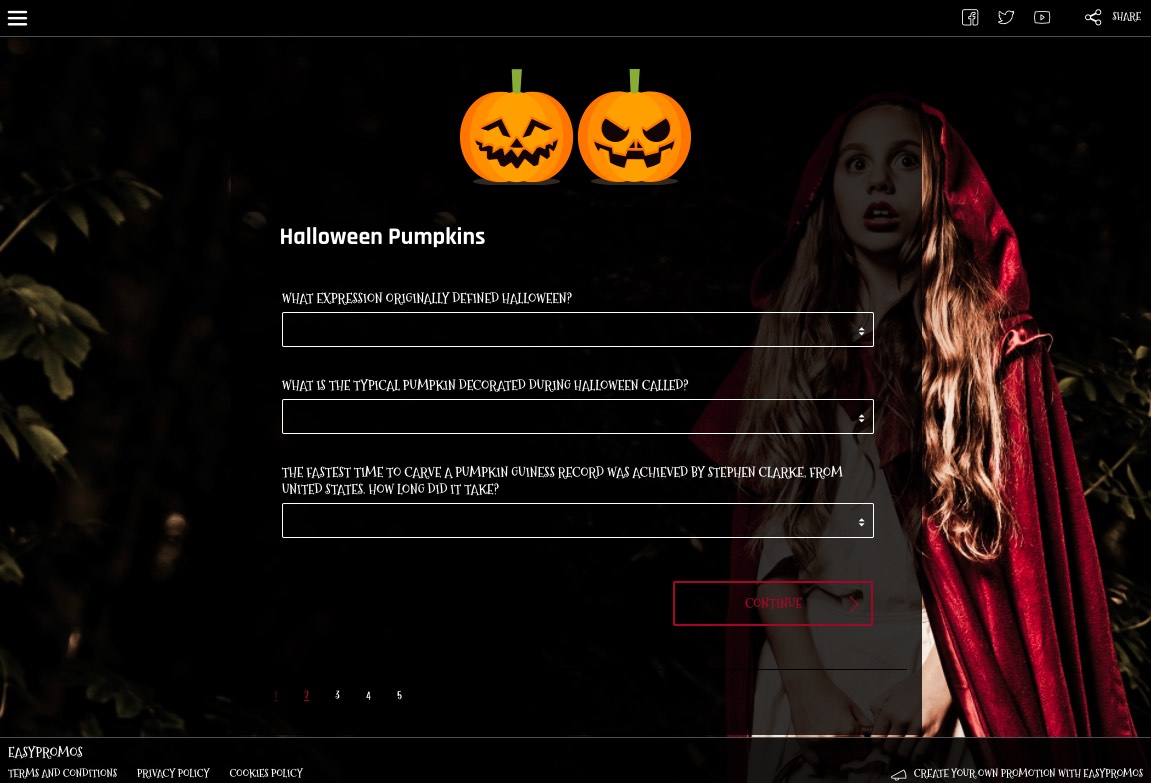 You can also use quizzes to boost sales more directly. Ask questions about your products and services, to educate consumers about your brand. Remember to offer a prize that's in proportion to the difficulty of the quiz. For example, if you want to ask fifty questions, then you'll need a generous reward!

Target your sales with a survey
Just like quizzes, you can create a survey to celebrate Halloween and educate consumers. But since a survey is based on customer opinions, you can also learn more about their shopping habits, preferences, and motivations. Ask your followers where they like to shop, their favorite thing about Halloween, their costume ideas for this year… The possibilities are endless!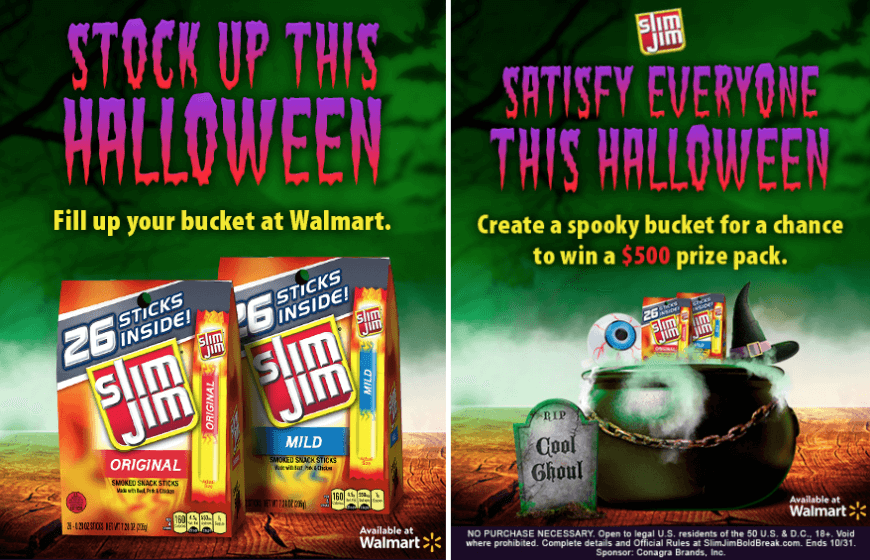 Here's a great example from Walmart. They ran a survey with a creative twist. Instead of asking formal questions, they asked customers to fill a bucket with their choice of candy. This was a great way to inform customers about products available, and learn which products they liked best. In return, participants could win a $500 pack of Halloween treats.
What's more, you can use information from your survey for future promotions. So first, you can offer a relevant prize for customers this year. Next, you can learn from the survey results to increase sales on Halloween next year.

Recruit new leads through word of mouth
It might seem counter-intuitive, but customers are often your most valuable resource. User-generated content is the key to success on social media. And user-generated feedback is the key to improving reputation and driving sales. That's why recruitment is such a powerful tool.
Not all your customers will trust advertizing or traditional campaigns. On the other hand, they will trust their friends' opinions, and enjoy taking part in promotions with them. With a recruiters contest, you can run a classic prize draw with a twist. For every new participant that users recruit, they gain one more entry in the prize draw. That's one more chance to win – and one more sales lead for you.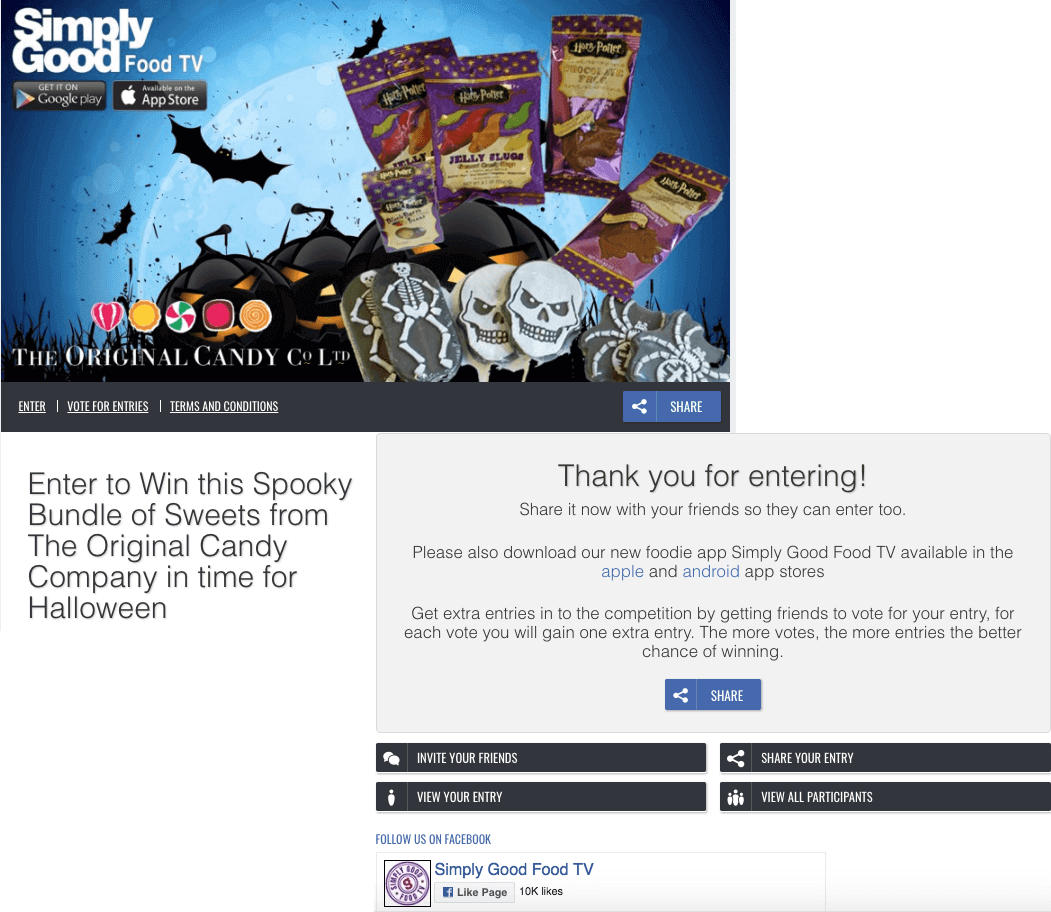 Recruiters contests are useful if you're concerned about social media rules. Platforms such as Facebook and Instagram forbid requiring participants to follow your page. With a recruiters contest, you can give participants the option to follow you, without breaking the rules.

Reward loyal customers with coupons
Coupons are an underrated method to increase sales, on Halloween and all year round. They encourage purchases, reward customers, and highlight offers or events. And most importantly of all, coupons convert customers from online to offline.
You could offer a Halloween discount for everyone who registers their details. Incentivize purchases with a special reward for paying customers. Other good prizes are free gifts or free shipping. Remember, Halloween marks the start of the holiday shopping season, so consumers are looking for value!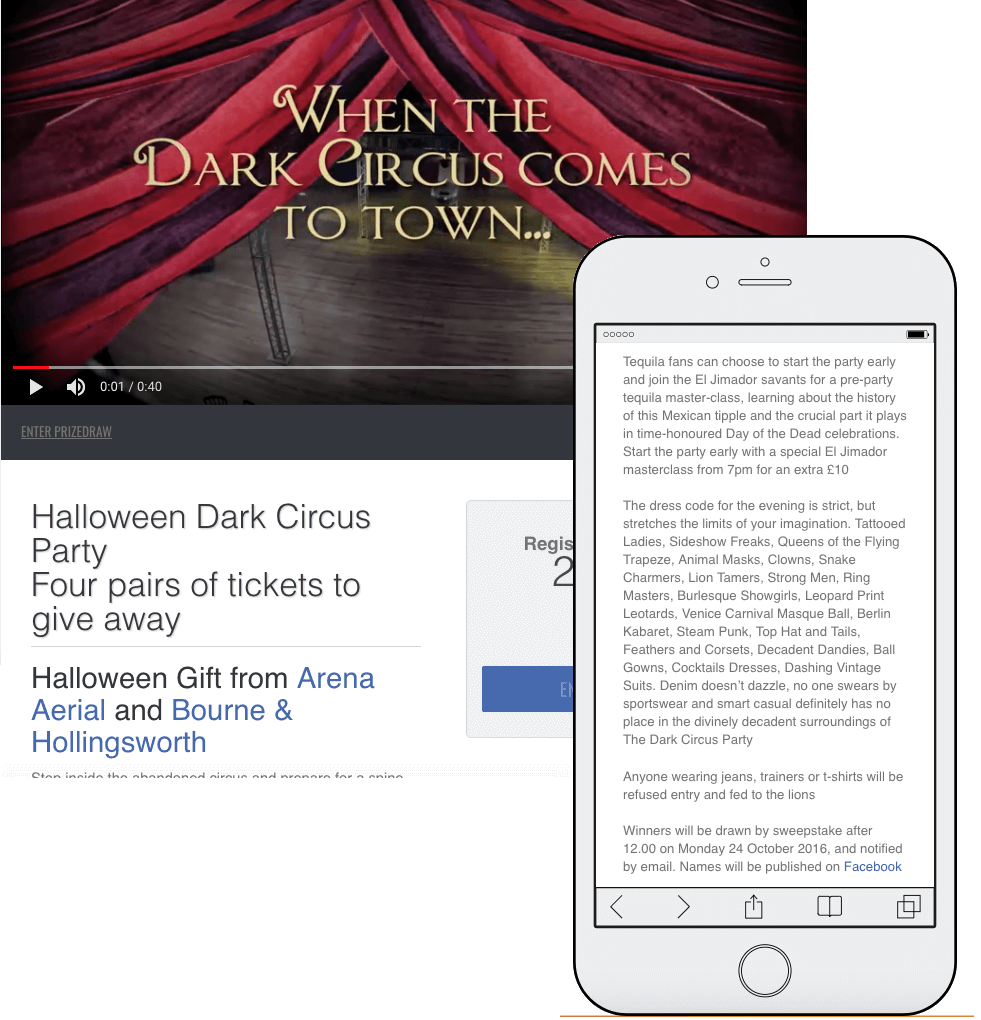 Another fun option is to offer coupons as tickets for exclusive events. In the example above, two brands teamed up to run a Halloween party. They offered four pairs of tickets as a prize. The coupon format meant that the tickets could be verified at point of use. But there were other benefits, too! The promotion advertized the event to other followers, and encouraged them to purchase tickets. The results of the contest were published on Facebook, increasing the brands' reach on social media.
5 quick tips to increase sales on Halloween
Optimize your promotion for mobile users. Increasingly, consumers use mobiles and tablets to research purchases and search online. Make sure your quiz, survey, or contest looks good and works well on a range of devices.
Set up your promotion a few weeks in advance. When do you start planning your Halloween costume? If you want to increase sales on Halloween, your campaign should actually be up and running before Halloween. So give your customers time to appreciate the prizes and make their competition entries.
Tailor prizes to your target audience. Choose competition prizes that showcase your brand and are relevant to Halloween. They should be attractive to customers, but still in proportion to the contest.
Coordinate your branding with the Halloween theme. Use the Easypromos design tools to make your promotion look smart, on-brand… and spooky! Don't forget that the editing platform now includes full emoji support, to add a fun touch to your promotion.
Share on social media. Make sure that all your online followers are aware of your Halloween campaign. This is a great opportunity to increase followers and engagement, too.

Try the Easypromos Halloween experience for yourself with our free quiz demo. Then click here to create your account and get started! Remember, it's free to make a profile and start drafting promotions.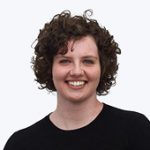 Corinna Keefe
English copywriter at Easypromos marketing team