Posted in: Business newsLast update: 30/08/21
The mostly highly-anticipated moment of your promotion is just after it ends, when participants can finally find out who has won the wonderful prize! Selecting the winners is one of the most important parts of any promotion or contest, and it's also the most time-consuming aspect for administrators. With the aim of facilitating this task Easypromos launched the Winners Tool early in 2013, making it easier to carry out a random sweepstakes transparently among all promotion participants.
Today, almost three years after its launch, we have updated this tool, adding a package of improvements, new features and a fresh design. We're delighted to introduce the new Sweepstakes Platform, available for all applications created with Easypromos.

Thanks to its ease of use and the certificate of validity provided with it, the Winners Tool has become an essential method for obtaining the winners of a sweepstakes quickly, safely and with total transparency.
Almost three years have passed since the tool was first launched. During this period we have observed how sweepstakes and promotions have evolved with the emergence of new participation dynamics. With the aim of adapting to these new trends, and providing solutions for the needs of administrators, we have developed a new Winners Tool. We have renamed this tool Sweepstakes Platform.
What new features does the Sweepstakes Platform include?
Multi-sweepstakes: for carrying out multiple sweepstakes between different segments of users.
Advanced filter of users: for segmenting participations and mass actions, and managing the promotion participants easily.
Manage blacklists of users: for drawing up a list of users who you don't want to be able to enter your sweepstakes.
Exclusion of previous winners: for ensuring that past winners cannot carry out multiple sweepstakes.
Contact winners and other participants: for communicating quickly and easily with promotion participants.
New system for announcing the winners: a new Editor and other personalization options for displaying the results page.
Find out all the news below!
1. Multi-sweepstakes: carry out multiple sweepstakes among different segments of users
Do you want to carry out weekly sweepstakes among all participants of your promotion? Do you have two different prizes to raffle and wish your users to be able to choose which they prefer? Would you like to carry out a number of sweepstakes based on the location of your participants? Would you like to carry out one sweepstakes among all participants who obtained 20 votes and a second sweepstakes among the rest of the participants?
Until now, the Winners Tool could only be used once per promotion, for carrying out a sweepstakes among registered users and obtaining a single unique certificate of validity.
To provide a solution to these types of dynamics the Sweepstakes Platform will now enable administrators to carry out multiple sweepstakes within a single promotion, segmented by the group of users. The Sweepstakes Platform will make it possible to carry out a sweepstakes for each user segment created. These segments can be configured based on the following criteria:
By the fields on the registration form (country, gender, age, city, etc.).
By the registration dates of the promotion: it's possible to create lists of users based on the date each user registered for the promotion. This could be useful for creating a sweepstakes among all users who registered during a particular period, such as the first week of the promotion.
By response to the questionnaire: it's possible to create groups of users based on their answers to a test, or on the number of correct answers to a quiz for example.
By number of recruits: you could segment the users according to the number of new participants that each user has brought to the promotion (recruited).
By number of votes: the votes that users have obtained in a contest can also be used as criteria for segmenting the participants. You could indicate an exact number of votes or you could specify a range.
Below, we show you some examples of sweepstakes that you could carry out in a single promotion:
Sweepstakes for tickets to a concert: sweepstakes for tickets to a concert in Madrid and a second sweepstakes for tickets to a concert in Barcelona.
Sweepstakes differentiated by gender: sweepstakes for t-shirts for men and sweepstakes for t-shirts for women.
Sweepstakes based on dates of registration: daily / weekly sweepstakes.
Sweepstakes among all users who have answered the 5 quiz questions correctly and a second sweepstakes among the remaining users.
Sweepstakes among all registered users and a sweepstakes with a bigger prize among all users who have recruited at least 5 people.
2. Advanced filter, segmentation of participants and mass actions
The 'See Participants' section, where all users who have registered for the promotion are collected together, has also been redesigned in order to facilitate the management of user segmentation.
This means that the 'See Participants' section now presents new options and filter tools, so as well as allowing administrators to view the promotion participants, it also incorporates the following features:
Filter users according to the following criteria:

Fields on the registration form (country, date of birth, city, etc.).
Date of user's registration to the promotion.
Participant's progress in the contest (number of votes or recruits obtained, answering the quiz correctly, etc.).
Status of participation (pending, approved or refused).
Platform from which user has participated (Facebook, Twitter or Instagram).
Device used (desktop PC, iPhone, iPad or Android).

Export the segments of users to an Excel/CSV file. You could export a generic Excel file containing all registered users, or you could generate multiple lists based on your applied segmentation criteria.
Apply mass actions to a segment of users. For example, you could select multiple participations and 'approve' or 'refuse' all participations at once with just a single click.
Carry out a sweepstakes among one segment of users. Once you have applied your chosen segmentation criteria, you can carry out a sweepstakes among this group of users.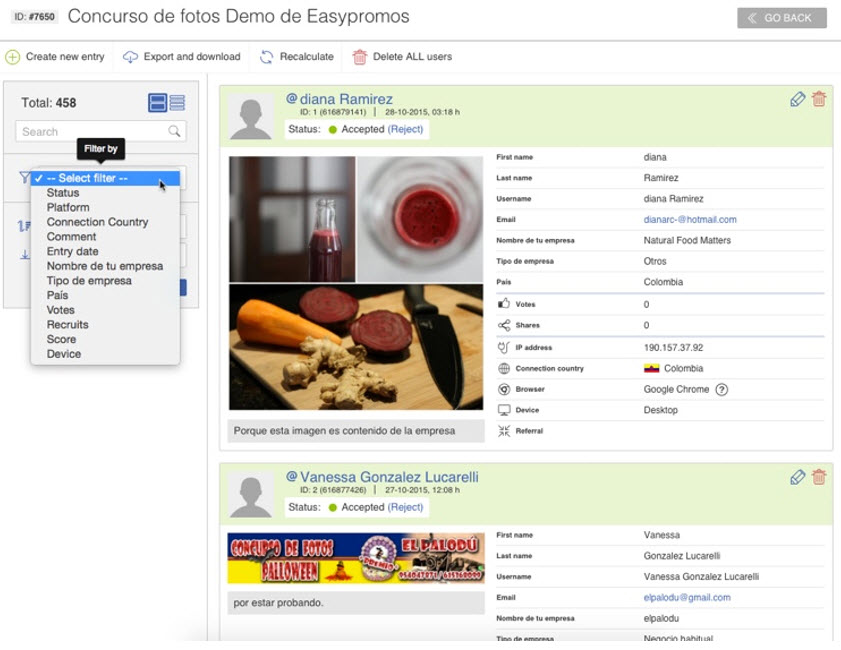 3. Manage blacklists of users
With the aim of providing the administrator with more tools to manage the finalists of the sweepstakes, the application incorporates the possibility of creating and managing a blacklist of users who you don't wish to be able to enter your sweepstakes.
In this way, the blacklist will enable you to include users who you don't wish to be able to win prizes in the promotions you organize. Users will be able to participate in your promotions, but they will be automatically excluded from the sweepstakes you carry out. They will not know that they have been excluded.
4. Exclusion of past winners
Do you regularly hold sweepstakes on your Facebook Page? Are you planning on carrying out a variety of sweepstakes within a single promotion? This feature will help you to avoid awarding prizes to the same users. This option can be applied according to the following criteria:
By promotion: if carrying out multiple sweepstakes from the same promotion this option will permit you to ensure that winning participants can't win other sweepstakes.
By Facebook page: if you organize periodic sweepstakes from a Facebook Page, this option will enable you to ensure that users who have already won one of your previous sweepstakes can't win again
By account: this option will permit you to place the restriction that a user can win only once. It will be applied to all promotions created with your account.
5. Contact winners and non-winners
You've carried out the sweepstakes and now you have a list of winners and alternates. The next step is to contact the lucky winners so they can enjoy their prize as soon as possible; this is undoubtedly the greatest challenge and, at the same time, the most enjoyable moment of the promotion.
To do this, the application offers the Emails Platform for getting in touch via email with all users who have won your sweepstakes.
In the same way, you can also communicate via email with all users who have not been lucky this time, thanking them for taking part and encouraging them to follow your social networks for chances to participate in other promotions.
To this end, you can create an email for each sweepstakes that you carry out and have this email sent automatically to all winning users; you will also be able to communicate with non-winners.
6. New system for announcing the winners
The screen for publishing the winners has also been updated to adapt to the new features available with the Sweepstakes Platform. Once the sweepstakes has been finalized and you have obtained the names of the winners, the system will now provide you with a template with which to announce the result of the sweepstakes. This template will come ready to publish, but the application will also provide you with tools for customizing it to fit your requirements.
The new screen for publishing winners offers the following characteristics:
A new editor: more intuitive, with a guided process that will enable you to customize the results screen quickly and easily.
A real-time preview of how the results screen will look once the results are published.
Upload an image to provide the screen with greater graphic customization.
Customize the title and a description to convey your own message of congratulation to the winners.
If you have carried out a variety of sweepstakes from a single promotion you can publish the result of the sweepstakes individually or together on the same page.
¿Would you like to find out how to announce the winners of a promotion? You will find the details in this tutorial.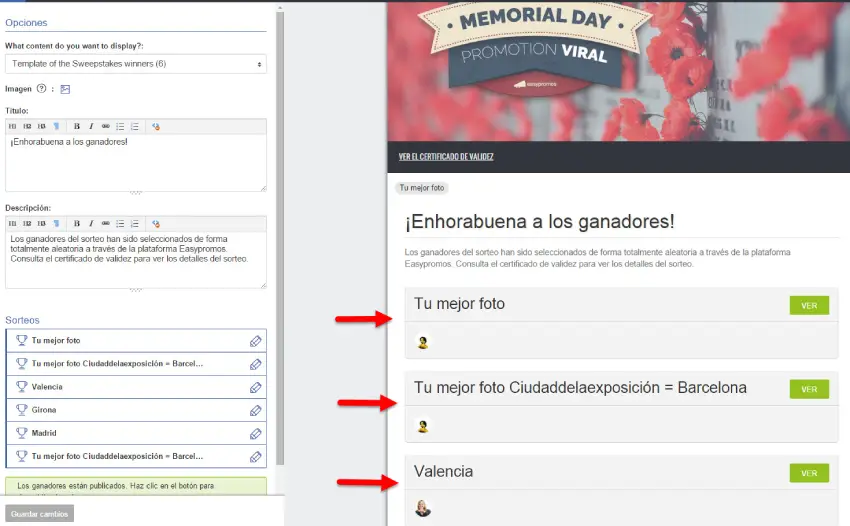 Would you like to find out how the Sweepstakes Platform works?
The Sweepstakes Platform is available for any application created with Easypromos. Find out how to create and get the most out of your sweepstakes in this tutorial.
Publication date: 2015-11-24