Posted in: Applications for FacebookLast update: 02/09/22
Facebook has launched a live video tool. This tool makes it possible to transmit audiovisual content in real time on Facebook profiles and pages. This option was first tested in the United States and now it is being implemented worldwide. This feature makes it possible for brands, companies, businesses and public people to foster interaction, content diversity and engagement with the Facebook community. Below we give you some practical ideas on how to combine live video with your promotions and make a big impact!

Who can post a live video?
Facebook first introduced the live video feature for public figures, athletes and celebrities last August with the Facebook Mentions app. After receiving a positive response from users, Facebook has extended this option: in the United States celebrities and verified pages can now use live video in both Android and iOS. Facebook has announced that this feature will soon be available worldwide for the same type of accounts: verified pages and pages of artists, bands and famous people.
Celebrities, athletes and media have already tested this new feature and received an excellent response from fans, as shown below: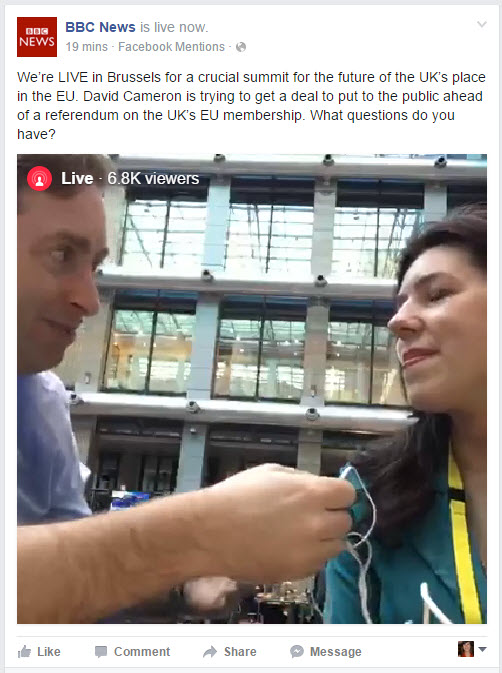 How does it work?
In order to stream and share video via Facebook all you need to do is tap on "Update status" and tap again on the live video icon. From there, you type a quick description and choose the public you'd like to share the video with. It will also be possible to see the number of people watching the video in real time, the names of friends who are tuning in, and their comments. After finalizing the broadcast, the video will be saved and keep published as a new post just like any other video. People will also be able to subscribe and receive a notification each time you broadcast a live video.
We suggest you read these tips for getting started with Facebook Live.
How can you use live video on your sweepstakes?
This new feature makes it possible to boost the Facebook Pages of brands, businesses and public figures, providing new and diverse content. Get inspired by one of the following ideas and try using Facebook Live in one of your own sweepstakes!
1. Live broadcast with fans – ideal for celebrities
As well as giving glimpses into their day-to-day lives by posting photos and texts, celebrities will now be able to supplement the content of their Facebook Pages with live videos of interesting moments that they want to share. This opens a whole world of options, since these videos can also serve as spaces for advertising. What if a soft drink were to feature in the live video of an actor? And what if online users watching the video had to see which drink appears and give an answer by leaving a comment with a specific hashtag? This type of action enables quick, transparent and varied sweepstakes to be created via the use of hashtags in comments.
2. Sports broadcast
For cycling tours, races, trail running and so on, you can broadcast the climax of the event, asking users to interact with your live video by liking or commenting on it. For example, broadcast the end of a race and ask users to say who they think will win. As the live video is an regular Facebook post you can encourage your community to take part by offering them the chance to win a prize in a sweepstakes. Use the Facebook Giveaway app to choose the winner – or winners – more efficiently and transparently.
3. Spread word about the event on your Facebook Page
If your company or brand is holding an offline event you can now promote this event online by doing more than simply uploading photos to Facebook or tweeting about it. Spread word about the event in real time via your Facebook Page – a valid channel for your brand – and you will loyalize your online community by offering them up-to-date content. You can ask Facebook users to interact with the publication by demonstrating that they like it and you can even reward those who follow the event online.
4. Live cooking video
In the hospitality and food industries it is customary to create audiovisual content for online channels. Now brands can diversify these types of actions by broadcasting a cooking video from their Facebook Page. This will make it possible to increase community engagement, obtain more interactivity with users, resolve doubts, collect suggestions from users, and more. Using Facebook will enable you to obtain more participants spontaneously and organically – although it will also be possible for you to make announcements on the page in the hours or days prior. Use Facebook sweepstakes to reward viewing by offering an interesting prize in a sweepstakes to all those who like your live video.
5. Webinars, training events and Q&A's on your Facebook Page
If you think that your Facebook Page could be a good place to spread word about your training sessions, tips, etc., you can now use a live video to disseminate this content. You can also reward your followers by asking them to comment on your transmission and then entering them into a sweepstakes for the chance to win a product or service offered by your brand.
For media companies, Facebook Live is proving itself to be a good tool for dynamizing communities of followers. For example, it makes it possible to improve the interactions between well-known people, experts and politicians with their audiences. Before, it was common to use the chat feature or posts to give people the chance to pose questions to an expert in Facebook; now it is possible to stream a live video, giving the audience the opportunity to ask the guest questions in real time.
Publication date: 2016-02-19