Posted in: Success casesLast update: 08/08/16
Facebook Timeline Sweepstakes, particularly those held on Page Timelines, are one of the most popular promotional resources currently in use on Facebook. This is thanks to the efficiency and excellent results that they deliver. Together with Registration Sweepstakes, they offer the perfect combination for a long-term strategy. In this post we outline the winning formula used in a highly successful campaign by María Lunarillos.
In a Facebook Timeline Sweepstakes, user interaction gives greater visibility to the post and enables levels of reach and virality that would be unthinkable with other types of posts. It's a good idea to employ this type of sweepstakes frequently as it enables you to enlarge and loyalize your fan community in record time. Once you've achieved this, it's time to run a Registration Sweepstakes in order to create a database of followers and convert them into potential customers.
1. The client
María Lunarillos started life as a blog of María del Mar Díaz's favorite recipes. What began as hobby has today become a benchmark in the world of baking blogs. It includes an online store selling bakery, cookery and craft utensils, as well as party items.
2. The long-term strategy
We've had the chance to observe the continuous evolution of the brand's Facebook Profile first-hand. It has now surpassed 147,000 fans. The main keys to its success are as follows:
Extremely well-crafted content which generates a great deal of interaction from the online community. Add to this the brand's highly-personalized responses to their followers.
For years the brand has combined carefully constructed content with a series of sweepstakes that have done much to enlarge the community. The brand's goal has always been to obtain a high-quality community of followers. In order to reach their target audience, the brand has used gifts and incentives that are closely related to the blog. The process of community creation in this case was perhaps slower than it would have been if they had been offering prizes which were more appealing to the general public.
However, targeting promotions at a specific audience is a more effective method of attracting potential customers.
The frequency of these types of promotional actions has been, on average, two sweepstakes a month.
The dynamics used: Registration Sweepstakes combined with Facebook Timeline Sweepstakes.
Below we outline the differences between a Facebook Sweepstakes and a Registration Sweepstakes:
| | |
| --- | --- |
| Facebook Timeline Sweepstakes | Registration Sweepstakes |
| No data capture of participants. | Data capture of participants. |
| Participate by commenting on or "Liking" a post. | Participation requires more from participants than a simple click or comment. |
| Objectives: Engagement, loyalization and an increase in the diffusion/audience of the Facebook Page. | Objectives: Capturing leads. |
| Express campaigns. | Campaigns with a minimum duration of one week. |
| No explicit acceptance of Legal Bases required. | Explicit acceptance of the Legal Bases required. |
| No full control of registered users. | Full control of registered users. |
| No fraud control. | Complete set of fraud-control tools. |
| Quick viralization. | Customizable graphics. |
| Winner selection via sweepstakes. | Winner selection via sweepstakes, jury, voting, etc. Management of additional entries. |
Why use Facebook Timeline Sweepstakes?
In terms of engagement, the results are truly amazing. Running a sweepstakes based on a Facebook post can exponentially increase the level of interaction you might otherwise generate from a post:
+716% Likes
+1.774% Comments
+1.582% Shares
Facebook Timeline Sweepstakes very popular with brands and businesses. Between 2014 and 2015 the use of sweepstakes on Facebook Timelines increased by 800%.
Facebook Timeline Sweepstakes make it possible to enlarge and loyalize a community of followers, or even to create one from scratch, in record time. This is thanks to the simplicity of the mechanism and to the fact that participants help to viralize the contest themselves.
For instance, in the case of the María Lunarillos website, an express sweepstakes was the method chosen to offer a product from the brand's online store. Within just 24 hours the contest had been shared 3,599 times and had generated 4,049 comments.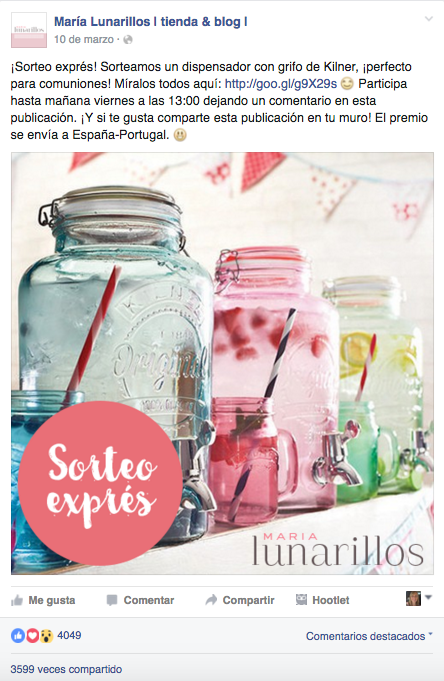 Why use Registration Sweepstakes?
Obtaining thousands of likes and millions of fans is not that useful if you don't gather any information about these fans. Data collection greatly increases the possibility of conversion.  Therefore, the best strategy is to combine both types of sweepstakes. Registration Sweepstakes enable you to collect data from users who join your community of followers after taking part in your Facebook Sweepstakes. Once you've built up your community and achieved an appropriate level of interaction, it's time to expand your database.
Here's an example of the last action carried out by María Lunarillos on Facebook: in order to celebrate its 4thanniversary the company ran a Registration Sweepstakes, offering the KitchenAid Artisan Mixer as a prize. Participation figures were astonishing: 12,000 users registered for the promotion. These results wouldn't have been possible if the brand hadn't developed and stuck so steadily to their long-term strategy outlined above.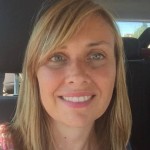 Silvia Esteve
Business devolopment