Posted in: Applications for facebookLast update: 20/12/17
Facebook sweepstakes are one of the promotion types most frequently used by brands and businesses to make their Pages more dynamic. Such promotions can facilitate wider post diffusion, boost community engagement and, to a lesser extent, grow a fan base. There are a variety of Facebook sweepstakes that can be carried out. Below, we list 7 simple sweepstakes that you can run from a post on your Facebook Page.
1. The basic Like Sweepstakes
It's always a good idea to start with a simple Like Sweepstakes. All you have to do is create a post with instructions for taking part: e.g. entrants must like the post in order to be entered into the sweepstakes. You can also encourage participants to share the post with friends and follow your Page. To ensure your sweepstakes runs smoothly, read these tips first. And don't forget to include an image with your post, as this will boost engagement. Your first sweepstakes will be ready to go in just 10 minutes!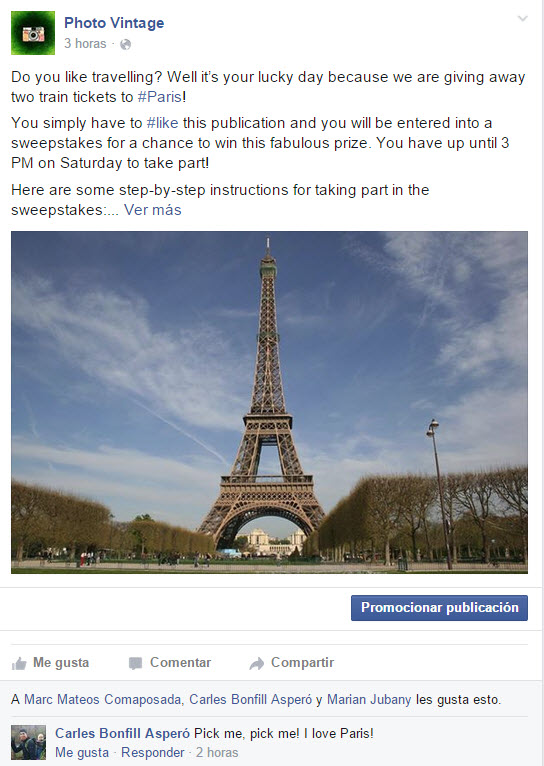 2. Getting to know your followers: the Comment Sweepstakes
If you want a contest that's straightforward but which generates more content than a simple Like Sweepstakes, why not set up a sweepstakes for all users who comment on a post? The first step, as with all types of sweepstakes, is to explain to users what they must do to enter. In this case, for example, they must comment on the post. Encourage users to leave a comment under the post explaining why they'd like to win the prize. Alternatively, you could ask users a question in the post which they must then answer in their comment.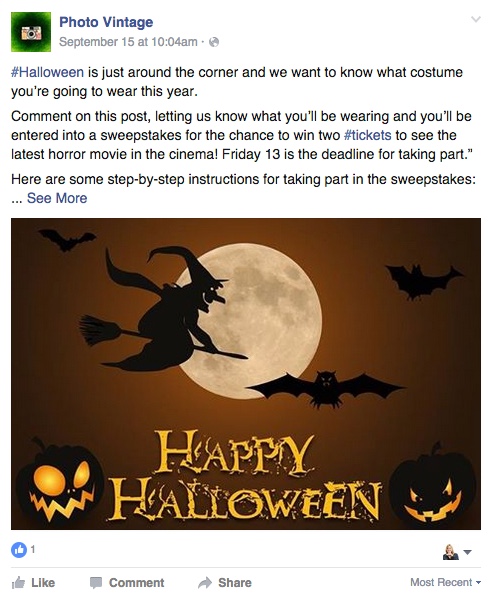 Sounds good? Are you ready to energize your Facebook Page with a Like or Comment Sweepstakes? Sign up and create a sweepstakes in just 5 minutes.
3. Carry out a survey on a product or service: the "Reactions" Sweepstakes
You can use the Like Sweepstakes in a more nuanced way now that the Like button includes a range of reactions which enable users to specify how they feel about a post. These reactions are "Like," "Love," "Haha," "Wow," "Sad" and "Angry". Make the