Posted in: Success cases
As companies and brands become more familiar with the benefits of digital promotion via social media channels, they are also taking advantage of cross-promotional opportunities which leverage the followers of companies with complementary products and services. The following case study showcases how two companies partnered in a digital promotion to significantly increase reach and awareness of their brand through a Facebook Timeline Contest.
The Companies
Blackwood Lumber is a provider of wooden lumber product with rubber infused to the top of each board.
PJ Trailers is a premier trailer manufacturer in North America, which uses Blackwood Lumber products on many of its premier trailers.
The Situation

Both Blackwood Lumber and PJ Trailers had integrated Facebook and Facebook advertising as part of their overall marketing programs. PJ Trailers had accumulated 250,000 Facebook fans, with Blackwood Lumber at around 20,000. As complementary businesses, PJ Trailers and Blackwood Lumber were considering a joint Facebook promotion which would cross-promote their products and services, building brand awareness and exposure beyond their existing followers by offering more than their usual timeline content.
The Strategy
The two companies thought a Facebook Timeline Sweepstakes which would leverage their combined audiences through a compelling giveaway could help build awareness through social media sharing.
They decided to run a giveaway where participants who commented on one of three trailers they liked the most would be entered to win the trailer they chose.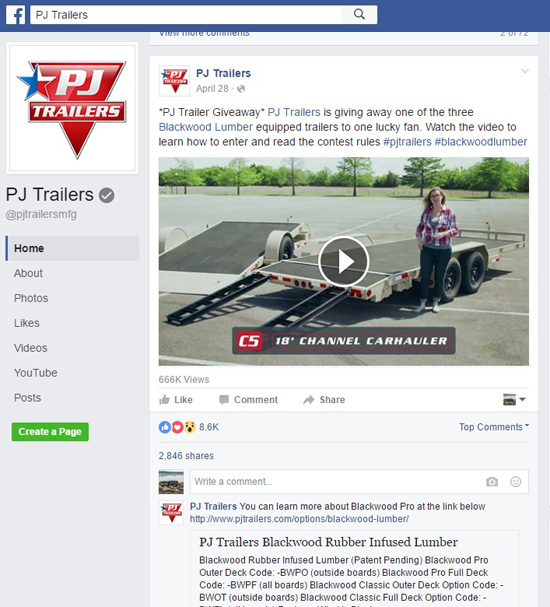 The Challenge
Since each company had a sizeable follower base on Facebook, the challenge would be determining which Facebook page would be best to host the contest to ensure maximum reach. Further, with such a compelling prize, finding a way to choose a winner fairly from the pool of those who commented on their favorite trailer was also a concern.
While the cost of a trailer as the prize was the most significant part of the cost, both companies recognized and appreciated that this spend would be a significant motivating factor in helping to target their desired audience in ways that a Facebook ad would not.
The Solution
Working with Easypromos Facebook Timeline Sweepstakes app, Blackwood Lumber and PJ Trailers jointly produce a video which was embedded in a video Facebook Timeline post describing the contest and highlights the products of both Blackwood and PJ.  Easypromos finds that videos in the newsfeed tend to provide longer Facebook life and greater reach and more engagement in a less expensive way than Facebook ads for videos and traditional timeline content.
The Timeline Sweepstakes was hosted on the PJ Trailers Facebook page but was shared via Blackwood's page as well, directing participants to PJ's page to comment.
The companies were able to use the Easypromos platform to select the winner, offer backup winners if the winner was not reachable in a timely manner, and offer certificate of validation which ensured to the participants that a winner was selected in a fair way by a third party tool.
The Results
Excited PJ Trailers and Blackwood Lumber fans quickly activated their own social media networks, sharing the contest and encouraging their followers and friends to participate. The contest generated more than 14,800 comments/entries and 665,000 video views, 8600 likes, 2800 shares. While Blackwood's Facebook page was not the main host of the contest they gathered more than 600 new FB page likes as a result of the promotion.
Both companies are excited about the results not only from the contest post in the newsfeed of PJ Trailers Fan page but also the substantial interactions on the winners post in the same newsfeed.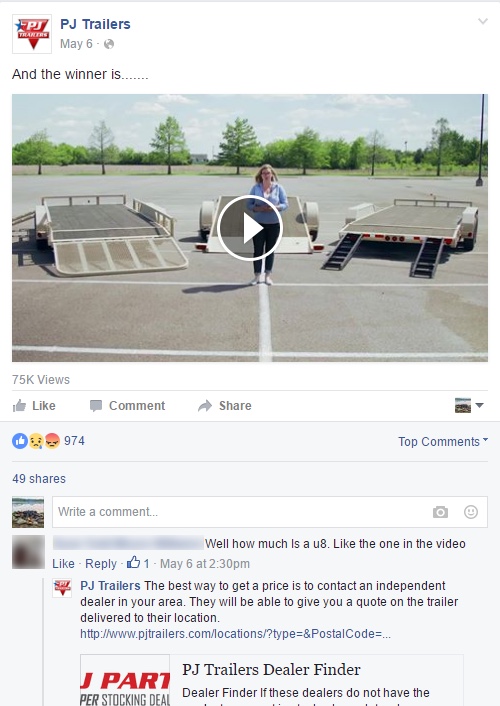 Testimonial
Easypromos made creating and running the giveaway easy. The pricing was reasonable, monthly subscription was not required although available, and Easypromos answered all the questions we had in a timely and effective manner.

Logan S.

Blackwood Lumber
If you too are ready to gain exposure and increase Facebook engagement, create your Facebook Sweepstakes now!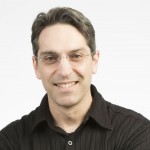 Brian McNeil-Smith
General Manager – North America
Publication date: 2016-09-28