Posted in: Success casesLast update: 06/09/16
This case study examines the action carried out by a company who wanted to create a quiz and embed it to their website in order to open up dialogue with the customer, educate their target about the product, encourage referrals, social sharing and word of mouth. It was combined with a discount coupon to encourage customers to buy direct from the website. The company confirms it was a great idea to learn more about their customers and move them to make the purchase soon.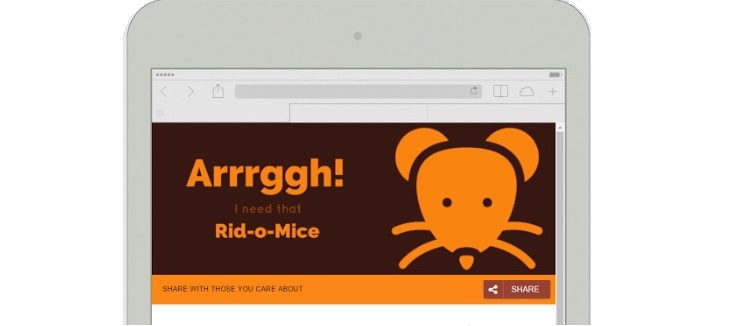 The Client
Rid-O-Mice is a company that sells online products to stop mice and pests from entering home.
The Campaign
Prospective buyers of this product need education to understand how mice are getting into their homes and how to stop them from getting in. Not a lot of people talk about having mice because it is perceived as having an unclean home. This couldn't be further from the case, most homes have mice. Once customers learn more about how mice get in, they tend to tell their friends and neighbors.
The goals of the program were:
Educate homeowners who are in the moment of battling mice in their home and/or families and businesses who wish to prevent mice.
Create sales.
Achieve more awareness.
The strategy
To entice homeowners to save money on their purchase by taking an educational quiz. The quiz opens up dialogue with the customer, provides feedback to let Rid-O-Mice know how they are doing, educates customer about product, encourages referrals, social sharing and word of mouth.  It also gives the company an opportunity to create conversations with prospects.
The coupon creates a reason for the customer to buy direct from the website where they are also encouraged to follow social networks and collect their email address for future marketing. Otherwise many of the customers buy off Amazon and the company don't get these benefits as much as they appreciate all sales from all sources.
The extra time visitors spend on the website clicking through to the coupon and taking the quiz is viewed as a positive for organic Google search, making Rid-O-Mice more attractive to Google from a user experience perspective and helping with search result placement.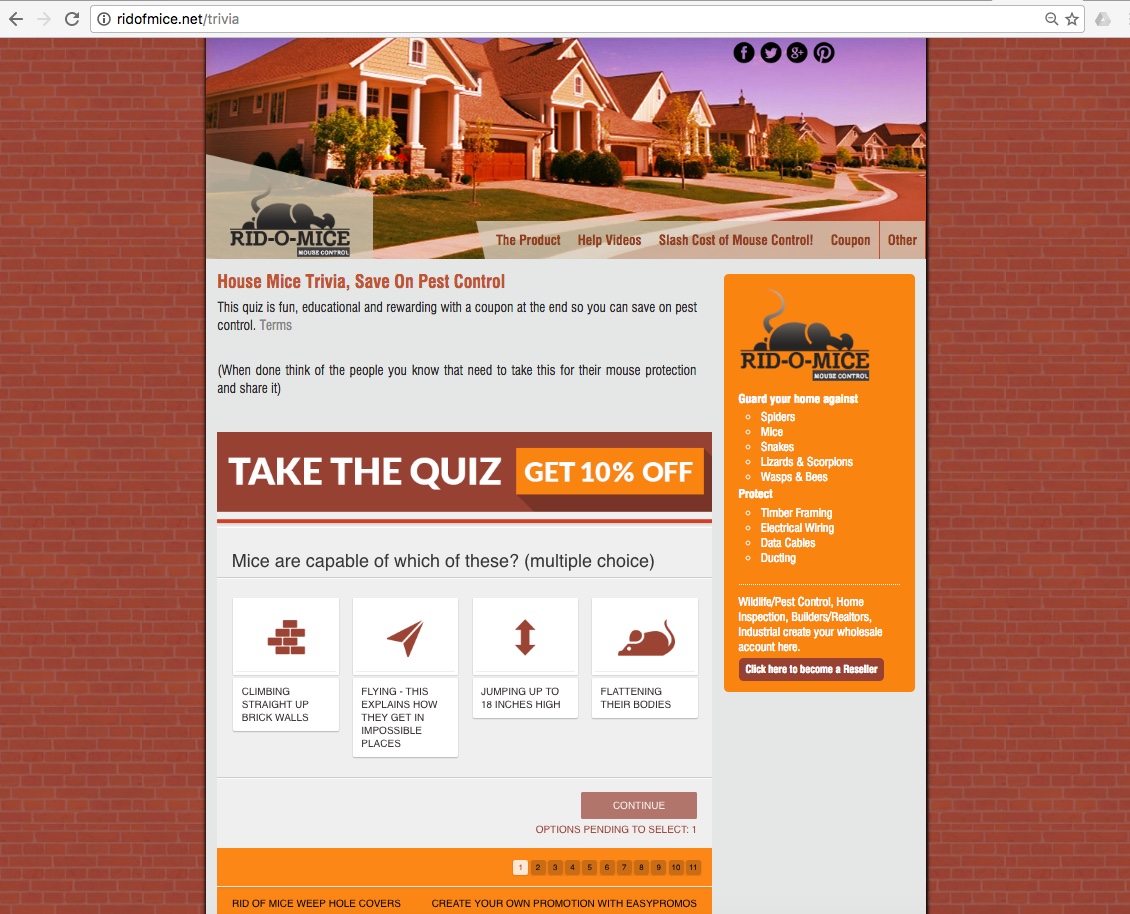 The challenge
Home owners are like anyone else, they are busy and concerned about spending money so they want to spend their money and time wisely. The opportunity is to get their attention when they are doing their research and thus, creating a quiz that will be utilized vs ignored or abandoned is challenging but worthwhile when it is done right. The other challenge is to find ways to increase sales from this activity.
The solution
The company utilizes a campaign combining a quiz with a coupon. This way, the company provide homeowners with a discount from their purchase in exchange for taking the quiz directly on the website having arrived at the website via organic search.
Why digital promotions? Rid-O-Mice is sold online and discovered by people wishing to solve a problem. They wish to do their own pest control research and make their own decision so this quiz helps rid-o-mice lend itself to this objective and make it beneficial for those who visit their website.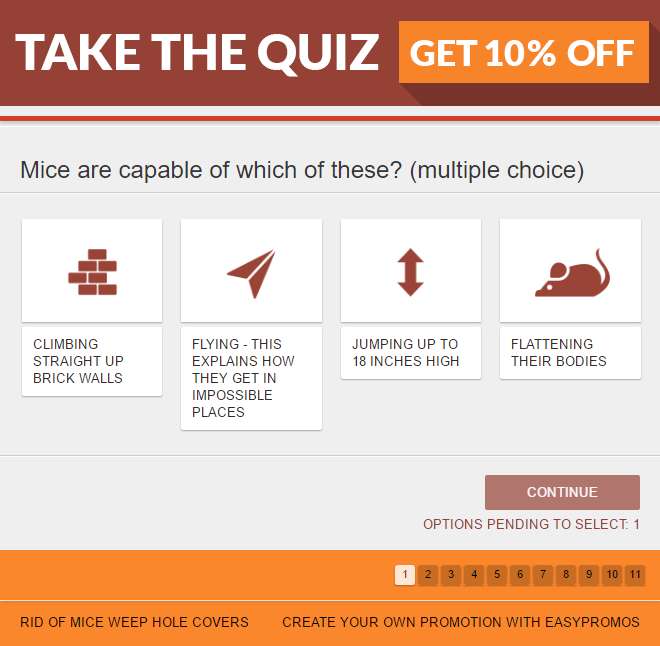 If you are ready to find the solution to your challenge, start building your first online quiz now! Otherwise, read on to learn how it worked out for Rid-o-Mice.
The outcome
Over the period of 230 website sales 134 people took the quiz and 66 people directly purchased from them using the code. Additionally 18 people among the 134 participants, purchased via Amazon where their discount did not apply.
They found the cost of the quiz to be about 10% of net sales (net of the discount) directly related use of the coupon. "This cost was well worth our while to better understand customers, educate them and create dialogue with them. Not to mention the improvement to our search rankings for keeping people engaged on our website."
In talking to several customers they found the combination of the quiz and coupon moved them to make the purchase sooner than they otherwise would have or would have continued searching other products.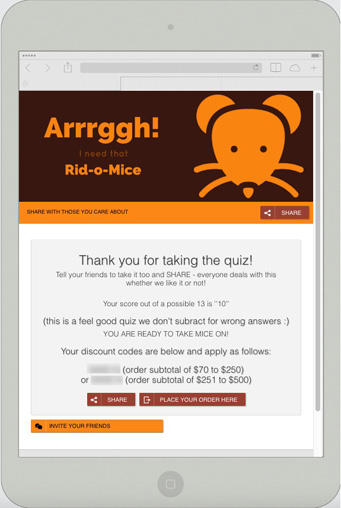 Testimonial
"Easypromos provides what we need for success. The quiz snaps onto any page on our website, anyone can build the quiz with a few graphics and the quiz can be set up to provide educational or feedback type responses based upon a participant's answers, so real time learning in being achieved. It also delivers a coupon to our customers for use in our shopping cart and we can see the immediate sales results. Equally important is through a little creative thinking with this flexible platform we manipulated the quiz to help start dialogue with our prospective customers giving us the ability to respond to prospects quickly, answer questions and secure the sale. Before using this method we had none of these capabilities, now we know so much more about our customers and what makes people buy, thanks to the capabilities of Easypromos.
We will continue the quiz and in a separate campaign, plan to encourage and allow customers to send us testimonial photos and videos to a hashtag wall that we will embed in our website and on Facebook. We haven't determined if we will offer some interval of prizes or just do it because our customers take pleasure in the product and want others to know they are not alone.
We also plan to combine our quiz with paid ads including mail drops to targeted households."
If you too are ready to know what makes your customers buy, start building your first online quiz now!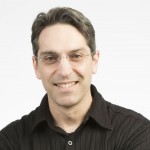 Brian McNeil-Smith
General Manager – North America
Publication date: 2016-09-01