Posted in: EventsUpdated on the 28/10/2016
Following on from Black Friday, Cyber Monday, which also originated in the US, has become an important date in the calendar for internet users. Many people now wait for this day to make their online purchases at more affordable prices. Three days after the massive sales enjoyed by physical stores, shopping malls and department stores during Black Friday, it's the turn of online businesses: Cyber Monday – the day of mass online buying – has gradually extended across the world.
Would you like to take full advantage of this campaign for your online business? Provide greater visibility to your webstore by offering attractive deals and discounts to incentivize visitors to buy from you on Cyber Monday. There are lots of opportunities for promoting your online store during Cyber Monday. Check out the following ideas and start planning your strategy!
Promote your Cyber Monday Offer
Distribute discount codes
Random Picker App
Survey with code
Promote your Cyber Monday offer
Create a simple but effective action to promote your webstore. Organize a sweepstakes on your Facebook Page using a post. Describe your Cyber Monday offer or discount in a post and ask users to participate by liking the post. Another way you could ask people to participate is by commenting on the post. Think about which action you'd prefer.
The sweepstakes will ensure that your post announcing the discount or offer for Cyber Monday has a much wider reach than other posts on your Page. Take care of your brand image in the post, and communicate the nature of the offer and the URL of your webstore clearly. You should also make clear what prize you're offering in your sweepstakes, to encourage more people to participate and increase levels of engagement and loyalization with your community.
In addition, the first sweepstakes in Facebook is free, and we've prepared a step-by-step guide to help you write the post, publish it and randomly select the winners. Access the dashboard now and set up your first online promo!
Distribute discount codes
Without a doubt, one of the most common promotions offered on Cyber Monday are discount codes or gift vouchers. Companies use these to encourage internet users to sign up to their stores to redeem the codes. Create a simple but effective promotion enabling users to fill in their details in exchange for receiving a discount code which they can then apply in your online store. As well as growing your database of potential clients, you'll substantially increase sales in your online store during the Monday following Thanksgiving.
Increase your brand's sales with promotional codes! Create your own code distribution app in just minutes!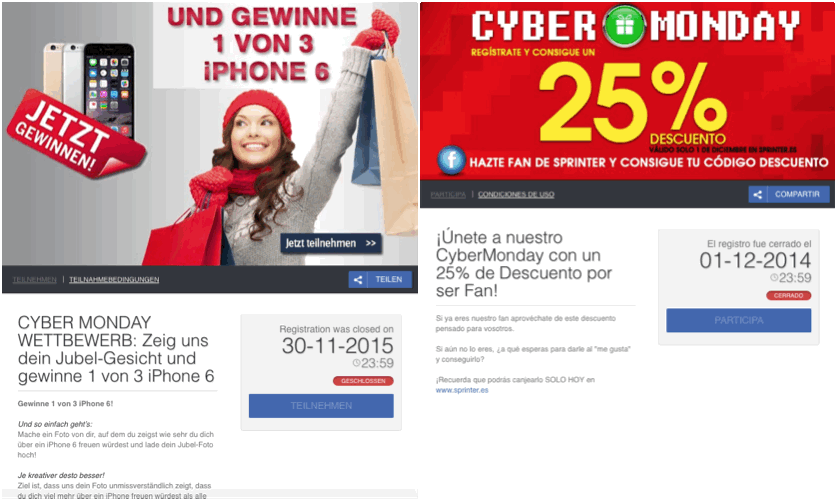 Random Picker App
If you'd like a quick and easy way of rewarding those who make purchases in your webstore, carry out a sweepstakes between all your online customers during Cyber Monday. Export all these customers to an Excel, CSV or Text file and then use the 'Pick-A-Winner App' to randomly select one or more winners. This is another way of driving consumption, focused on visits to your webpage. Make a clear announcement informing internet users that you'll run a sweepstakes for a flagship product between everyone who makes a purchase during Cyber Monday. In this way, you'll convert more visits into sales.
Survey with Code
Would you like to stir interest in Cyber Monday among consumers? Create and embed a survey in your website, informing visitors that by completing it and filling in their details they'll obtain a juicy discount code for online purchases in your webstore. You'll obtain interesting information about potential customers, while rewarding and incentivizing them for buying from your webstore. It's a win-to-win strategy guaranteed to bring great results! Take advantage of this promotion type for your Cyber Monday campaign!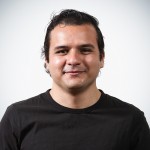 Gabriel Cruz
Customer Care Easypromos team