Posted in: Digital marketing,Ideas for your websiteLast update: 28/07/22
Do you remember Advent Calendars from your childhood? The thrill of opening a new door each day, to see the tiny picture, toy or chocolate hidden inside? You can now launch online Advent Calendars and engage your audience daily, inviting them to your digital Christmas countdown. Find out how to organize an Advent Calendar and retain your customers with daily giveaways, discounts and big raffles!

For starters, we want to show you the experience that your audience will have, once they see your personalized Advent Calendar.
The 2021 Advent Calendar is a shareable microsite with multiple promotions displayed on the same website. This type of campaign is ideal for boosting brand awareness and capturing new leads over Christmas. In addition, the Easypromos Calendar is mobile-responsive, making it easily accessible from any mobile device.
If you decide to launch your own digital Christmas countdown, our pre-configured Advent Calendar templates will help you save time. The ready-made templates allow you to customize the promotion with your corporate image. It's a great option for anyone looking to expose their audience to the corporate image long-term.
Take a look at the main characteristics of an online Advent Calendar and discover how it can help you achieve your marketing objectives.
Are you interested in launching a branded Advent Calendar? Try our DEMO and if you like it, download our pre-configured customizable template to create your own promotion. The Advent Calendar app is available in White Label version, from $399 USD/month.
Advent Calendar 2021 and 24 days of continuous engagement
With our Prize Calendar you can easily create and configure your own advent calendar. Configure the calendar's daily contents with prizes, games, static content, etc. Additionally, you can customize every square in the calendar with your brand image or product.
As you might have already seen in the DEMO, users only register once, and then they access the promotion on a daily basis to try their luck each day of the Advent. When clicking the promotion window, users identify themselves through Facebook, Google or their email address. Once they're logged in, they check in to enter your daily giveaways. It's the easiest and least complicated Advent Calendar dynamic.
It is absolutely up to you to decide what prizes you wish to give away. You can reward participants with your bestselling products, discount codes, Instant Win prizes, or you can even run a final giveaway for all participants that registered over the 24 days of your Advent Calendar 2020.
Advent Calendars are fantastic to expose your audience to your corporate image over a longer period of time. Customize the template with your logo, branded images and colors to reinforce brand recall.
Take a look at the Advent Calendar launched by the local board of tourism of Leavenworth, Wa. to create engagement with their audience as a way to cope with Covid-19 travel restrictions. This article explains more about how they used the Advent Calendar to promote local tourism and businesses.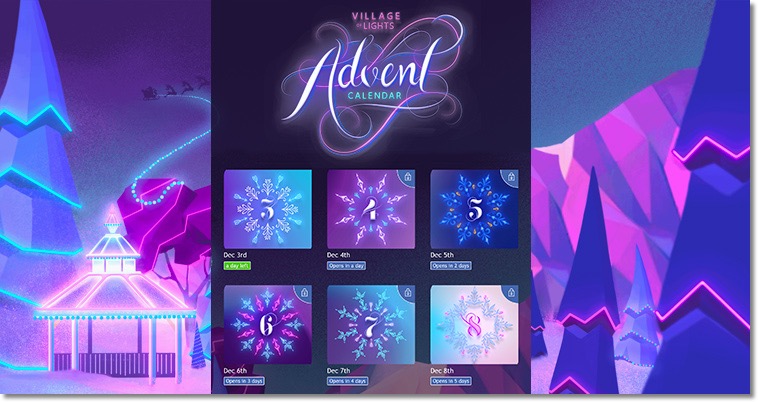 The participation stages open and close according to the previously specified dates and times, which are already pre-configured in the Advent Calendar template. You could also keep all the promotions open throughout Advent, and then announce all the winners at once, for instance on Christmas Eve. When would you go for this option? Some users will come across your Advent Calendar later than others, so having all the windows open will allow them to participate in all the promotions.

Try the DEMO to also see different ways to open the promotion windows or doors (without animation, with zoom or with an animation of the door being opened). Also, while checking in, there is a Santa Claus gif that can also be changed for any image of your choice.
Optimize your promotional Advent Calendar for mobile users
All Easypromos promotions have a responsive design. That means that your Advent Calendar will look great on computers, tablets, and any mobile device. That's great news since most social media users use mobile devices to visit their favorite networks. Here's an example of how the calendar will change to fit a mobile phone screen: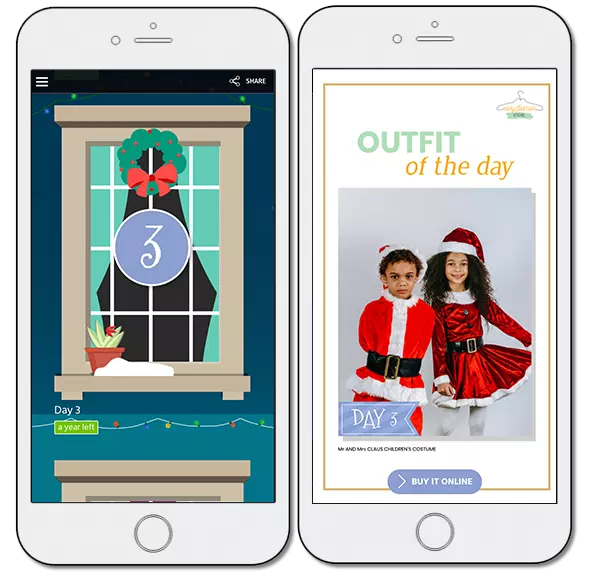 Embed your Advent Calendar on your website or blog and convert your visitors into leads! Have a look at our personalized Advent Calendar DEMO to see how it would look on your page:
Choose the perfect Christmas present
Kids love Advent Calendars because of the tiny gifts hidden behind each door! And adults tend to love promotions as much as kids love the chocolate behind the Advent Calendar doors. So go ahead and build excitement by reminding your followers of the prizes on offer. You could describe the prize at the beginning of each promotion.
If you want it to be a surprise, you can still fuel expectations. Talk about how much the gift is worth, whether it's a product of your brand, a trip to some exotic place, a discount, and so on. And if you're offering discount vouchers to all participants, make sure you emphasize it: "Open the window, guaranteed prizes!".
In the following example, you can see how organizing brands display the prizes involved in each giveaway. It's a great way to obtain contact details of the participants genuinely interested in the specific products.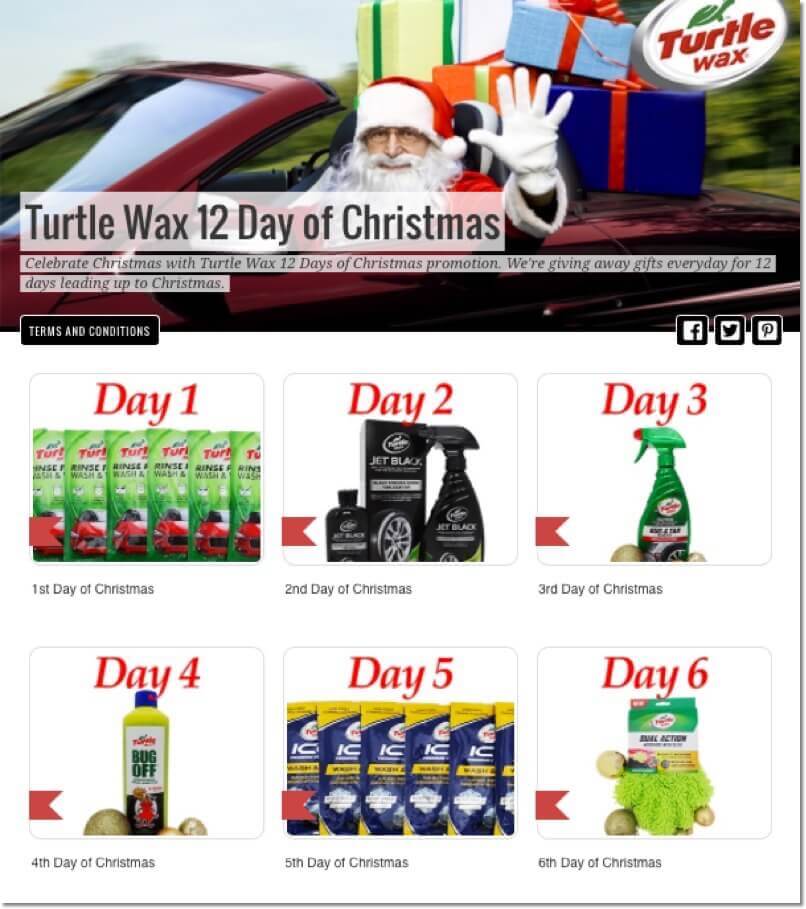 In this example, the brand decided to clearly display the prize on offer each day. So the brand's followers had plenty of motivation to join in, as the promotion unfolded. You'll need to decide what your own followers would prefer: a grand surprise or a well-described prize. You could even combine these options. Announce the prizes available… but don't tell people which day each prize will be awarded!
24 days for an Advent Calendar, 12 days of Christmas
There's more than one way to create an Advent Calendar. If 24 days seems too long, or too much to organize, then adapt the idea to fit your requirements! The most important thing is the concept: giving away a series of small gifts around Christmas.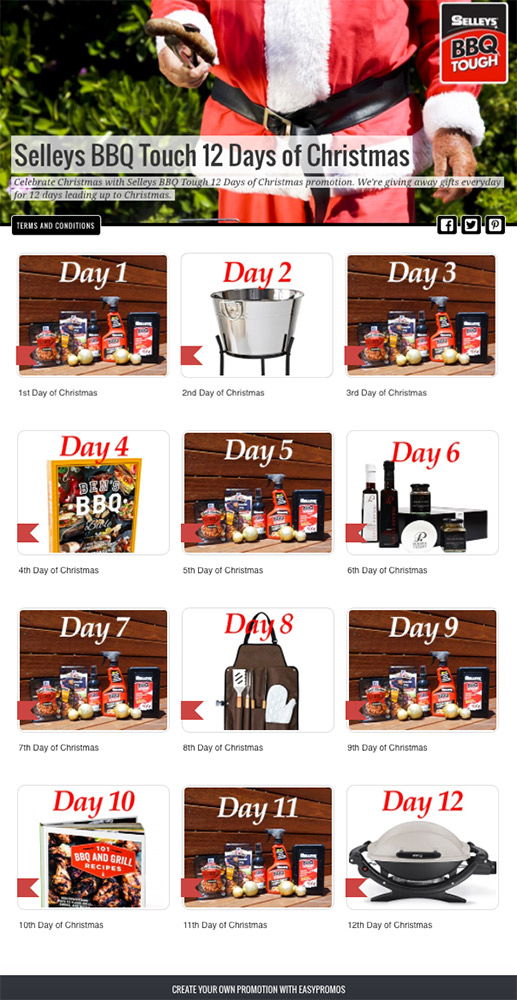 This brand decided to celebrate the 12 days of Christmas, instead of a full-length Advent Calendar. Just like the example in the previous step, they announced every prize in advance. So their followers knew exactly what to expect, and could choose when to join the promotion. In this case, once the promotion comes to an end you can follow up on the leads and offer all participants discount codes for the products they wanted to win!
Mix up your Advent Calendar promotions
What kind of promotions can I use for 24 days?
The simplest option is to run a classic prize draw for everyone who registers each day.
The most fun and entertaining are branded mini-games, like Memory, Puzzle or Minesweeper. Take a look at our Multi-Game Advent Calendar DEMO to discover how you can engage your audience with playable promotions.
There are also more advanced options like Instant Win promotions. In this case, you decide how many random prizes you want to award each day. Winners will be selected according to the moment in which they participate. It is also a matter of luck, but the participant finds out instantly whether they're one of the winners.
Surely, the best way to create an Advent Calendar is to set up one participation stage and duplicate it for the following stages. But without a doubt, one with various applications will attract more attention!
Visit our Christmas campaign hub to discover more creative ideas for your Christmas campaign.
Are you ready to launch your own Advent Calendar 2021? Or maybe you still have some questions? Don't hesitate to Online Chat with us – we're more than happy to help!
Publication date: 2016-11-17