Posted in: Ideas for your websiteLast update: 18/11/16
Do you have your own app? Would you like to reward all the users who've downloaded it? If you're looking for a promotion to help loyalize users and boost downloads of your app, carry out an online sweepstakes using your database of registered users.

It's very easy: all you need to do is create a database of all the users who've downloaded the app in Google Play, Apple Store or Windows store, and who form part of your app's community. You'll need their names, surnames, and email addresses so you can get in touch with the winners once the sweepstakes is finalized. Remember that you can also carry out weekly or monthly sweepstakes if you can obtain the app download date for each user. Set up an Excel, CSV or Text file with the details of all those who registered between two specific dates of your choice and import it to Easypromos to create a random sweepstakes in minutes.
A quick and easy way of awarding prizes to your users is via a Pick-A-Winner App. This will enable you to import all the details of users registered to your app and export them to an Excel, CSV or Text file. You can even copy and paste the details directly to the sweepstakes tool. In addition, once the random selection of winners and alternates has been carried out, you'll receive a Certificate of Validity emitted by the Easypromos Platform which proves the transparency of the process.
Announce it!
It's also vitally important to announce the sweepstakes to ensure that everyone in the community knows there's an active sweepstakes and to persuade indecisive users to install the app. Announce the sweepstakes across your social networks and on your Facebook Page. You could also make advertisements to inform people about the sweepstakes and encourage them to install your app. If the prize is appealing enough it will help you convert users into customers!
If you're more interested in running a sweepstakes as a way of loyalizing and rewarding your existing app users, inform them about it in a welcome email or in the regular messages that you send your community. If you have detailed information about who uses your app each week for example, you can establish weekly promotions for the top users, or the most active users, and so on. With any list of users, you can create a sweepstakes and randomly select the winners.
You'll generate greater trust between your whole community of app users. ¡Go ahead and give it a try. Run an Easypromos sweepstakes in minutes!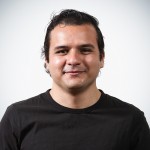 Gabriel Cruz
Customer Care Easypromos team
Publication date: 2016-11-16