Posted in: Applications,Ideas for your websiteLast update: 09/03/21
If you work in marketing, you already know that visual content is king, thanks to how it engages with the public. And you're almost certainly aware of the phenomenal growth of YouTube, which now has over 2 billion active monthly users. This is why turning to YouTube for product and brand promotion is a great idea that you should seriously consider. In this article, we outline the key steps, tips and advice for achieving success on YouTube.

It used to be tricky to run giveaways on YouTube because of the previous lack of professional tools to help you. Now, with the Easypromos random comment picker tool, you can run your sweepstakes professionally and automatically. The tool enables you to randomly select winners and alternates and generates a Certificate of Validity to prove the transparency of the prize draw. The promotion winners can be displayed via a customizable URL. Today we talk about how to run YouTube sweepstakes to achieve a variety of different marketing objectives, including product and brand promotion.
Energize your channel and boost brand engagement with a YouTube giveaway
If you frequently generate valuable content for your YouTube channel, you have a great potential to boost brand engagement. The best way to do it on YouTube is by encouraging viewer interactions, such as comments, likes, and new subscribers. But how can you convince your viewers to interact with your YouTube videos? We have a great and easy solution: YouTube sweepstakes.
But how to organize a successful YouTube giveaway? We recommend that you ask your viewers one of the following:
Ask them to leave a comment saying what they thought about the video
Encourage them to share their views and opinions, or tips on a specific subject
Carry out research by asking what topics they're interested in, or what content they'd like to see in your next video.
Showcase your product and ask the viewers why they would like to win it.
All these open-ended questions are great for encouraging real conversation between the brand behind the YouTube sweepstakes and the viewers. Make sure you incentivize the participation, and not just with any prize. In order to attract as many entrants as possible, the prize involved in the promotion must be attractive and appealing to your target audience, or at least its majority. A great prize will encourage the viewers to enter your YouTube sweepstakes and share it with their family and friends. Social media sharing will then attract more potential participants, which leads to achieving your objective of increasing the awareness of your brand and product.
Use your YouTube sweepstakes to improve search engine positioning
YouTube is the second-largest search engine in the world. Many people use this platform to search for content that interests them. As a YouTuber, one of your main goals is a good positioning in the search engine to enhance the pull of your audiovisual content and ensure that your products reach their target audience. To improve the SEO of your videos you'll need to think carefully about the following: keywords for the title, description, and tags; organization of the videos in playlists; external links; social network diffusion; and visitor interactions: likes, comments, and shares.
As you know by now, interactions are important; therefore organizing a YouTube Giveaway is a fantastic way to boost the engagement of your YouTube channel. It is an important aspect to remember: giveaways boost engagement, engagement leads to better positioning, better positioning enhances brand and product awareness, which then leads to higher sales. It's a win-win, right?
Increase views of your YouTube sweepstakes video and reach a wider audience
Another reason for having a YouTube channel is to disseminate interesting content about a product or brand. For example, perhaps you'd like your viewers to watch a demo showcasing a new product to accelerate the buying process. Perhaps you're certain that as soon as viewers see how the product works, and what benefits it has, they'll decide to buy it. Encourage your YouTube viewers to watch the video by giving them a chance to win the promoted product. Ask them a question and inform them that they must watch the video to discover the correct answer. As soon as they have the answer, they can enter your Youtube sweepstakes.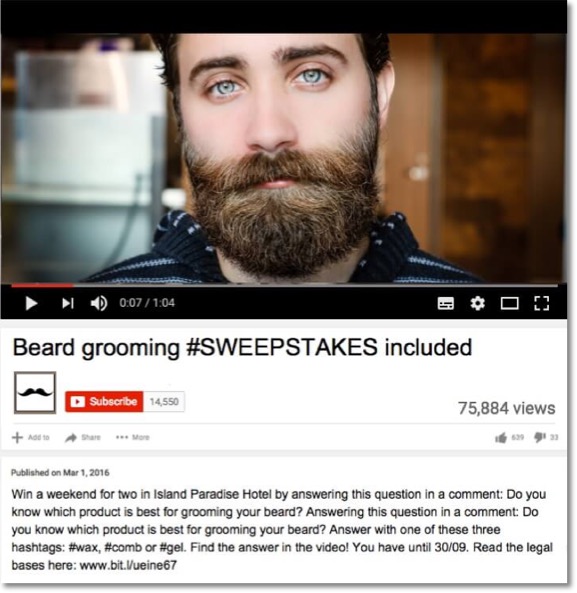 The YouTube Giveaway tool also enables you to import comments via a hashtag system. You can then separate them based on their answers. You'll be able to carry out a giveaway between everyone who commented on the video or just between those who got the right answer.
Regularly launch YouTube sweepstakes to increase visits and attract new subscribers
If you wish to increase visits and subscriptions to your YouTube channel, organize regular YouTube Giveaways. Promote the sweepstakes through your brand's social networks, newsletters, and website and direct traffic to your YouTube channel. Announce that you'll organize a promotion every week, or every 15 days, or once a month. This will not only attract more subscribers but also retain the existing ones and tap into their loyalty and trust.
Promote your product with the help of YouTube Giveaways
Perhaps you don't have a YouTube channel but you're still interested in promoting your product on YouTube? There are lots of opportunities! We're sure you've heard of YouTubers and YouTube influencers. They are individuals whose YouTube profiles are heavily subscribed, generating extremely high levels of engagement. YouTubers create diverse content that users follow closely. Each YouTuber is usually specialized in a specific area. Healthy living, beauty, and fashion, games, cookery, or travel – they are the most common specialties. The fact that each influencer covers a particular area generates added value for their channel, as their audiences are highly segmented based on their interest. This means the brand can choose one or more YouTubers depending on the product, knowing that they'll have an impact on their objective audience.
Many collaborations are currently being carried out between YouTubers and brands. These influencers promote products through a variety of methods. The most popular method is simply to film a video showing and recommending the product. Increase brand awareness and recall by organizing YouTube sweepstakes in collaboration with famous YouTubers.This is a fantastic opportunity for both, the brand and the YouTuber. The brand gets to reach a wider audience, promote the product, and gain new potential customers, while the influencer boosts engagement for their channel.
As you can see, there are many ways of promoting a brand and boosting user interaction on YouTube. So, what are you waiting for? Log in to the dashboard now and run your first YouTube sweepstakes free of charge!
You can contact us via our Online Chat in case of any doubts and questions!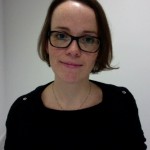 Randi Jensen
International Business Developer in Easypromos
Publication date: 2017-02-16