Posted in: Business newsLast update: 16/08/21
PRESS NOTE – BARCELONA (SPAIN) – FEBRUARY 13, 2017
Valentine's Day is just around the corner. This day used to be a key date for the small businesses but people no longer buy only flowers and chocolate to their loved ones. Nowadays many brands and companies use online sweepstakes, contests and promotions around this date to get more visibility.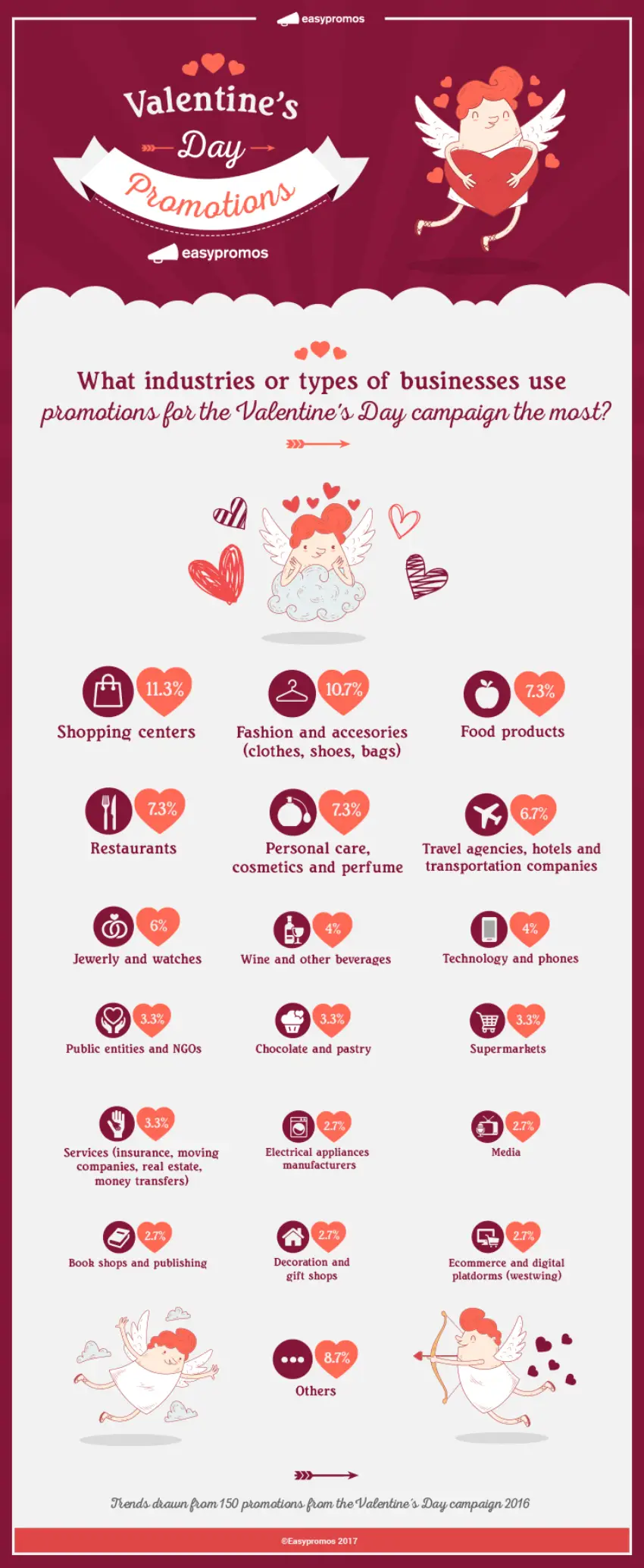 Businesses and prizes
According to an analysis carried out by Easypromos, the shopping centers top the ranking of businesses that boost their campaigns around Valentine's Day (11.3%), followed by fashion (16%) and food products (11%).
If we analyze the prizes that are promoted, the couples prizes are the winner. 17.3% of the analyzed promotions give away couples dinners or other meals. This is the most used prize not only by restaurants but also by shopping centers and other brands who promote their campaign locally in a town or even neighborhoods. The second used prize, far away from the first, is romantic packs and short trips with a 9.3%.
Another very used alternative are delicacies such as wine, chocolates or pastry (13.4%). Normally it's brands who are associated with these products that use them as a prize and this helps to increase the memory people have of the brand and at the same time the business establish contact with future potential customers. Finally, self‐gifts or suggestions such as personal care products, beauty products, jewelry, fashion or tech gadgets are other options to keep in mind.
To access the infographics click here to see the prizes and here to see the businesses.
The shopping centers top the ranking of businesses that boost their campaigns around Valentine's Day (11.3%)
Click To Tweet
About Easypromos
Easypromos was founded in 2010 and is leader in creation and management of digital campaigns. They build up an experience of more than 450.000 campaigns for clients from more than 114 countries and the platform is available in 30 languages. They have 2 million active users per month on average and offer 21 different types of promotions, among others sweepstakes, photo and video contests, multiple‐choice tests, surveys, coupons, promotional codes, voting system, Facebook Live survey etc. The platform characterizes for being trustworthy and simple to use and is available for all social networks, it's compatible with all devices and allows independent campaign management.
For more information:
Randi Jensen – randi@easypromosapp.com
Publication date: 2017-02-13