Posted in: Digital marketingLast update: 02/08/21
Not so long ago, people were saying that email marketing was dead, that it was no longer an effective way of contacting your leads and capturing new customers. In fact, nothing could be further from the truth: email – as a method for communicating with leads and customers, boosting sales, and encouraging loyalty – is alive and well. But perhaps you've found that your email marketing campaigns don't always work as well as they should. Have you stopped to ask yourself why?

We're going to try and find answers to these questions and show you how to carry out successful email marketing campaigns in combination with social media contests and promotions. Why go to the effort of creating well-designed, creative contests with great prizes to attract new leads if you're not going to do anything with those leads?
Perhaps you've taken onboard the philosophy of attraction marketing as a way of supporting your Inbound Marketing strategy with social media promotions, but what you really want is to boost sales and obtain new clients. Contests and promotions can help you attract new leads. But once you have them, you need to engage in Lead Nurturing. You have your leads' attention, now keep it by working with them, cultivating them and using the information each has provided to offer them what interests them.
Email communication is still one of the most easily personalizable methods for connecting with your target audience; and if you use an email automatization tool it will be a piece of cake. Depending on the type of contest you choose to run, it's also likely that you'll obtain some information about the tastes and buying habits of your contacts.
Complementing your contests and promotions with an email marketing strategy will help you achieve your goals. You can implement this strategy in two different situations:
a. While your promotion is active.
b. When your promotion is over.


a. Objectives of the email marketing strategy during the promotion.
Maintaining effective communication with your contest participants will have a notable impact on the contest's success. We've already spoken about how users like to feel you're accompanying them through the process and paying close attention to their needs. So what exactly can you achieve by making good use of emails?
Generate greater engagement.
Increase participation.
Increase followers.
Obtain a steady and receptive database of leads.
Provide support to participants.
Let's take a closer look:
1. Generate greater engagement. If you're in regular contact with users, they'll pay more attention to you and your social networks, and they'll be more aware of how the contest is evolving. Make the most of this opportunity to achieve greater impact for your updates and/or activities.
2. Increase participation. Participants are more likely to share the promotion if you ask them to do so in an original way – especially if you reward them for it. You can communicate with participants via email (using our email platform), so the information doesn't need to be published online. Giving a special thank you to everyone who has participated is another effective practice.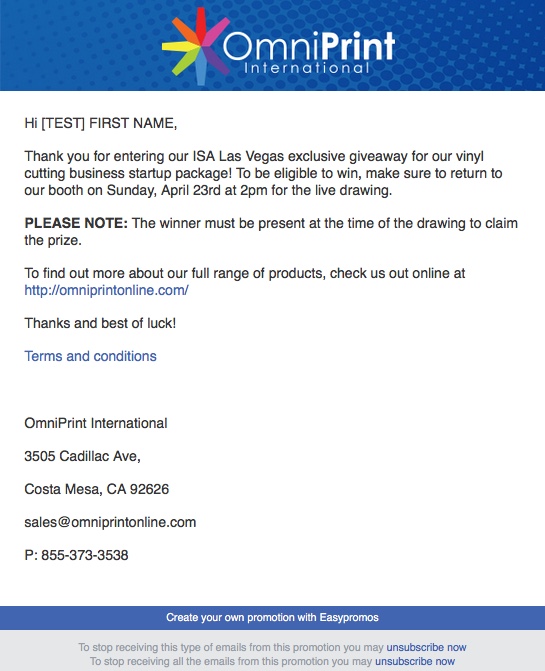 3. Increase followers on social media and lay the ground for future promotions. The greater the diffusion and repercussion of your promotions, the more likely it is that followers who are interested in your brand will approach.
4. Obtain a steady and receptive audience. If users appreciate your email communications and are willing to listen to you, that means they're high quality leads and you'll be able to continue communicating with them once the campaign is over. They might not all remain in your database – there may be some casualties along the way – but the ones who stay will be the best for your brand and you'll be able to encourage them through the sales funnel until they become loyal customers.
5. Provide email support to participants. It's important that communication not be just one way. Make it easy for participants to contact your brand via email. This will make you more approachable and popular with your contacts.

With the email automatization tool you'll be able to implement any ideas that occur to you – for example: informing the participant about the status of their participation, thanking them for taking part, announcing that the promotion is about to end, promoting diffusion, announcing the winners, and so on. And you'll be able to do all this automatically, without having to worry about sending the emails manually.
b. Aims of a post-promotion email marketing strategy.
You will have two main aims when proceeding with your email marketing strategy after the campaign or contest is over:
Stabilize this new channel to loyalize your target audience.
Convert leads into customers.
1. Loyalize your target audience. As you communicate with your public via newsletters, promotions and so on, your leads will see whether what you're offering is interesting or not, and decide whether it's worth their while to remain subscribed to your emails. They'll end up making a purchase with you after searching for a product or service you offer. That's the key, and that's how you will achieve success with your email marketing campaigns: by offering valuable content that is of interest to your target audience. Remember to segment your mailing lists based on the information you have on your subscribers.
2. Convert leads into customers. To achieve this objective, you should understand the customer journey made by your leads and prepare a message and content that are adapted to their needs. When you send emails to participants after a contest or promotion, keep in mind the journey that the leads have made. How did each lead end up in your database? Perhaps the lead is a frequent participant, or perhaps he/she is a contest winner, or maybe he/she has recruited new contacts. The more information you have on your contacts, the easier it will be for you to get the most out of your emails and obtain new customers who'll stay with you forever.
Remember that the focus should be on looking after your contacts and keeping them interested with each email you send. Don't hesitate to try the dynamic duo of promotional campaigns on social media and email marketing: it's a winning combination.
Did you know that you can also export emails obtained in your promotion directly to your Mailchimp list? If you use this platform for your email marketing actions you'll want to know how to integrate Mailchimp with Easypromos quickly and easily. And of course, you'll always be able to download participants' data and enter it into your CRM or database of potential customers.
Publication date: 2017-05-19