Posted in: Digital marketing,Ideas for your websiteLast update: 27/07/22
Lead generation is the top priority of marketers and quizzes are a fantastic lead generation tool! Today we look at different types of quiz applications that will boost your brand and bring your business new leads. Let's take a look!

Interactive online quizzes have been gaining popularity over the last couple of years. Many big and small brands turn to online quizzes in an attempt to promote their product and brand, boost sales but also to generate new leads for their business. And as it turns out quizzes can really do the job! These interactive apps can be fully customized with no previous coding experience. They deliver high-quality content and entertainment to online communities and resounding marketing results to their organizing brands. Today we take a look at different types of quiz apps that you can launch with Easypromos. Get ready because we're about to change your approach to lead generation!
Make quizzes part of your lead generation campaign
Lead generation happens to be marketers' top priority, and that's the reason why they're always on a lookout for new ways to bring prospects to their company. Many marketing professionals already experienced the power of giveaways and branded mini-games but some of them still haven't turned to quizzes. Organizing a questionnaire or survey might seem like a tough nut to crack but it's totally not like that. Let's take a look at different quiz applications that you can use as part of your lead collection campaign. We're about to share examples, tips, and words of advice!
Educate your audience about your brand or industry, and collect leads by giving away a special prize
Knowledge Quizzes are the perfect tool to educate your online community. You can use them to test your followers' expertise on your brand, product or a specific topic that is somehow associated with your business. The most important thing is to make sure that the topic of the quiz and questions are relevant for your target audience. For example, you wouldn't want to create a quiz about cars if your brand sells skincare products.
Hello Padel Academy offers courses for paddle players and coaches. A few months ago the company looked to expand their mailing list. To do so they turned to a Knowledge Quiz. They prepared a series of questions around paddle and invited the audience to test their knowledge.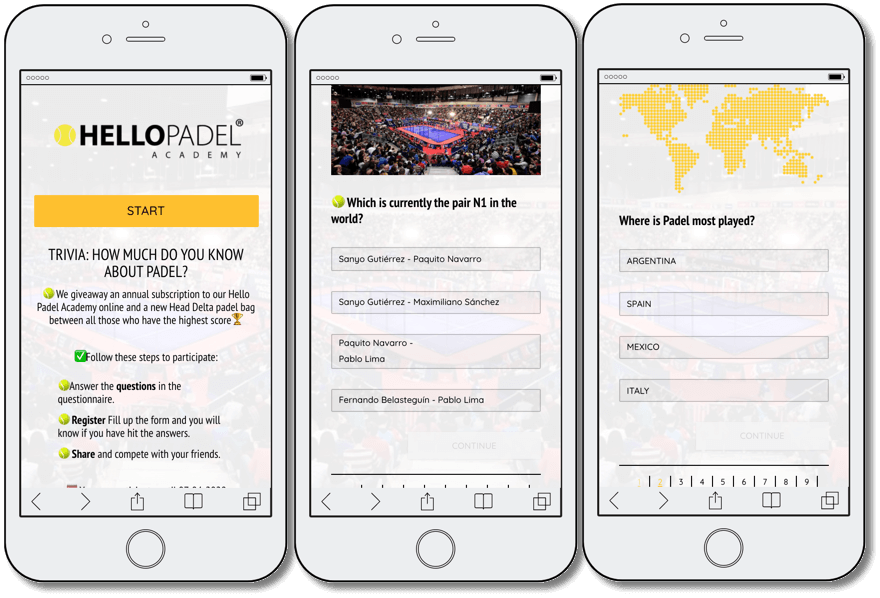 After answering all the questions the participants were presented with a registration form that they had to fill in in order to submit their entry and also enter the prize draw. Hello Paddle Academy knew precisely that they had to incentivize the participation if they wanted to attract more participants. The organizers raffled a yearly subscription to the platform and a new paddle big between all the participants with the highest scores.
Social media is a perfect place for lead generation, as that's where your target audience is at. The only downside of social media is the fact that you don't own any details about your followers. It doesn't mean that you can't turn to social media platforms to generate leads. Hello Paddel shared their Knowledge Quiz with their social media communities; it was a great tactic to convert social media followers into leads.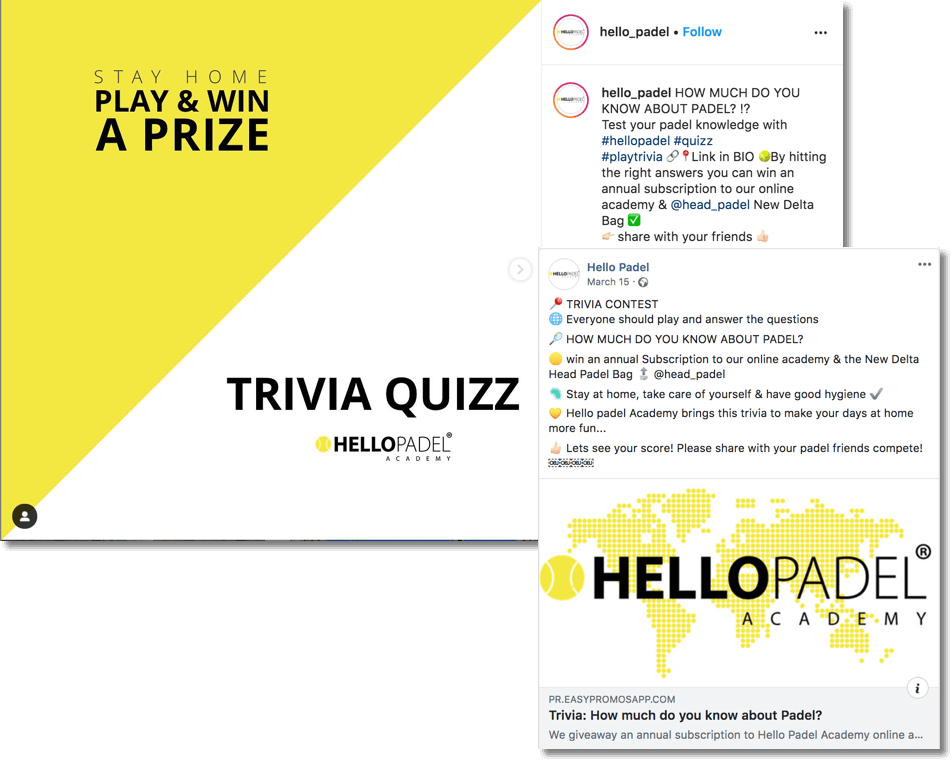 If you're unsure whether a Knowledge Quiz is the right app for you try our DEMO so you can get a taste of real user experience!
Collect contact details from your social media followers and boost sales with a Product Recommender
Another quiz that is great for collecting leads from your social media followers is a Product Recommender. They can be customized just like any other Easypromos application so that you can fully reinforce brand awareness. The interesting thing about Product Recommenders is that they allow you to share personalized messages with product recommendations depending on how the participants answer the quiz questions. That's the main reason why these apps are so popular with product promotion campaigns. Obviously, apart from promoting your product and brand and delivering high-quality content for your audience you also get to collect contact details from participants.
TravelUp launched a Product Recommender as part of their Valentine's Day campaign. They put together questions asking the audience about their dating preferences.
Depending on the answers participants saw different messages at the end of the quiz, recommending different travel destinations and special holiday deals. Apart from travel recommendations, all registered participants received £10 discount vouchers on flights booked with TravelUp. The chance to obtain discount vouchers definitely encouraged the users to share their contact details with the travel agency. Remember, adding coupons to final messages is a fantastic way to boost sales.
Thinking to create a branded Product Recommender? Try our DEMO to use it as part of your marketing campaign.
Collect and segment leads with a Personality Quiz
Once you collect new leads you then have a difficult task of segmenting them. Imagine if you could collect leads and segment them with the same quiz promotion.
Personality Quizzes are quite similar to Product Recommenders, as at the end of the test you can share personalized messages depending on participants' answers, and you can also throw in some discount codes or vouchers. The difference, however, is that you get qualified information about your new leads and use the information for future marketing campaigns, so you can adequately target your new potential clients.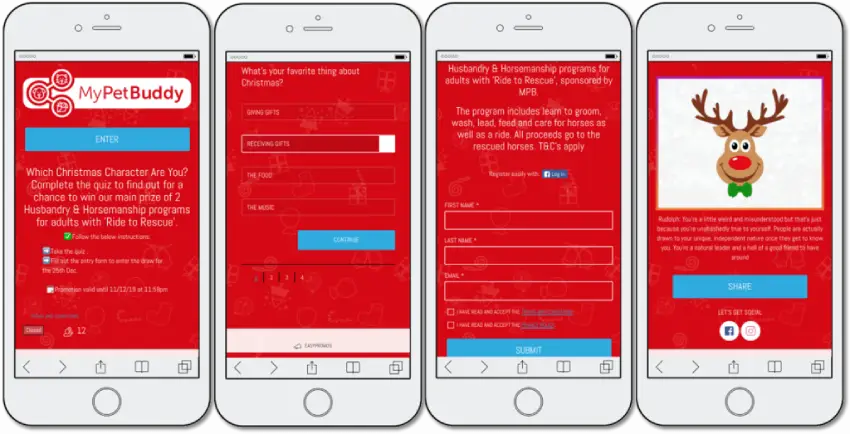 Are you interested in launching a Personality Quiz for your brand? Give a try to our DEMO to see how you can use it to promote your brand or product.
As with all the previous quiz applications, in order to submit their entry the participants fill in the registration form to opt for a prize. As always, if you're looking to collect leads it is important to offer an attractive prize that appeals to your target audience. In the above example, MyPetBuddy organized a Christmas Personality Quiz in which participants answered four questions to find out which Christmas character they resemble the most. Apart from the entertainment that participants received while partaking in the promotion they also got a chance to win a husbandry and horsemanship course for two, which was the perfect prize for the target audience of MyPetBuddy.
Expand your mailing list and conduct market research with Surveys
All the previous examples show how easy it is to collect leads while delivering high-quality entertainment for your audience. It also shows that Product Recommenders, Personality Quizzes, and Knowledge Tests work great to segment leads and prepare personalized marketing campaigns. But there are times when you need to obtain more detailed industry insights or understand the current market situation or customer behavior. Is there a way to do that and still generate leads? Yes! Just use our Survey app.
Here's an example of our own Survey that we launched a while ago to conduct market research. Easypromos was looking to collect information about businesses' marketing strategy during the COVID-19 crisis. We shared with our clients, newsletter subscribers and social media followers.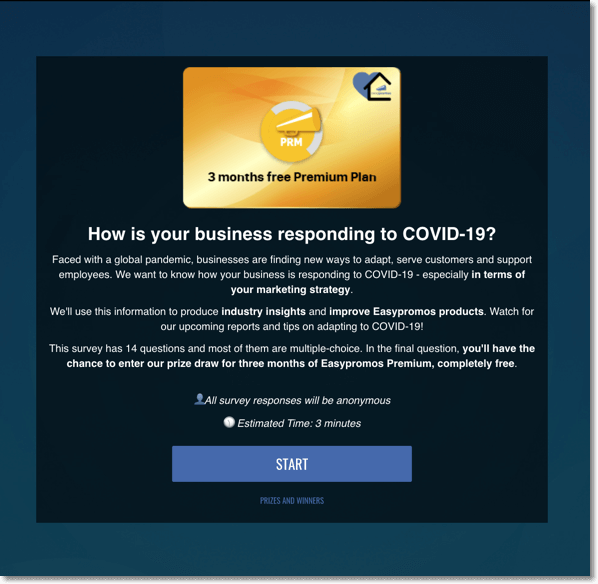 In order to attract more responses, we incentivized the participation and raffled a 3-month Easypromos plan. Apart from collecting new leads we also obtained industry insights that helped us create an ebook about Digital Marketing during the COVID-19 crisis.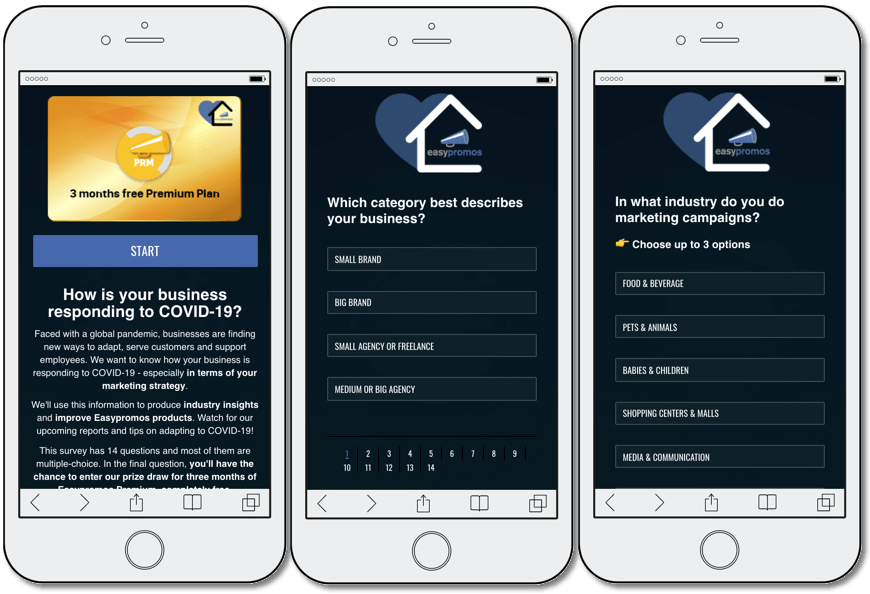 So if you're unsure about your new product launch or next marketing campaign, organizing a branded Survey is a great idea. It's an easy way to collect contact details, and find out about your customers' opinion on certain topics.
Remember to share the promotion link with your clients, subscribers and social media followers to viralize the Survey and get better results!
It's your turn to launch a branded quiz and generate leads
We hope that these examples have shown you how easy it is to generate leads with quizzes. Don't worry if you need extra help or inspiration. Our Support Team is waiting for you on our Online Chat.
Publication date: 2017-06-06