Posted in: Success casesLast update: 24/08/18
The sweepstakes among users who Like or comment on a post on a Facebook page is a promotional action that's more and more popular because it's easy to use and quick to implement but more so because of its effect: the level of interaction from the users on a sweepstakes post is higher than the average of other posts published on the same page.

In this article we present to you 5 real examples of sweepstakes run directly on a post on a Facebook page. You will learn which goals the page had for the promotion and the results they achieved, and in addition you can get some good ideas and learn good practices.
You can read about:
When you organize a Facebook Sweepstakes through a post on your page, the first thing you need to define and be very clear about is the goals that you want to reach with the promotion. Here we list the main objectives that the organizing brands have for this type of sweepstakes:
Increase the number of followers or fans.
Build loyalty with the fan community, users and followers of the page.
Increase the reach of a post on Facebook.
Increase the viral effect based on the number of times the post is shared.
Convert the fans into ambassadors or influencers for the brand.
Promote or present a product or a service.
Get to know the preferences of the consumers and users.
Redirect traffic from Facebook to a website.
Build a brand.
Attach value to a brand.
Increase sales.
Below we'll present 5 real-life examples of Facebook Sweepstakes that have been run directly from a post on a Facebook page in which we'll analyze what goal was pursued with each of the actions.
1. Chicco UK celebrated Mother's Day while promoting a product
Goals:
Marking a special day
Promote a product
Create engagement and emotional connection in the community
Since their online community is made up mostly by mothers, Chicco UK, through PR and advertising agency HROC, wanted to do something more to celebrate Mother's Day than just a simple message. So they decided on a Facebook timeline contest published from one main post and two follow-up posts where the users were asked to share what they've learned since becoming a mother to help other new mums out. The prize was a product of the brand, one that can help mothers and their babies.
HROC used the option to run a sweepstakes from more than one post, gathering the comments from all three posts in one prize draw. The posts were carefully planned and scheduled through one week and the two reminder posts did get some comments but the main sweepstakes post was the one who received the majority of the comments.
The competition was very well received by the community, a total of 371 comments were entered into the prize draw, and they were not just any comments, the mums provided lots of helpful advice and wisdom to their fellow-mums. Also, the Chicco UK Facebook page received 919 additional likes during the week the sweepstakes was held.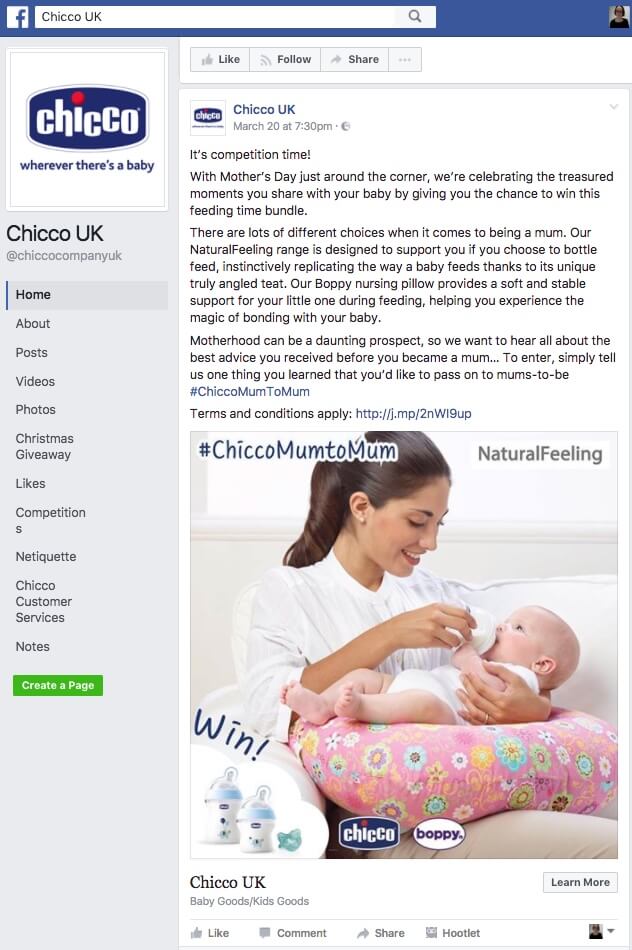 2. Hot Devil increases brand awareness with 4 week sweepstakes
Goals:
Build brand awareness
Promote or present a product
Support retailers of the product
Hot Devil is an Australian brand which is sold via retail outlets around Australia and New Zealand – this particular campaign is targeted to Australia. Because they are wholesalers of the brand (Hot Devil) they spend a lot of time and resources, through agency Amphibian Creative, promoting the brand to support their retail partners, and a large part of this strategy is social engagement. They use sweepstakes as part of their long term social strategy.
The goal of the promotion is to engage with, and increase brand awareness among the target audience. On this occasion the users could win 1 of 20 of their new Gas Torches bundled with some other products. The promotion was broken up into 4 prize draws of 5 prizes to make up the 20, and5 prize bundles were given away each week. The sweepstakes post announced all four dates and was pinned to the top of their Facebook page during the entire month the sweepstakes ran, and the weekly prize draw was carried out from the same Facebook post. To support this they ran some paid Facebook advertising in week 1 and week 3.
In total the sweepstakes received 1761 entries from Likes on the post, the post was shared 889 times and the page experienced an increase in the number of followers. "We have had great results, and we could not have done this without the help of Easypromos, we use your services for a number of our clients and it suits our needs perfectly."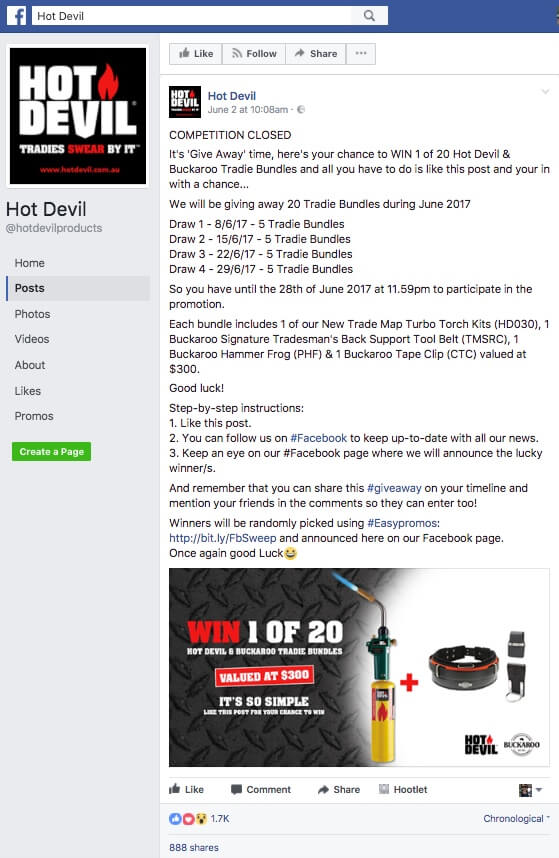 3. Cupcake Coffee Box increases engagement on their Facebook posts with recurring sweepstakes
Goals:
Increase the engagement and reach of Facebook posts
Increase sales and visits to restaurant
Support other local businesses
The Cupcake Coffee Box is a local coffeeshop in the McDonalds Mall in Kirkcaldy, Scotland, with a strong presence in the local social life. Special evenings and events are held on a weekly basis and they support other local businesses in the mall, by mentioning them in posts on their Facebook page. This includes running Facebook Timeline Sweepstakes where winners receive gift vouchers for various stores in the mall. They also raffle vouchers to the coffeeshop. Sweepstakes are used as part of a longterm strategy to increase engagement on their posts and to increase visits and sales.
The last sweepstakes was for a £25 gift voucher to the soon opening Puddledub butcher shop where users are only asked to Like the post and it reached a total of 556 participations. The number of participants has been steadily increasing since they started running sweepstakes in April. Their regular posts normally get from 0 to 15 Likes, so on this last sweepstakes post the increase in the Likes was an amazing 3400%. In the last 28 days the Cupcake Coffee Box Facebook page has had a reach of 44,490 and a total of 10,092 post engagements, of which a big part is on the sweepstakes posts and from frequent posting. They already have another sweepstakes coming up.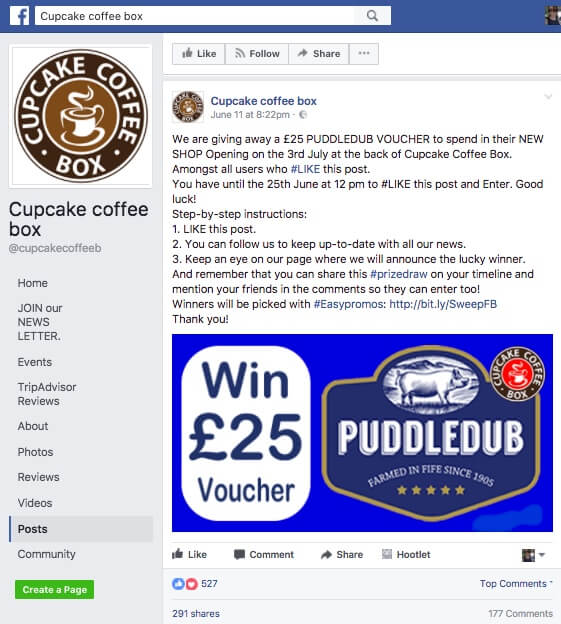 4. Klimapark 2469 uses timeline sweepstakes to create buzz and visibility before season opening
Goals: 
Lead up to season opening
Create buzz and visibility
Increase reach and engagement on posts
Increase visits sales
Klimapark 2469 is an outdoor discovery centre with focus on climate history, hunting and gathering, geology, and biology in the Jotunheimen mountain area in Norway that among other activities offer guided visits to the area including a walk into a 60 meter long ice tunnel. The park is only open to visits from June to September and to lead up to the season opening, they decided to run a Facebook Sweepstakes to give away a family visit to the park.
The post was created with a video showing past visits from the park and the users were only asked to Like the post and comment with a smiley. Klimapark 2469 used Facebook Ads to reach a greater audience.
The sweepstakes was a great success, the post received 2602 Likes in the participation period which lasted 6 weeks. The video in the post has over 93k views. A new post to announce the winner was created where they thanked all who entered and particularly for sharing. Sharing cannot be a requirement for participating but the post was shared 109 times. The post also included a reminder of the opening date and link to book visits.
Klimapark 2469 is running a second round of the sweepstakes now and in 17 hours the post had already achieved 416 Likes, 411 comments, 12 shares and the video 7.6k views.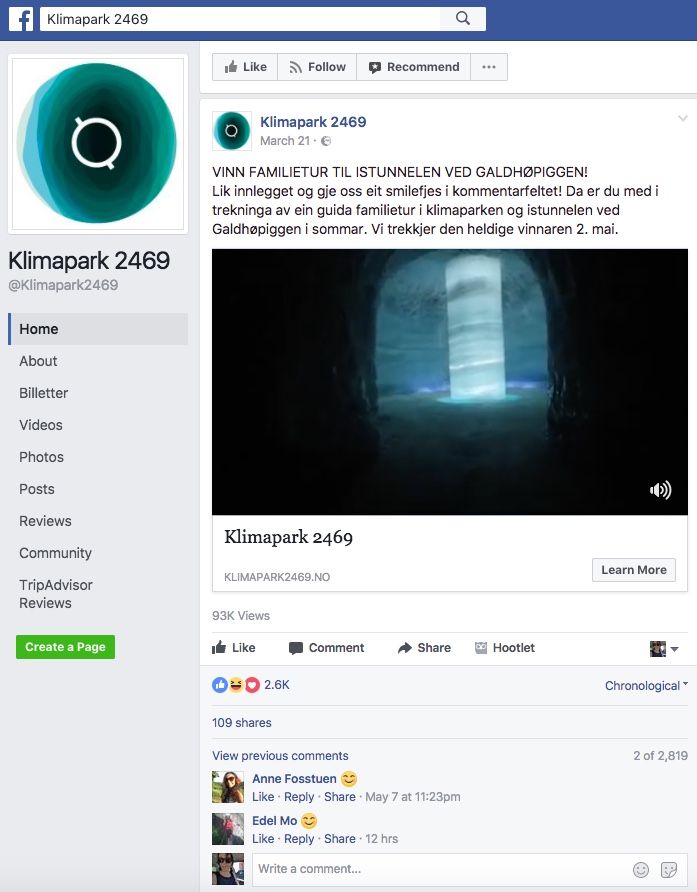 5. Chrome Supplements & Accessories create buzz before annual clearance sale by raffling VIP entries to the sale
Goals:
Create buzz before the annual clearance sale
Increase product and brand awareness
Increase sales
Chrome Supplements & Accessories is a South African store with both online store and 19 offline stores that sell fitness supplements and accessories. They run promotions such as quizzes and sports predictions on a regular basis and they complement them with an occasional Facebook timeline sweepstakes.
In this case, the occasion was their annual clearance sale and to create buzz and lead up to the dates, they organized a timeline contest where the users had to comment on the post saying which products they wanted to see at the sale to enter into the prize draw for VIP entries to be the first to enter the sale. This also served the purpose to encourage people to search through their product catalogue if they didn't already have a favorite in mind.
The post received 341 participations via comments over the course of 5 days. It also received 614 reactions and was shared 42 times. The sweepstakes helped boost sales along with many other posts about the sale. Chrome Supplements & Accessories announced the winner in a new post including the winner's picture. This action gave legitimacy to the contest and trust among their community, it also stirred more engagement.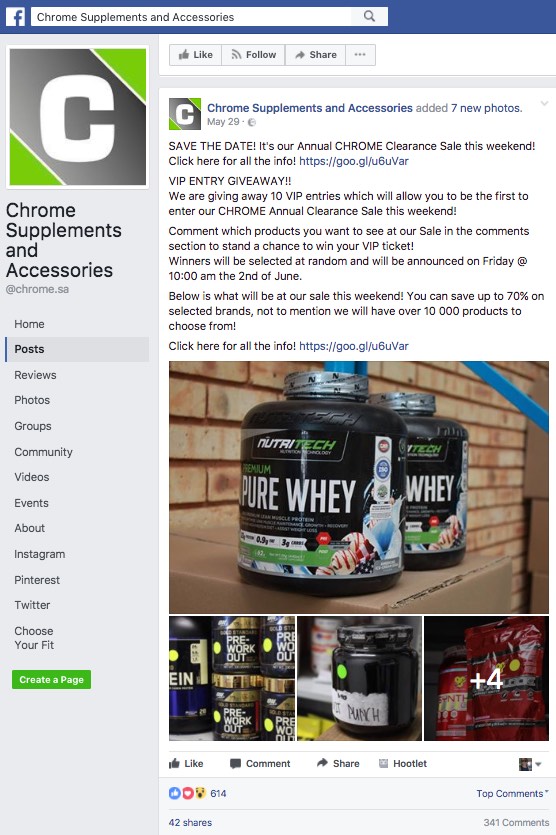 Do you want to generate database?
If you want to run a sweepstakes among your fans and you're main objective is to generate database, we recommend that instead of running a giveaway directly on a post on the timeline of the Facebook page, you use one of our applications to run a sweepstakes or contest, because this way the users have to complete a registration form to be able to sign up.
Good practices for Facebook Sweepstakes
Are you planning on running a Facebook Sweepstakes? Below we list a series of articles with good practices for each phase of the sweepstakes.
Before the sweepstakes: What should you keep in mind before launching a sweepstakes?
How to Keep you sweepstakes legal and compliant and how to Create and host Terms and Conditions
Prize draw: It's time to find the winners. How do I do it?
How to import the users from Facebook, exclude users and run a test before the actual draw. [tutorial]
Don't forget to select alternate winners! Why?
After the prize draw: How to I contact the winners to send them the prize? What do I do if I can't get in touch with them?
How to notify the winners.
How the winners can claim their prize and confirm their data.
Do you have your goal ready? Register in Easypromos and start setting up your first sweepstakes.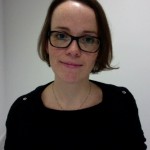 Randi Jensen
International Business Developer in Easypromos