Posted in: Digital marketingLast update: 10/05/18
Sweepstakes, promotions and online contests have become an essential part of Digital Marketing strategies. They enable companies to enhance the engagement with their community in a way that is fun and informal, while increasing brand awareness and attracting new potential customers.

The benefits are multiple and evident, but there are still some suspicions around the idea of running sweepstakes stemming from legal concerns and doubts about transparency and reliability. In this article, we will try to clear up these concerns and doubts by giving you six key points to consider before launching an online sweepstakes with guarantees:
1. Terms and conditions
All sweepstakes should be accompanied by terms and conditions – the rules that regulate the promotion. It's important to use these terms and conditions to clearly specify how the sweepstakes winners are selected. This is where the organizer should inform participants about the tool that will be used to randomly select the winners.
2. Identification of participants
It might seem obvious, but it's important to highlight the fact that the sweepstakes tool must unequivocally distinguish each user. In sweepstakes on Facebook, for example, the participants are identified using the Facebook UID – the number that identifies the account of each user. In other types of sweepstakes, an email address can be used to identify each user. It's important to have easy access to and ways of managing the participating users.
3. Random winner picker
To select the winners, it's advisable to use a tool that selects winners randomly among all the participants. Some use a computer program, some give each participant a number and base the result on a raffle held on a specific day, and some make a video of the sweepstakes being carried out, etc.
With Easypromos you can use the tool for randomly selecting winners, a mechanism that enables you to randomly select winning users developed internally and validated by a notary.
4. Management of alternate winners
Not only should winners be obtained randomly. It's also important to obtain alternates at random to enable a more effective management of the sweepstakes in its final phase. The selection of alternate winners and the process of replacing winners with alternates should also be transparent and documented.
5. Public results
Once the names of the winners have been obtained, these should be published and shared for everyone to see. It might be useful to present the winners directly in a public URL which is easy to share on social media and through any channel. This result should be unalterable to show transparency and ensure the confidence of all participants.
6. Guarantees of validity
Along with the page announcing the winners it's also important to present a Certificate of Validity informing participants of the conditions under which the sweepstakes has been carried out and the results obtained: number of finalists/participants, names of winners and alternates, date the sweepstakes has been carried out, name of company organizing the promotion. Any changes with winners and alternate winners should also be shown in this certificate.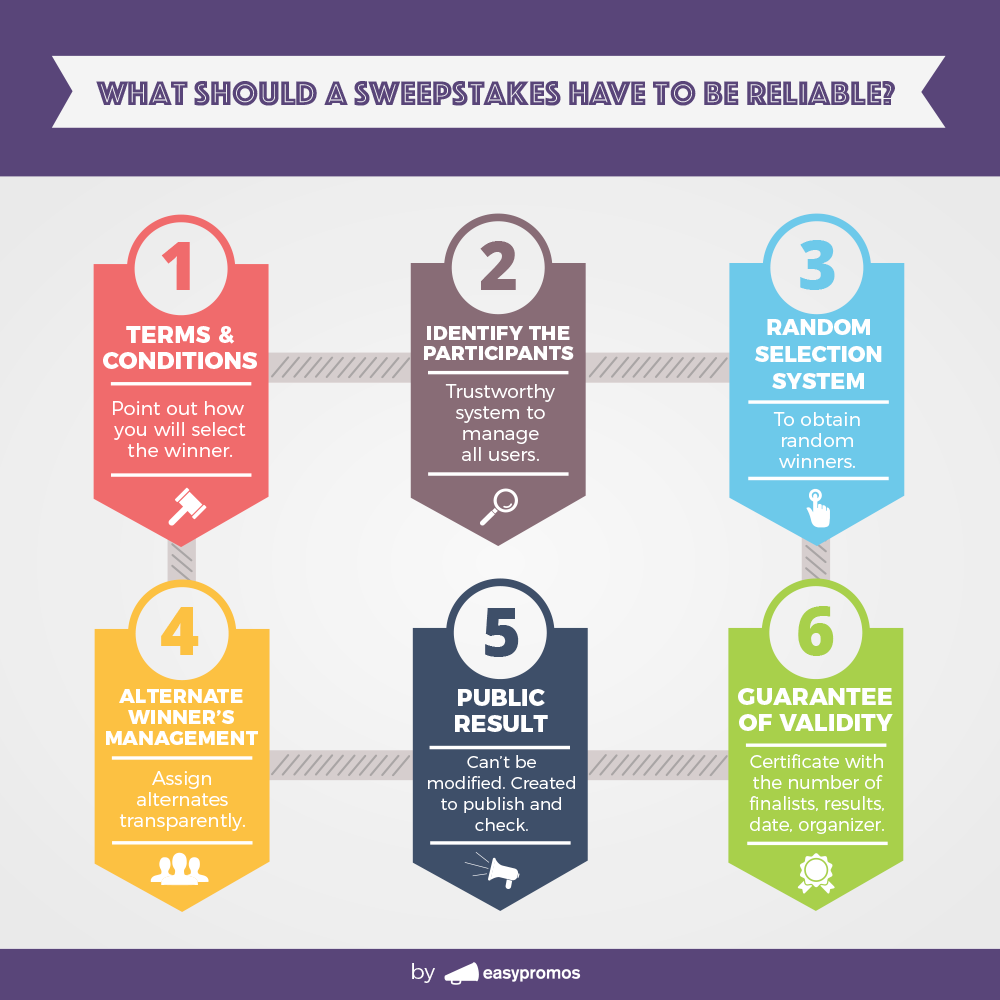 What responsibilities does the sweepstakes organizer have?
All these key features are important for the organizer of the sweepstakes who is responsible for:
Complying with the legislation of the country or territory in which the sweepstakes is being held.
Complying with the regulations of the social network in which the sweepstakes is being held.
Complying with the terms and conditions that the organizer has established for the sweepstakes.
The appeal of the prize and the ease of participation make sweepstakes attractive to users and ensure rapid dissemination on social media. For brands – especially marketing teams – managing the outcome of a sweepstakes is a real challenge. It involves implementation of legal aspects, communication with winners, management of a high volume of data and so on.
#Easypromosapp gives you the 6 keys for an effective online #sweepstakes. #DigitalMarketing
Click To Tweet
What benefits do online sweepstakes tools provide?
In order to implement the sweepstakes in a way that is transparent and reliable, brands need to work with online tools that facilitate the management of these dynamics. This is the only way they will ensure that promotional actions provide value to the brand rather than negatively affecting its reputation. Online tools for carrying out random sweepstakes provide the following benefits:
Agility. The promotion organizer obtains the results with a few click. All they need to do is confirm which finalists enter the sweepstakes.
Savings. If legislation of the country allows it, one way of carrying out a transparent sweepstakes with guarantees is to do it before a notary. But this supposes an extra cost for the campaign. The cost of using the random selection tools is always lower than the cost of carrying out the prize draw before a notary.
From a mobile device. Online tools currently allow you to carry out a sweepstakes via mobile devices from anywhere that has an internet connection.
Efficient management of large volumes of data. IT tools make it possible to manage sweepstakes with thousands of users easily and quickly. In the same way, multiple winners and alternates can be obtained with a few clicks. For example, you could host a sweepstakes in which 50,000 finalists have the chance to win 1,000 discount codes. A tool like Easypromos enables you to carry out this type of sweepstakes in minutes.
Management of additional entries. Online sweepstakes tools are designed to manage extra participations easily and accurately. This makes it possible for brands to create sweepstakes and contests that are more appealing and more likely to go viral.
Are you ready to create your own online sweepstakes? Create your free account and get started here! You can create the promotion in draft mode at no cost, you will only be asked for payment once you want to activate it.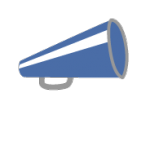 Easypromos Team
Content produced by Easypromos Marketing Team
Publication date: 2017-09-12