Posted in: Digital marketingLast update: 07/09/17
You may have already included contests and promotions in your Inbound Marketing strategy because you know the benefits they provide. If you've already carried out successful campaigns you'll have collected many leads located at different stages of the conversion funnel. What are you going to do with them now? Keep them in a list (or in separate lists) without paying attention to their needs, motivations and habits? That won't convert your leads into customers!

So why not use the contest tools that have worked so well for you in the past categorize your contacts? If you think your Lead Scoring strategy can't also benefit from your promotional campaigns, you're mistaken. Keep reading and we'll show you how to convert the raw data of contest statistics into relevant information about your leads.
Why apply a Lead Scoring strategy to my contest statistics if I already have the figures?
Don't make rookie mistakes when reviewing your contest statistics for the first time. If you don't do anything with the figures you obtain, don't assume they'll do anything for you. Make the most of every piece of data in your statistics to classify your leads. By doing this, not only will you be far more organized, you'll also get better results in future campaigns.
If you have grouped your leads in accordance with the statistics generated in previous campaigns you will obtain direct benefits:
You'll get to know your community better, what motivates them, how they behave and what their needs are.
You'll be able to offer segmented campaigns based on the objectives of your marketing strategy.
Your sales team will be very clear about which phase of the conversion funnel each contact is in and they will act accordingly.
How does a promotion help me in the task of Lead Scoring?
As you already know, there are a wide variety of promotions you can carry out to connect with your community, and each type of promotion generates usage statistics. If you haven't yet visited the users information panel here are some basic points* you will find there that you can use:
Interaction with the promotion: type of device, time of activity…
Sources and activity on social media.
Motivations, interests and tastes (if you've used questionnaires, quizzes or campaigns that include user-generated content).
Personal data such as hometown, age, etc.
*Basic, Premium and White Label promotions each include different levels of usage statistics.
To facilitate the work of filtering and organizing the leads it's important that your entire team is clear about the objectives of each promotion and ready to analyze the results. And, of course, to apply the results to future marketing actions!
Let's look at an example. Say you'd like to attract new members to your gym. You've already carried out an online survey to get to know the needs of your participants and find out whether they form part of your buyer persona; you could now rank the leads based on the statistics and data extracted from the survey. For each field you want to use to rate the leads obtained you should associate a score based on the user's response. For example, if your primary buyer persona is between 18 and 35, you could rate the leads as follows (1 being a lead who is not similar to your buyer persona, and 3 a lead who is very similar to your buyer persona):
Leads above the age of 60 would be given a score of 1.
Leads between the ages of 36 and 60 would be given a score of 2.
Leads between the ages of 18 and 35 would be given a score of 3.
This type of scoring would be applied to all the fields you've included in your survey. You would also rate them differently according to their place of residence (if they live near the gym or not), whether they've ever done sport before, and so on.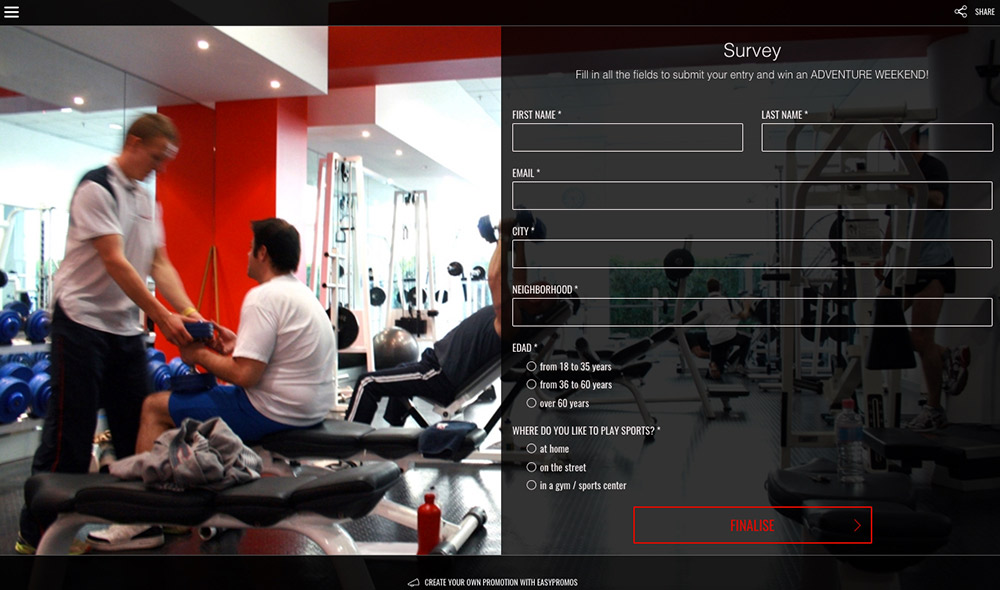 In this example, the actions to be carried out based on the given grades would be as follows:
Low-grade lead: based on the answers provided in the survey this type of lead is unqualified for the solution your company offers and should be classified as a lead not in alignment with your strategy.
Medium-grade lead: based on the answers provided in the survey this type of lead is not ready for the solution your company provides. You can help the lead through the process by sending them other content via a Lead Nurturing strategy. Based on their response and any additional information obtained you will get a better idea of whether the lead might end up becoming a customer.
Hot lead: based on the responses given in the survey these types of leads show themselves to be interested in your gym. We call these types of leads MQL (Marketing Qualified Lead). This type of lead is very close to your ideal client and your sales team should seek to make an immediate impact. Offer MQLs something specific, such as a free pass to your gym to check out the facilities, a price discount, a free class, or a tailor-made training plan to match the lead's fitness goals.
There is life in the community after Lead Scoring
As definitive as it sounds, Lead Scoring is simply a tool to make it easier for your marketing and sales departments to do their jobs. That's why it's important to frequently check the validity of the criteria by which you score your contacts.
Having up-to-date lists also gives you clear advantages when it comes to creating future campaigns and managing your conversion funnel.
Among the many possibilities provided, email marketing stands out for its capacity to generate engagement and loyalize clients. By using this as a support you can generate a relationship of trust with your community and get to know your users better, regardless of what stage of the funnel they are in. It is also a unique opportunity to make a fuss over your contacts through Lead Nurturing and to stand out from your competitors.
Do you feel motivated to set up a promotion and categorize your leads? Now is the perfect time to do it!
Publication date: 2017-09-07