Posted in: Digital marketing,Ideas for your websiteLast update: 28/07/22
It's time to celebrate Children's Day. Share exciting giveaways with parents and kids online, have fun with your followers, and show how your brand supports families. While you're here, check out our safety tips for kids online!

This is a day for children, by children, all over the world to help save children's lives, fight for their rights, and help them fulfill their potential. – UNICEF
In this post, we've shared some simple social media ideas for your Children's Day giveaway. These ideas can be used for any national Children's Day celebrated around the globe on different dates, or on November 20th when the whole world celebrates the World Children's Day. You can check out our resources for Facebook, Instagram, and Twitter below.
But before you get started, here are our top tips for safe and responsible giveaways aimed at kids:
Know the rules. Social networks are cracking down on clickbait and engagement bait. Make sure your online campaigns are fun, accessible, and follow the rules. For example, you can't require users to follow you or share posts as part of a Facebook contest.
Check your age limits. Many social networks have minimum ages for users. If you want to run a contest for kids, then remind them to get parental permission. You can even add age restrictions to your Easypromos campaigns.
Treat data with respect. Don't ask users for unnecessary information – and if you do collect contact details, make sure you are GDPR-compliant.
All online promotions must include terms and conditions, and you should consider the need for a privacy policy. You can use Easypromos' free tool to create and host legal matters.
Take responsibility for your page. Watch out for inappropriate comments or content, and be ready to delete or block users. The Easypromos platform allows you to filter or blacklist bad users from your promotions.
Are you looking for ideas for interactive contests, games, and quizzes for Children's Day? Discover ideas for Children's Day promotions.
Ideas for Children's Day Facebook giveaway
Facebook is one of the top social networks for parents to share and chat. So take the chance to boost your presence on Facebook by reaching out to your audience of moms and dads. Remember, busy parents won't have time for complex competitions. Keep it simple, and just ask users to share a comment or photo in your Facebook giveaway.
Here's a great example from a children's dentistry practice. They chose a child-friendly prize that parents would value, too: a fun scooter with safety gear. To take part, parents just had to comment on the post with a happy memory from their own childhood. This was a great way to get user-generated content and tap into followers' nostalgia. At the same time, the brand showed how much they appreciate and value their key audience.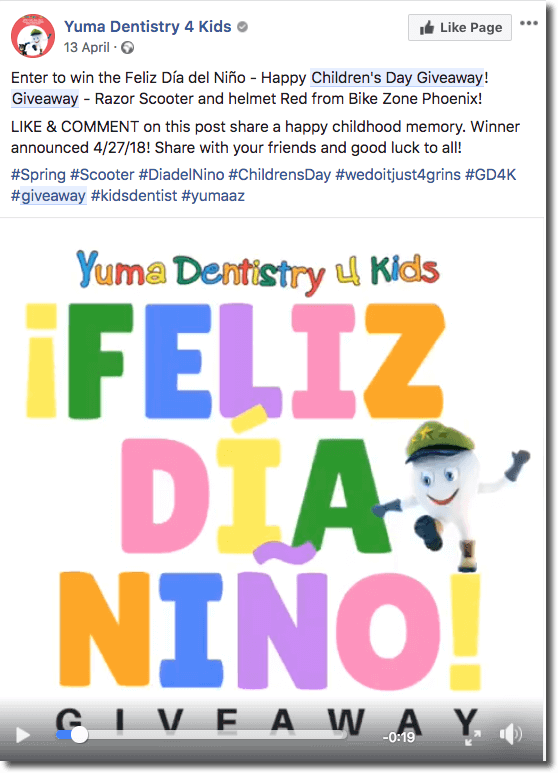 You can organize your Children's Day Facebook giveaway with our ready-made Facebook template, so you can set up a giveaway in minutes, with a fun photo and in line with Facebook's rules for competitions.
Celebrate Children's Day with an Instagram giveaway
Instagram tends to have a younger audience. So if your giveaway is aimed at young parents or older kids, then organizing an Instagram Giveaway is a great way to reach your target audience. Invite your followers to engage with your brand by sharing comments and mentioning friends for a chance to win.
Here's an example from a children's charity on Instagram. They decided to celebrate Children's Day by highlighting the kindness and generosity that kids often show. Anyone could share a story about a kind-hearted child in the comments. In return, they had the chance to win $60 worth of gifts and goodies.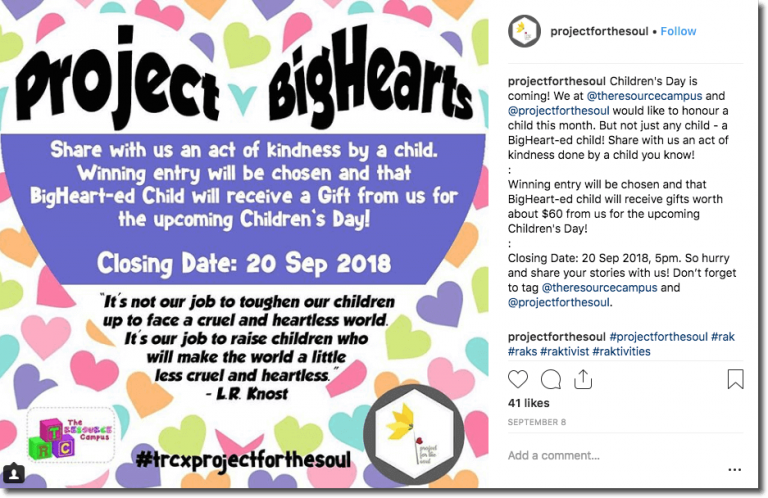 Here's another example of a successful Children's day giveaway organized on Instagram. This promotion was launched by a popular cake mix brand.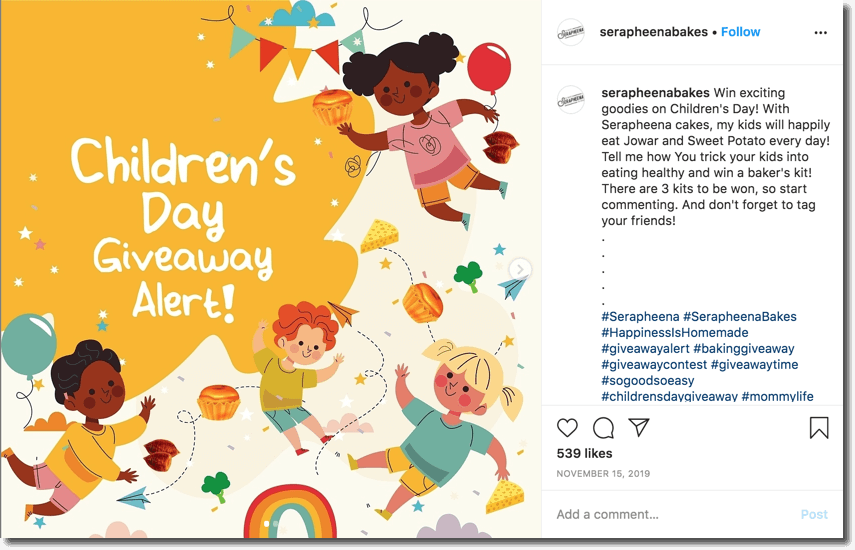 Once again the entry requirements were very simple; the participants were asked to share how they encourage their kids to eat healthily. The entrants also had to mention some of their friends in the comment.
Remember, any brand can celebrate Children's Day! It's a perfect occasion to connect with your audience and their families. And to save time you can use our ready-made Children's Day Instagram template.
Of course, Instagram is a very visual social network. It's the perfect medium for photo contests! Use the Easypromos Mention + Hashtag app to organize quick and easy photo competitions to collect data and gather user-generated content.
Increase social media engagement with Children's Day Twitter giveaway
There's a thriving community of parents on Twitter, sharing tips, tricks, jokes, and stories about life with children. Reach out to this audience by sharing a simple Twitter giveaway. The advantage of Twitter is that it's the most flexible social network for online competitions. You can run a giveaway based on followers, retweets, or replies.
Here's an example of a Children's Day giveaway organized on Twitter. This brand offered a free family day out for one lucky winner. All users had to do was reply to the tweet with a photo of family activity, using the brand's chosen hashtag: #BeAChildAgain.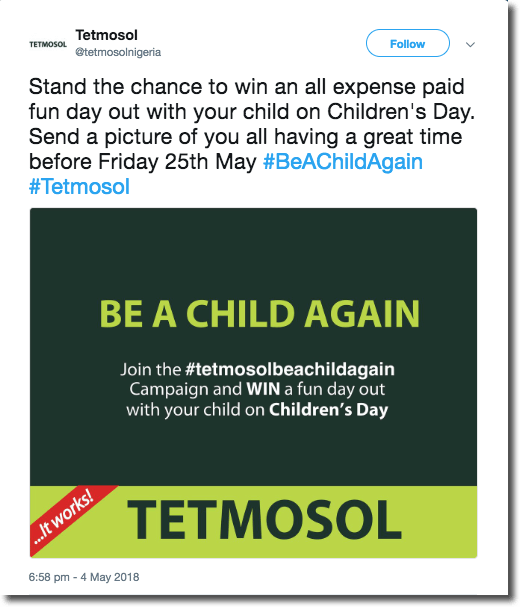 If you have communities on Facebook, Instagram, and Twitter, then it's time to take things to the next level. Run a Multi-Network Giveaway to bring all your followers together in a single Children's Day campaign.
Get started with your Children's Day campaign
We hope you've found some inspiration for your Children's Day campaign. Set up your Easypromos account and get started right away – it's free to draft and edit your promotions. And in case of doubts Chat with our Support Team – they're ready to answer all your questions!
Publication date: 2017-10-25