Posted in: EventsLast update: 29/03/19
Autumn comes, leaves fall, and the days grow shorter and darker. What else does October bring? Halloween! Smart brands are already making the most of Halloween contests, promotions, and social media giveaways. Find out how to make Halloween a powerful part of your marketing strategy.

What are your goals for social media? Most brands want to increase followers, boost engagement, and build relationships. And the key to an active online community is offering fun, interesting content and promotions. That's why Halloween contests are a great place to start. Cute costumes, recipes, parties, scary stories, and horror movie marathons are all great opportunities for engagement!
Among Halloween celebrants, 71 percent plan to hand out candy, 49 percent will decorate their home or yard, 48 percent will wear costumes, 46 percent will carve a pumpkin, 35 percent will throw or attend a party, 31 percent will take their children trick-or-treating, 23 percent will visit a haunted house and 16 percent will dress pets in costumes… Ten percent of pet lovers will dress their animal in a pumpkin costume. – National Retail Federation
On the other hand, simply creating a promotion with a Halloween theme is not enough. You need to choose the right channel, competition, and prize. In this post, we've shared some tips for the perfect giveaway. We've also included our favourite ideas for Halloween contests with a creative twist. Read on to learn more about the Easypromos advanced apps:
If you're new to online promotions, take a look at our ideas for Halloween giveaways on Facebook. Start with quick campaigns that are easy to run, and don't ask too much of your followers.
How to plan Halloween contests
There is no magic formula for making your promotion go viral. However, if you plan your Halloween contests carefully, you can increase your chances of success. Here are some key factors to consider:
Who is your audience? Design a competition which your followers will enjoy. Think about their average age, interests, and activity online. Depending on their profile, some followers will prefer different content to others. For example, Instagram users will probably choose a photo contest over writing a story.
What's the prize? The prize motivates your followers to take part. So choose something that customers value, that illustrates your brand, and is relevant to Halloween.
How does this promotion benefit your brand? Perhaps your aim is to increase engagement. Or maybe you have a more concrete goal, like sales leads or responses to a survey. Decide your goals, and design the promotion to match.
How will you advertize the promotion? Once again, think about your target audience. Facebook, Instagram, and Twitter have their own distinct communities. For example, if you're targeting Millenials, you'll have more luck with Instagram Stories than Facebook posts.
Remember that your Halloween contests must include terms and conditions. Depending on the promotion, you may need to include a privacy policy or cookies policy too. Use Easypromos' free tool to write, edit, and host legal materials.
Ideas for Halloween contests
Traditionally, Halloween is a festival of fear and scary stories. But it's a happy time of year for marketers! The Halloween theme can be adapted for almost any brand, product, or audience. So think imaginatively about how your brand can connect. Try a creative writing contest, fun photo contest, or an engagement-boosting hashtag or recruitment contest.
Writing-based contest
Telling scary stories is an unbreakable tradition at sleepovers or round the campfire. Well, this ancient tradition now exists online, too – in the form of Twitter threads and Facebook posts. Users share their spooky tales over a series of posts, building suspense and getting attention with a perfectly-tailored hashtag. Take a look at this hilarious horror story parody, created by two Twitter accounts working together.
Invite your followers to share their creepiest tales with a writing contest. If you're not a horror fan, put your own spin on the Halloween theme! For example, ask followers for their best Halloween recipes or funny anecdotes.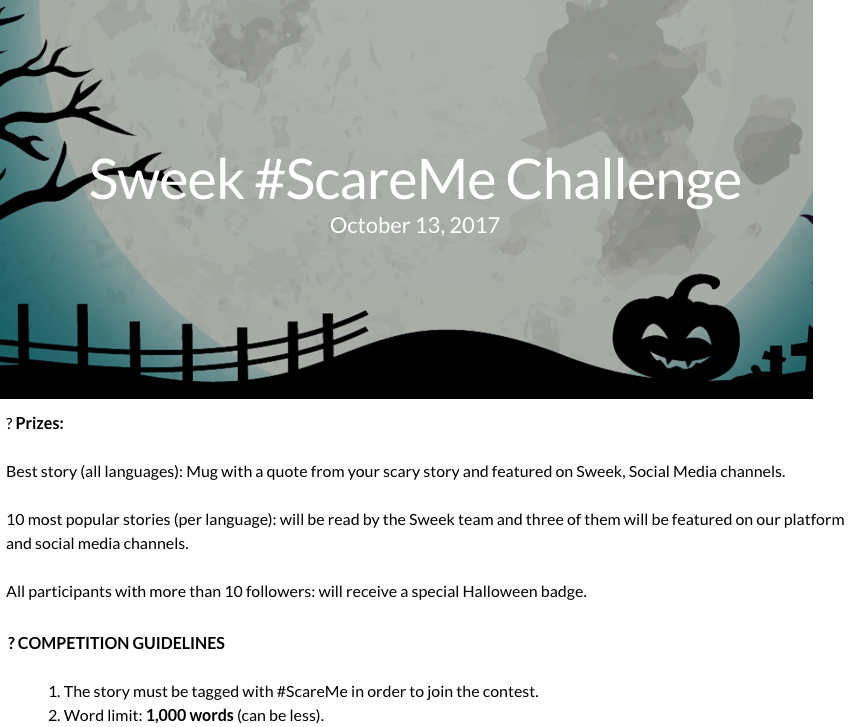 Participants can then post their entries on social media, or through a direct competition page. They can add photos and videos, too! Ask the community to vote for their favorites, invite someone to judge the contest, or choose a winner with a random prize draw.
Photo contests
Photo contests are fun for followers – and the possibilities are endless! Ask your online community to share costume photos, selfies, Halloween decorations, and more. They'll be able to share photos from Facebook, Twitter, Instagram, or in the competition app. Next, you can display all the photos in a public gallery, where users can view entries, share, and vote for their favorites.
This is a great way to bridge the gap between different social networks, and unite your online communities. Choose a competition theme with broad-based appeal. Cute pets in creepy costumes are always a favourite – like this adorable cat-o-lantern, below. Other popular ideas include themed costumes or couples' costumes.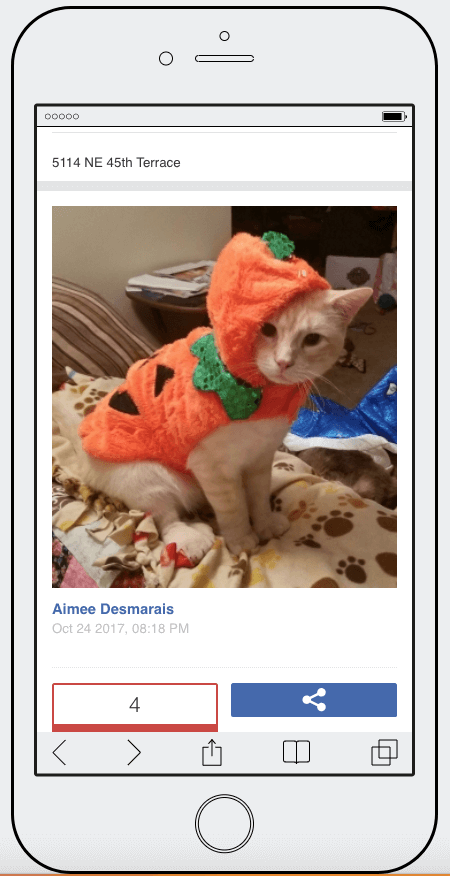 If you have a very active, creative online community, then think about running a video contest as well. Tap into the popularity of online video, and challenge your followers to make something totally original!
Hashtag contest
Perhaps you're feeling ambitious for this year's Halloween contests. Take your promotions to the next level by combining comments, photos, and even videos in a hashtag contest. Followers can take part from within Twitter and Instagram.
In the example below, a special effects brand asked users to show off their creative ideas for dry ice decorations. They just had to upload photos or videos of their Halloween decorations to compete. Since users joined the Halloween decorations competition from Facebook, Twitter or Instagram, they could explain their ideas in the comments, too. Finally, the brand came up with a catchy hashtag: #frightfullycool.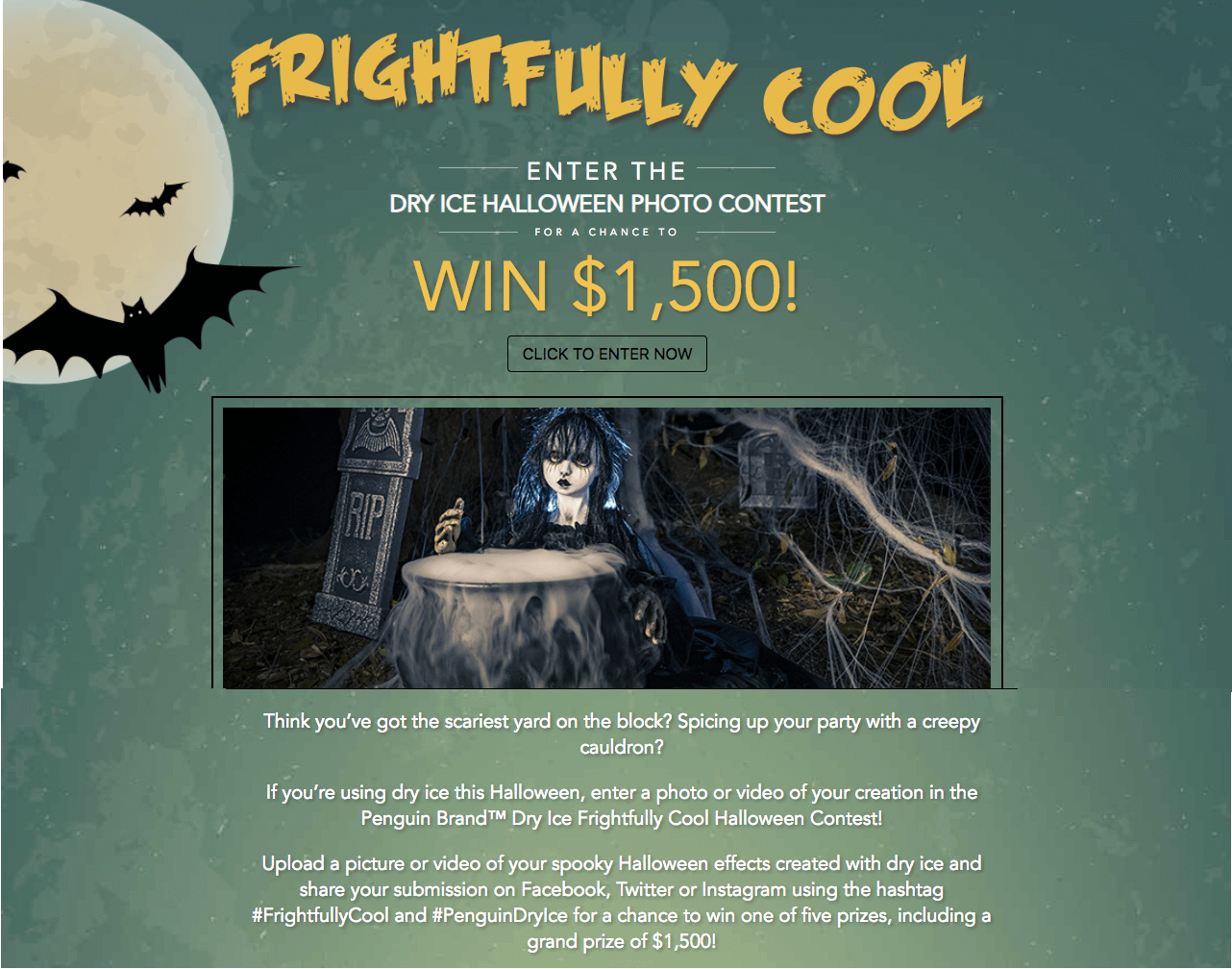 Pick out a killer hashtag to get your promotion noticed. We recommend something short, original, and witty. Ideally, it should refer to both your brand and the Halloween theme. Take a look at your social networks for inspiration. For example, around Halloween, there's a Twitter tradition of swapping profile names for spooky puns.
Recruiters contest
Competitions with text, photos, videos and comments are all aimed at increasing engagement. However, if your goal is more followers, then a recruiters contest is more suitable for your needs.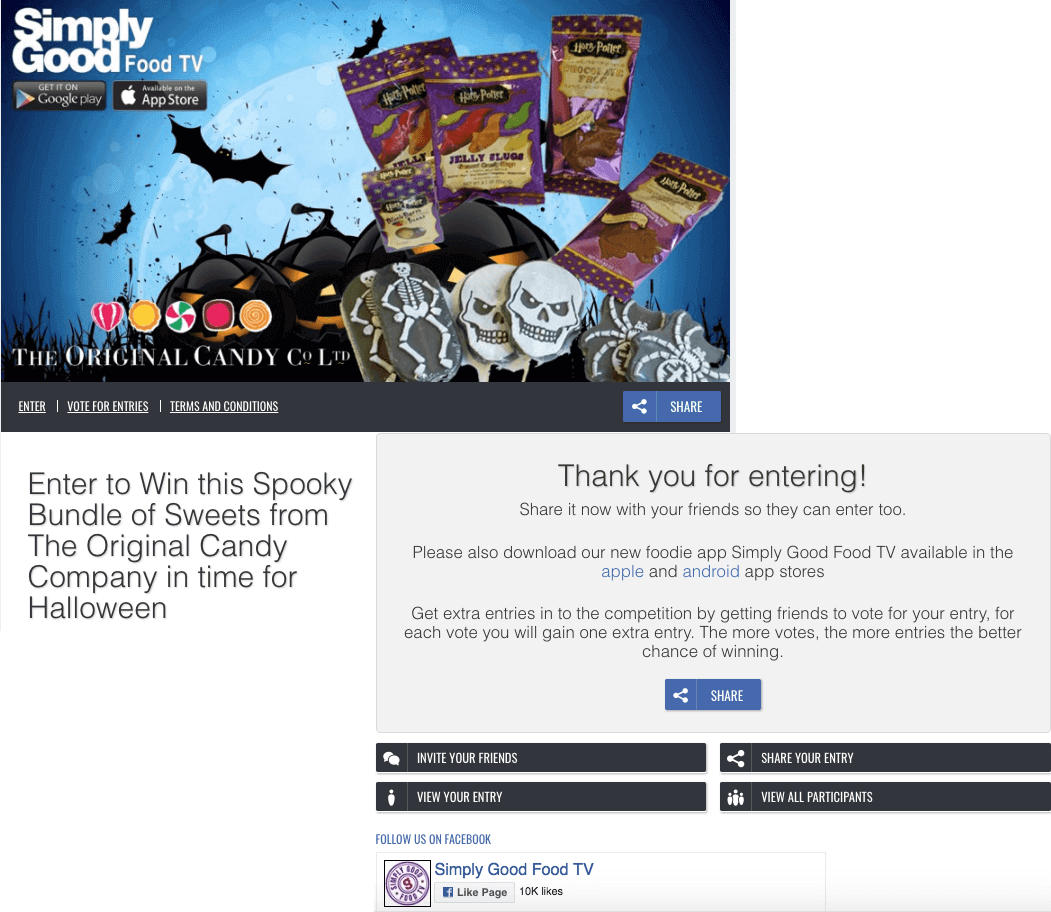 When you run a competition on Facebook or Instagram, you must not ask or require people to follow your page. It's against the website rules, and you even risk suspension. But you can run a recruiters contest, where participants have more chance to win if they invite their friends to join. And of course, when they do take part, you can invite them to like your page…
Want even more ideas, examples and free resources for your Halloween contests? Visit our Halloween campaign website!
So now you're feeling inspired, head over to Easypromos to get started. Remember, it's free to create an account and start drafting your promotions.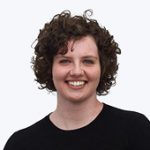 Corinna Keefe
English copywriter at Easypromos marketing team