Posted in: Applications,Ideas for your websiteLast update: 17/10/22
What does October bring? Halloween! Smart brands are already making the most of Halloween contests and competitions to attract potential customers, boost sales, and reward customer loyalty. Today we talk about Halloween contests and how to make them work for your brand! Read on.

Halloween is one of the most creative holidays in your marketing content calendar. As we've just seen from the National Retail Federation, consumers are getting involved with all kinds of fun – from candy to costumes, events, and crafts. That creates a lot of opportunities for a lot of different brands, including yours.
On the other hand, you can't just throw a pumpkin at the wall and see what sticks. Simply creating a contest with a Halloween theme is not enough. You need to choose the right channel, competition, and prize. In this post, we've collected our favorite Halloween contest ideas, with real examples from the experts.
Find even more resources at our Halloween contest hub. Get free templates for social media, test our Halloween DEMOs, and read up on our seasonal research.
How to plan Halloween competitions
There is no magic formula for making your Halloween contest go viral. However, when you plan your Halloween competitions carefully, your chances of success increase. So here are some key factors to consider:
Who's your audience? Brainstorm about your Halloween customers, or use existing buyer personas. Depending on their profile, some followers will prefer different Halloween contests from others.
What's the prize? The prize motivates your followers to take part. So choose something which customers value, which illustrates your brand, and which is relevant to your Halloween contest.
Where's the benefit? There are loads of potential reasons to run Halloween competitions, from lead generation to highlighting new products and collecting user-generated content. Figure out what you need from your Halloween competitions, then design accordingly.
What's the publicity strategy? Use every channel available to share your Halloween contests. Think about social media, email, websites, in-store messaging, and more.
Traditionally, Halloween is a festival of fear and scary stories. But it's a happy time of year for marketers… because the Halloween theme can be adapted for almost any brand, product, or audience.
So think imaginatively about how your brand can connect! Read on for creative Halloween contest ideas. These Halloween competitions are designed to collect leads and content, reward loyal customers, and give your followers a chance to help you boost your brand engagement.
Halloween contest ideas:
Halloween contest idea: boost brand awareness with Halloween Photo Contests
Photo contests are fun for followers – and the possibilities are endless! Ask your online community to participate in your Halloween contest by sharing costume photos, selfies, and Halloween decorations.
You can collect entries from social media or in the competition app. Next, you can display all the photos in a public gallery, where users can view entries, share, and vote for their favorites.
This is a great way to bridge the gap between different social networks and unite your online communities. Choose a competition theme with broad-based appeal. Cute pets in creepy costumes are always a favorite. Other popular ideas include themed costumes or couples' costumes.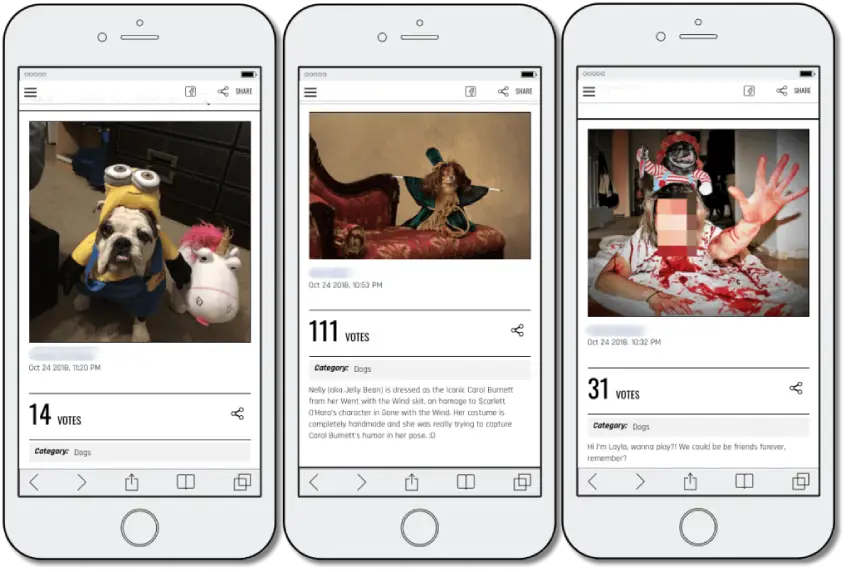 But there's a way to make your Halloween contest ideas even more fun… With our Halloween PhotoFun tool! Here's an example of how to boost brand engagement in a creative and spooky way… Increase brand and product awareness by launching a branded photo contest. Simply upload corporate stickers and frames to showcase your products, logo, and branding colors and invite followers to decorate their selfies and family photos with funny Halloween-themed stickers.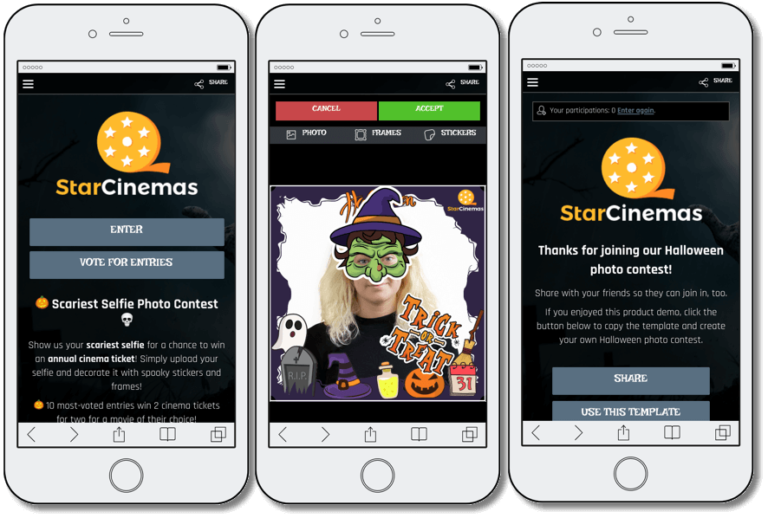 You can then raffle an attractive prize among all participants, or leave it up to your online community to choose a winner of your Halloween contest. You can do it by enabling the voting system; it will not only encourage social media sharing (participants share their entries to obtain more votes) but also drive more traffic to your Halloween competition, which leads to reinforced brand recall.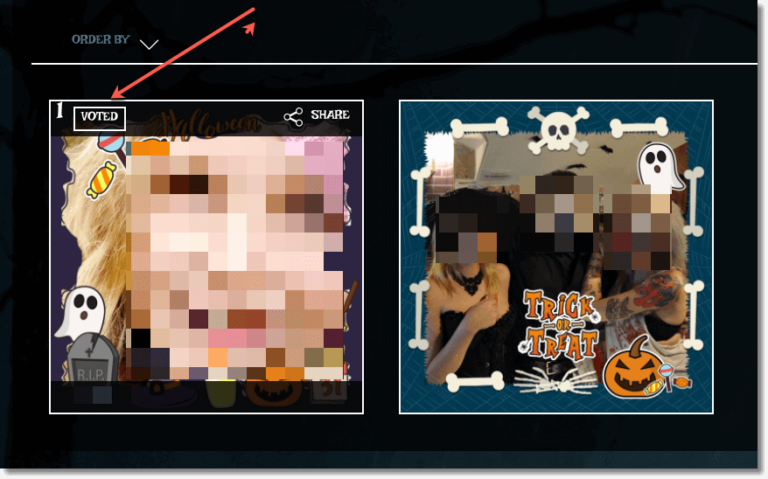 Sounds interesting? Why don't you try our Halloween PhotoFun DEMO to replicate the user experience? You can even use our customizable ready-made PhotoFun template to launch your own Halloween contest.
Collect high-quality content with social media Halloween competitions
Take your promotions to the next level by combining comments, photos, and even videos in a Mention + Hashtag Contest. Followers can take part on Twitter and Instagram.
In the example below, a special effects brand asked their customers to show off their creative ideas for dry ice decorations and special effects. They just had to upload photos or videos of their Halloween decorations to compete.
Because people joined the Halloween competition on Facebook, Twitter, or Instagram, they could explain their ideas in the comments, too. Finally, the brand came up with a catchy hashtag: #frightfullycool.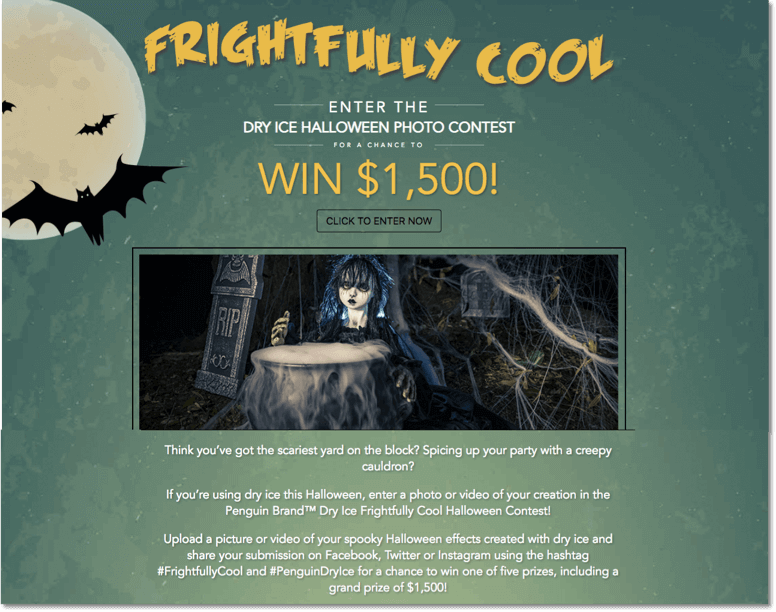 Pick out a killer hashtag to get your promotion noticed. We recommend something short, original, and witty. Ideally, it should refer to both your brand and the Halloween theme.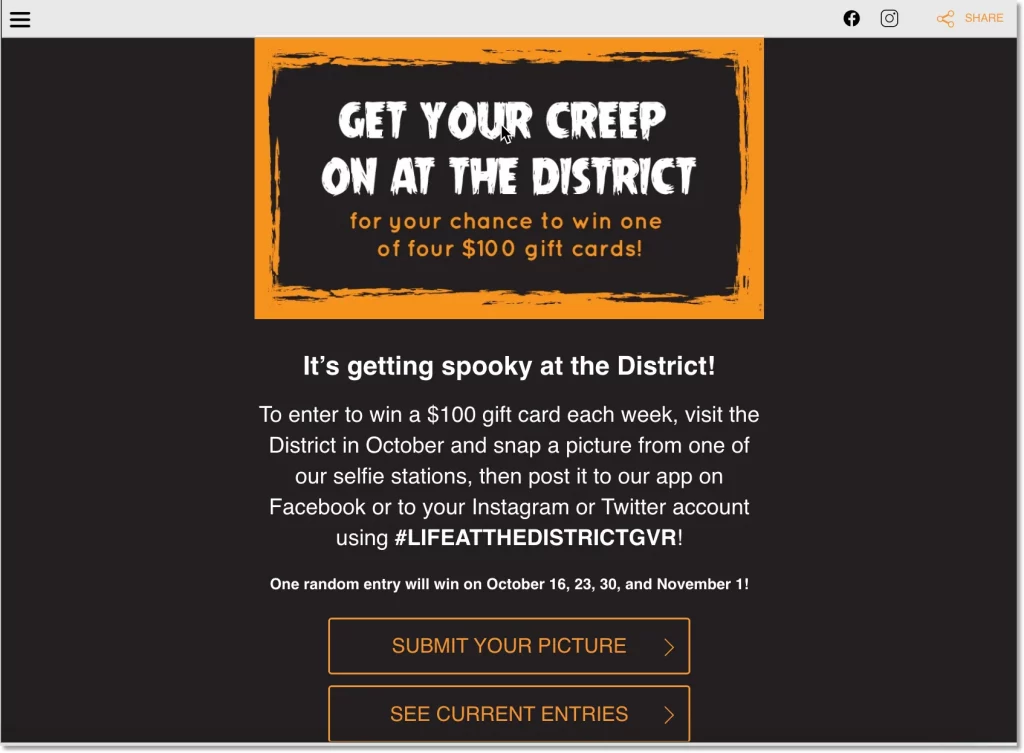 Here's an example of a Halloween contest idea with a creative hashtag. The District at Green Valley Ranch put up Halloween decorations and invited shoppers to snap spooky shots at the village. Look at the hashtag!
Organize Mention + Hashtag contests for Halloween to increase your social media presence. Participants add your brand mention to their post, making your brand go viral! It also improves your brand recall!
You might be still wondering how to organize a Halloween Mention + Hashtag Contest… Simply ask your followers to share their pictures, videos, or texts with your chosen hashtag, along with your brand mention. This will allow you to collect all the entries and draw a random winner from among all participants! Remember, this type of Halloween contest can be literally launched by any brand!
Halloween competition idea: writing contests
Telling scary stories is an unbreakable tradition at sleepovers or around the campfire. Now, this ancient tradition exists online, too – in the form of Twitter threads and Facebook posts.
Users share their spooky tales over a series of posts, building suspense and getting attention with a perfectly tailored hashtag. Take a look at this hilarious horror story parody, created by two Twitter accounts working together.
Now you can crowd-source your own Halloween horror! Invite your followers to share their creepiest tales with a Halloween writing contest.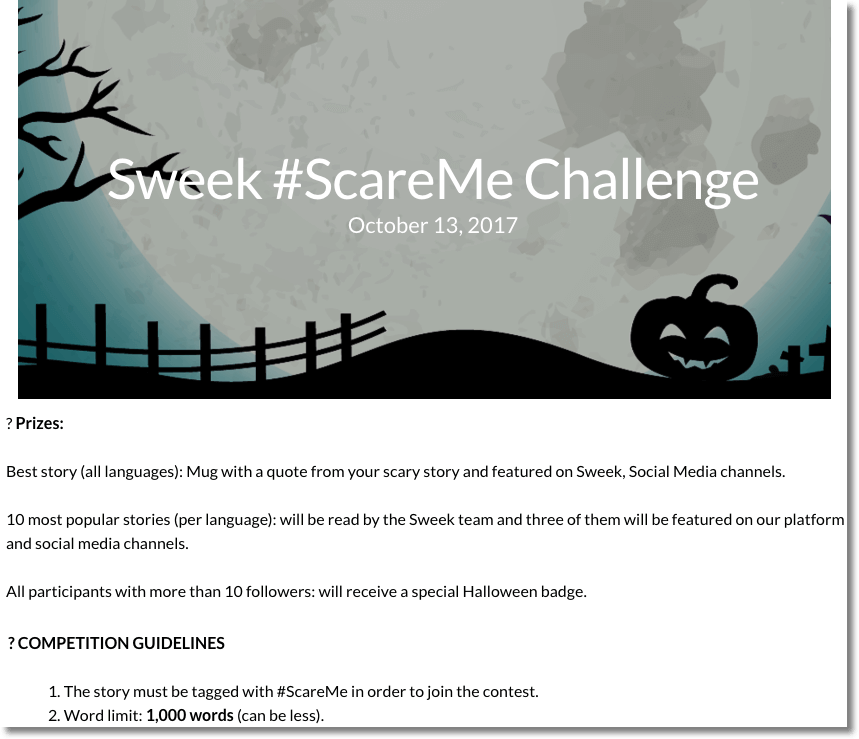 If you're not a horror fan, then just put your own spin on the Halloween theme. For example, you could ask followers for their best Halloween recipes or funny anecdotes.
Are you interested in other kinds of engaging promotions right in time for Halloween? Learn more about games, quizzes, and more interactive content for your Halloween marketing campaign.
The Mexican way: create Day of the Dead contests
The Day of the Dead is also known outside of Mexico. Recently it gained even more recognition thanks to the Disney movie Coco. If you like the Mexican idea a bit more than Halloween, why don't you launch Day of the Dead contests?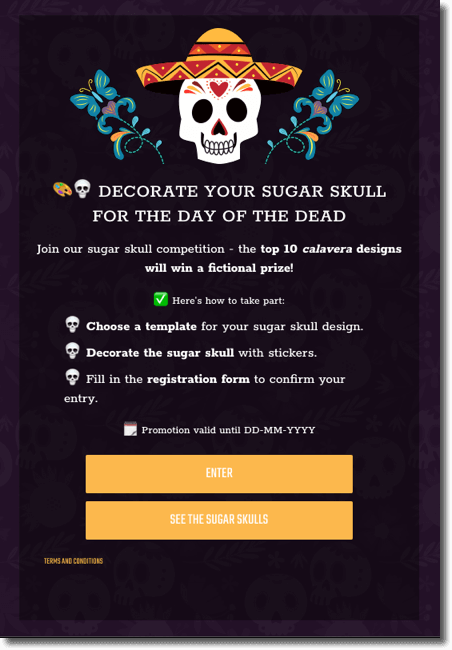 Here's an example of a promotion to launch if you don't feel like running a typical Halloween contest. Offer your audience to show off their creative side by inviting them to decorate their Calaveras – also known as sugar skulls. Apart from collecting unique and high-quality user-generated content, you will also get to grow your database and reinforce brand awareness, by uploading branded backgrounds and stickers to the Scenes app.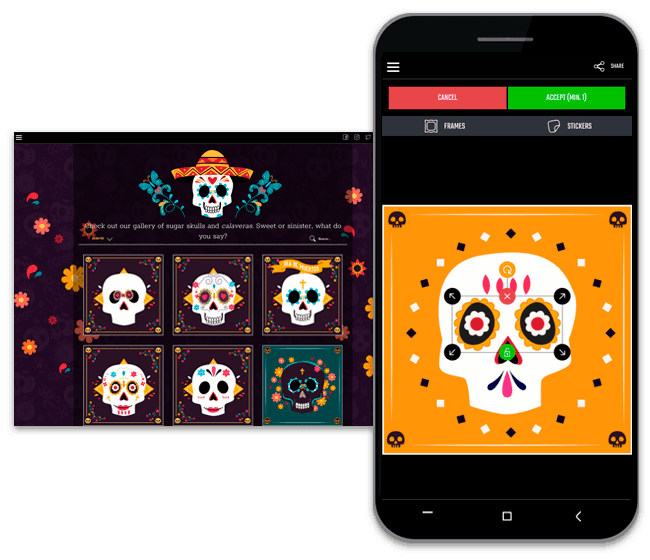 Try our Day of the Dead Scenes DEMO to see how it can help your marketing objectives and then use our customizable ready-made template to launch your own sugar skull promotion!
Are you ready to launch your own Halloween contest or Day of the Dead promotion? We hope this article has helped! But don't worry in case of any questions, our Support Team is ready to solve your doubts!

Publication date: 2017-10-18