Posted in: Digital marketingLast update: 03/05/22
Running a competition on Facebook can seem like a minefield. Rules and regulations often change from one day to the other and it can seem difficult to stay on top of it all. However, if you follow a few simple steps, you can create a good contest strategy. Let's find out what they are!

Goals and audience
Firstly, have a really clear goal. Is your objective is to get more followers, promote your business or to engage your followers? Always keep your aim in mind. You can try video or photo contests, sweepstakes or a hashtag contest.
Speaking of targets, have a target audience in mind and how many likes/follows you are likely to receive from this. If you have less than a couple of thousand followers of your page, a contest is a great way to gain new followers and promote yourself. You can also use a contest to obtain user generated content.
The final goal for the user is of course to win a prize, so how do you choose what type of prize to give away? The key is to know your target audience and the demographic that you're aiming for. Keep your prize from within the market that you're working in. Keep in mind the lifestyle that many of your followers may lead. Keep your contest strategy in mind.
The winner of your contest strategy
By using an app, you can easily promote your competition on all of your social media. If you have Instagram, Twitter, YouTube and/or Pinterest profiles, it can be daunting to publish your contest on all the pages. However, this step is crucial to your contest strategy. That way you will reach a wider audience and in the process, widen the network of followers.
An app will also ensure that your winner is chosen fairly. You don't have to worry about picking a winner yourself. It also proves that the results are fair. The more satisfied the participants are, the more likely they are to come back and participate in another contest. This is a key in your contest strategy.
When the time comes to pick a winner, using an app is a surefire way to ensure that the winner is picked fairly. Easypromos provides a tool that allows organizers to select the winners by carrying out a random sweepstakes. Both if you have picked the winner randomly using the app or manually by jury, the app will allow you to publish the winners in a direct url to communicate it easily to the followers.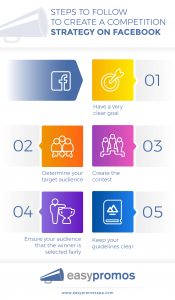 Final key to your contest strategy
A key piece of advice is to always keep your guidelines clear. Having a really complicated set of rules and entry process means that many visitors will decide not to enter the contest! The clearer and more accessible your contest, the greater the probability of success. Deciding what the requirements are to participate are crucial to your Facebook contest strategy. This ensures that contestants know exactly what they are entering and importantly, what they have to do. It also gives you an excellent reputation and means that many will come back to participate in a contest in the future. Everyone's a winner!
If you have doubts on how to do this, using an app like Easypromos facilitates the process and gives you all the help you need to create your competition strategy.
Publication date: 2017-11-28