Posted in: Applications for Facebook
One of the actions that brands can use on their Facebook page is to propose small games to entertain and interact with their community. Try to gamify your brand by combining game + sweepstakes in a single post! How? Ask participants to comment on your posts with a screenshot, a photo or a video to enter your Facebook giveaway. Now you can import the comments with the photos and videos, and you can easily exclude those that don't fulfill this requirement and run the sweepstakes among those that do. Here we will show you 5 creative examples of Facebook Sweepstakes where the users were asked to comment with a photo or a video to participate in the prize draw.

We have expanded the possibilities in our Facebook giveaway tool so that you can now easily organize and manage a type of gamifying action that is currently increasing: giveaways combined with small games that Facebook page owners offer their communities. Take note of the following examples and apply them to your page!
Build the cake
French food products brand Herta created a Facebook giveaway with a small video with pictures of a deconstructed cake that users had to capture when the cake is put together and post it in a comment to enter the draw for prizes related to baking. This way they promoted one of their products and by giving away their own products they create even more brand awareness.
At the time of the sweepstakes it still wasn't possible to import the photos and videos in comments, so the organizer had to manually confirm that there was indeed a screenshot of the assembled cake in the winning comment. Now this can by done much more easily because the photos and videos in the comments will be shown in the list of entries and the organizer can easily exclude users if they haven't attached a photo or it's not the photo they asked for.

Show off your garden
English online gardening community Gardening Goddesses asked their users to show their garden in bloom by answering to their Facebook post with a photo in a comment for the chance to win a gift voucher for a garden centre and more gardening gifts. This way they created engagement with their community who is happy for the chance to show off their hard work and get a chance to win some garden equipment.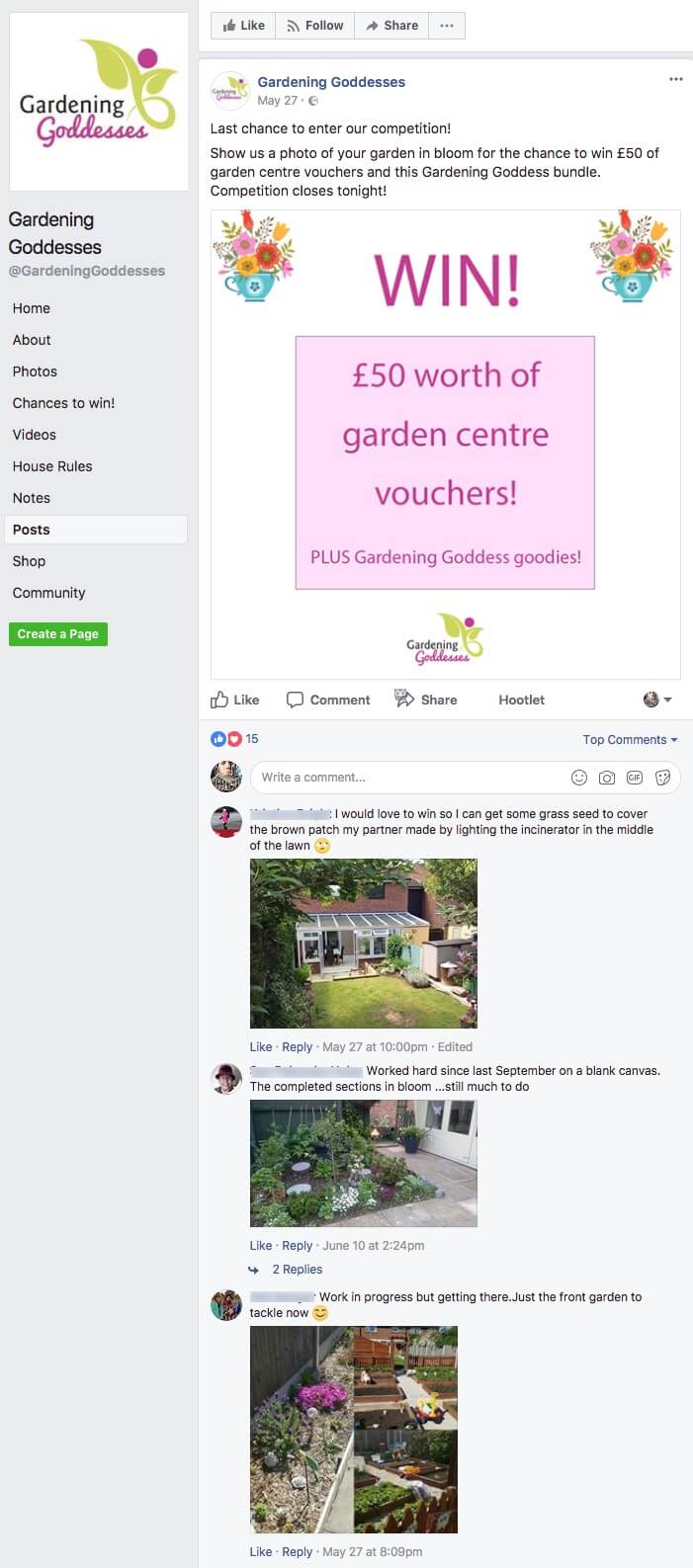 Find the hidden products in 360º view
Nivea Men France used a 360º image of the setting from their TV ad featuring Real Madrid football players that shows a dressing room with Nivea products hidden in the setting. As part of a 2 phase contest for their Facebook community, in this Facebook giveaway they asked users to find the products, make screenshots of them and post them in the comments. This is a great way to engage the users and connect the TV ad with their Facebook page and community who got to get a look behind the scenes in the 360º image.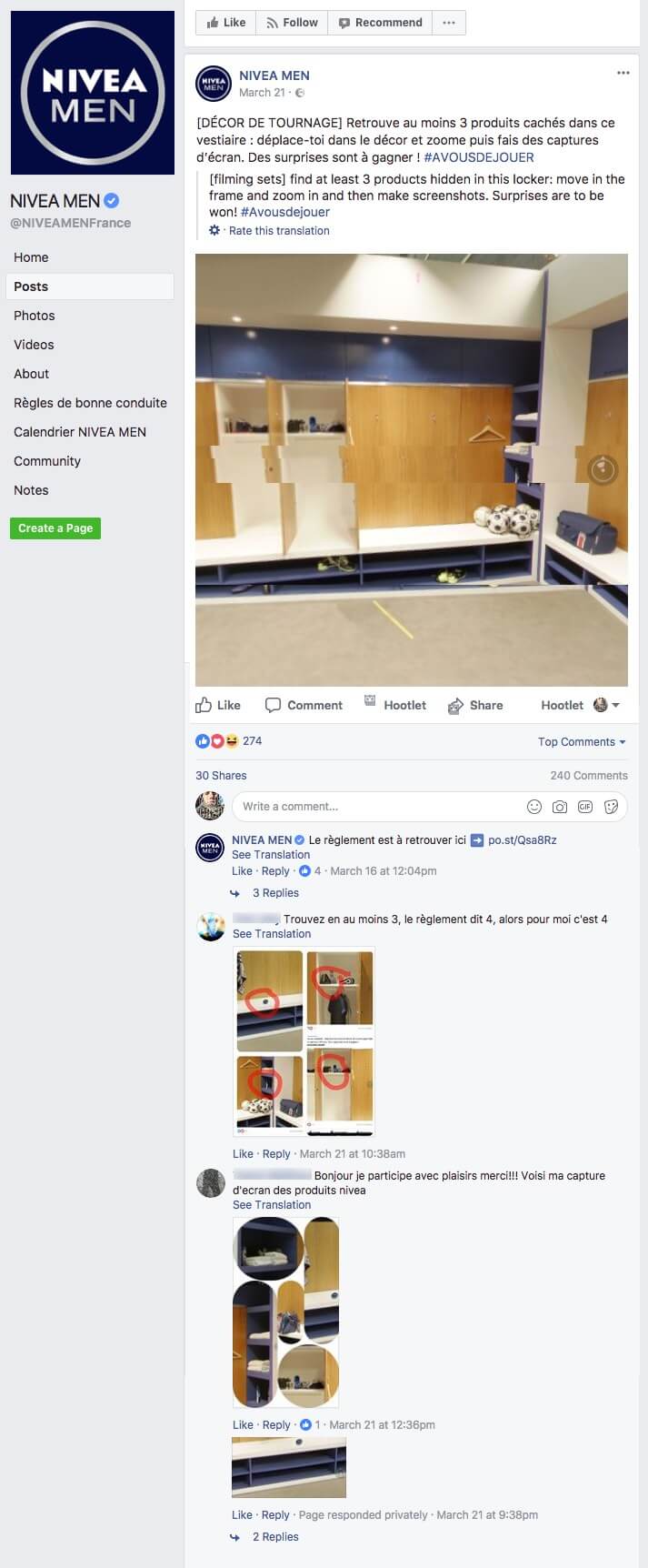 Share memories with the brand
Vespa Adventures that organize Vespa tours in Vietnam and Cambodia asked their community to share their best photos from their Vespa Adventures with them as part of the company's 10 year anniversary. The prize of the giveaway was a free day tour that could be transferred to friends or family. This way the company connected with their clients and engaged with them by showing interest in their photos and memories.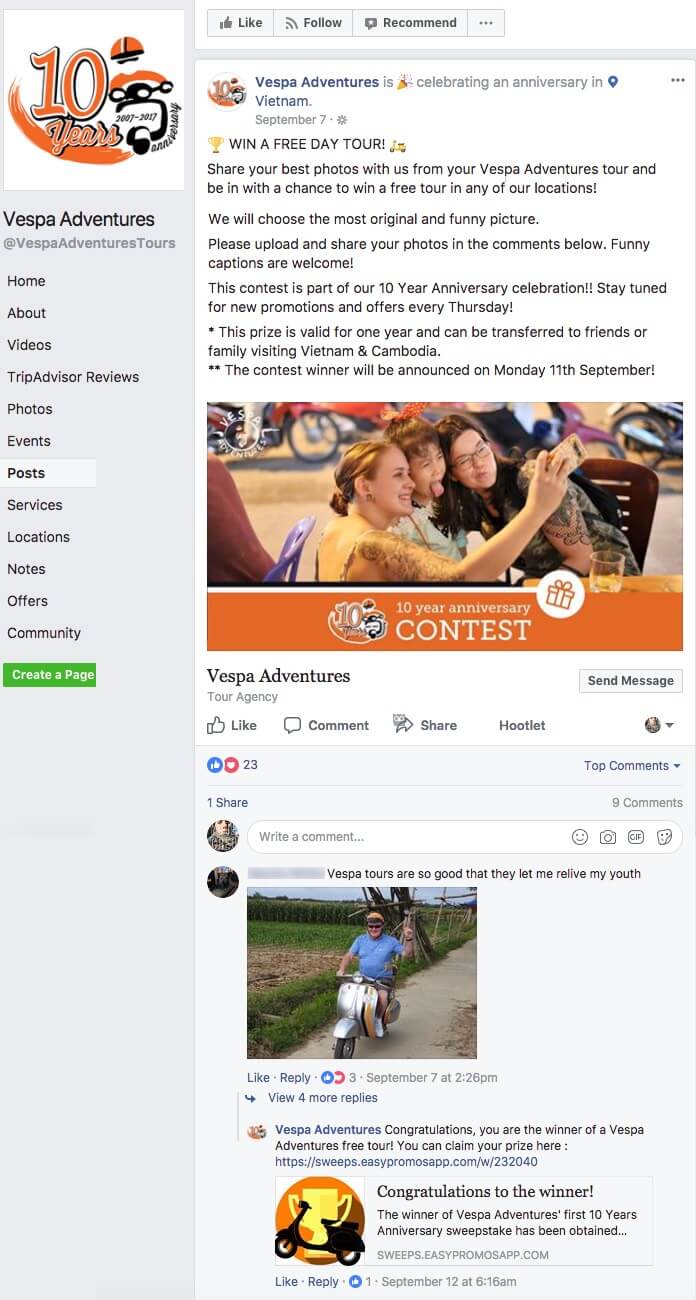 Using a special date as giveaway occasion
American Ramsey's Diamond Jewelers used the holidays as an occasion to run a Facebook giveaway where they asked users to show them a picture of their favorite Christmas tree for the chance to win a piece of jewelry. A perfect gift for yourself or someone else right before Christmas. This way they ensure to connect with their target audience and it's a good way to reach more users.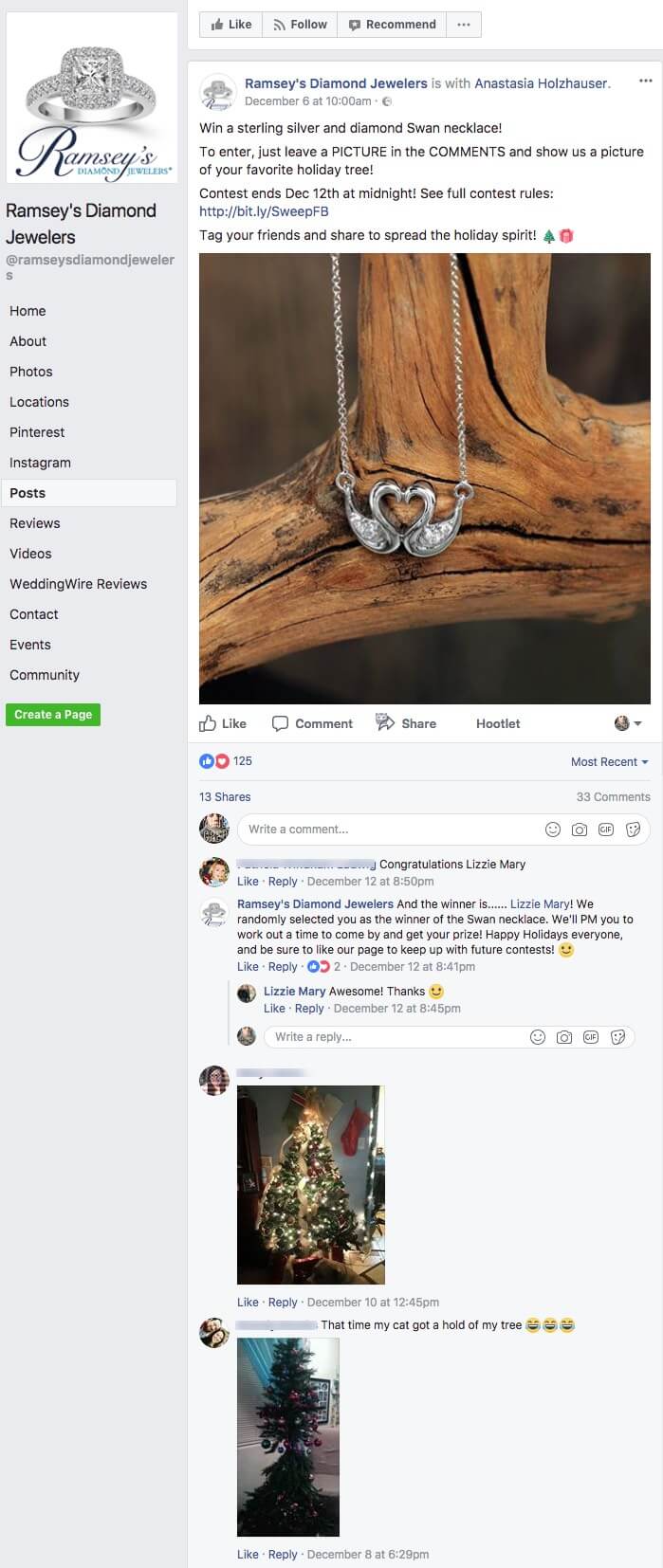 Even though this option is now available, we don't recommend combining this dynamics with voting or Likes on the images or videos that the participants add in the comments. Firstly to keep it simple: Participate by uploading a screenshot, a photo or a video as a comment by replying to the post. Secondly because the Likes on Facebook are not meant to work as voting mechanism and there's not fraud filter available for them. If you want to energize your community with a photo or video contest with voting, we recommend you use an app that has its own voting system incorporated.
Make the most of these ideas and organize your next Facebook giveaway now! You just need to create your Easypromos account and choose the option Facebook Sweepstakes. Increase the engagement with your community with fun actions like this!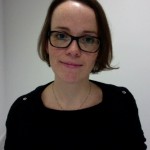 Randi Jensen
International Business Developer in Easypromos
Publication date: 2017-12-27