Posted in: Applications for FacebookLast update: 23/08/22
Facebook has announced that it will demote posts that use 'engagement bait' techniques such as content that urge users to like, tag, comment or share and that use clever but not very authentic headlines. Will this affect Like and comments-based Facebook Sweepstakes? We will explain here.

Engagement bait is used mainly by pages that post news that are spammy, sensational or misleading with the goal to get massive clicks and interaction from users. According to Facebook, this method tries to take advantage of the News Feed algorithm to obtain a greater organic reach thanks to users' interactions but always for their own economic benefit. They are headlines that ask directly for an interaction without any reason, for example: 'Like this if you are an Aries'.
Will this affect Facebook Sweepstakes?
No, it won't affect Facebook Sweepstakes that ask to Like or comment on a post because their headline is true. It will only affect those sweepstakes that are fake o deceptive.
Secondly, when users enter the sweepstakes they explicitly accept the terms and conditions of the promotion and through their action (Liking or commenting the post) they enter into an agreement with the organizing brand. On the other hand, the brand also makes a commitment with all the participants through the terms and conditions of the contest with which the brand has to comply.
Finally, the Like or comments-based sweepstakes on Facebook pages are an action that's explicitly considered and accepted in the Facebook promotion guidelines. As we've insisted the whole time, Facebook doesn't allow sharing the post or tagging friends as a requirement for participation in the promotion, but commenting on or liking the post is allowed.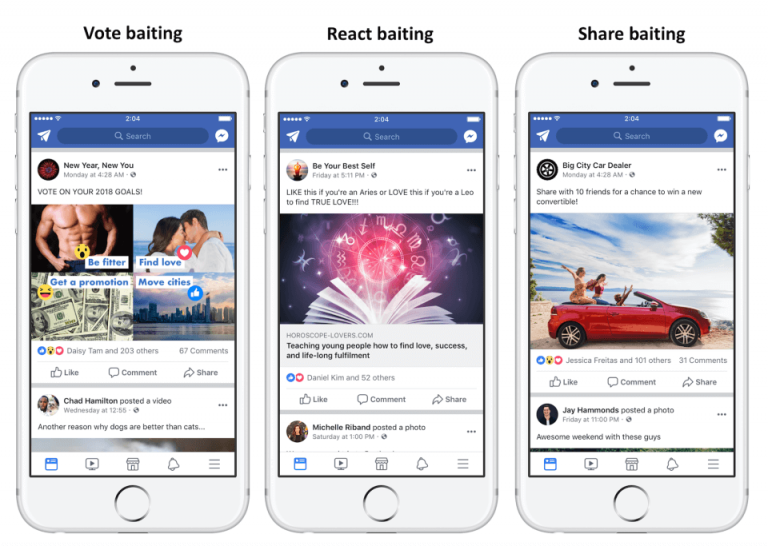 How will Facebook penalize those who use engagement bait?
In the article that Facebook has published in their newsroom, the social network explains that their teams have reviewed and categorized hundreds of thousands of posts to teach a machine to detect the different types of engagement bait. Facebook says directly that they "will begin implementing stricter demotions for Pages that systematically and repeatedly use engagement bait to artificially gain reach in News Feed". Once again, Facebook has updated its algorithm to reduce this type of headlines and content and the pages that use them to "promote more meaningful and authentic conversations on Facebook."
Publication date: 2017-12-19