Posted in: Applications,Applications for FacebookLast update: 31/01/18
Brands administer their Facebook pages carefully, well aware of the social network's potential for gathering audiences and giving them valuable information about businesses. However, the bad practices of some Pages have compelled Facebook to launch a crusade against Click Bait. Last December, the company announced that it would penalize posts and Pages that were found by its algorithm to use Engagement Bait.
These two practices – Click Bait and Engagement Bait – are used by some Pages to boost the reach of their posts because, thanks to the social network's algorithm, the more interactions on a Page the better the result. These types of posts often use misleading titles designed to attract users' attention and get them to click. In the case of Engagement Bait, Facebook also wants to combat posts that urge users to interact by liking, commenting, sharing or tagging friends for reasons other than those that the buttons were originally designed for. For example, "Tag a friend who dances like this at parties" or "Like this if you were born in January."
"Facebook reviewed and catalogued hundreds of thousands of publications to train its machine learning model"
How will Facebook penalize these activities?
Facebook says that its users have made it clear that they don't like these types of posts and that they consider them spam. With the intention of reinforcing more genuine engagement between users and pages, Facebook has reviewed and categorized hundreds of thousands of posts in order to build a machine learning model capable of detecting instances of Engagement Bait.
All posts classed as Engagement Bait will be displayed less frequently in the newsfeed, impacting directly on the visibility of the Page that published the post. Facebook's press office has stated that Pages which persist in using these types of posts will see their overall organic reach decrease significantly. The detection and measures against Engagement Bait have already begun in English language versions of the social network and will be implemented in other language versions during 2018.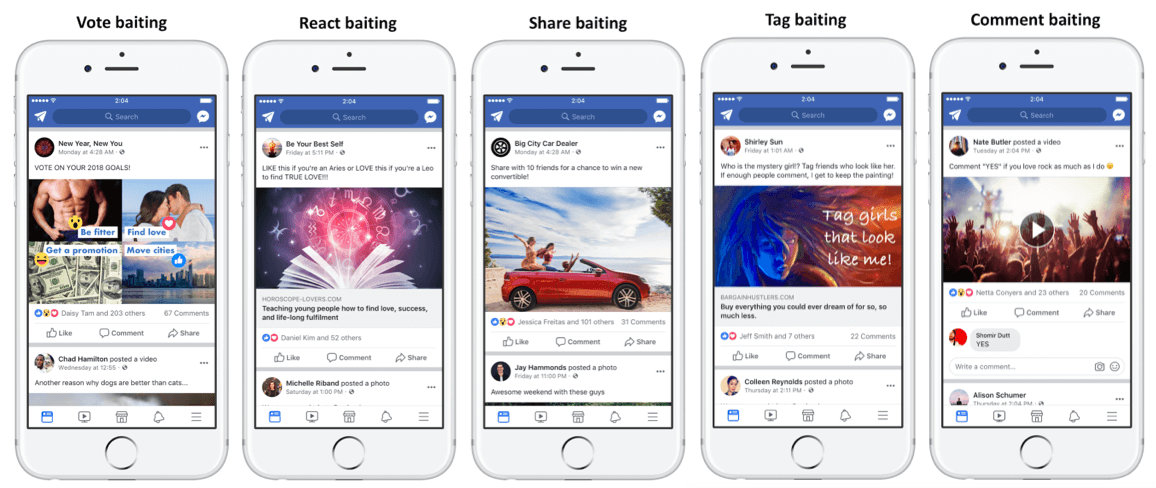 Which practices are considered Engagement Bait?
Facebook has indicated all the forms of requesting interaction with posts that it considers to be Engagement Bait:
Reaction or vote baiting. When users are asked to vote using a reaction, comment or share. Facebook has always maintained that likes and reactions should only be used to express an emotion, not as a voting system.
Like baiting. Similar to the above, but asking for likes indiscriminately, using misleading titles or valueless content, with the only intention being to obtain likes.
Share baiting. In order to discourage spam, Facebook has always maintained that sharing should not be an obligatory aspect of any dynamic. The company considers it bad practice to oblige users to share a post in order to participate in a promotion.
Tag baiting. As above, it is considered bad practice to oblige users to tag friends in order to participate in a promotion or contest.
Comment baiting. When users are asked to leave a specific comment (word, phrase, number, emoji, etc.). For example, asking users to answer a question by commenting "yes" or "no". Facebook says that comments should be genuine interactions between user and brand, arising from a genuine desire of the user to communicate with the brand.
Easypromos recommends, referring to Engagement Bait, carrying out sweepstakes with open comments and a gamification component
Click To Tweet
Even though Facebook indicates what types of actions are considered bad practices there are certain ambiguities and unknowns when it comes to exactly how its algorithm will work to counter Engagement Bait. We will have to watch closely to see how it evolves.
How will it affect Pages?
As long as brands and businesses don't use these types of techniques to stimulate interaction from their communities, the new measures shouldn't affect their Pages. It's true that there are certain actions carried out by Pages to stimulate and boost engagement from their communities – such as timeline sweepstakes – which do require promotion participants to like or comment on a post. These types of actions are accepted by Facebook's promotions guidelines. Nonetheless, organizers should bear in mind that sharing, tagging or following a Page should never be obligatory, and that this must be made clear in the instructions. Easypromos also recommends carrying out open comments sweepstakes with a component of gamification that make it possible to generate and share high-quality content between users and brand.
Facebook continues to be a worthwhile channel for brands because it concentrates a large potential audience. Even so, it is important to invest in a Page to achieve community engagement and user attraction. There are two solutions and they should be combined for maximum impact:
Investing in publicity.
Investing more time in creating Page contents.
Facebook wants brands to be creative by generating audiovisual content to engage users, and publishing stories that are genuinely relevant, entertaining, meaningful, attracting Facebook users' attention in a natural way. Sweepstakes and promotions are still an ideal option for providing interest and entertainment to your community, but they should be prepared and carried out carefully and in accordance with Facebook guidelines.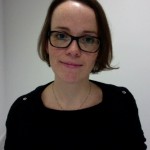 Randi Jensen
International Business Developer in Easypromos
Publication date: 2018-01-31