Posted in: Applications,Digital marketing,Ideas for your websiteLast update: 13/01/20
Valentine's Day is a celebration of love, but it's also big business. Here's how to get the most from your social media, with simultaneous Valentine's Day contests on Facebook, Twitter, and Instagram. Learn how to generate new leads without too much time and effort.

Use Valentine's Day social media contests to light the spark with your audience. It's the perfect occasion to engage with your community online and re-energize your social media by offering the thrill of competition. Make sure to choose prizes that fit the occasion: something luxurious, something to share, something nice and sweet.
Multi-Network Giveaway for your Valentine's social media contest
Valentine's Day social media contests continue to be very popular on Facebook, Instagram, and Twitter. But depending on your brand, audience, and approach, you might see more engagement on only one of these social networks. However, if you want to organize a Valentine's social media contest, you can now organize one giveaway on a number of different platforms.
Most brands run social media contests on several different social networks. For example, you might combine Facebook and Instagram, or YouTube and Twitter. But it's expensive and time-consuming to create individual contests for each channel.
When you use the Multi-Network Giveaway app, you can run a single giveaway that unites all your social networks. It also combines separate posts, different languages, and even separate profiles.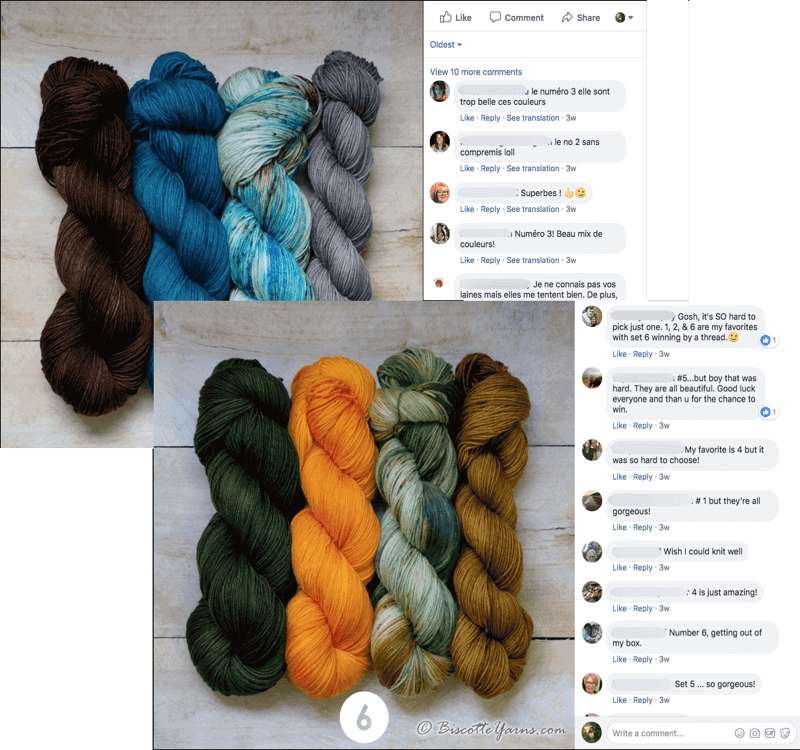 So for example, you could run a contest in multiple countries, or team up with an influencer to award your prize. This yarn brand ran a contest on both Facebook and Instagram, for their communities in France and the UK.
Running a Valentine's Day social media giveaway on multiple networks has a lot of perks. You don't only save time, but you also ensure that you get to target the whole online community. Just start by creating a giveaway post on each profile that you use. You need people to comment, so start the conversation with an engaging question or prompt.
Discover how one blogger ran a successful giveaway on four different networks!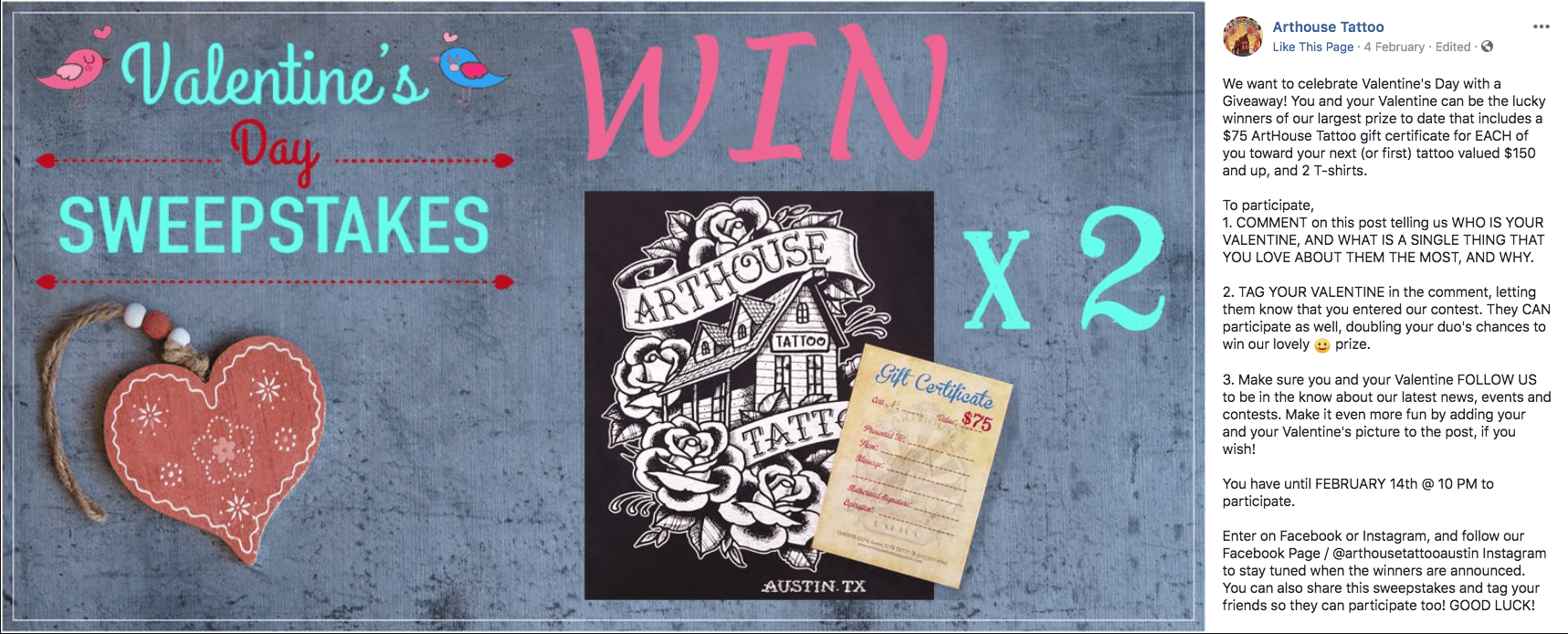 This brand asked their fans to name their Valentine – and explain why they loved them so much. People love to share stories of how they met, and what makes their partner special.
Make sure that you display the prize and explain the details clearly. The perfect prize on Valentine's Day is a couples' gift or experience.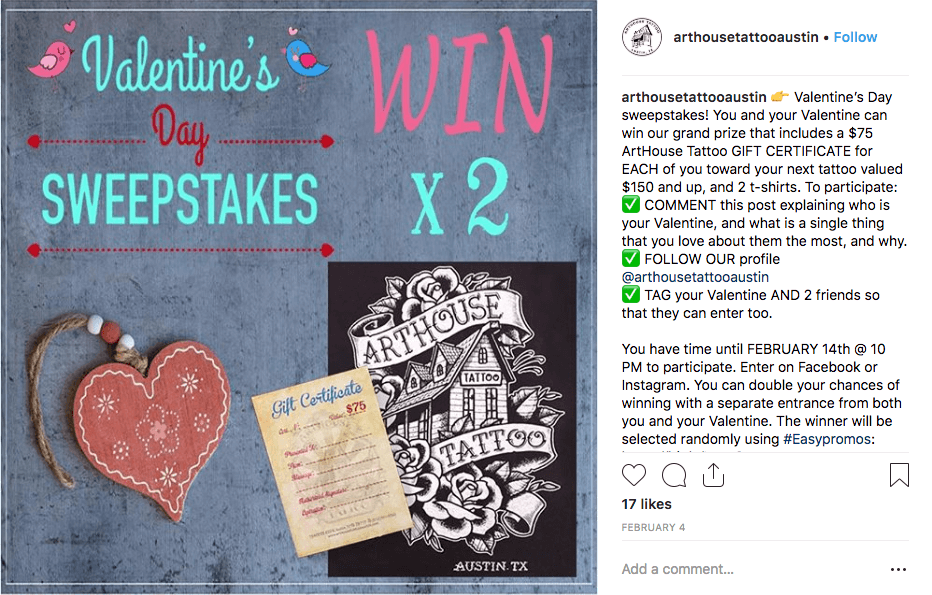 Then, once you've collected thousands of comments, just connect each post with your Easypromos account. With the multi-network app, the platform will collect all the comments, pick a winner, and give you detailed statistics about how your social media strategy is working.
Valentine's Day social media contests that will bring you new leads
But what if your main marketing objective of the Valentine's Day campaign is to gain new leads? Then don't worry because there's a great and easy solution! There are many entertaining and fun applications that can bring a whole lot of new contact details to target as the end result. Set up your promotion, entry form to fill in, and share it on your social media pages!
Entry Form Giveaway must be the most effective way to run giveaways and Valentine's Day contests. All you have to do is personalize it with your logo and change the text to describe the prize that is up for grabs and entry requirements. Then simply share the link on your Facebook, Twitter, and Instagram accounts, or add it to your newsletter, for more brand awareness and extra visibility!
Find out how to share your Valentine's Day contest on Instagram.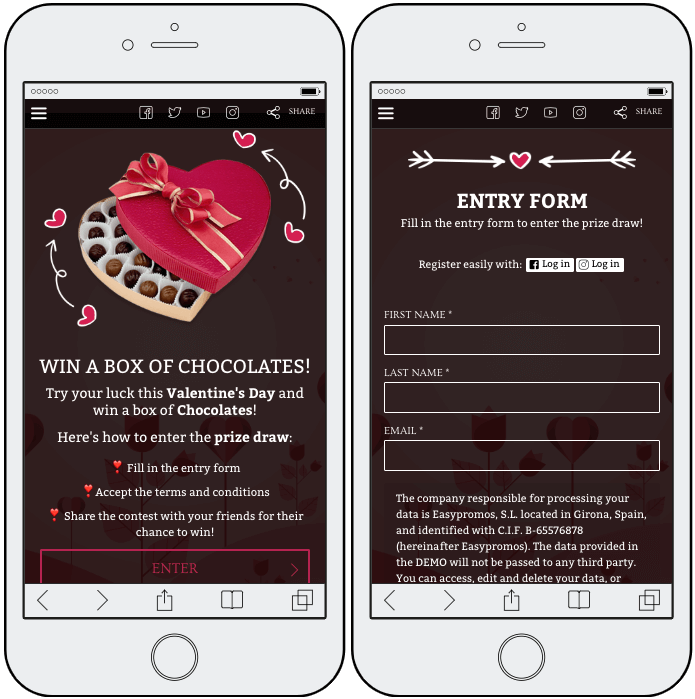 The fewer questions you ask the better! In this Entry Form Giveaway DEMO, you will notice that there are only three questions. We recommend that you always ask only for the details that you really need! If you ask for too much from the participants, some of them might simply give up and leave the quiz without submitting their entry.
Once the giveaway is over, you can download all the leads and target them in the future!
Collect leads and distribute codes at the same time
New leads will always be important. But how can you combine collecting them with distributing discount codes?
Set up a Personality Quiz or Product Recommender for your Valentine's Day campaign! Online audiences like any sort of entertainment that brands provide for them. Games, giveaways, contests, and quizzes are more than welcome by online communities! Take this chance to offer some fun but at the same time make sure that you're accomplishing your marketing objectives. How can you do it? Integrate an entry form that has to be filled in, in order to obtain the final personalized message or a discount code for the next purchase.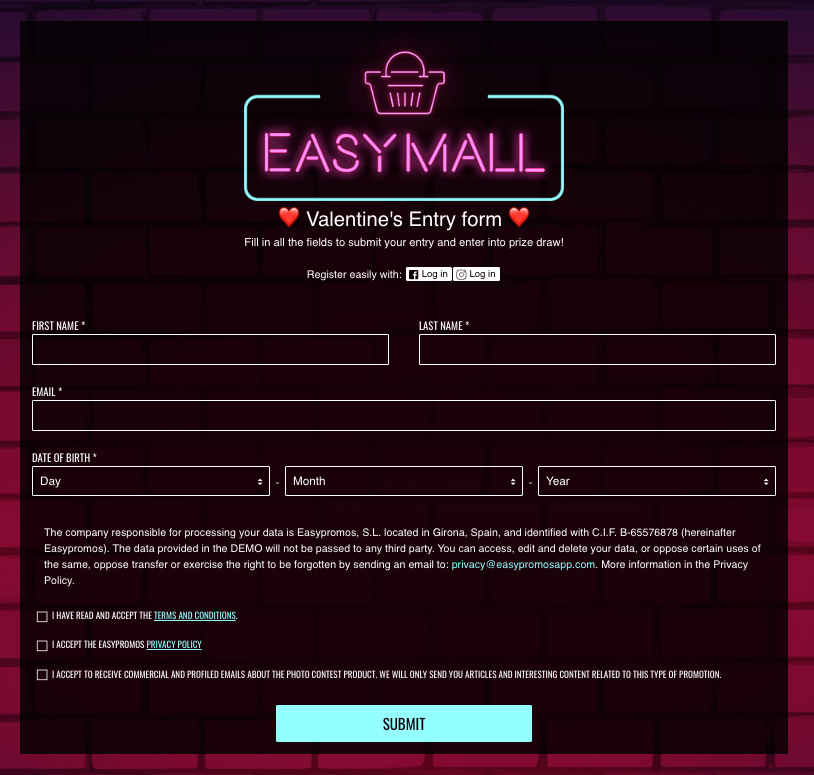 You can also use entry forms for random prize draws like in the example above! All participants that complete the quiz and submit their entry can be entered into a random prize draw. This will encourage and motivate more people to enter, as people love to test their luck!
Want more? Visit our Valentine's Day hub for more inspiration! Or simply download our free Facebook and Instagram templates for your Valentine's Day promotions!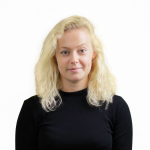 Kamila Palka
Easypromos marketing team
Publication date: 2018-02-05