Posted in: EventsLast update: 14/12/18
Valentine's Day is a celebration of love, but it's also big business. Here's how to get the most from your social media, with simultaneous Valentine's Day contests on Facebook, Twitter, and Instagram. Learn how to run a giveaway that will make followers fall in love with your brand – without too much time and effort.

Use Valentine's Day social media contests to light the spark with your audience. It's the perfect occasion to engage with your community online and re-energize your social media by offering the thrill of a competition. Make sure to choose prizes that fit the occasion: something luxurious, something to share, something nice and sweet.
Facebook continues to be the most popular place for Valentine's Day social media contests. But depending on your brand, audience, and approach, you might see more engagement on other social networks. You don't want to miss out on the biggest social network, but you want to reward your audience on Instagram or Twitter, too.
How? The answer is a multi-network giveaway.
What is a multi-network giveaway?
We know that most brands run social media contests on several different social networks. For example, you might combine Facebook and Instagram, or YouTube and Twitter. But it's expensive and time-consuming to create individual contests for each channel.
When you use the multi-network giveaway app, you can run a single giveaway that unites all your social networks. It also combines separate posts, different languages, and even separate profiles.
So for example, you could run a contest in multiple countries, or team up with an influencer to award your prize. This yarn brand ran a contest on both Facebook and Instagram, for their communities in France and the UK.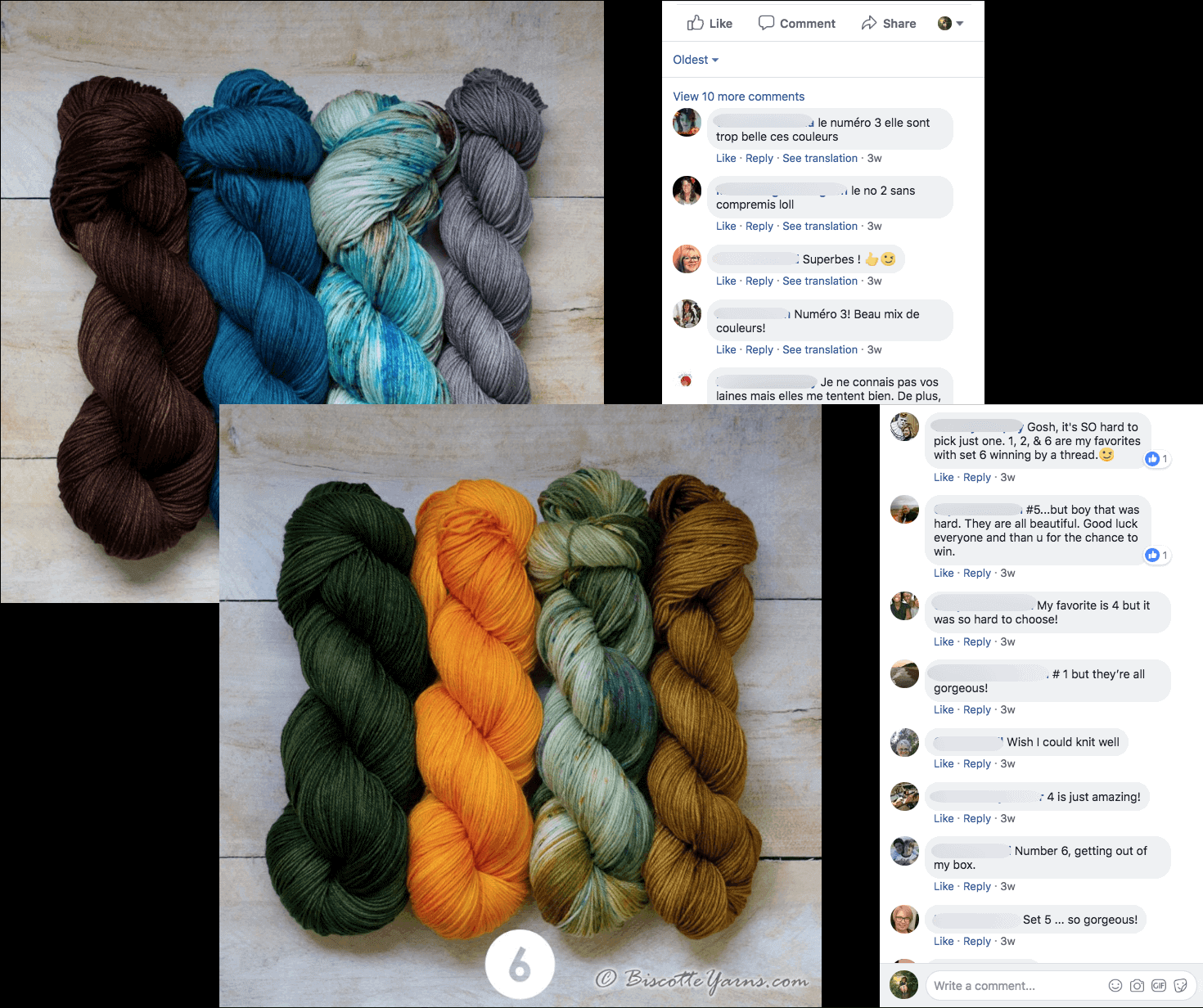 How to run Valentine's Day social media contests
So now, let's apply that to your Valentine's Day social media contests. You can share the same contest and prize with all your followers, on Facebook, Instagram, Twitter and YouTube.
Just start by creating a giveaway post on each profile that you use. You need people to comment, so start the conversation with an engaging question or prompt.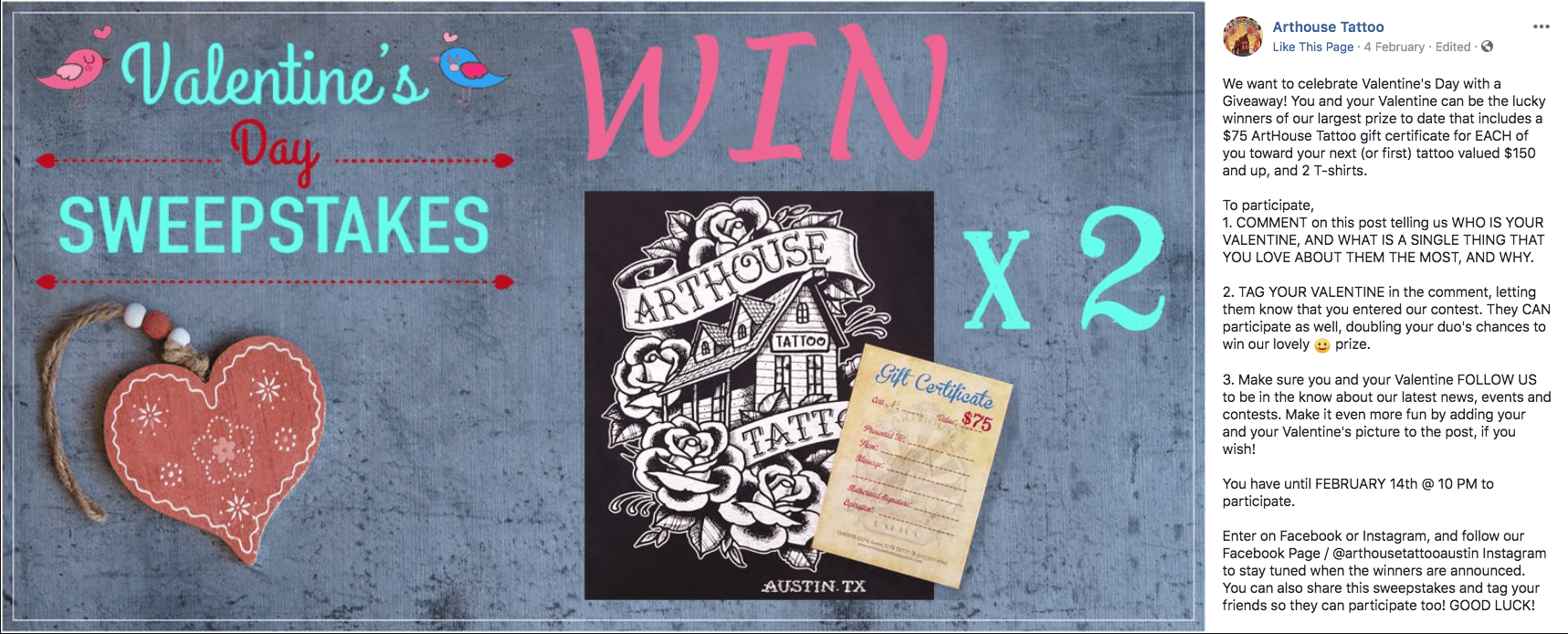 This brand asked their fans to name their Valentine – and explain why they loved them so much. People love to share stories of how they met, and what makes their partner special.
Make sure that you display the prize and explain the details clearly. The perfect prize on Valentine's Day is a couples' gift or experience.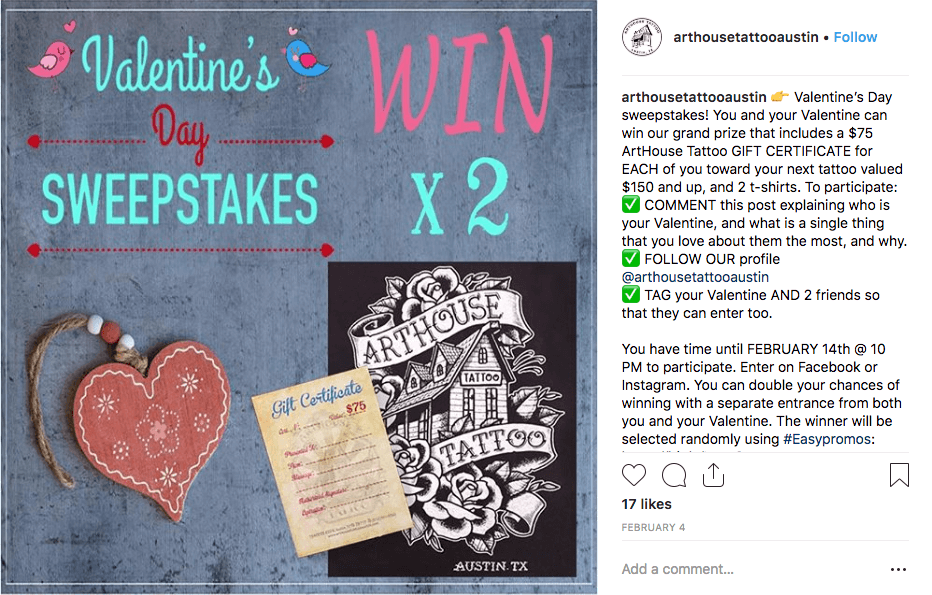 Our case study came up with a fantastic idea. They offered gift certificates to the winner and their Valentine, as well as free t-shirts. If you're struggling for prize ideas, remember that discount coupons, vouchers, and gift cards are always popular.
Then, once you've collected thousands of comments, just connect each post with your Easypromos account. With the multi-network app, the platform will collect all the comments, pick a winner, and give you detailed statistics about how your social media strategy is working.
? Want more? Visit our Valentine's Day campaign hub for more inspiration and free social media templates. ?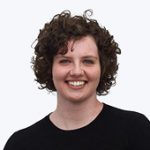 Corinna Keefe
Content marketer at Easypromos
Publication date: 2018-02-05