Posted in: Digital marketing,Ideas for your websiteLast update: 05/06/20
One of the primary objectives when launching a Digital Marketing campaign is to increase the number of followers, likes and fans of the organizing brand's social media profiles. Online contests, sweepstakes and promotions are all effective actions for doing this. However, in seeking to achieve this goal it's important to keep to the guidelines of the various social networks.
The most effective method of obtaining new followers via a promotion while keeping to the guidelines of the social network is to direct users to your page or profile and let them decide whether or not to become a follower. Number of visits to your social media profiles is one of the most important parameters to measure when you launch a Digital Marketing campaign. In this post we explain how to generate and measure visits to your Facebook, Instagram, YouTube and Twitter profiles in strict compliance with the guidelines of each of the social networks.

The regulations: minimize artificial growth of fans
Like all businesses, Facebook, Instagram, YouTube and Twitter all want to grow. One strategy that has proved effective in helping them do this is to offer a platform to developers to allow third parties to create applications inside the social networks, thus multiplying the capabilities of the social network. But, at the same time, it's necessary to find a balance between growth and chaos, quantity and quality. That is why social networks must enforce policies and regulations, periodically updating their tools and standards to achieve this balance. This year, these changes entail limiting the options for interaction from external sources in an attempt to gain greater control of user behavior.
Facebook, restrictions in the use of the Like button
Facebook was the first social network to apply restrictions on mechanisms for capturing new followers. In November 2014, Facebook introduced a regulation prohibiting app developers from creating apps that forced users to like a Page in exchange for incentives such as entry to a sweepstakes, a discount coupon, etc. From that point on, apps were allowed to show a Page's Like button and detect whether or not users clicked on the button, but they were not allowed to implement restrictive mechanisms.
On 5 February 2018, Facebook introduced changes for apps, preventing organizers from seeing whether or not a user has clicked on the Like Social Plugin. The Social Plugin is the tool Facebook provides developers to enable them to integrate a Like button on their webpages, online campaigns or blogs. The Like button can still be integrated, but it's no longer possible to see whether a user has clicked it.
This year, Facebook is applying more restrictive measures of control in the use of the Like Button Plugin, including double confirmation screens and temporary blocks if anomalous or suspicious behavior is detected. Facebook will also eliminate the Send and Follow Social Plugins, the native Like buttons for Android and iPhone, and the invite-sending tools previously available to game-like applications.
Thanks to these changes – along with recent announcements about the algorithm change in its News Feed – Facebook aims to make users' interactions with its actions and services more authentic. By eliminating tools that facilitate interactions with users from external sources, Facebook is ensuring that users perform these interactions within the social network.
Therefore, the new method for obtaining new Facebook followers should be to guide users to your Facebook Page from external sources. This will ensure that you keep to Facebook's good practices, acquiring better quality followers without running the risk of being penalized by Facebook.
For this reason, the number of visits to a brand's social profile becomes one of the most important KPIs for analyzing the results of an online promotional campaign: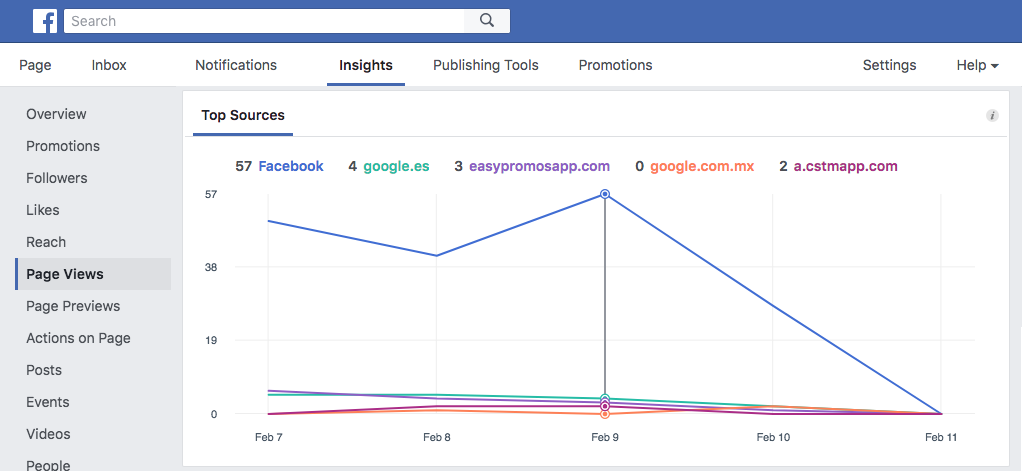 Instagram won't allow applications to find out if users are followers
On 30 January 2018, Instagram announced that on 31 July 2018 it would eliminate the tools that allow apps to know whether a user is a follower of a brand, as well as the tools to follow and to stop following. Instagram is heading in the same direction as Facebook, by limiting the tools that allow easy interactions from external sources, the networks want to force brands to focus their efforts on leading users directly to their profiles and wooing them with high-quality content.
YouTube prohibits Sub4Sub
One of the clauses in YouTube's conditions of use is the explicit prohibition of Sub4Sub. "Sub4Sub" consists of offering to subscribe to a channel in exchange for its owner subscribing to yours. YouTube tracks and sanctions this type of artificial subscription strategy.
The solution: send users to your profile so they can become fans when they get there
By doing away with these tools, and by limiting the ability to measure likes, social media platforms are trying to minimize the artificial accumulation of followers, subscribers and fans. Their goal is to promote more natural, high-quality growth instead. The best way for brands to achieve this is to encourage users to become followers of their pages or profiles from within each social network.
That is why the number of visits to a brand's page or profile generated by a promotion will become an increasingly important indicator of the success of a campaign or online promotion. The growth in numbers of fans, followers or subscribers generated by a campaign is directly proportional to the number of visits made to social profiles.
Therefore, when an online promotion or contest is created, it's important to create mechanisms which will make it possible to do the following:
Send users to your social network profile during the flow of participation.
Determine when a user is sent to your social network profile.
Provide the option to visit a number of social networks that you administer.
In the case of co-branding campaigns, provide the option to visit social networks that you don't administer.
The Easypromos solution for generating and measuring visits to your social networks: an improved My Networks module
Easypromos is a platform for creating online contests and promotions. Our commitment is to provide a tool that complies with the regulations and good practices of the social networks, in order to guarantee the maximum level of security and reliability for campaigns carried out by our clients.
As of 5 February 2018, the behavior of the Easypromos My Networks Module has been modified -This is the module that makes it possible to display the organizing brand's social networks to participants-. Until now, this module permitted users to become followers or fans of a Facebook Page from within the promotion, as well as making it possible to detect whether or not a user clicked the button. After (1) the changes announced by Facebook, (2) the new recommendations and (3) the new more aggressive spam controls, we've changed the Like buttons to Go to Page buttons.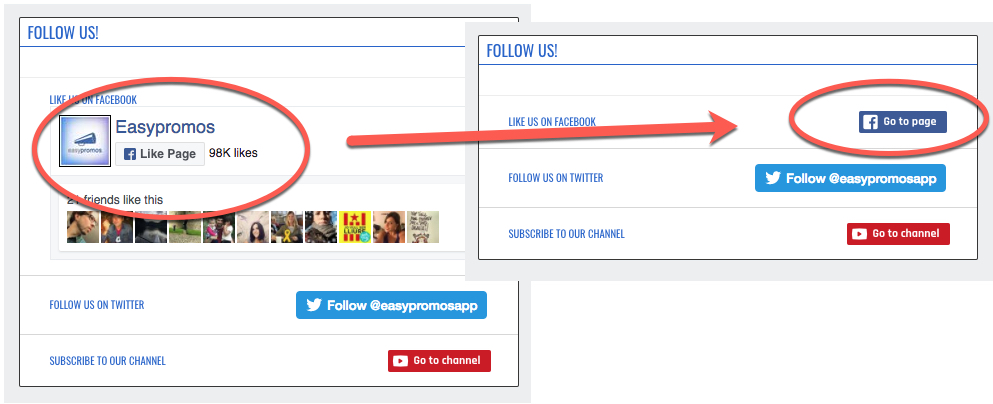 This new button sends users directly to the brand's Facebook Page where they can choose whether or not to become fans. This is instead of them being able to become fans from the Easypromos platform as was previously the case. The change also makes it possible to measure how many visits to a social network are generated from a promotion. This measurement is displayed in graphs with breakdowns by social network and daily evolution.
Note: Facebook's Social Plugin Like button is not prohibited. That is why it's still an option in the Easypromos My Networks Module. However, we don't recommend you use it because it doesn't allow you to measure clicks and it is at risk of being blocked by Facebook's anti-spam controls.
Here are the 7 benefits of the Easypromos My Networks Module:
It allows you to add the brand's Facebook, YouTube, Instagram and Twitter social profiles.
It allows you to add the Facebook, YouTube, Instagram and Twitter social profiles of other brands for cobranding campaigns.
All the texts and contents of the My Networks module can be customized.
The My Networks Module can be displayed as a pop-up which becomes integrated into the participation flow. This pop-up can be displayed automatically when the promotion is loaded or when an action button is pressed.
The networks to follow appear automatically in the header and menu of the promotion.
The networks to follow appear automatically in the voting pop-up window in voting contests.
All clicks and interactions with the My Networks buttons are detected and recorded. They can then be analyzed from the statistics section which includes graphics showing the evolution of daily clicks.
Click here to see real examples of the My Networks Module in online Easypromos promotions. And remember: generating visits to your social networks can be a key factor in boosting your brand's followers.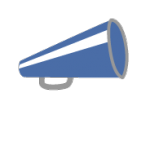 Easypromos Team
Content produced by Easypromos Marketing Team
Publication date: 2018-02-12