Posted in: Applications,Applications for InstagramLast update: 29/03/18
In March 2016 Instagram announced a change in its algorithm from chronological to algorithmic. This change had not really been noticeable until quite recently. Since the new algorithm was launched in the second quarter of 2016, it is estimated that a profile's content is only reaching an average of 10% of its followers. In this article we're going to look closer at what this change means for brands and how sweepstakes can help deal with this new algorithm. We'll also give you some extra tips for adapting to the algorithm.

What has changed in Instagram's algorithm?
The idea behind the new Instagram algorithm is that the user's feed prioritizes content that is of interest to the user in question. The algorithm works from the following factors: the probability that the user will like the content, the relationship between the user and the person who posts the content, and the time of publication. It is also guided by the level of post engagement, which includes many types of interactions: likes, comments, answers to comments, video views, amount of times it has been saved and shared, private messages sent via the post and other possible interactions.
When a post generates a lot of interaction, Instagram interprets this as meaning that the post is of a high quality. The network will then display the post to more followers, encouraging them to interact.
How the new algorithm affects sweepstakes
Of equal importance to the number of interactions generated by a post is the time of the interactions. The most significant interactions are those carried out the first hours after the post has been published. Therefore, the more likes, comments and other interactions that a post receives straight after it's been published, the more people will see it. This means that the day and time of publication of an Instagram post is now more important than ever.
How sweepstakes can help beat the algorithm
Sweepstakes posts on Instagram normally generate far more interactions than normal posts. If a regular post generates 30 comments, a sweepstakes post is likely to generate 1,000 comments. The simple fact of organizing a sweepstakes among users who comment on a post makes the quantity of interactions grow, thus ensuring that the post is shown to more users.
For this reason, there's no doubt that Instagram sweepstakes help give greater visibility to content. And those who have previously interacted with a sweepstakes post on Instagram are more likely to be shown future posts.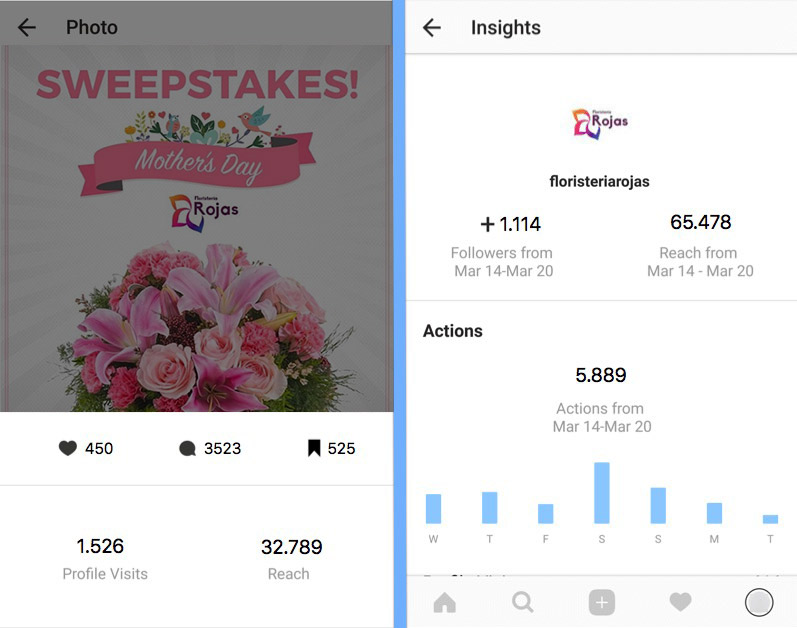 Tips for adapting to the algorithm
Don't be discouraged by this change to Instagram's algorithm. There are many ways of ensuring that more people see your posts and setting up a sweepstakes is one of the most effective. Here are some tips for ensuring that your Instagram sweepstakes is a great success:
Publication time. Look at the interaction statistics of your previous posts to calculate the perfect time to publish your sweepstakes post.
Comments. In this type of contest, users must comment on a post to be entered into the sweepstakes. But don't just ask them to comment with a word or mention. Ask them to share something: what they do, what they like best and why, etc.
Reply to comments. Your interaction with followers is also very important, so respond to as many comments as you can.
Instagram Stories. Use Instagram stories to announce your sweepstakes, remind followers of the closing date for participation, and show off the prize.
Live videos. You can use live videos to announce the sweepstakes. They can also be used to carry out the sweepstakes live, giving even greater transparency to your sweepstakes.
Ready to organize your Instagram sweepstakes? You can read more tips for Instagram sweepstakes here.
Publication date: 2018-03-29